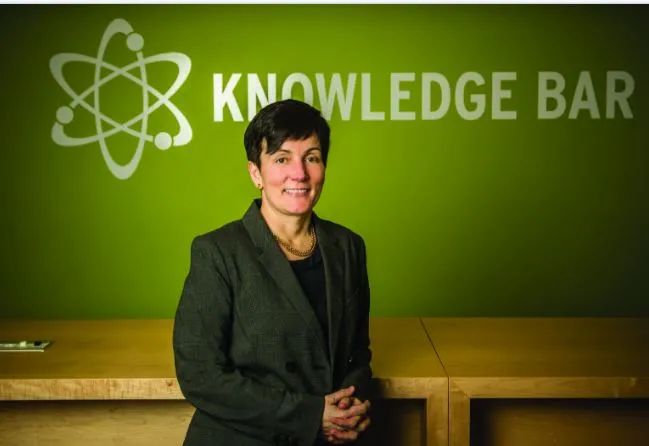 Stephanie von Friedeburg: Helping the World's Technology Tick
Stephanie von Friedeburg has voyaged worldwide. She lived in India and Russia during times of unrest with the sounds of gunfire and tanks moving through the streets. It was a time when residents were urged to stay in their homes and not venture outside. Technology prompted those travels.  Stephanie von Friedeburg is probably responsible for more global technology expansion than those who spend their days creating and developing the next big software or faster computer chip. Not bad for a 'kid' from Billings who, at one time, thought she'd make a living as a doctor.
These days, she and her husband Arnim are based in the nation's capital. It's her job to make sure the World Bank is technologically stable and advanced in some of the most remote and undeveloped locations in the world. The World Bank Group isn't a bank, so to speak, but it is an operation that provides a vital source of financial and tech assistance to developing countries. The Group is made up of a handful of organizations that help provide technical and financial assistance for infrastructure, electricity and even water projects.
As Chief Information Officer and Vice President for Information Technology Solutions for the World Bank Group, von Friedeburg oversees technology for roughly 220 offices in 186 countries, including places that are riddled in war zones or prone to natural disasters. She's been with the World Bank for more than two decades.
Stephanie works closely with a number of universities. This is a photo taken at George Washington University's School of Engineering and Applied Sciences. She was doing an interview before participating in a panel on cybersecurity.[/caption]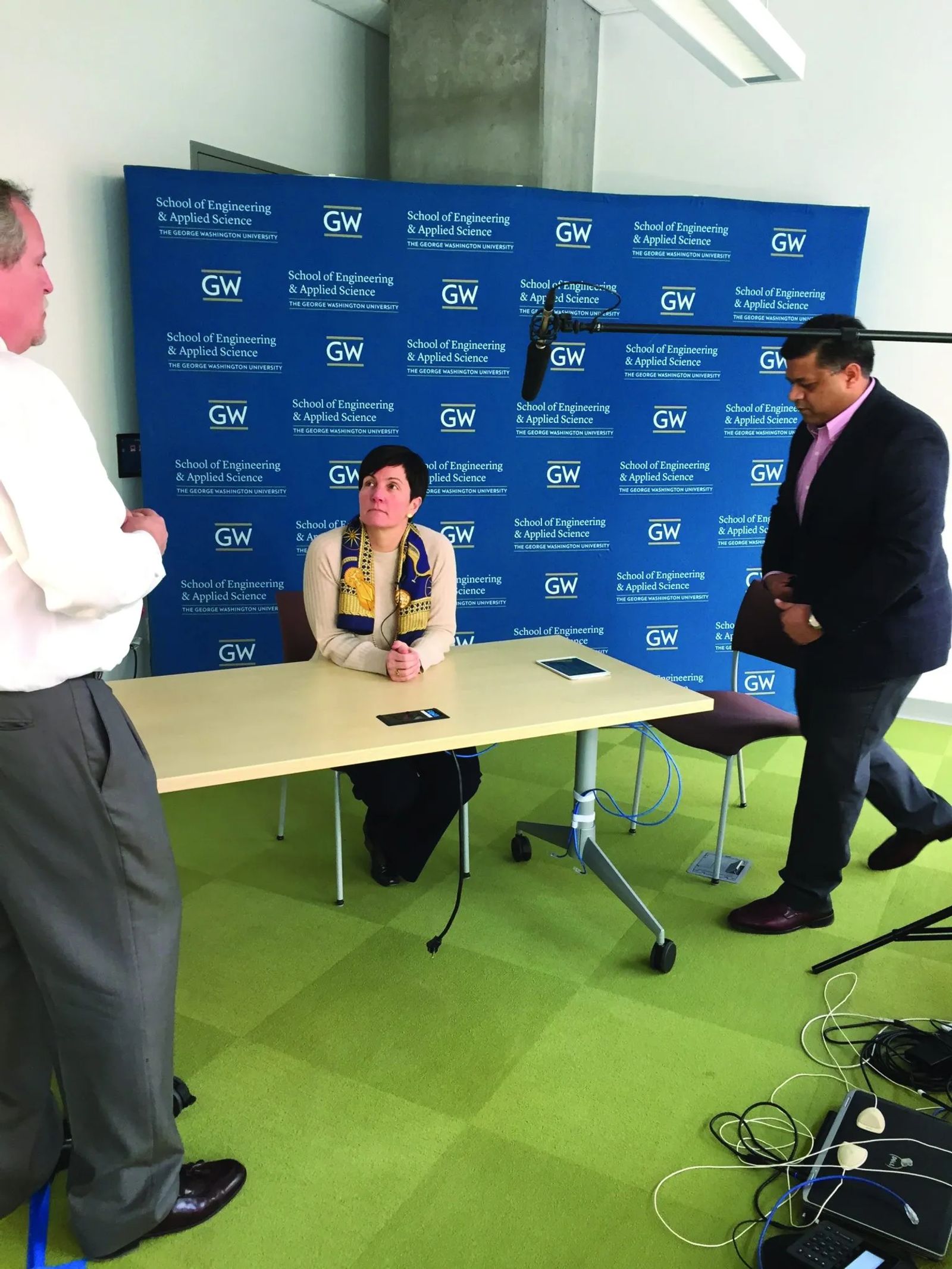 "Everything we do, every application we build, every piece of technology we buy is designed to say 'How do we help the people in the field get better at what they do and deliver better development solutions?'"
When tense times arose and staff would need to evacuate, they would have to lift a server and take it with them. Stephanie cites frequent evacuations of staff from Kabul, Afghanistan. "We would have to literally lift the servers out and carry them with us, re-install them and hope in a week we would have our people up and functioning again."
That's where she and her staff have gone to great lengths making "our offices and staff as effective and efficient as possible carrying the least amount of equipment." Instead of big computers and servers, now they have tablets and mobile devices. Those who need massive computing power get lap tops.
Development solutions are what the World Bank is all about. Stephanie says World Bank President Jim Yong Kim has refocused the Bank on two key things: alleviating poverty by 2030 and creating a shared prosperity.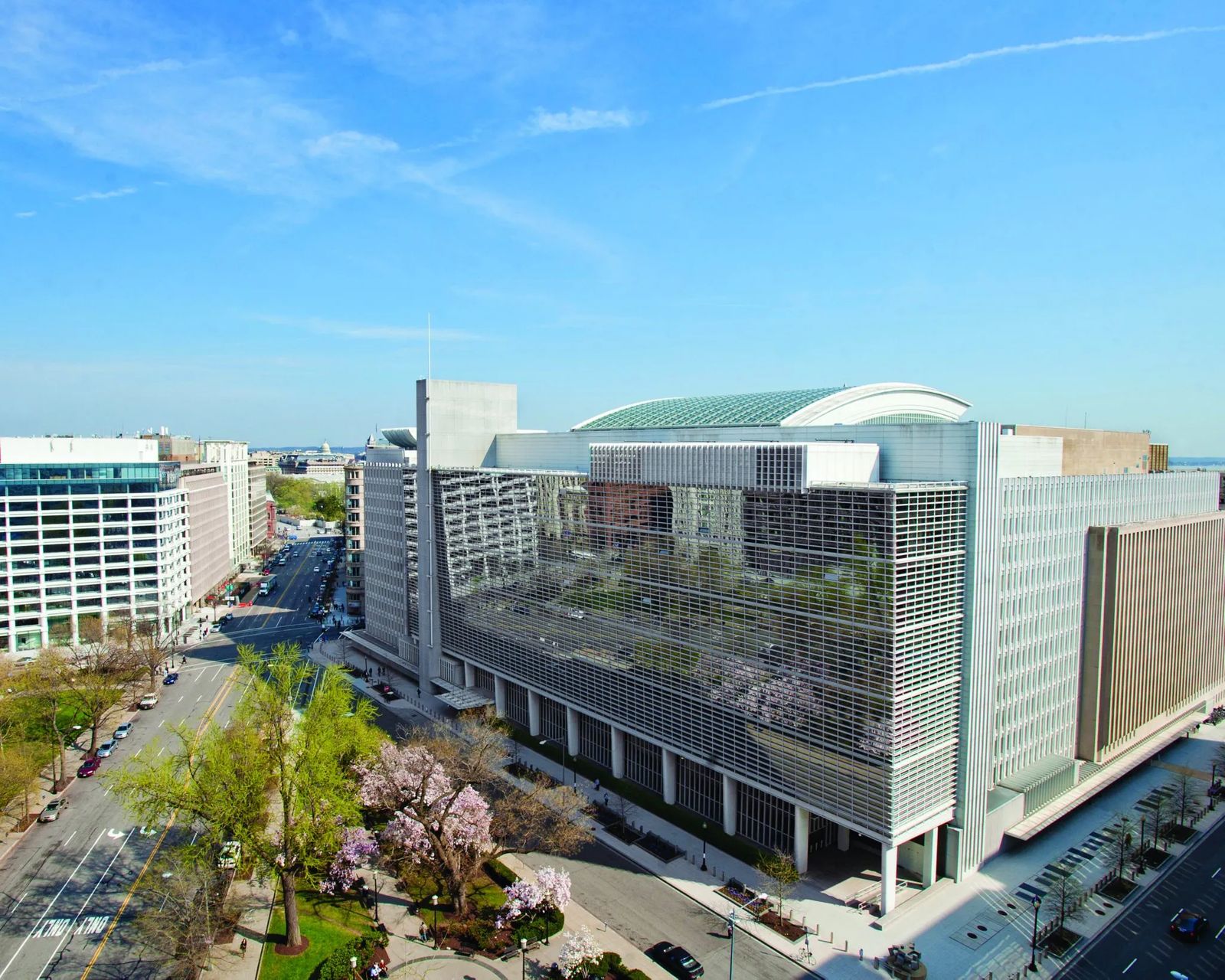 She's proud of the fact that her group was an early investor in mobile technology in India and Africa. The World Bank even brought cell phones to Jamaica. Stephanie's staff has worked with mobile companies to help make the transfer of money a little easier for those in the most remote parts of the world as well.  She says, "So, you might have a young kid who went to Lagos, Nigeria (to work) and his parents live a three-hour bus ride and a five-and-a-half hour train ride away. He needs to take money back to them but it would take two days and he would have to do that once a month. Now, with a mobile phone and his parents' mobile phone, they can transfer money automatically."
Even though Stephanie is responsible for helping to keep the world's technology ticking, her background isn't in Information Technologies. She has a MBA from the Wharton School and a Masters of Arts from Lauder Institute at the University of Pennsylvania. Her undergraduate degree is from the Walsh School of Foreign Service at Georgetown University. Without having that expertise herself, she says she succeeds by surrounding herself with people who are on the cutting edge of technology.
"I have 1,200 people who work for me and 2,000 contractors and some of those people are deeply technical. So when I need help, I can reach into the organization and choose the people who know what we are trying to do," she says. On top of that, she makes a conscious effort to spend time in the Silicon Valley in search of the latest equipment and software that can help the World Bank and its clients.
Stephanie is very focused on supporting and promoting women in the field of information technology. She's pictured here with the women of the World Bank's office in Chennai, India. [/caption]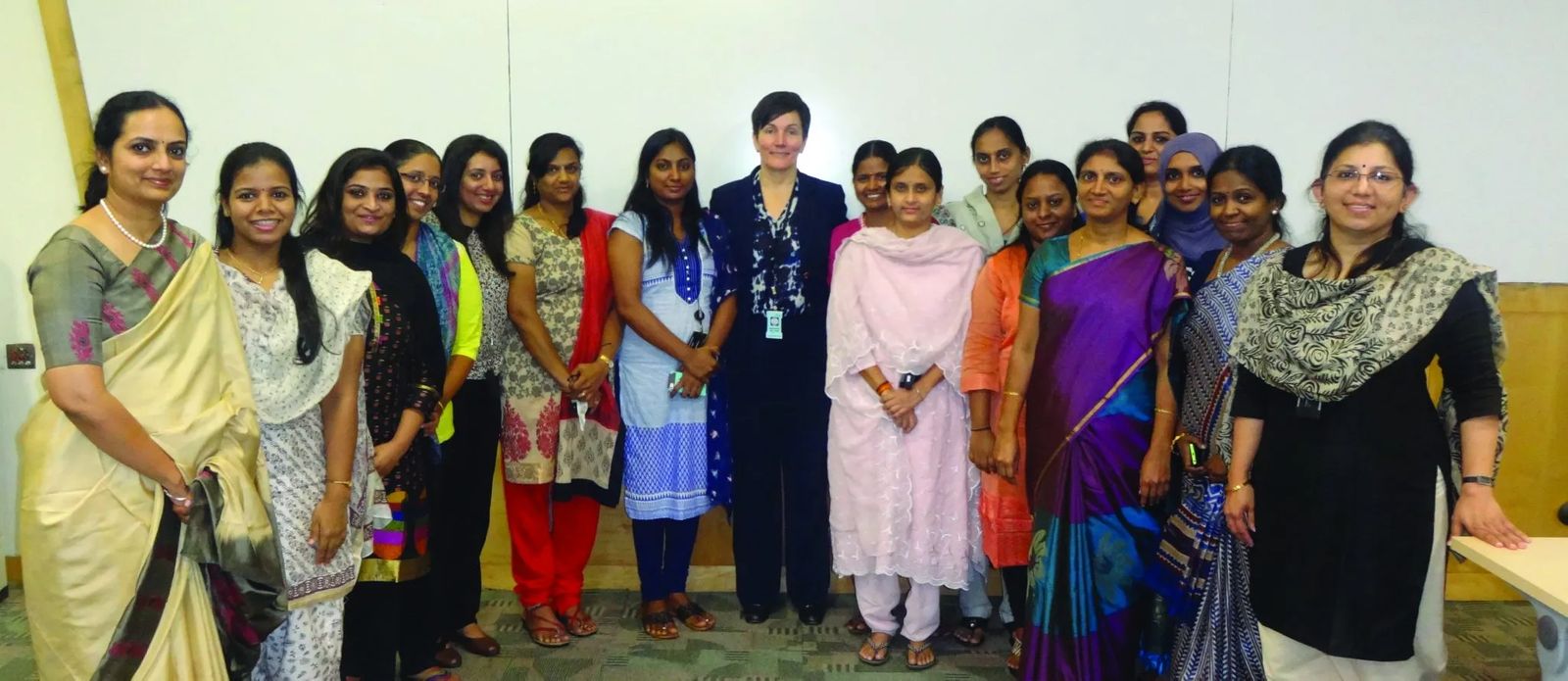 As someone who works day in and day out with technology, Stephanie doesn't have a lack of gadgets in her stockpile of tools. Aside from multiple cell phones, she's big on wearable technology. On her wrist, she sports an iWatch (adorned with Mickey) that's paired to her phone and accessorizes with a smart ring from Ringly. While it's a semi-precious stone, the ring syncs with her Smartphone and lights up and vibrates when someone is trying to reach her. It lights up blue when her husband calls, green for her son and other colors for her daughters. She insists, however, it's all quite subtle.
Those who knew then Stephanie Rawlings growing up in Billings are probably not surprised by the fascination with gadgets. She vividly remembers saving up her allowance to get one of the first Walkman cassette players. She admits, "I've always kind of liked to play with gadgets."
While she's moved on to big cities worldwide, she credits growing up in Billings in helping her get where she is today. "Any time I wanted to do something, there was always someone willing to help," she says. She adds that's a far cry from the environment her kids have grown up in. On the east coast she says, "It's fast and it's competitive. And you would never help your neighbor because your neighbor's kid might take the spot your kid wants. Billings is not that way, at least it was not when I was growing up."
Looking back, she isn't one to dismiss the lessons learned here in the Magic City. She still admits that the three years she spent on the speech and debate team at West High served her well in her professional career, giving her an edge when she addresses groups both big and small and proving to be one of the best things she ever did. She says, "It gave me a set of skills I carry with me today."
Lots of travel for both Stephanie and her husband has, over the years, meant learning to juggle home life. She says they tried to raise independent, resilient kids and were certainly not helicopter parents. "It hasn't always been balanced," Stephanie admits, "and there have been times it was utter chaos and I thought, 'I can't do this,' but I look back now and it was worth it."
Their middle daughter is in college and their son, the youngest, is a senior in high school. Stephanie divulges she and her husband are thinking about returning to Europe when their son is in college. Her husband is German and they have talked about one day putting down roots in Germany.
She says she misses the foreign posts. When they were first married her husband was living in London and she in Moscow. So they would "commute."  She recalls, "We would say let's meet in Prague or let's meet in Paris. I mean, it was fantastic. It was actually great traveling all the time."
No matter where the von Friedeburgs call home, or no matter how far their work travels take them, one thing is clear. There will always be a lot of Billings in Stephanie.