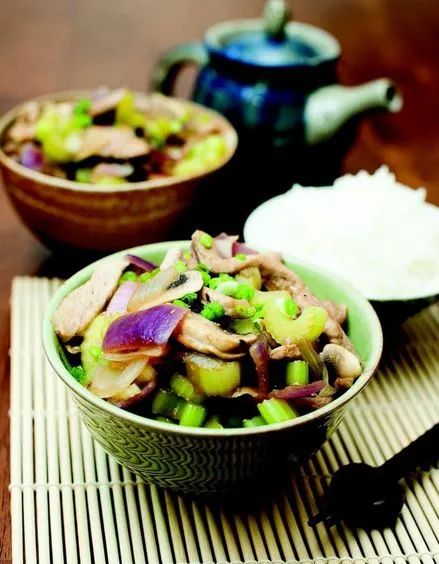 Taste of the Valley: Passed Down & Around With Love
Sharing recipes with family ties
With a pinch of this and a dash of that, there are recipes that will always tug on our heart strings. These little instructions are often kept on cards that show the wear and tear of time. It's part of our food heritage, recipes passed down from grandmothers, moms, aunts and uncles. They remind us of family get-togethers, Sunday dinners and celebrations.
My dad's mother died when I was just 5 years old, so other than faded pictures in a scrapbook, memories are few of Grandmother Lulu. My connection, however, is with her recipe for Chop Suey. My mother got her recipe and made it for our family because my father loved it. It was a connection with his mother that became a connection for me.
One of my food connections to my mom comes with her delicious French Potato Salad. It's different than any other potato salad I've ever tasted and uses French dressing as its main flavor. While I have no idea where this recipe came from, it's a "go to" with not only me, but my sister and brother as well.
For Julie Dial, Director of Western Heritage Center, her food heritage features Lefse. Her family recipe comes from Great Aunt Ida Olsen, who lived on the family farm in North Dakota. It's a recipe that brought together kin and kindred spirits to visit, gossip and continue to make memories.
South Dakota is the setting for a Lyle family recipe. The grandmother of Angela Lyle's husband Dennis would always take her Dream Bars to the yearly family reunion which would bring together upwards of 100 family members. Not only does Angela cherish this recipe, she's used it as a base for a new twist on an old family favorite. Angela, who owns Raven's Café d'Art at the Yellowstone Art Museum, is known for her deliciously unique cuisine. It was the abundance of Girl Scout cookies that inspired her to take Dennis' grandmother's Dream Bars to create Samoa Dream Bars. This tasty variety will, no doubt, create a brand new family tradition to pass on to the next generation.
Enjoy!
GRANDMA'S CHOP SUEY
~From Kay Erickson
2 lbs boneless pork, sliced into pieces ¼" thick by 1-1/2" long
4 large onions, diced
8 stalks of celery, diced
6 oz of mushrooms, sliced
6 T. soy sauce
3 T. white wine vinegar
¼ c. cold water
1 T. cornstarch
2 T. vegetable oil
DIRECTIONS
Heat oil in large, deep skillet over medium high heat. Sauté pork until meat is no longer pink. Add onion and sauté for 5 minutes. Add celery and mushrooms. Cover skillet and lower heat, simmering for 5 minutes. In a small bowl mix together the cold water, cornstarch, soy sauce and vinegar. Add to the mixture in the skillet. Cook for 5 minutes or until desired thickness. You can add more soy sauce if necessary. Serve over cooked rice. NOTE: My Grandmother's original recipe called for 1 lb. of pork and 1 lb. of veal. I sometimes will use veal, when available.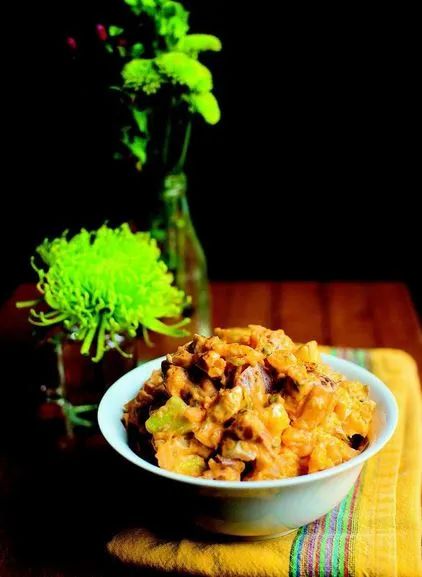 MOM'S FRENCH POTATO SALAD
~From Kay Erickson
2 lbs red potatoes, cooked, peeled and cubed
½ c. bottled French dressing
4-5 green onions chopped (green included)
¾ c. peeled, seeded and quartered cucumber sliced into ¼ inch slices
½ c. Miracle Whip
2 hardboiled eggs, chopped
Paprika (optional)
DIRECTIONS
Combine the cubed potatoes, French dressing and chopped green onions in large bowl. Cover and refrigerate for 4 hours. Add the sliced cucumber, Miracle Whip and chopped hardboiled eggs and refrigerate until ready to serve. This potato salad is best prepared a day ahead to let the flavors blend.

GRANDMA'S DREAM BARS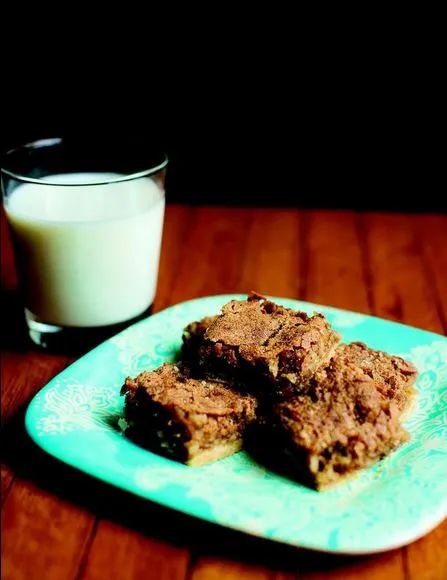 ~ Recipe from Angela Lyle, Raven's Café d'Art
CRUST
1 c. flour
1/2 c. butter
1/4 c. brown sugar
Mix crust ingredients like pie dough and pat into 9x13 pan.  Bake 10 - 15 minutes at 350 degrees. Remove from oven. Prepare filling.
FILLING

3 eggs
2 T. flour
1 t. baking powder
1 c. coconut
1-1/2 c. brown sugar
1 t. vanilla
1 c. chopped walnuts
Beat eggs, gradually adding the rest of ingredients.  Pour over the crust and bake 20 minutes at 350 degrees until top is firm and lightly browned. This will crust over similar to lemon bars. Cool completely before cutting into squares.
SAMOA DREAM BARS
~ Recipe from Angela Lyle, Raven's Café d'Art
CRUST
1-1/2 c. flour
3/4 c. butter
1/3 c. brown sugar
Combine sugar and flour.  Using pastry cutter or fork, cut cold butter into flour mixture until combined. Add a drop of cold water if mixture does not combine into ball.  Mix like pie dough.  Pat into 9x13 pan.  Bake 10 minutes in preheated 350 degree oven. This version creates a slightly thicker crust.
FILLING
This recipe uses the same ingredients as Grandma's Dream Bars, except you will substitute 1/2 cup coconut with 1/2 box chopped up Samoa cookies, making the recipe 1/2 cup coconut and 1/2 box chopped Samoas.  Follow the remaining directions for Grandma's Dream Bars above to finish. NOTE: For more of a chocolate infusion, try adding 1/3 cup of chocolate chips to filling as well.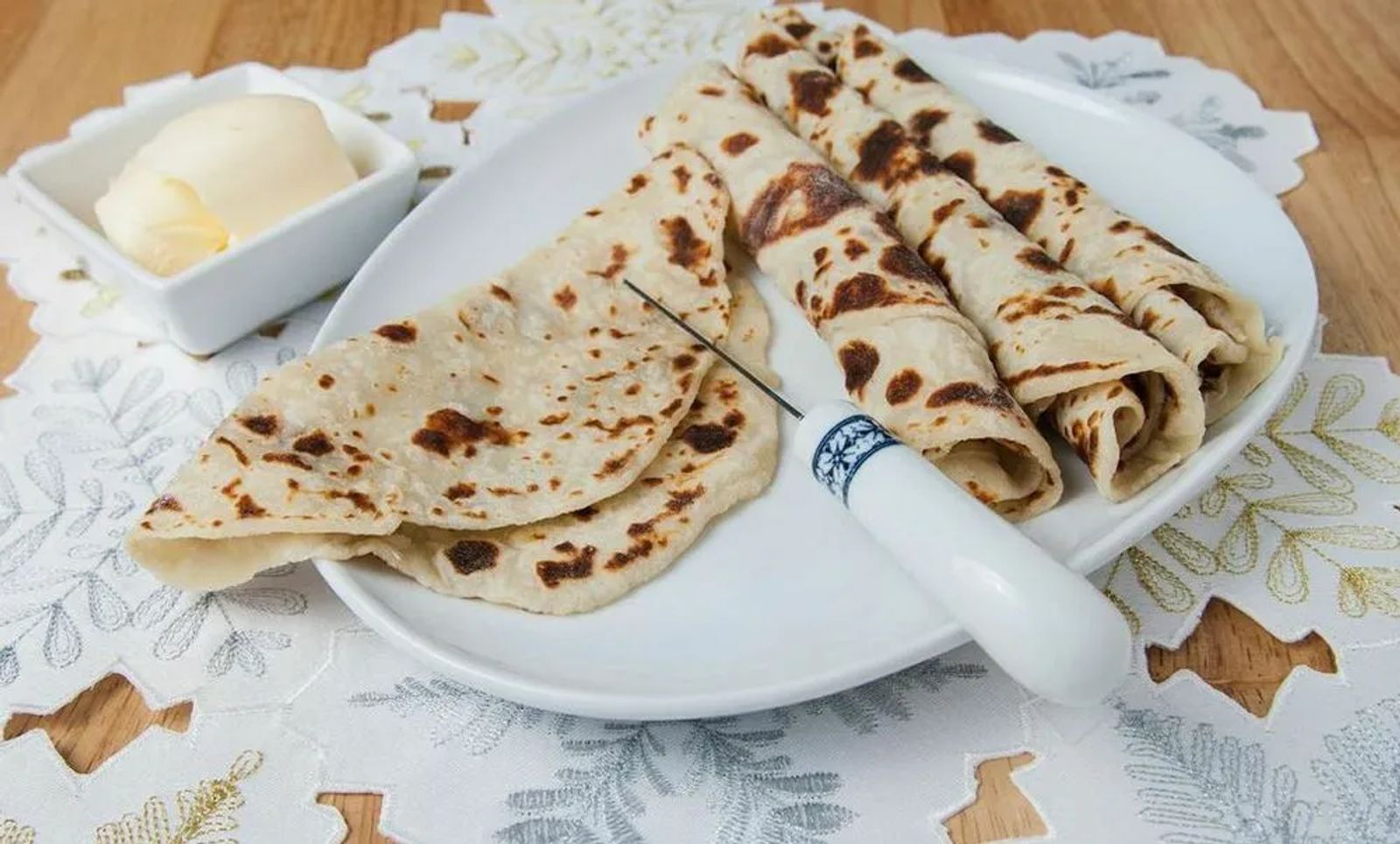 GREAT AUNT IDA OLSON'S LEFSE
~Recipe from Julie Dial, Western Heritage Center
1/4 - 1/2 c. butter, cut into pieces
10 lbs white (russet) potatoes, peeled
1/4 c. heavy cream
2 t. salt
2 t. sugar|
2-1/2 c. all-purpose flour, more or less, and additional for rolling out dough
DIRECTIONS
Boil potatoes until soft. Run hot potatoes through potato ricer. Add sugar, salt, butter and cream. Mash until mixed. Refrigerate overnight (or outside if it's November in North Dakota). Stir in enough flour "until it feels right," about 2-½ cups. Pull off pieces of the dough and form into walnut sized balls. Lightly flour a pastry cloth or board and roll out dough until thin, about 1/8" thickness into a circle of 8" to 10". Keep the dough well coated with flour to prevent sticking but try to limit flour to as little as possible. Shake off excess flour and place in pan. Grill on hot (450 degree) Lefse grill. Flip with Lefse turner. Stack on a wire rack or wrap in foil and store in warm 200 degree oven. Spread with butter and sugar and roll up. NOTE: These can also be grilled on a hot griddle (400 degrees). Cook until the Lefse starts to bubble and bubbles are light brown. Flip with spatula and cook on other side. Lefse freezes well.