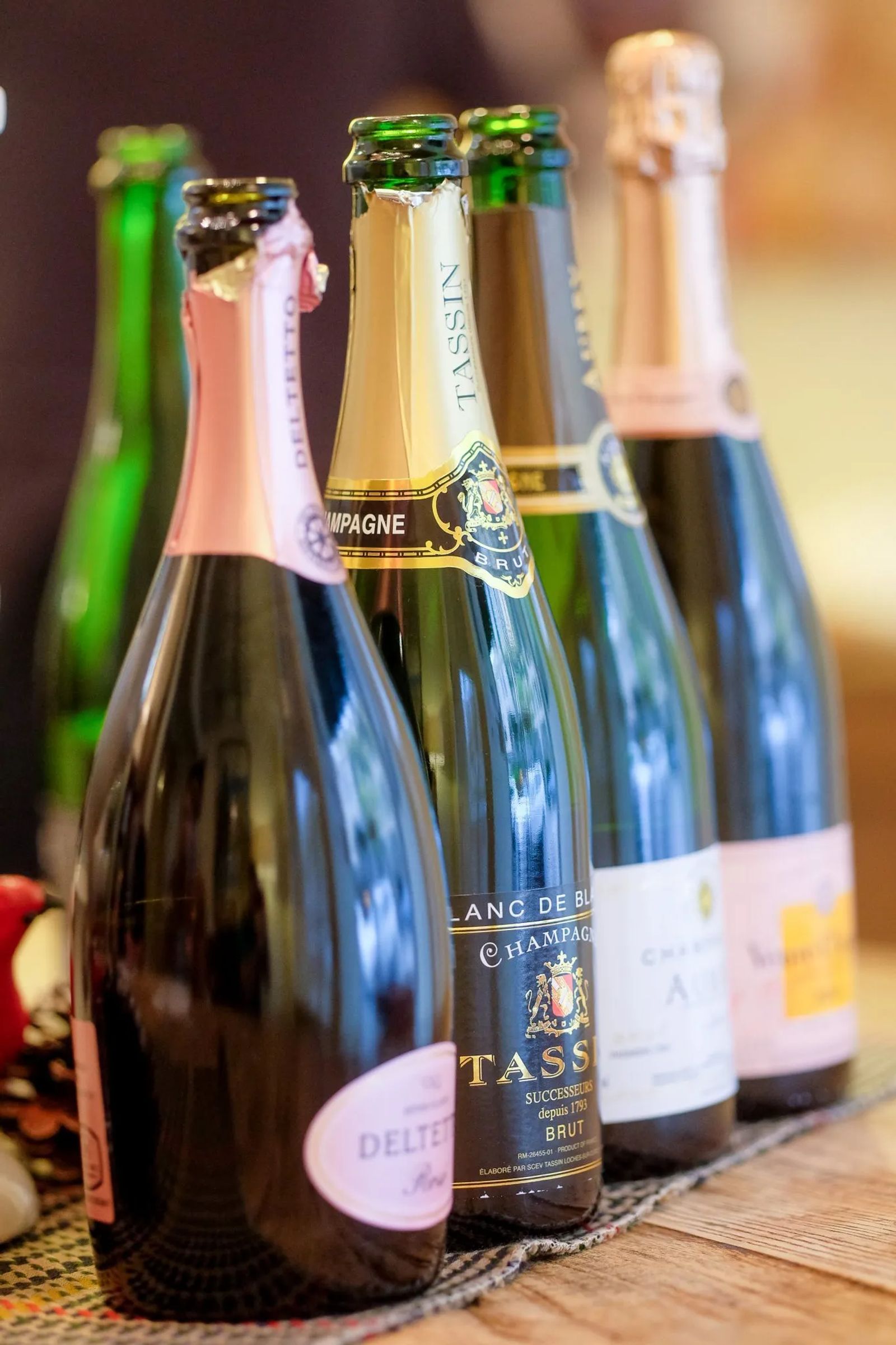 Tastings: Holiday in a Bottle!
The Team checks out champagne & sparkling wines
By Stella Fong, Photography by Daniel Sullivan
Corked inside a bottle of sparkling wine is celebration – a party waiting to be launched. This bubbly concoction goes through a second fermentation process to add the extra bit of effervescence. In case you wondered, it can only be called Champagne if it originates from the Champagne region in France, which sits about 100 miles east of Paris. Sparkling wine varieties like Prosecco, Lambrusco and Spumante from Italy or Germany's Sekt and Spain's Cava are all perfect beginnings to any meal. Not only does this bubbly have a festive spirit, but a vibrancy that stimulates the palate.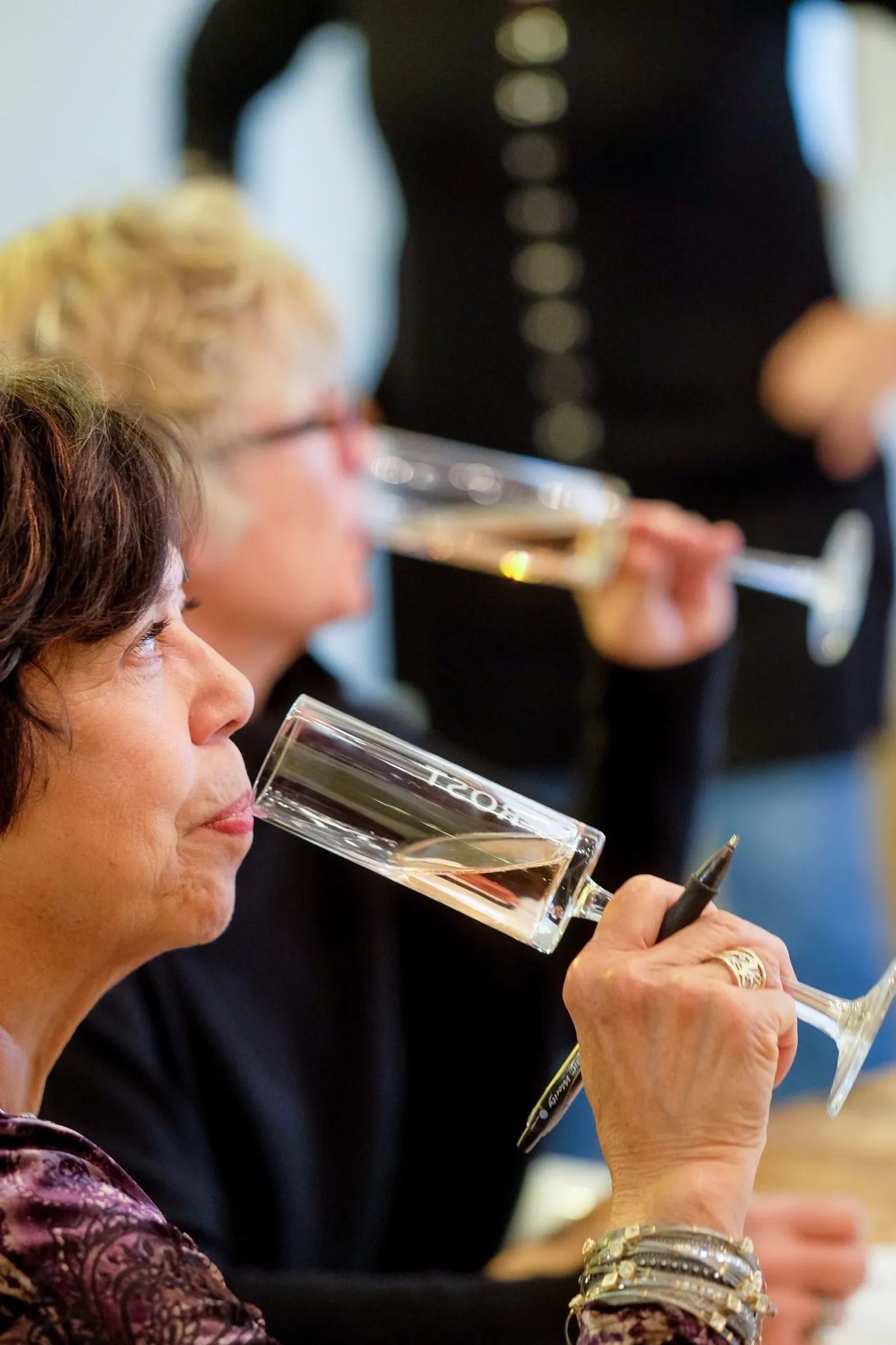 To offer up some suggestions on how to add the best bubbly to your holiday table, the Tastings Team made up of Kelly Ewing, Jane Haar, Cara Schaer and Marti Miller sampled six bottles of sparkling wine from around the world ranging in price and personality. Kelly Colt Design set the backdrop for these elixirs selected by City Vineyard, Simply Wine, and Babcock and Miles for sipping and cheering.
The iconic pairings for this spirited beverage may be caviar or oysters, but consider a crunchy potato chip or deviled eggs for more modest accompaniments. Fried food such as buttermilk fried chicken, tempura, calamari and hush puppies pair beautifully against a sparkling wine's spritz. Finally, a demi-sec may partner better with dessert. A mocha bittersweet chocolate roulade, lightly sugared vanilla scented beignets or goat cheese tart to end a meal perhaps?
For this Tastings Team, Champagne Veuve Clicquot Rosé was the run-away favorite. But fear not if this sparkling wine does not fit your palate or pocketbook. In Red Lodge, visit Steve Haman at Babcock and Miles, or in Billings, Sue Ryquist and Jane Krizek at Simply Wine and Genia Castro at City Vineyard for their recommendations on how to honor the holidays. Cheers to you all!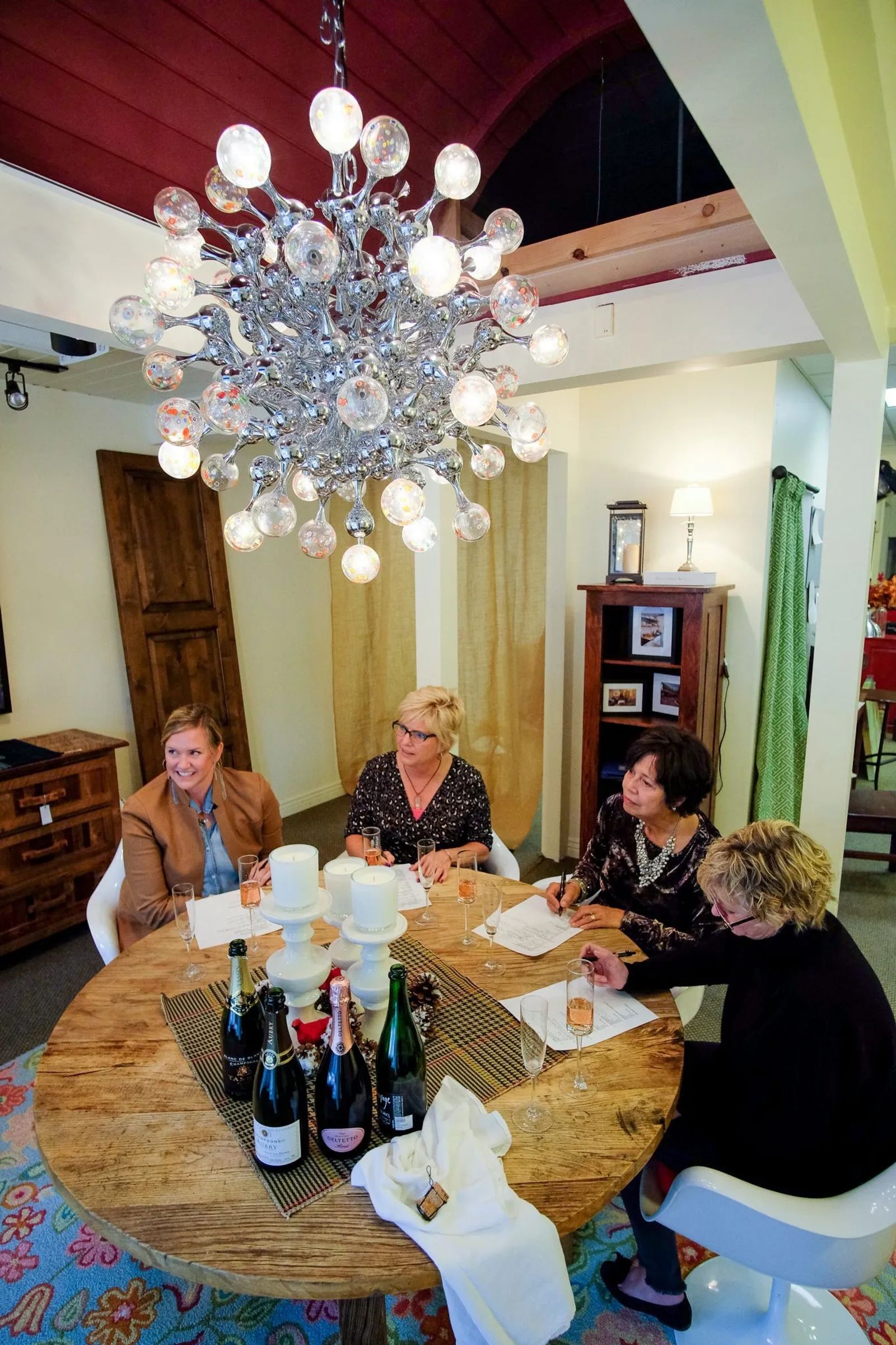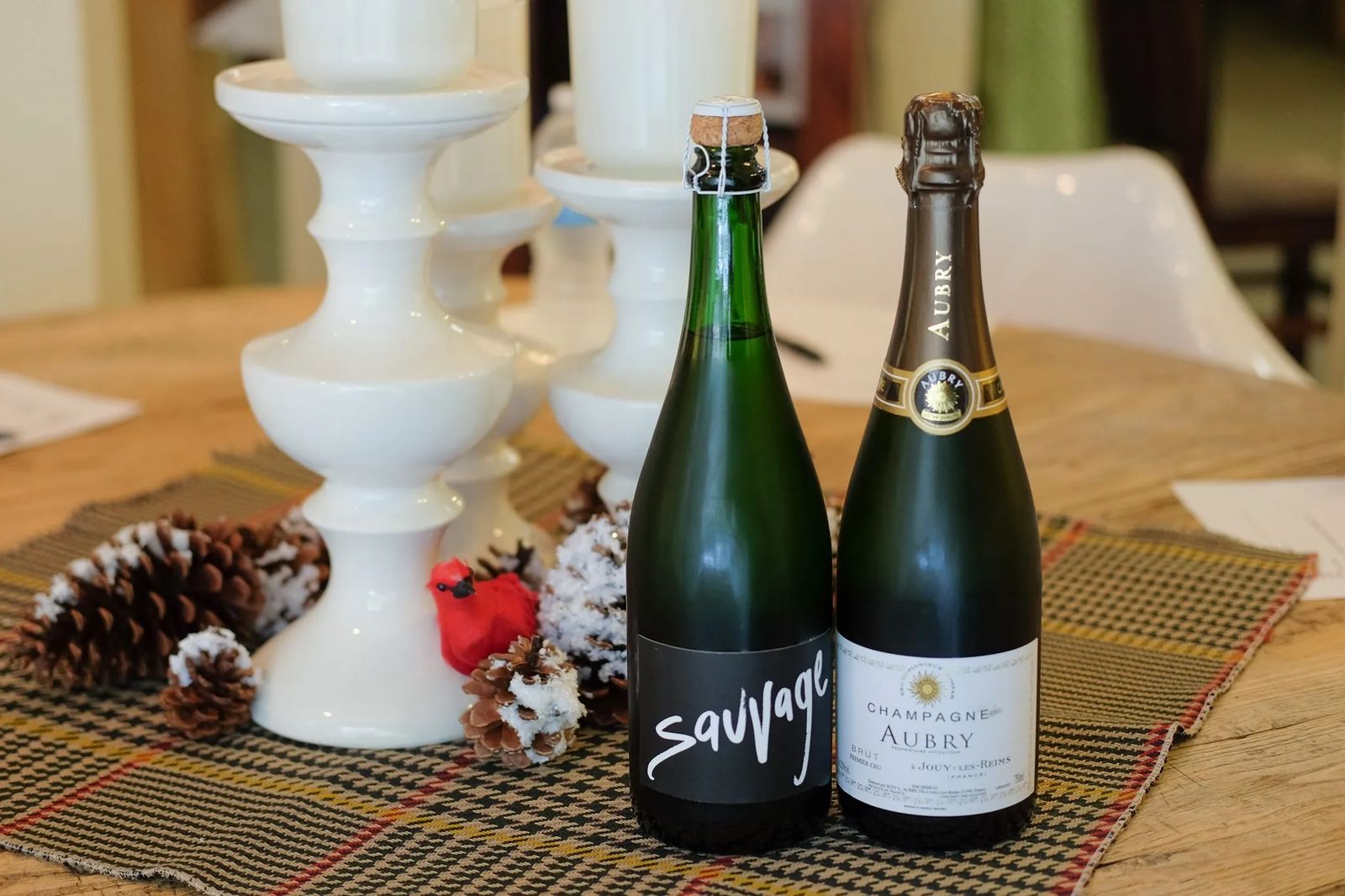 BABCOCK AND MILES
Champagne Aubry, Brut, $54.95, This Champagne made with 45% Pinot Menunier, 25% Chardonnay, 25% Pinot Noir and 5% Arbanne, Petit Meslier and Fromentaeau is freshly explosive with sea breeze grass notes and essence of lime.
"Very light bubbles, more fizzy pops. I like the smooth taste of this wine." ~ Kelly Ewing
"Small bubbles with earthy aromas and taste." ~ Janet Haar
"Lots of small bubbles. Cheery!" ~ Cara Schaer
"Great active bubbles. Fuller flavor, lingers in the mouth, creamier." ~ Marti Miller

 Gruet Sauvage, Blanc de Blanc, $21.95. With roots originating from Gilbert Gruet's Champagne house in Bethon, France, this family-owned winery in New Mexico produces a sparkling wine made with Chardonnay with a foamy mousse and flavors of pear and green apple. This wine is wild and rugged.
"The taste is tart at first, but it goes away with a lingering citrus finish." ~ Kelly Ewing
 "Very foamy with floral notes." ~ Janet Haar
"This sparkling wine is light on the tongue." ~ Cara Schaer
"Bubbles almost like a beer head." ~ Marti Miller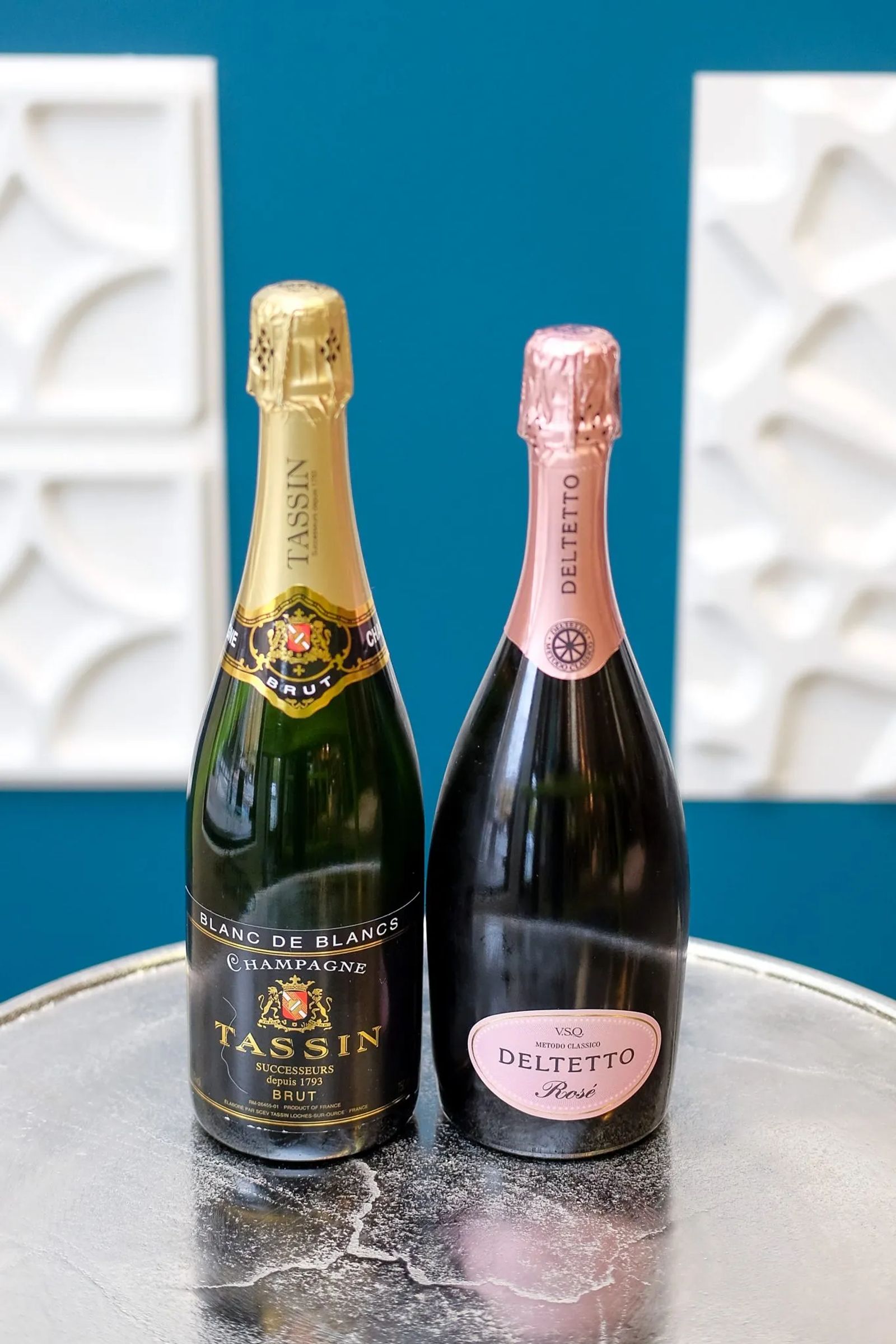 CITY VINEYARD
Champagne Tassin, Blanc de Blancs Brut, $41.95. The Tassin family has been farming in the Aube, in the Côtes des Bar, since 1793. The Chardonnay grown on limestone soils, shows lovely bready notes with green apple and mint.
"I like Chardonnay, so this is great." ~ Kelly Ewing
"Tiny bubbles with smells of citrus and 'chardonnay-ey' taste. I like the ease of this sparkling wine." ~ Janet Haar
"Minerally, grassy, citrusy and light." ~ Cara Schaer
"Very mild in flavor. Tastes like Chardonnay, not too sweet." ~ Marti Miller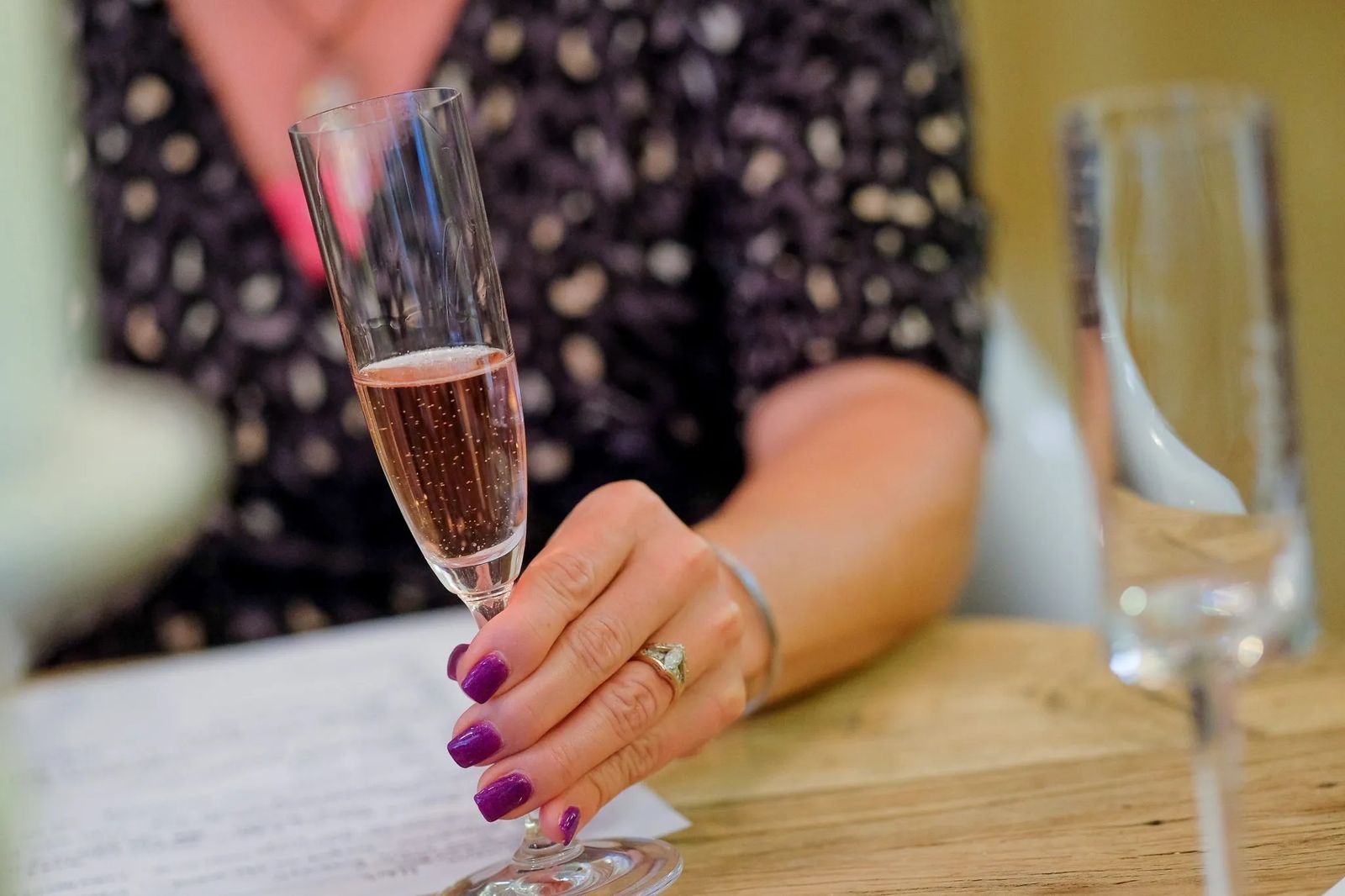 Deltetto Brut Rose, Vino Spumante di Qualità, $27.95. This pinot noir based sparkling wine made in Piedmonte, Italy is rose in color and exhibits cherry and raspberry flavors with crusty bread notes. Interestingly complex.
"The taste of cherry lingers, may go well with red meat." ~ Kelly Ewing
"Cherry, very berry, tangy, yeasty." ~ Janet Haar
"I like this one. The cherry, berry flavor stays with you." ~ Cara Schaer
"Pretty pink with berry flavors and a fuller mouthfeel." ~ Marti Miller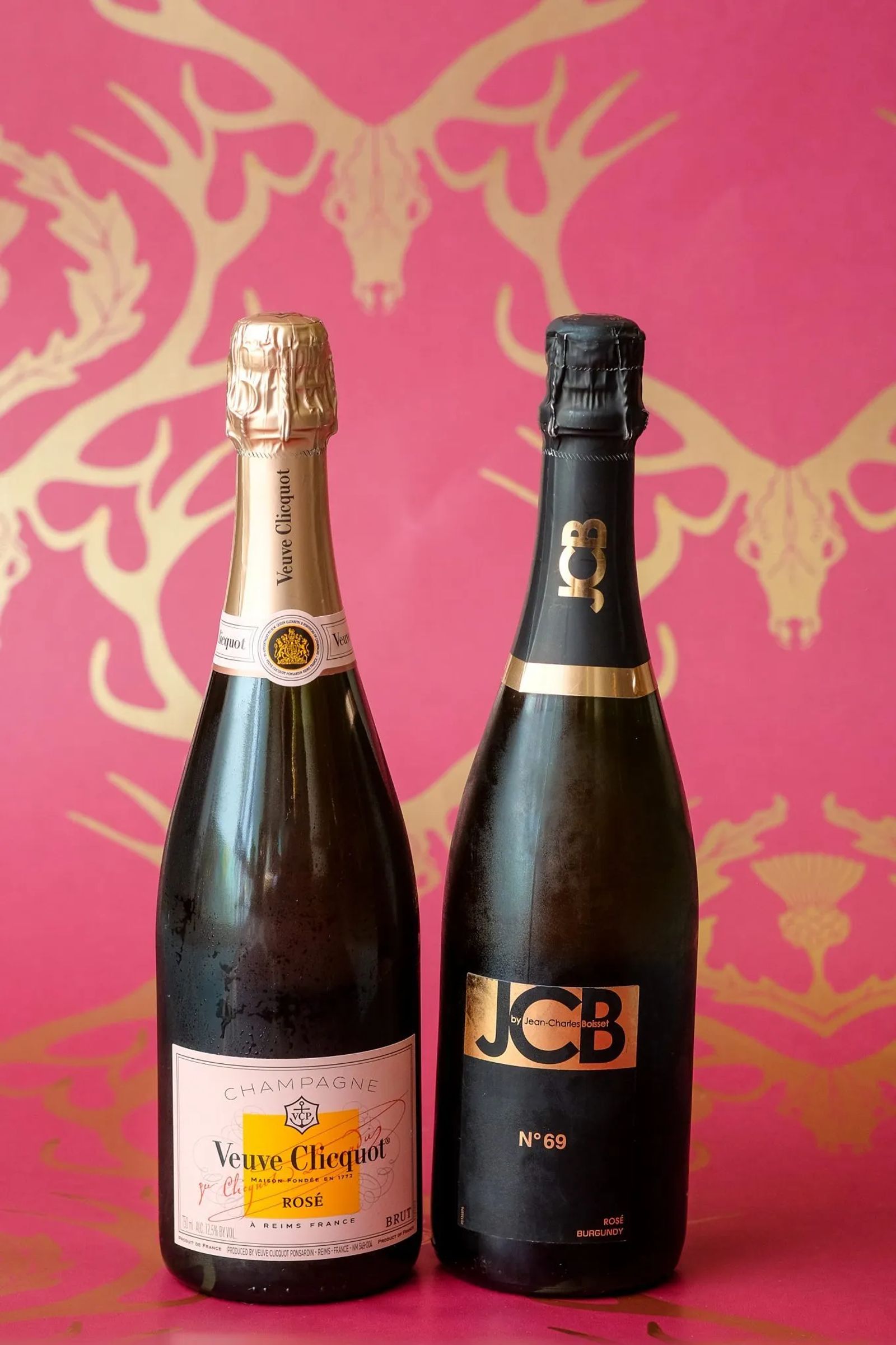 SIMPLY WINE
JCB (Jean-Charles Boisset) N°69, Cremant de Bourgogne, Sparkling Rosé Wine, $23.99. From Burgundy, this pinot noir sparkling rosé exudes vibrancy with strawberry, raspberry and pear characteristics with fresh yeasty notes.
"The pink tones may be pretty for the holidays." ~ Kelly Ewing
"Fruit licorice smell. I taste rose, berry and minerals. I really enjoy the fuller body of this wine." ~ Janet Haar
"The very fine bubbles stay alive! The taste is excellent. Dry, nice finish." ~ Cara Schaer
"I started out not liking this sparkling wine as much but enjoyed the complexity. Great lingering effervescence, berry flavors." ~ Marti Miller

Champagne Veuve Clicquot Rosé, $76. Seductive enough to be drank by James Bond, this pink colored wine shines notes of raspberry, cherry and strawberry with touches of white peach, streaks of pear and hints of bread. This was the reigning favorite of the Tastings Team.
"Very pretty. Holiday feel. This is not sweet and more complex than the others. The finish is nice." ~ Kelly Ewing
"Opus of the Champagne world. It reminds me of a lace wedding dress in a beautiful field." ~ Janet Haar
"A nice blend. It was soft on the palate but very lasting in taste." ~ Cara Schaer
"I haven't tasted Veuve Clicquot Rosé before – what I have been missing?!" ~ Marti Miller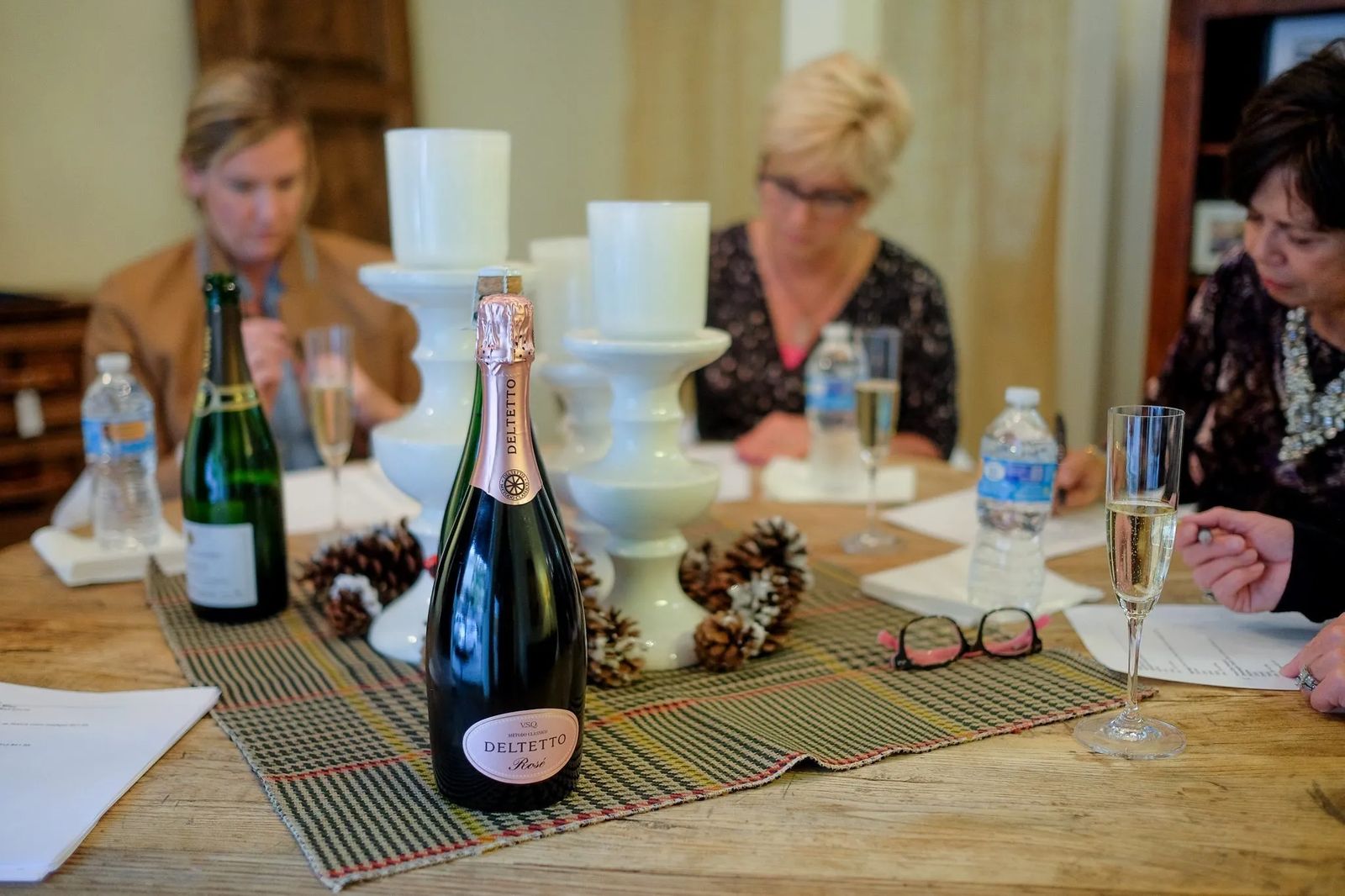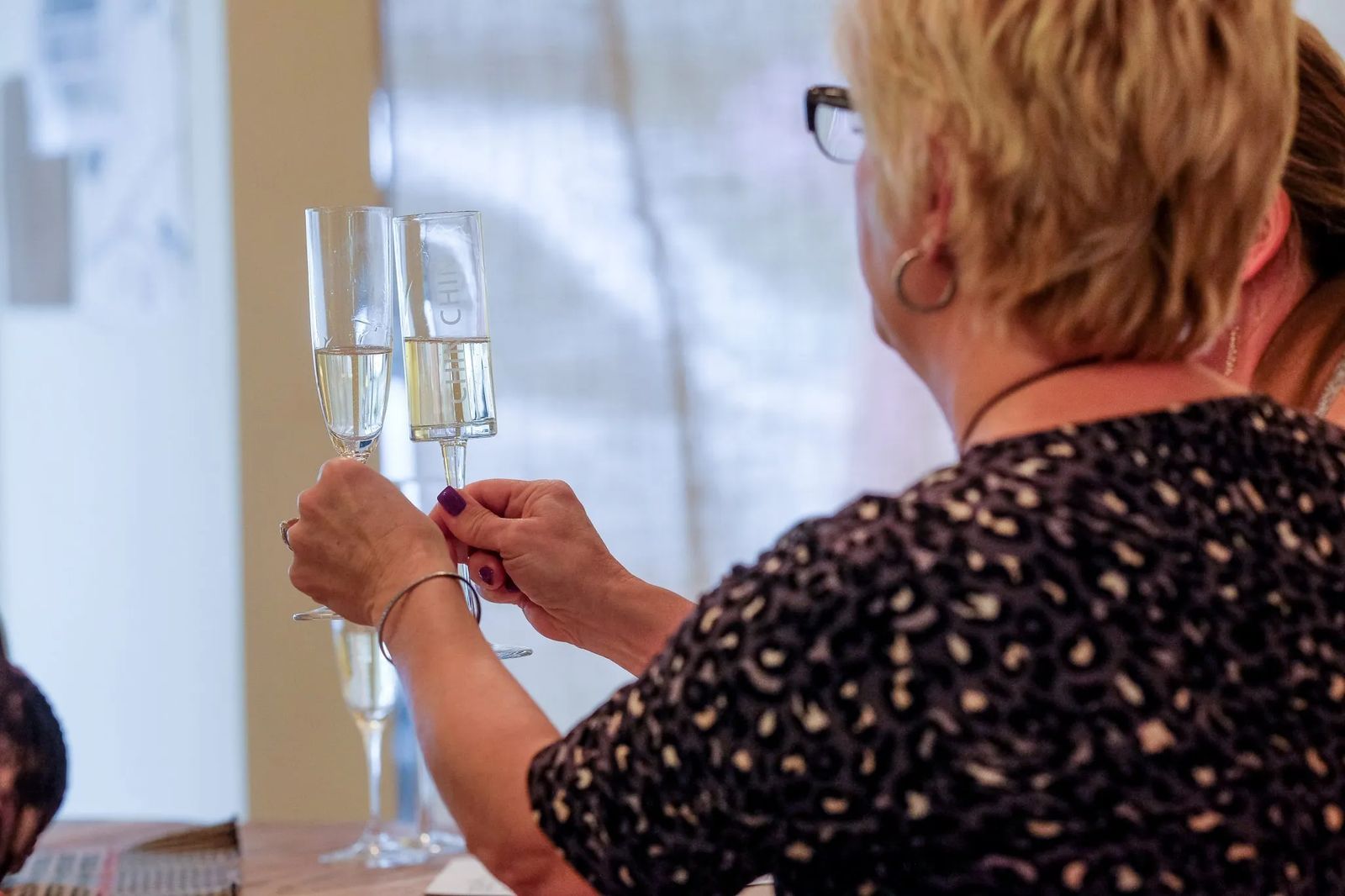 THE MANY WAYS TO MAKE SPARKLING WINE

Méthode Champenoise (Champagne method)
The transformation from a still wine to a sparkling wine occurs entirely inside the bottle.
Tank Method or Metodo Italiano (Charmat method)
Base wines are added together with the sugar and yeast mixture into a large tank. The wine goes into a second fermentation pressuring wine in the tank. Wines are then filtered, dosed with the addition of some sugar and base wine, and bottled without aging.
Carbonation
A still wine carbonates inside a pressurized tank.
THE LEVELS OF SPARKLING WINE SWEETNESS
Extra-Brut: The driest of the sparkling wines.
Brut: A dry sparkling wine with a hint of sweetness.
Extra Dry: This wine is dry but not as dry as Extra-Brut or Brut.
Demi-Sec: This a noticeably sweet sparkling wine.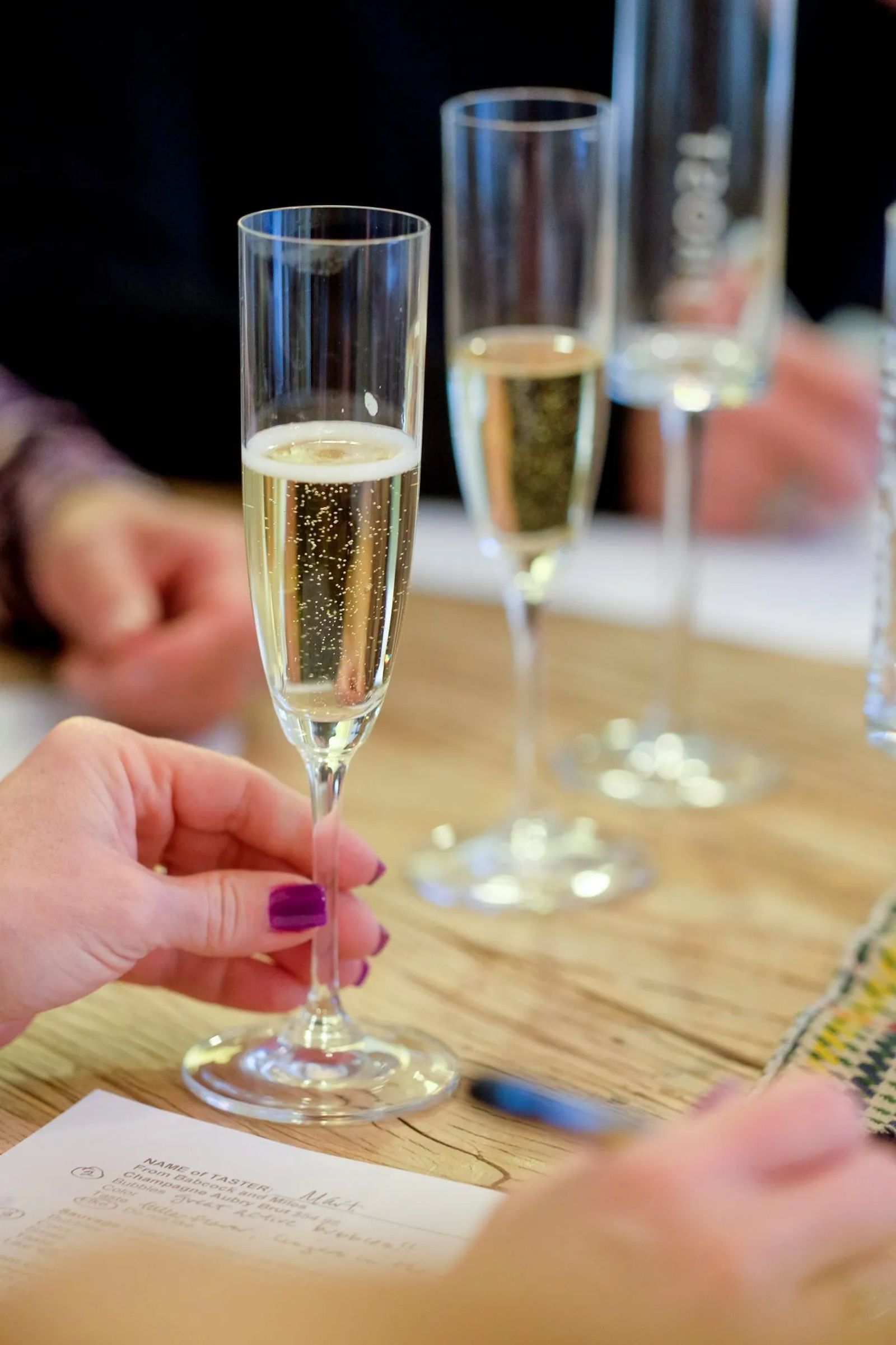 SPARKLING WINE: VINTAGE VS. NON-VINTAGE
The main difference between vintage and non-vintage sparkling wine, is not that the vintage is old, but that it is made from the grapes of only one year's harvest, whereas non-vintage Champagne is a blend of different years' harvest. Vintage sparkling wines are usually more expensive.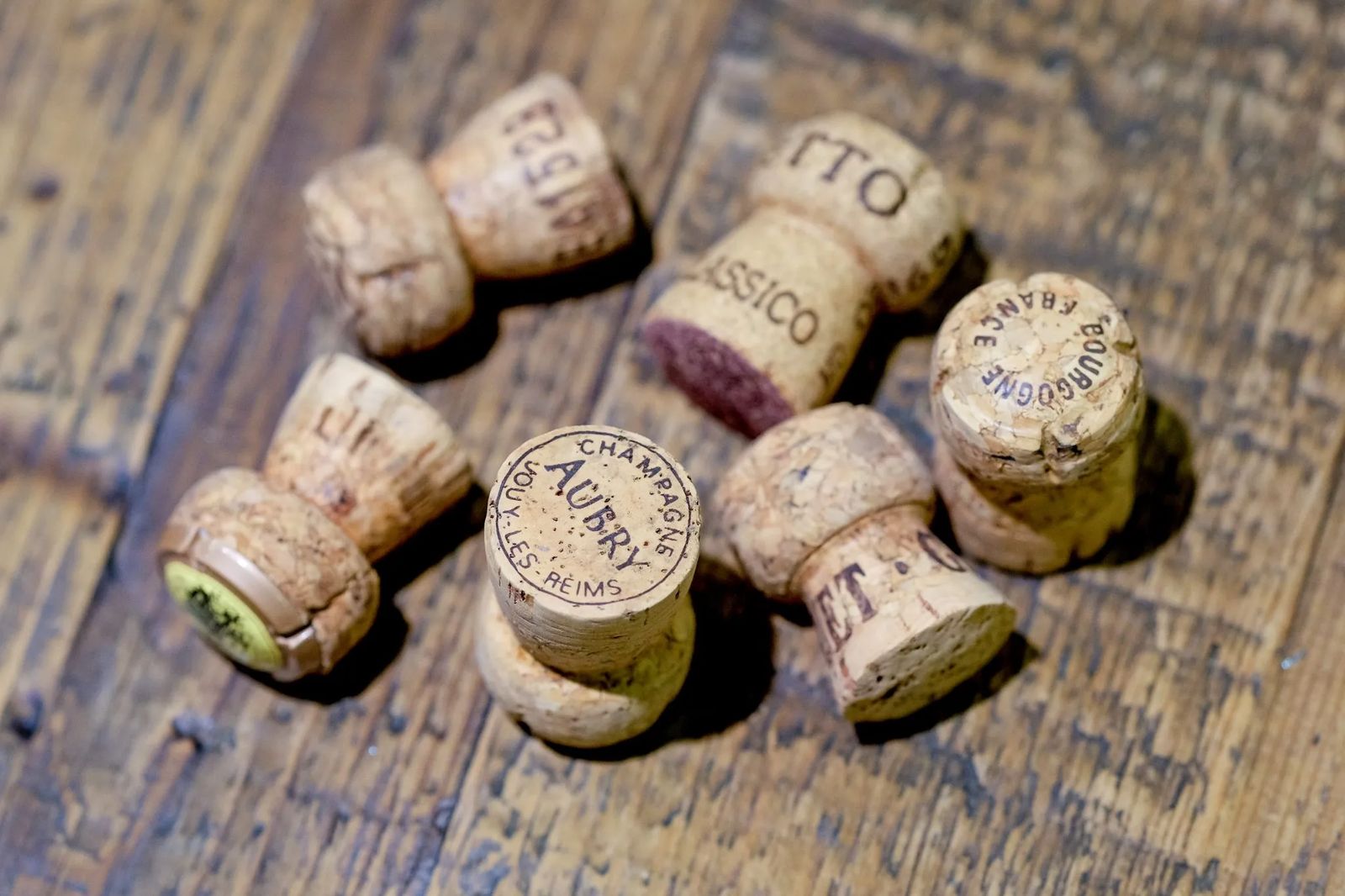 Why does some sparkling wine cost more than others? In general, the variation in price stems from how the wine is made. Sparkling created in the traditional Méthode Champenoise with fermentations inside a single bottle command more dollars than one carbonated in a tank and then bottled.