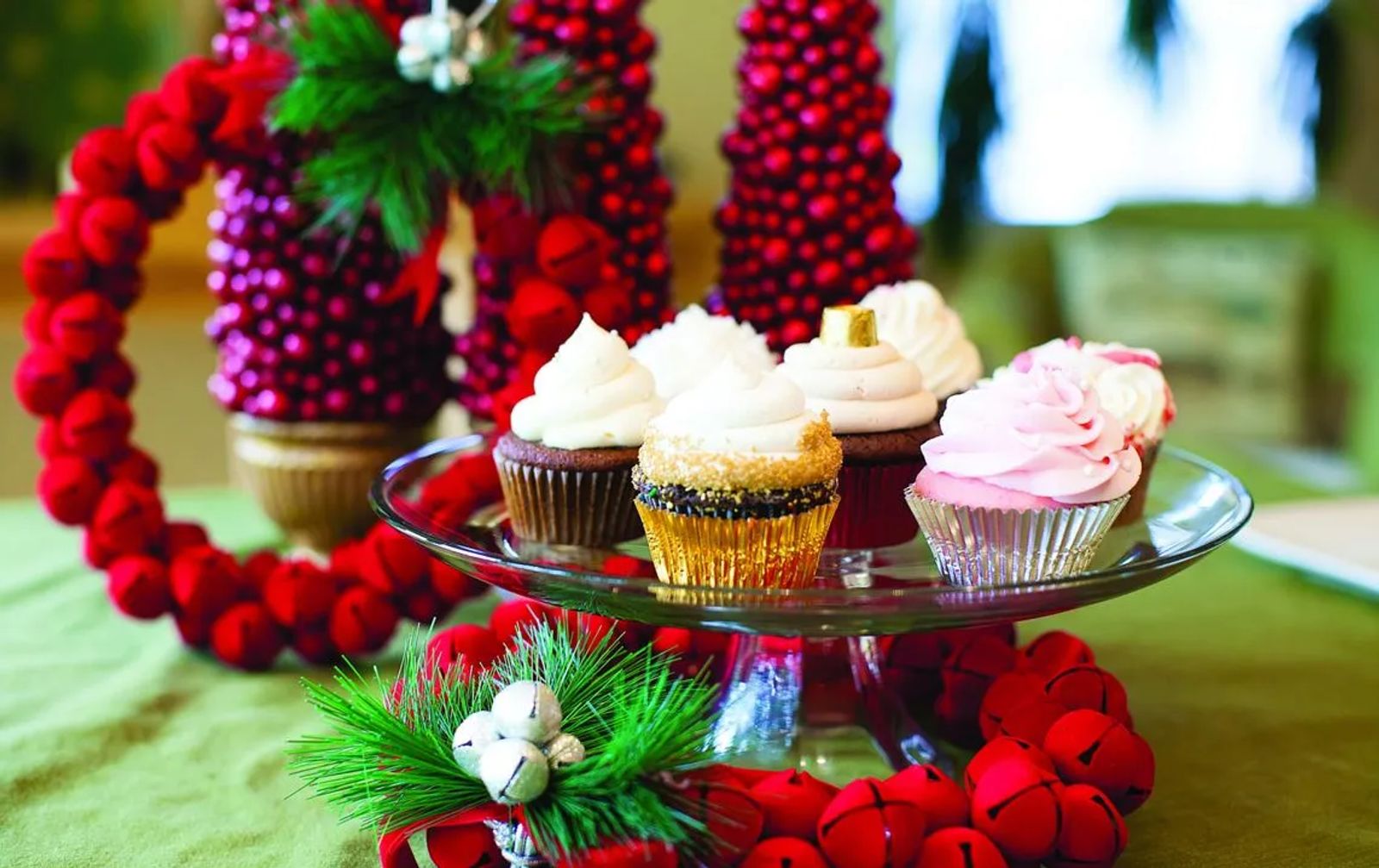 Tastings: Short & Sweet
Cupcakes = the perfect ending to a holiday meal
By Stella Fong, Photography by Daniel Sullivan
Swirled with frosting, dusted with sprinkles and piped with colorful icing, cupcakes can most surely shout (and bring) joy to the world! Created with passion, these palm-size desserts assuredly radiate delight even before the first bite. That's why our Tastings Team set out to comb the Magic City streets, looking to find and taste that cupcake that's perfect to ring in some holiday cheer.
THE TASTERS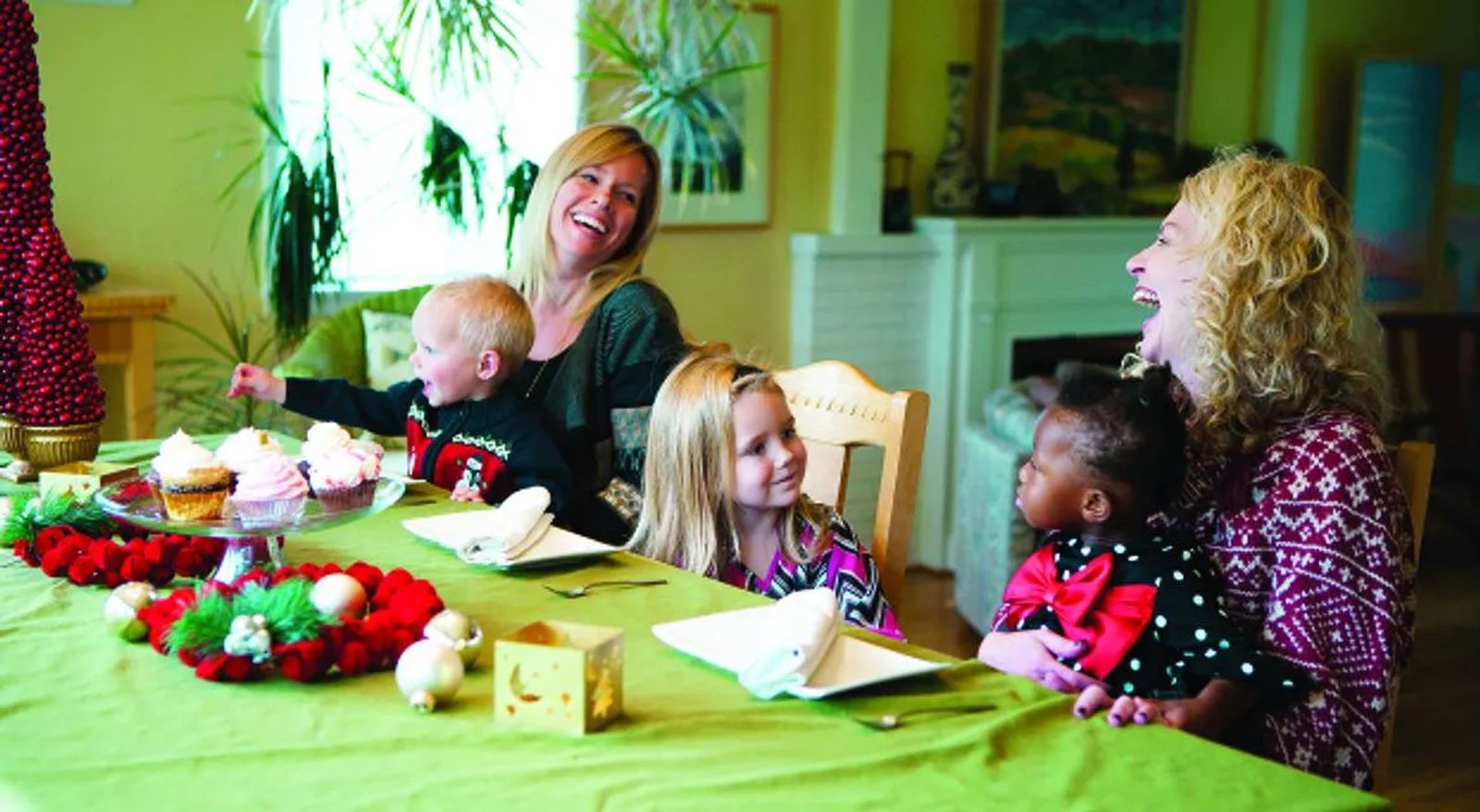 On this journey, mothers Monica Kordonowy and Brooke Wagner paired up with young aficionados Kymera Kordonowy, Stella Nelson and Sawyer Wagner. On the Tastings menu — nine cupcakes in all, three each from Tipsy Cupcake, Velvet Cravings, and Harper and Madison.
As Vice President of Marketing for VintageFive, a corporate consulting firm, Monica Kordonowy has launched many events and knows what is fun and delicious. Brooke Wagner, a stay at home mom, has celebrated many time-marked events in her family's life, especially her son's.
THE CUPCAKE EXPERTS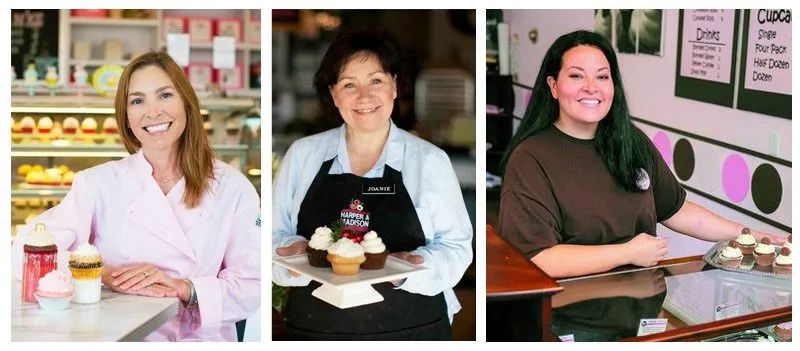 Tucked in Shiloh Crossing just down from the new Scheels is Tipsy Cupcake owned by Kari Jones. This boutique establishment offers whimsy where one leaves toting a designer bag filled with sophisticated creations.
Harper and Madison, headed up by Joanie Swords and nestled in a tree-lined hospital corridor neighborhood emanates "romance and coziness". Her cupcakes are nothing short of elegant.
 Velvet Cravings, owned by Antonia Craighill is located at a bustling corner downtown. It shares nostalgia and fun with brown pink polka décor and playfully dressed cupcakes.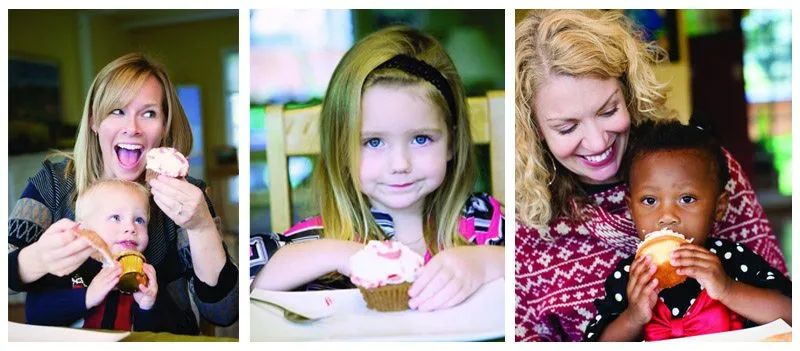 Back at the Tastings table, the young cake experts were presented with a tray of each cupcake and asked to choose one to enjoy. Kymera, age 2, coveted Harper and Madison's Coconut Cupcake the moment she saw the treat. Two-year-old Sawyer excitedly picked the Black Tie Cupcake from Tipsy Cupcake and Stella, the oldest at 4, confidently chose Velvet Cravings' Hot Chocolate Peppermint Cupcake.
For the mothers, the favorite cupcakes came from Harper and Madison. Monica, like her daughter, was captivated by the Coconut Cupcake while Brooke selected the Chocolate Cupcake with Peppermint. Both moms delighted in the balance of rich frosting with the lightness of the cake and texture and flavor of the garnishes such as the thick coconut flakes and crunchy peppermint candy.
Small, cupcakes may be, but with these little cakes there will be no silent nights. There will only be bright spirits and laughing all the way during this holiday season.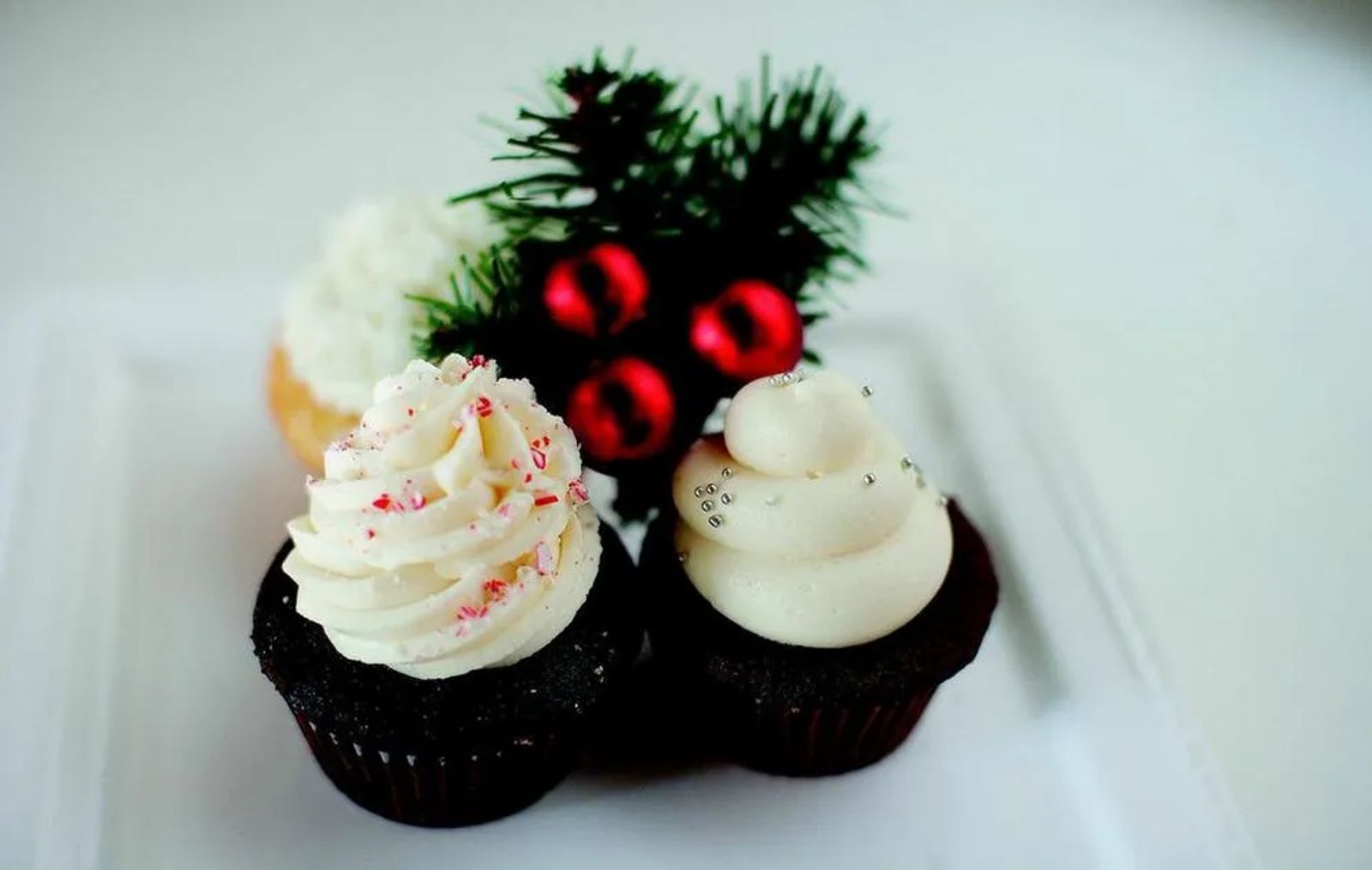 Harper and Madison
Coconut Cupcake: Italian cream cake with coconut cream filling, butter cream frosting accented with shredded coconut
"Perfect crust with coconut cream pie filling in the middle. Fabulous." ~ Monica Kordonowy
Gingerbread Cupcake: Devonshire cream filling and cream cheese butter cream frosting
 "Not too rich, just right. Frosting is a good complement and the cake has just enough spice, not overwhelming." ~ Brooke Wagner
Chocolate Cupcake with Peppermint: Chocolate mousse filling, vanilla butter cream frosting accented with crushed candies on top.
"I liked this one because it was the perfect balance of rich and sweet. It wasn't too overpowering but was delightful from first bite to the last." ~ Brooke Wagner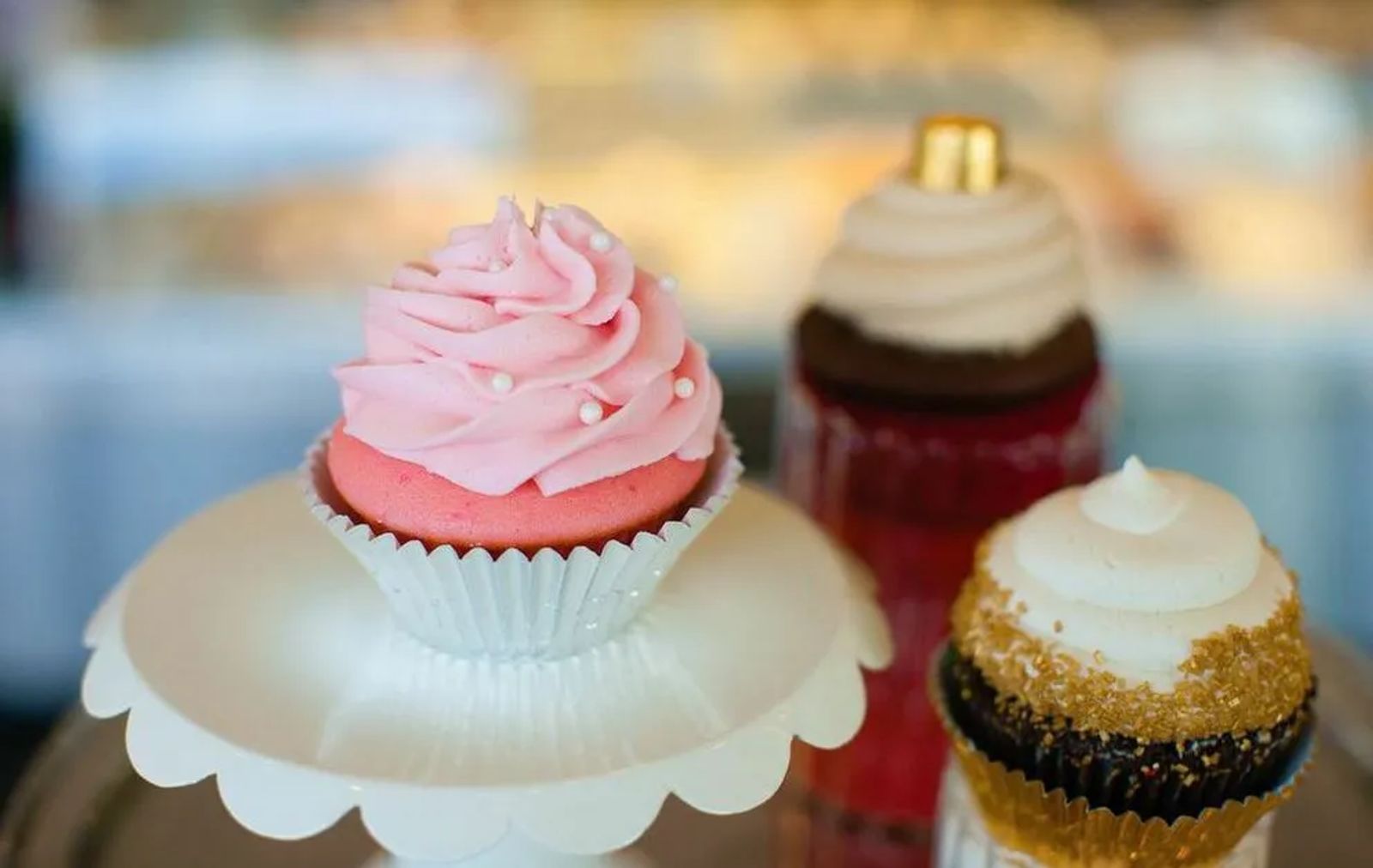 TIPSY CUPCAKE
Black Tie: Rich dark chocolate cake topped with vanilla butter cream frosting
 "The chocolate is the best, the richest chocolate of all the cupcakes." ~Brooke Wagner
"I like how it is light. There is good flavor but it is not heavy." ~Monica Kordonowy
Peanut Butter Cup: chocolate cake complimented with peanut butter cream frosting and garnished with a wedge of a Reese's Peanut Butter Cup.
  "Ohhhhh, I like peanut butter and chocolate together. The frosting is fluffy and rich." ~Brooke Wagner
Signature Pink Champagne:  a strawberry cake baked with pink champagne and topped with a pink champagne butter cream frosting.
 "I feel like I taste the bubbles. It's weird how she captures it. This would be a fun celebration cupcake." ~ Monica Kordonowy
"My favorite from Tipsy Cupcake has always been pink champagne – it's light and delicate and tastes exactly like a glass of bubbly!" ~Brooke Wagner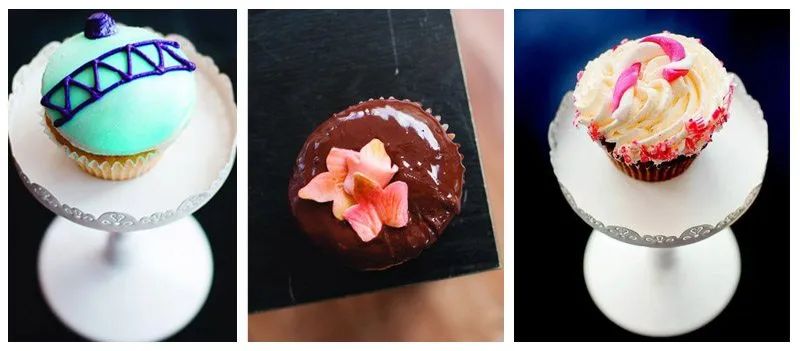 VELVET CRAVINGS
Spiced Apple Cider Cake: cinnamon flavored cake with an apple cider icing.
 "I love cinnamon for breakfast and this cupcake reminds me of breakfast."~ Monica Kordonowy
White Chocolate Cinnamon Cake:  filled with salted caramel sauce topped with milk chocolate glaze.
 "I like the salted caramel with the combination of white chocolate and cinnamon making it a festive holiday cupcake." ~ Brooke Wagner
Hot Chocolate Peppermint Cake:  peppermint butter cream frosting accented with crushed peppermint candy.
 "Not too much peppermint. Not too much chocolate. I like the candy crunch." ~ Monica Kordonowy
OVERALL TASTINGS FAVORITE:
A Tie: Harper and Madison Coconut Cupcake and Chocolate Cupcake with Peppermint