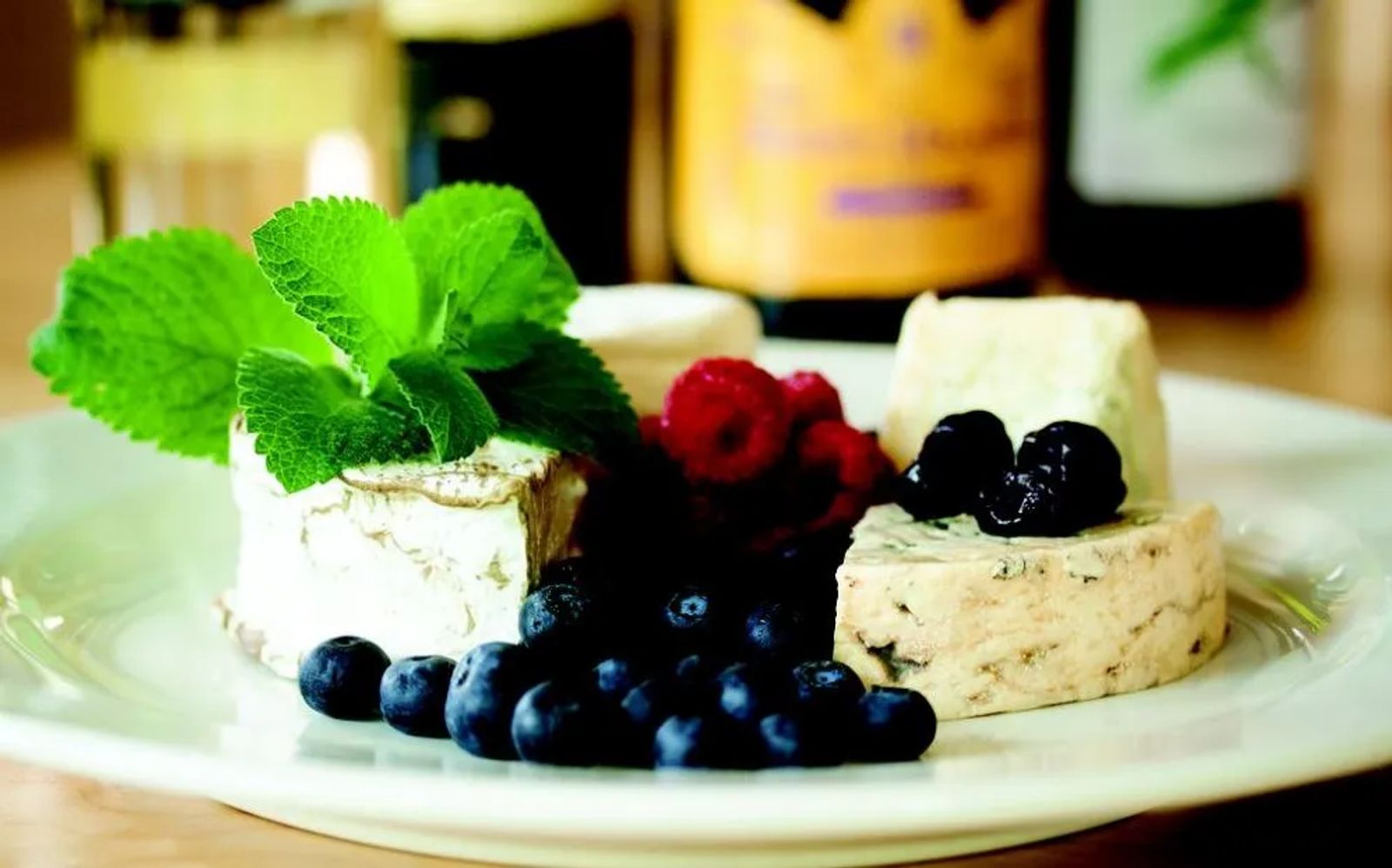 Tastings: Wine & Cheese Pairings
Grab these chef favorites from all around town
By Stella Fong, Photography by Daniel Sullivan
A luxurious triple-cream cheese. An alluringly pungent blue cheese. What wine will best partner with these diverse cheeses? The Tastings Team of Executive Chefs Dirk Frickel of Hilands Golf Club, Bill Jensen of the food truck La Carello, and Jeremy Engelbretson of Lilac found matches that showcased both wine and cheese. They supported my belief that when a wine is paired with the "right" food, your palate agrees. An inexpensive wine can taste priceless when paired with compatible food while an expensive wine can taste worthless when sipped with the wrong food. Try a buttercream frosted chocolate cake with a delicate French champagne or suck on a lemon and then take a swallow of a fine California Cabernet Sauvignon, and then you decide.
Triple crèmes are the lushest and butteriest of all cheeses with the addition of extra cream to the already milk-rich curd. By law, triple-crèmes are required to have at least 75% butterfat. Inside the "bloomy" or velvety rind, the texture is soft and creamy, and frankly, tastes like super rich butter and salt. Brillat-Savarin and Explorateur are the more popular triple crèmes but for the Tastings Team, the rustic and super creamy Pierre-Robert and the Mt Tam from Cowgirl Creamery were sampled with a sparkling wine and two whites supplied by Bottles and Shots, Market Wine and Deli, and City Vineyard.
Blue cheeses, marbled with bluish-green mold, include American Maytag Blue, English Stilton, French Roquefort, Italian Gorgonzola and Spanish Cabrales. The Tastings Team sampled an Irish Cashel Blue and an Italian Blu del Moncensio by Luigi Guffanti. The Blu del Moncensio offered a full, intense aroma but with a relatively delicate yet salty flavor, and the Cashel Blue presented a sweetness, nuttiness and a slight smokiness. These cheeses were put to the test against three bottles of red wine.
Each chef took their task seriously, devoting much time and attention to each sip and bite. For sipping alone, the Verdejo based Honoro Vera White Wine and the Conundrum were the favorites. Accompanied with cheese, the Heinz Eiffel Riesling, Saint Hilaire Blanquette de Limoux Sparkling Wine, Conundrum, and Jam Jar proved best. However, I invite the reader to read the chef's comments in detail. Though in general, there was consensus, some differences were discovered which proves my point that tastes vary. When your palate sings, you have experienced 'yummy' and for you, this is the perfect wine and cheese match.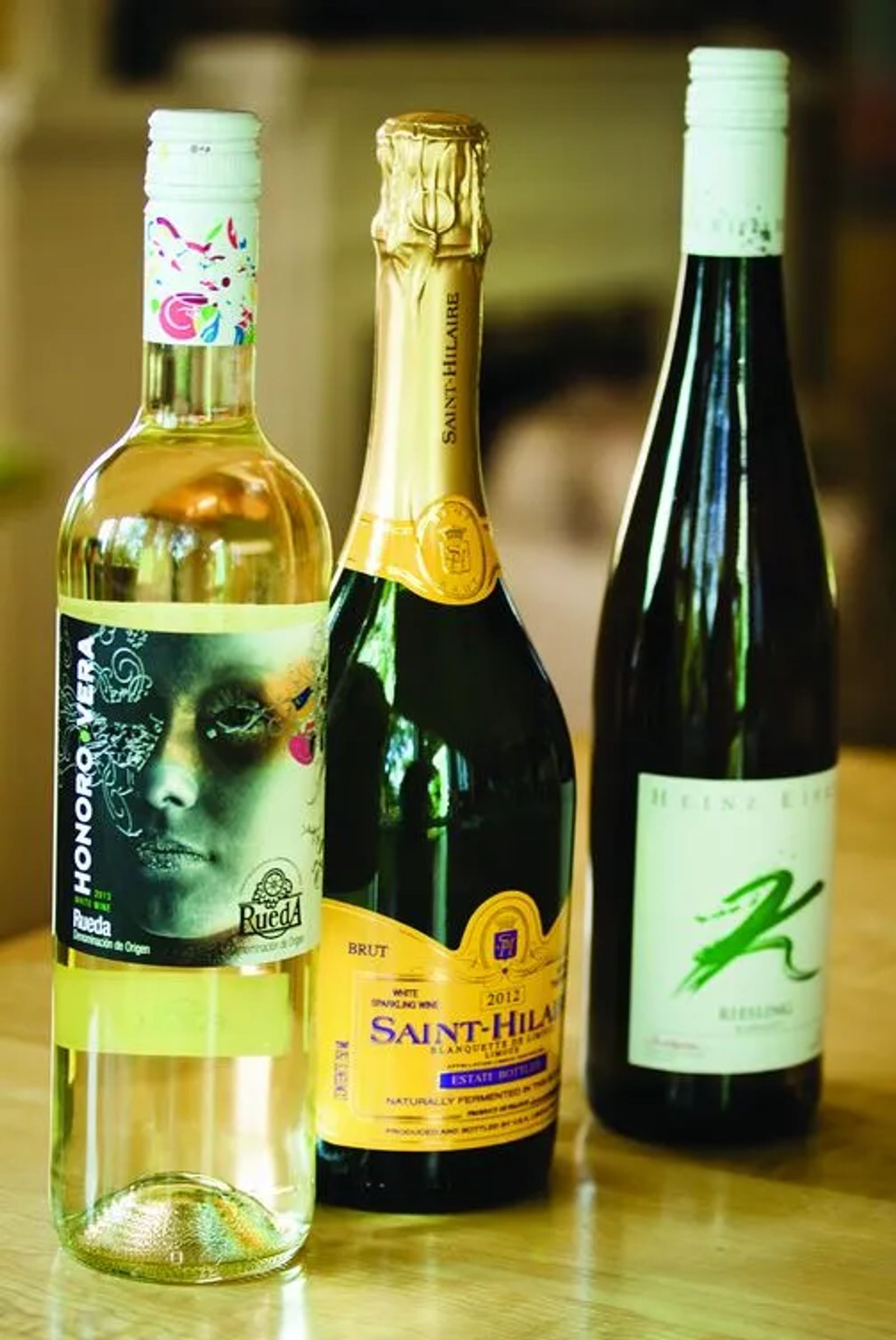 White Wine with Triple Cream
Most votes for wine with Mt Tam: Heinz Eiffel Riesling followed by Saint Hilaire Blanquette de Limoux Sparkling
"These cheeses are a lot more mild, a lot more friendly to pair. I like the Honoro Vera White because it is acid driven, less sweet. The wine is less overtaking of the palate." ~ Jeremy Engelbretson
"The richness of the cheese went well with the sweet and yeast flavors. Just enough sweetness to go with the richness."  ~Bill Jensen
"These wines (including the Saint Hilaire Blanquette de Limoux Sparkling wine) brought the fattiness of the cheese to life along with the aromatics." ~Dirk Frickel
Most votes for wine Pierre Robert:  Heinz Eiffel Riesling
"The Riesling changed everything. It brought out the nectarine and peach notes of the wine and mellowed out the cheese."  ~Dirk Frickel
"The Riesling held up to the saltier cheese. It hit it right out of the park."  ~Bill Jensen
"The Riesling can hang with this cheese."  ~Jeremy Engelbretson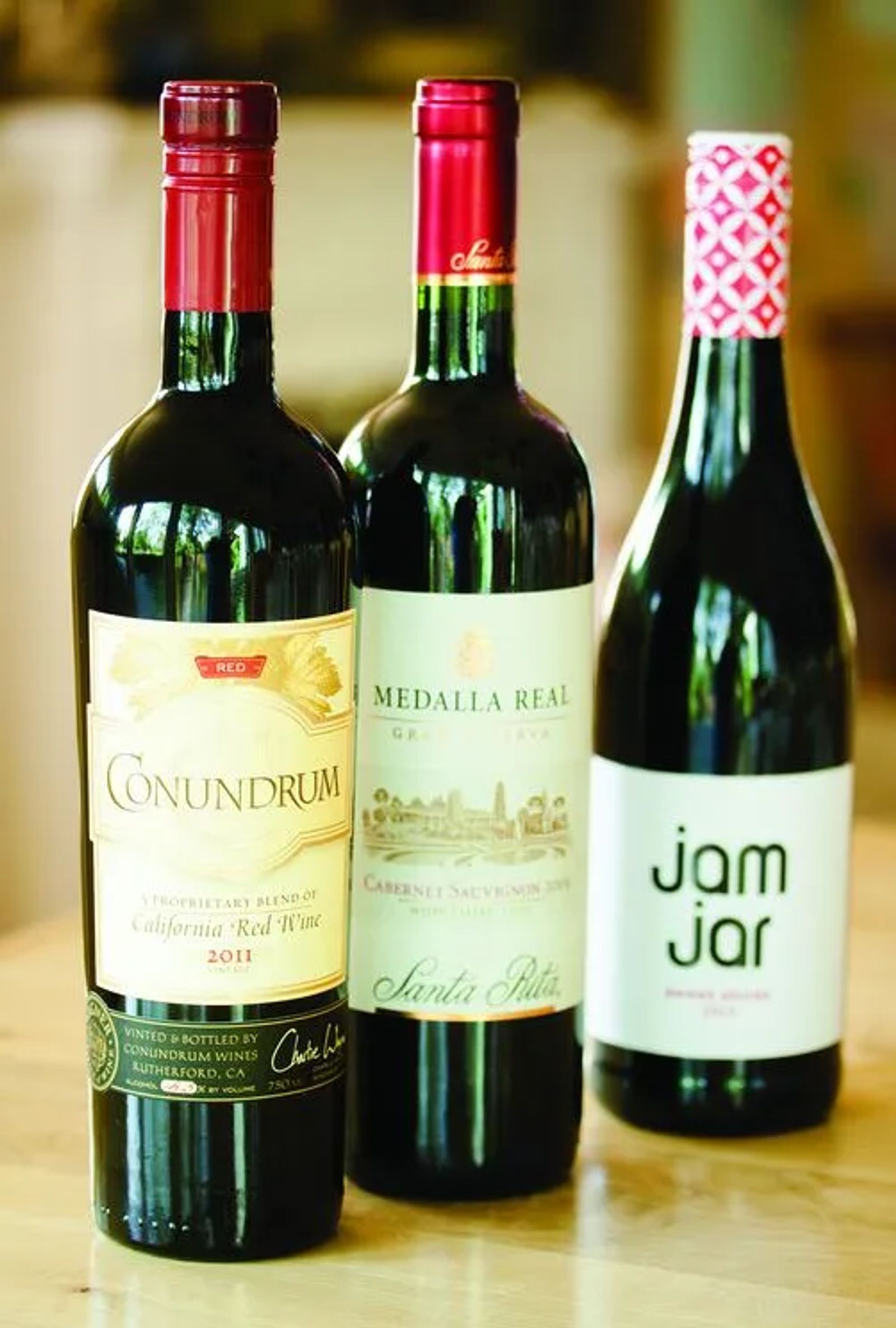 Red Wine with Blue Cheese
Most votes for wine with Cashel Blue: Jam Jar Sweet Shiraz
"The cheese is big and 'ouchy,'" It needed a big and 'ouchy' wine to go with it. The Shiraz provided the best balance for the wine and cheese.  ~Bill Jensen
"One hundred percent the Shiraz. The super sugary of the wine goes with the salty of the cheese. The cheese tasted like grainy pretzels or malt powder. The combination is nutty, rich and sweet." ~Jeremy Engebretson
"The Shiraz won by a hair. I did love the Conundrum after eating a dried     cherry with the cheese. I love the Conundrum with the strong flavors of black cherry and blackberry.  ~Dirk Frickel
Most votes for wine with Blu del Moncensio: Conundrum
"The Conundrum is better with the cheese whereas the Shiraz brought out flavors of hay, grass and barn." ~Dirk Frickel
"The Conundrum made the perfume in the cheese and wine shine exponentially. There is a high level of flavor rather than having both compete  against each other." ~Jeremy Engelbretson
"The Conundrum is definitely the winner." Bill Jensen
THE WINES
WINE MARKET & DELI
Recommendations from Mary Kennedy
Saint Hilaire Blanquette de Limoux Estate Bottled, 2012, $16 This sparkling wine of Mauzac, Chardonnay and Chenin Blanc is refreshing with hints of yeast, peach, pear and green apple.
Santa Rita Medalla Real Gran Reserva Cabinet Sauvignon, Maipo Valley Chile, 2009, $19 A deep ruby red Cabernet Sauvignon with 5% Cabernet Franc with dark fruit flavors, dried figs, leather, tobacco, smoke and spice.
CITY VINEYARD
Recommendations from Tyler Morrison
Honoro Vera White Wine, Rueda Spain, 2013 $10 This light wine made from Verdejo from northwest Spain brims with freshness with notes of tropical fruits, grass and citrus.
Conundrum, California Red Wine, 2011, $23 Conundrum's white wine, introduced 20 years ago by the Wagner family, is one of the best all round wines made. Now, the family that also makes Caymus and Mer Soleil have introduced a Conundrum Red which is a "secret formula" says Lacey Guiliani, the Wagner Family of Wine Marketing Assistant.
BOTTLES AND SHOTS
Recommendations from Jason Ballard
Heinz Eiffel Riesling Kabinett, Mosel, 2012 $10 This off-dry Riesling shows flavors of pears, apples, stone fruit, orange, honey and petrol.
Jam Jar Sweet Shiraz, Western Cape South Africa, 2013, $11 This semi-sweet wine exudes flavors of summer blueberry, blackberry and raspberry pie
THE CHEESES
Triple Crèmes: Buttery soft, ultra-rich and gently sweet cheese with "bloomy" rind
Cowgirl Creamery Mt Tam, hints of white mushroom
Pierre Robert, rustic with tangy aftertaste
Blues: Blue green veined cheese that has a strong flavor
Cashel Blue, musky, smoky and sweet with touches of nuttiness
Luigi Guffanti Blu del Moncensio, creamy and salty with a spicy finish
Editor's Note: The wines and cheese mentioned may be found at City Vineyard, Wine Market and Deli, Bottles and Shots, Lilac, La Carello, and Hilands Golf Club, all in Billings.