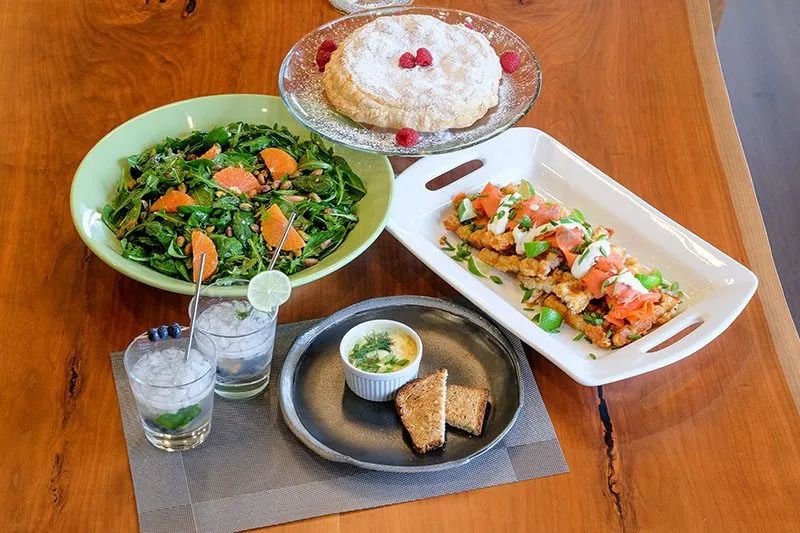 The Art of Entertaining
Easy Brunch for a Crowd
By Stella Fong, Photography by Daniel Sullivan
On a cold Saturday morning, Kelli Christiansen gathers a few friends for a warm brunch. As an application engineer who trains and supports industrial controllers and equipment, and a wife and mother of Beckett, 4, and Aria, 2, she is, needless to say, busy. But Kelli always makes time for friends. On this day, she invites Karla Schmidt, Katherine Bisges and Raja Stickel. While her husband, Brian, took the kids to shop and to grab a quick bite, these women share conversation and kinship over a late breakfast.
With our hectic lives, there are shortcuts of ready-made foods available at the grocery store that allow for homemade meals. The secret is to have a few basic things on hand. In the freezer, a bag of tater tots can serve as a base for many dishes. Who doesn't like crispy potatoes? Puff pastry can be used for making impressive pastries and tarts. The trick is to remember to thaw the pastry sheets, letting them sit in the refrigerator overnight. Smoked salmon and bread can be put into the freezer and thawed prior to use. Pick up some baby spinach or arugula. Both come in plastic containers, prewashed and ready to go. Whip up an easy salad or stir-fry to accompany a meal. Fruit is a great addition to a salad and can fancy up a dessert. Eggs are the most versatile food around. Sure, you can make a quick omelet or scrambled eggs, but eggs baked with cream, butter, and eggs in small ramekins are so simple.
Kelli's added touches for brunch included adding fresh berries to a mixture of sparkling water and strawberry lemonade, transforming it into a low-calorie beverage with an attractive pink tint.  To take things to another level, adding a few shots of vodka would certainly enliven the party.
BRUNCH SHORTCUTS
Items to have on hand
IN THE FREEZER
Taters tots or hash browns
Puff pastry sheets
Sliced bread
Smoked salmon
IN THE REFRIGERATOR
Container of prewashed baby spinach
Oranges, limes, lemons, and berries
Fresh eggs
Green onions, slice or chop to give that "oniony" flavor without cutting a whole onion
OUR BRUNCH MENU

Arugula and Spinach Salad with Cara Cara Oranges and Pistachios
Waffle Iron Hash Browns with Smoked Salmon
Baked Eggs with Cream and Herbs
Raspberry Almond Pithivier
Easy Sparkling Blueberry Mint Mojito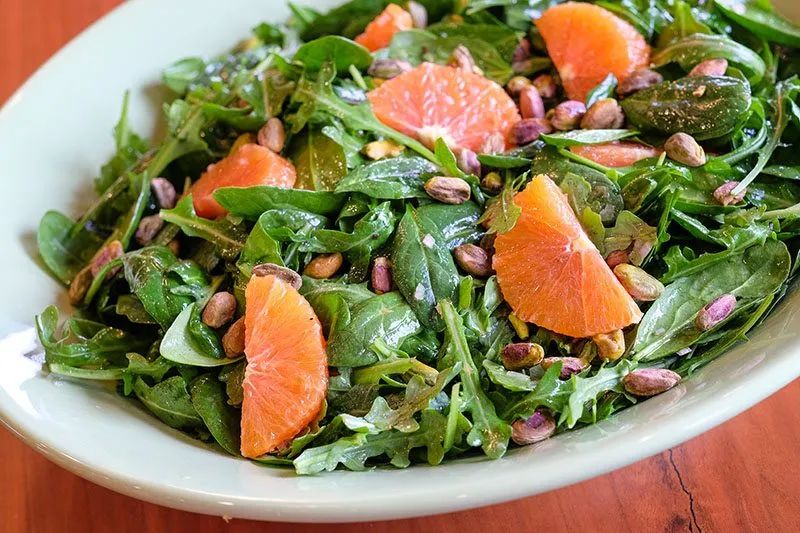 ARUGULA & SPINACH SALAD WITH CARA CARA ORANGES & PISTACHIOS
Makes 8 servings
FOR DRESSING
1/3 c. fresh Cara Cara orange juice squeezed from one orange
2 T. minced shallot
2 T. rice vinegar
1 T. honey
1/3 c. olive oil
Salt and freshly ground black pepper

FOR SALAD
4 Cara Cara oranges, peeled and sliced
5 ounces baby spinach
5 ounces arugula
1/3 c. shelled, salted, roasted pistachios
To make the dressing, whisk together orange juice, vinegar, shallot and honey in a small bowl. While whisking, slowly drizzle in olive oil. Season to taste with salt and black pepper. Put spinach, arugula and oranges in a large bowl. Add dressing and toss until salad is evenly coated. Sprinkle with pistachios and serve.
NOTE: Cara Cara oranges, with their pink flesh, offer flavors of tangerine and orange. Use regular navels, tangerines or grapefruit as a substitute if you like.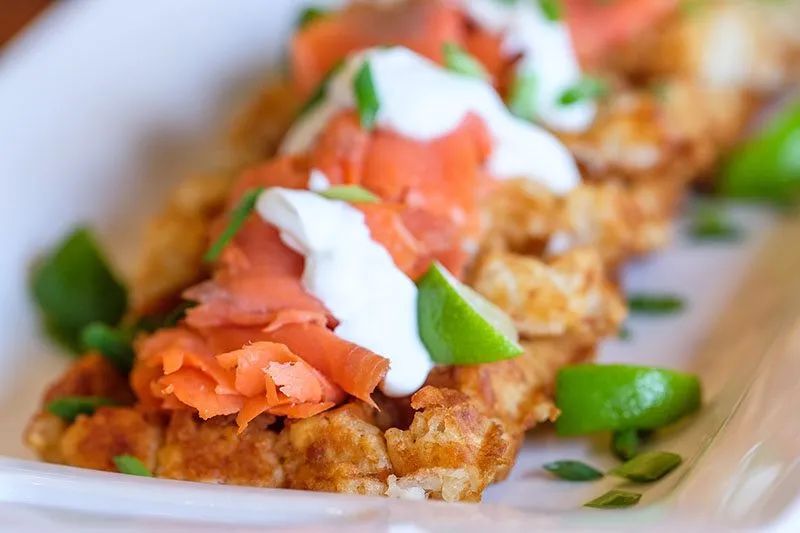 WAFFLE IRON HASH BROWNS WITH SMOKED SALMON
Serves 4 to 8
1 (28-ounce) bag frozen tater tots, thawed
Salt and pepper to taste
Nonstick spray or oil
8 ounces smoked salmon
¼ c. sour cream or crème fraiche
Dill sprigs, chopped chives or green onions, lime or lemon wedges
Set waffle iron to medium-high. Let iron come to temperature and then spray or brush grill with oil. Set tater tots evenly on the waffle iron. Push them together tightly without any spaces in between. A standard waffle iron should accommodate one bag if packed together. Close iron and press down firmly to flatten out the tots. Press a little more during cooking to flatten further. After several minutes, open iron up and fill any holes with pieces of tater tots. Cook until waffle is golden and crispy. Total cooking time will vary with irons from 5 to 15 minutes. Set in a warm oven while you finish cooking other batches of potato waffles. Place waffles onto a plate and layer salmon on top. Garnish with sour cream or crème fraiche, dill or green onions and a wedge of citrus.
NOTE: Thawed frozen hash browns can be used instead of tater tots, but be sure to squeeze out all the excess liquid before cooking.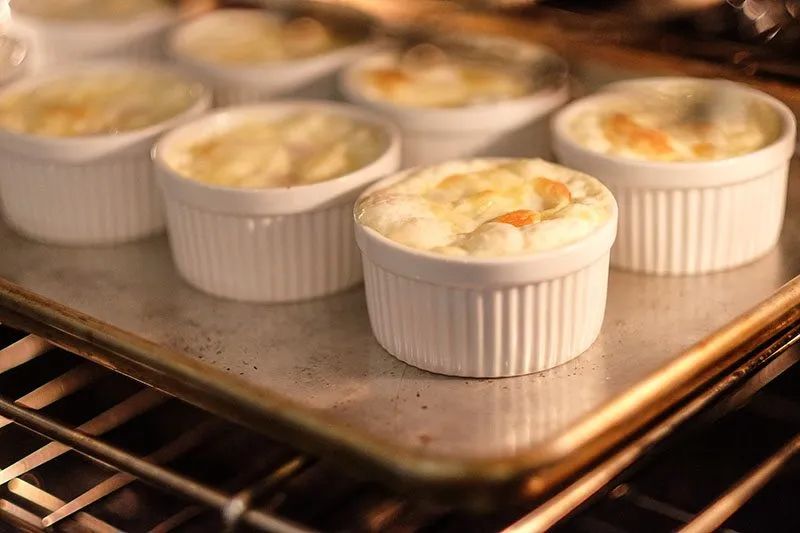 BAKED EGGS WITH CREAM & HERBS
Serves 8
Nonstick cooking spray
2 T. unsalted butter cut into 8 small pieces
16 T. heavy cream
16 large eggs
Salt and freshly ground black pepper
2 T. chopped fresh herbs – parsley, dill or chives
Heat oven to 425 degrees. Coat eight 4-ounce ramekins with nonstick cooking spray and place on a baking sheet.  Drop a piece of butter into each ramekin.  Spoon in 2 tablespoons of cream and then crack 2 eggs into each container. Season with salt and black pepper. Bake until the whites are set, 10 to 15 minutes. Sprinkle with the herbs.
DID YOU KNOW? Ramekins can be oiled, and then filled with butter, cream and eggs the night before. Place on a tray, cover tightly with plastic wrap and slide into the refrigerator. The next morning, let the tray sit at room temperature for 30 minutes if possible. Remove the plastic wrap and bake to the desired doneness.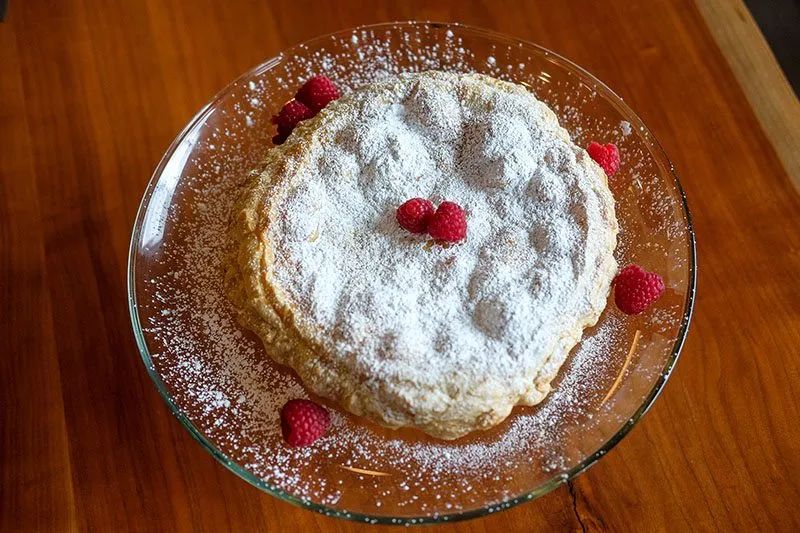 RASPBERRY & ALMOND PITHIVIER
Serves 8 to 10
1 (17.3 ounce) package frozen puff pastry dough, thawed, divided in half
4 ounces almond paste
4 T. unsalted butter
1/3 c. unbleached all-purpose flour
1/3 c. sugar
1 large egg
1 pint fresh raspberries
1 egg white, beaten
Confectioner's sugar for dusting
Preheat oven to 425 degrees. Unfold the pastry dough and cut an 11-inch circle and a 10-inch circle. Line a cookie sheet with parchment paper and place the 10-inch pastry circle on it. Refrigerate until needed. In a food processor, process almond paste, butter and sugar until blended. Add in flour and pulse until mixed. Add the egg and mix until smooth. Remove the 10-inch pastry circle from the refrigerator. Scoop the filling onto the pastry and spread on the almond filling to about 1/2-inch from the edge, piling the filling slightly higher in the center. Top with raspberries (reserving some for garnish). Blackberries can be substituted for raspberries, or spread some raspberry jam onto the bottom pastry before adding the almond mixture. Cover the filling with the 11-inch pastry circle. Press the edges of the pastries together and trim. Seal edges by using a fork to press edges together or pinch with your fingers forming scallops on the edge. Brush the top lightly with beaten egg white. Cut 8 slits for steam holes. Bake 15 minutes at 425 degrees, then lower oven temperature to 350 degrees. Continue baking until golden brown, about 20 more minutes. Serve warm or cooled to room temperature. Dust with powdered sugar and garnish with extra raspberries.
KEEP IN MIND: A box of puff pastry is something we all should keep in our freezer. Thawed, it can be made into a variety of delicious dishes. Turnovers? Pizza? Cheese sticks?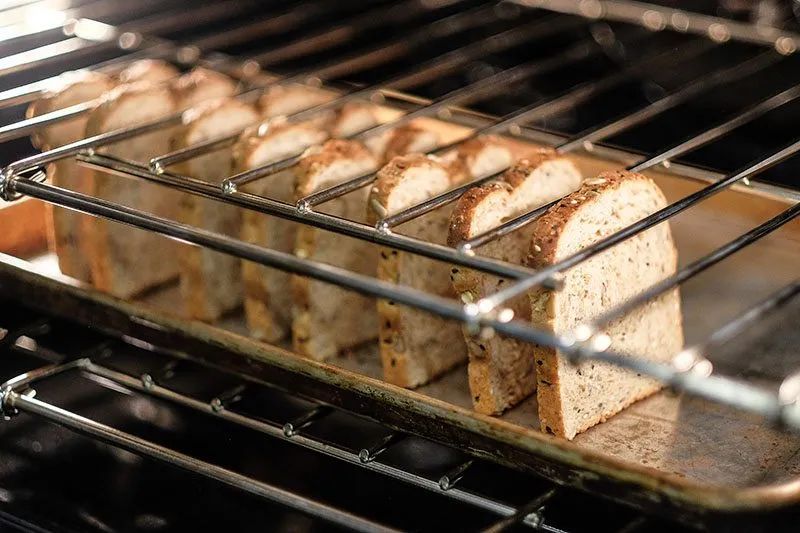 TOAST FOR A CROWD
This technique turns your oven into a large toaster. Firmer bread may work better with this technique. Since all oven racks are different, be sure to check the size and thickness of your toast and then set up the racks accordingly before turning on your oven. The idea is to have the bread held vertically, like in a toaster, held up by the rack above, while resting on the pan below.
Preheat oven to 450 degrees. Center a baking sheet on the lower rack. Carefully and quickly slide slices of bread between the slots of the rack above and the tray below so they stand vertically in between the bars of the higher rack. Toast until desired doneness, about 6 minutes to golden.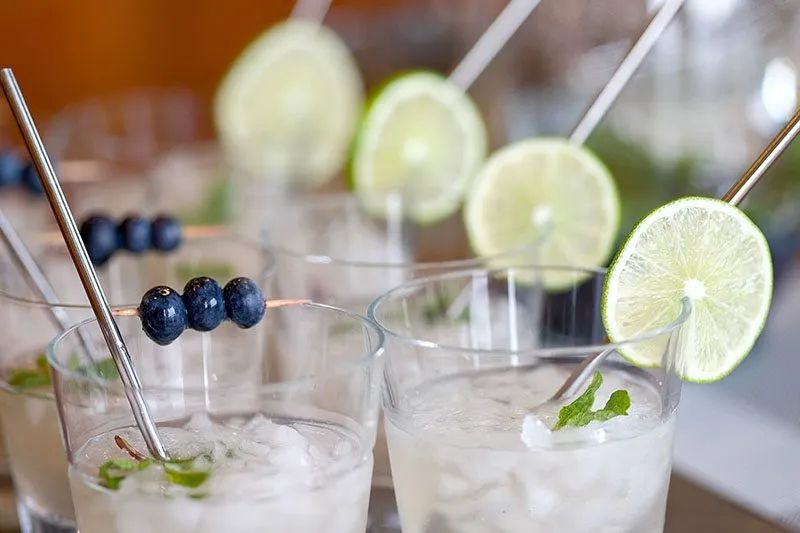 Blueberry Mojito Refresher
Makes 8 cocktails
2 c. fresh blueberries (plus extra to skewer onto swizzle sticks)
1/2 c. mint leaves (plus extra for garnish)
2 T. fine sugar
1/3 c. fresh lime juice
1 c. light rum
750 ml sparkling wine or champagne
Crushed ice
Place blueberries, mint leaves, sugar and lime juice in a large pitcher. Using a wooden spoon, muddle the ingredients in the bottom of the glass to release the juices of the blueberries. Pour in rum. Serve immediately or chill in the refrigerator overnight. If serving immediately, pour in a bottle of sparkling wine. Fill a glass with crushed ice and pour blueberry mixture to ¾ full. Make sure to spoon in some blueberries and mint from the pitcher. Garnish with extra mint and blueberries skewered on swizzle sticks or long toothpicks.
NOTE: Blueberries tend to be ignored when thinking about pretty cocktails, but these little darlings have the most beautiful hue of blue. For more color and flavor, add strawberries or kiwis.