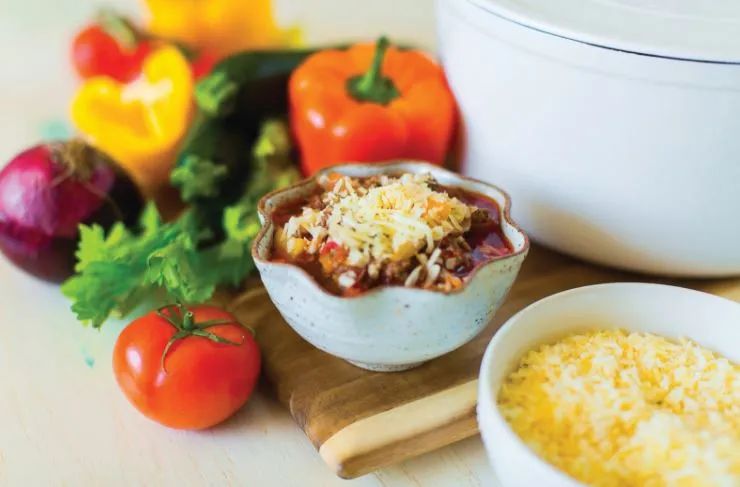 The Bane & Blessing of the Garden Zucchini
4 Ways to cook up this plentiful garden gourd
What garden vegetable is the most popular here in the U.S., low in calories, easy to grow and great raw or cooked in both savory and sweet dishes? The zucchini, of course.
This summer squash, believed to have originated from Central America and Mexico, has been around some five centuries. And, it is believed to have changed very little since its early days.
It has no fat or cholesterol and is a good source of Vitamin C, A and potassium. As an added bonus, its skin is a good source of dietary fiber.
How can you pick a great zucchini? The ideal size is no more than 8" long. So, when cooking up greatness, avoid those large zucchinis that appear to grow overnight in the garden. They tend to be very watery (not a good thing) with an abundance of seeds, and the skin can be a bit tough. The best pick will also have a shiny, smooth and unblemished skin.
Try these garden fresh veggies raw in a green salad, sliced as a crudité with dip, or in an array of savory dishes (Zucchini Casserole, Zucchini Soup, and Stuffed Zucchini Appetizer). You can also play up their sweet side in desserts (Orange Zucchini Cake and Orange Cream Cheese Frosting).
Enjoy this bounty of the summer garden. Just remember, any zucchini bigger than a lap dog should definitely be avoided.
Enjoy!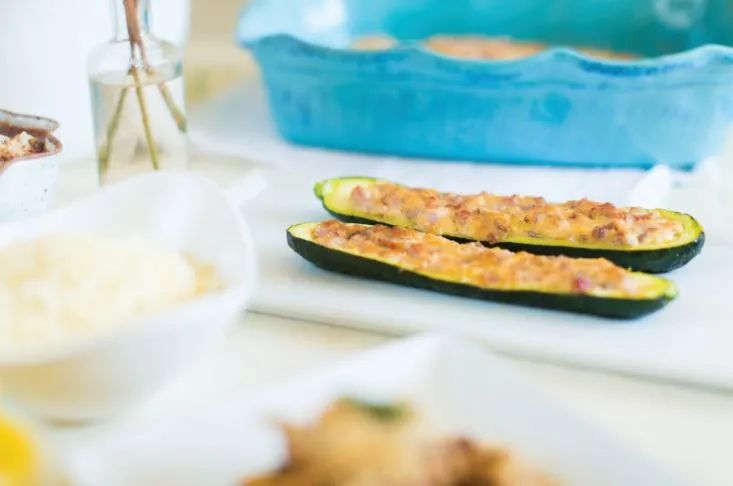 STUFFED ZUCCHINI APPETIZER

~From the kitchen of Kay Erickson
6-8 small to medium zucchini
1 T. unsalted butter
1 small onion, finely minced
Salt and cayenne pepper to taste
½ c. milk
1 c. (4oz) grated Gruyere cheese
1 c. finely chopped ham
Olive oil
DIRECTIONS
Preheat oven to 375 degrees. Scrub zucchini. Cut them crosswise into 2-1/2" pieces. Remove pulp from centers with a small spoon, being careful not to go all the way through. You're essentially making a 'boat' for your dip. Rub the skins of the zucchini pieces with olive oil and set aside. Melt butter in a saucepan. Gently sauté onion until tender. Remove pan from heat. Add flour, with salt and cayenne to taste. Gradually stir in milk until smooth. Return to heat and cook, stirring until mixture becomes very thick and boils. Add cheese and ham. Spoon mixture into hollowed-out zucchini chunks. Mound filling high on top. Bake in shallow pan sprayed with cooking spray in a 375-degree oven for 15 to 20 minutes or until zucchini is tender and fillings are nicely browned on top.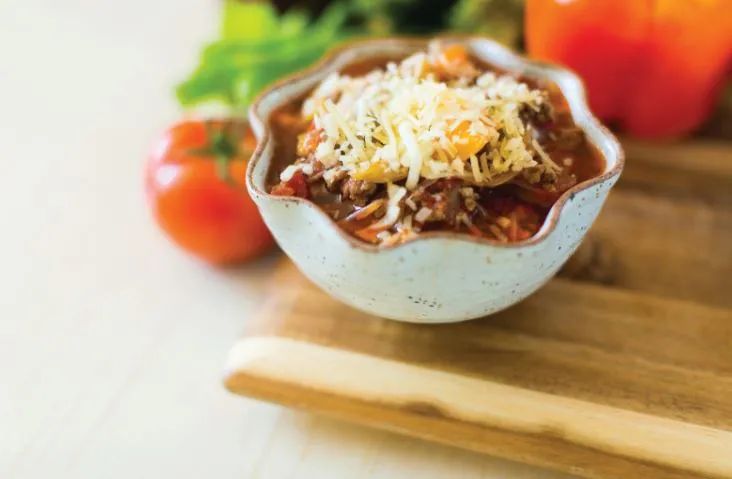 ZUCCHINI SOUP

~From the kitchen of Kay Erickson
1 lb. Italian sausage (hot or mild), cut into 1-inch chunks
½ lb. ground beef
2 c. celery, sliced into ½" pieces
2 small zucchini, scrubbed and cut into ½" pieces
1 medium yellow onion, chopped
2-28 ounce cans of chopped tomatoes in sauce
2 t. kosher salt
1 t. dried Italian seasoning
1 t. dried oregano
½ t. dried basil
½ t. garlic powder
2 red, yellow or orange peppers, cut into ½" chunks
Shredded Mozzarella cheese and grated parmesan cheese for garnish
DIRECTIONS
Brown sausage and ground beef in a large Dutch oven; drain fat. Add celery and onion and sauté for 7-10 minutes, stirring often. Add remaining ingredients except for peppers and cheese. Simmer, covered, for 15 minutes. Add peppers. Cover and cook for an additional 10 minutes, Serve in bowls, garnished with generous amounts of cheese.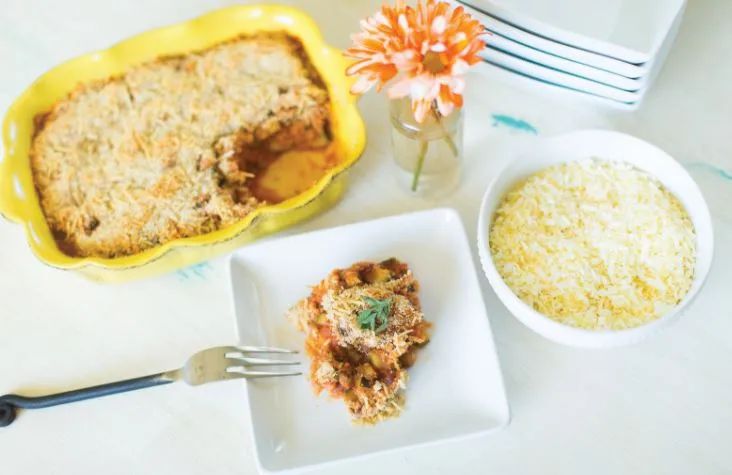 ZUCCHINI CASSEROLE

~From the kitchen of Kay Erickson

6 slices bacon, diced
1 small onion, chopped
2 small zucchini, scrubbed and cut into small pieces
Garlic salt to taste
Salt and freshly ground pepper to taste
¾ t. dried oregano
1- 15oz can tomato sauce
½ c. Grated parmesan cheese
½ c. panko bread crumbs
DIRECTIONS
Preheat oven to 350 degrees. Spray a casserole dish with cooking spray and set aside. Fry bacon in a medium skillet. Remove bacon and save. Pour off bacon grease, reserving 1 tablespoon. Return bacon fat to skillet; brown onion. Add zucchini and return bacon; season to taste with salt, pepper, oregano and garlic salt and lightly brown. Scoop mixture into the prepared casserole and mix in tomato sauce. Mix together the bread crumbs and the grated parmesan and sprinkle on top. Bake uncovered for 20-30 minutes until top is golden brown.
ORANGE ZUCCHINI CAKE WITH ORANGE CREAM CHEESE FROSTING

~From the kitchen of Kay Erickson
CAKE INGREDIENTS
1 c. unbleached flour
1 t. baking powder
½ t. baking soda
¼ t. table salt
1 t. ground cinnamon
½ t. ground nutmeg
¼ c. sugar
½ c. canola oil
2 large eggs
½ c. all bran cereal (like Kellogg's)
1-½ t. freshly grated orange peel
1 t. vanilla extract
1 c. grated zucchini
½ c. chopped walnuts
FROSTING INGREDIENTS
4-ounce softened cream cheese
1 T. unsalted butter, room temperature
Dash of salt
½ t. freshly grated orange peel
1-½ c. confectioners' sugar
Milk, if needed
DIRECTIONS FOR THE CAKE
Preheat oven to 325 degrees.  Butter or use cooking spray on 9x9x2-inch glass baking dish (1-½ quart). Combine the flour, baking powder, soda, salt, cinnamon, and nutmeg. Set aside. In a large mixing bowl, beat sugar, oil, and eggs until well combined. Stir in the cereal, orange peel, and vanilla extract. Add flour mixture, zucchini, and walnuts. Mix well. Spread evenly in the prepared glass baking dish. Bake at 325 degrees for 35 minutes or until wooden pick inserted near the cake's center comes out clean. Cool completely. Spread with orange cream cheese frosting.
DIRECTIONS FOR THE CAKE FROSTING
In a small mixing bowl, beat cream cheese, butter, and orange peel until light and fluffy. Gradually add sugar, beating until fluffy with a spreading consistency. If the mixture is too thick, add 1 to 2 tsp of milk until proper consistency is reached.