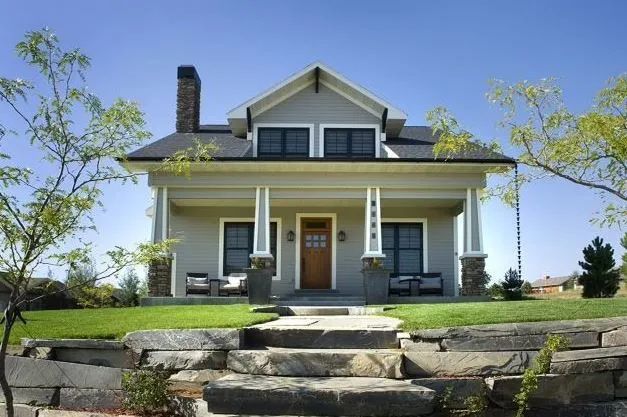 THE DESIGN-BUILD OF AN UPSCALE FAMILY-FRIENDLY KITCHEN
A Start to Finish Look
Billings Architect Brian Johnson designs intriguing, sophisticated new homes. He also transforms already-constructed homes into open awe-inspiring spaces. He's not shy about incorporating artistic nuance with practical sensibility. Nor, does he hesitate to enlist the best team available to get the job done. It's all about creating that special place. It's about seeing a project from start to finish.
"It's about control," imparts Brian. "It's very important when maintaining the design for someone."
With varied suppliers and vendors involved in the building process, it's sometimes difficult to keep the original design intact. "Many decisions are made in the field that change or modify a design," he explains. "I want to choose where the money is being saved." This crucial element, otherwise known as keeping on budget, remains relative to all clients, even when the client is family.
Keeping an eagle-eye on the design, the budget and following through with the entire project represent the premise of the design-build company ARCH.406, of which Brian is a principal.
ARCH.406 takes each project from initial planning and design stages to the finished product. This enables Brian to stay on course with design integrity, organize, schedule and everything else a job requires of a construction manager. While he shoulders these responsibilities, Brian leaves Mark Miller in charge of the general contracting.
This collaboration along with the team's other established suppliers and vendors, like Interior Designer Amber Ellinghousen of Design Supply by Moss Home, recently brought to fruition the remodel of Brian's personal home.
He handled the makeover for his wife, Jennifer, and their two daughters, Bella and Chloe, no differently than if it had been for another ARCH.406 client. "Jen's my wife," smiles a savvy Brian, "and she's also my client!"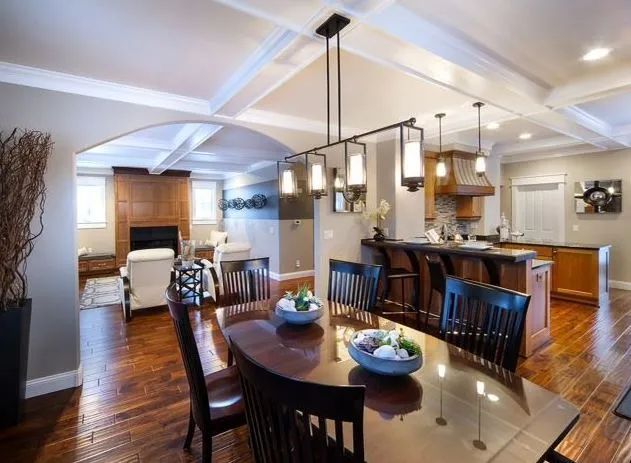 This past year the couple renovated the main floor of their home in Rehberg Ranch. The three-story, arts & craft-style "bungalow" comprises 3,000 square feet and was purchased as a part of a short sale several years before. They've put their own personal stamp on the home's exterior, however, the time had come to spice up the small kitchen and open up the adjoining dining and great room area.
"It's a builder's home so I didn't design it," laughs Brian. "So, it's been hard for me," referring to the matter of taking charge of a project from beginning to end. The house and its location have worked well for the family so he and Jen decided to move ahead with their plan. There was no doubt they would've or could've done more, however, as Brian addresses, "A renovation is like cutting a major artery. Where do we stop the bleeding?"
This is where budget comes into play. Jen is the keeper of the budget. "Budget is huge to my wife," announces Brian. "She has the spreadsheet. We stayed right where we needed to be."
Armed with their design, budget and an experienced team, they went to work. Brian and Jen knew that even though they both liked a contemporary feel, with their arts and crafts-style home they needed a more "timeless" design. "We wanted something that would last," comments Jen.
"This design appeals to more people," acknowledges Brian, "and a timeless design gives longevity in the resale market should we ever want to sell. Plus, he adds, "It had to be contextual." The interior of the home needed to keep with the design of the exterior.
"Brian and Jen stayed with the concept of the outside, keeping some traditional style on the inside," reinforces Amber. "They also wanted to reuse some of the cherry cabinets in the kitchen to keep with the design."
Shaker-style custom cabinetry with satin nickel hardware from Square One Cabinetry inspires a timeless look with cherry cabinets and a detailed walnut hood.[/caption]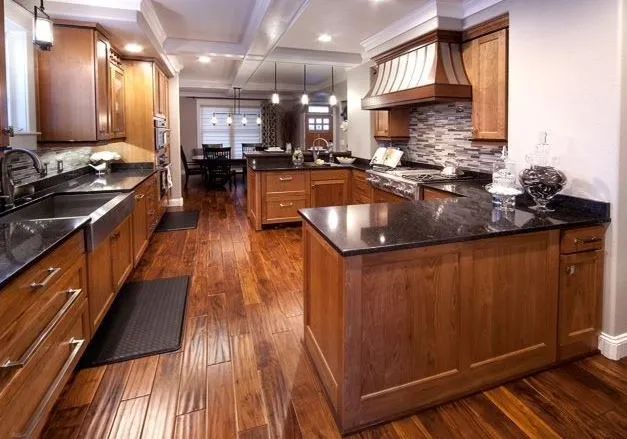 Realizing that some of the existing kitchen cabinets could easily be refinished to match new shaker-style custom cabinetry from Square One Cabinet Company, the couple felt good about recycling what they could. Existing bamboo and tile flooring was even taken out and recycled by Brian's mom.
The homeowners also depended upon an Amish-built dining table that Brian's parents had given them. The well-constructed piece features an artistic curve to the legs. This inspired Brian to carry these dramatic curves through to the underneath of the walnut-topped breakfast bar. A stainless steel foot rest contrasts brilliantly with the warm wood tones.
The pronounced curve to the wood slats beneath the breakfast bar was inspired by the couple's Amish-made table that features definite curved legs. A stainless steel foot rest highlights the unique design of the breakfast bar.[/caption]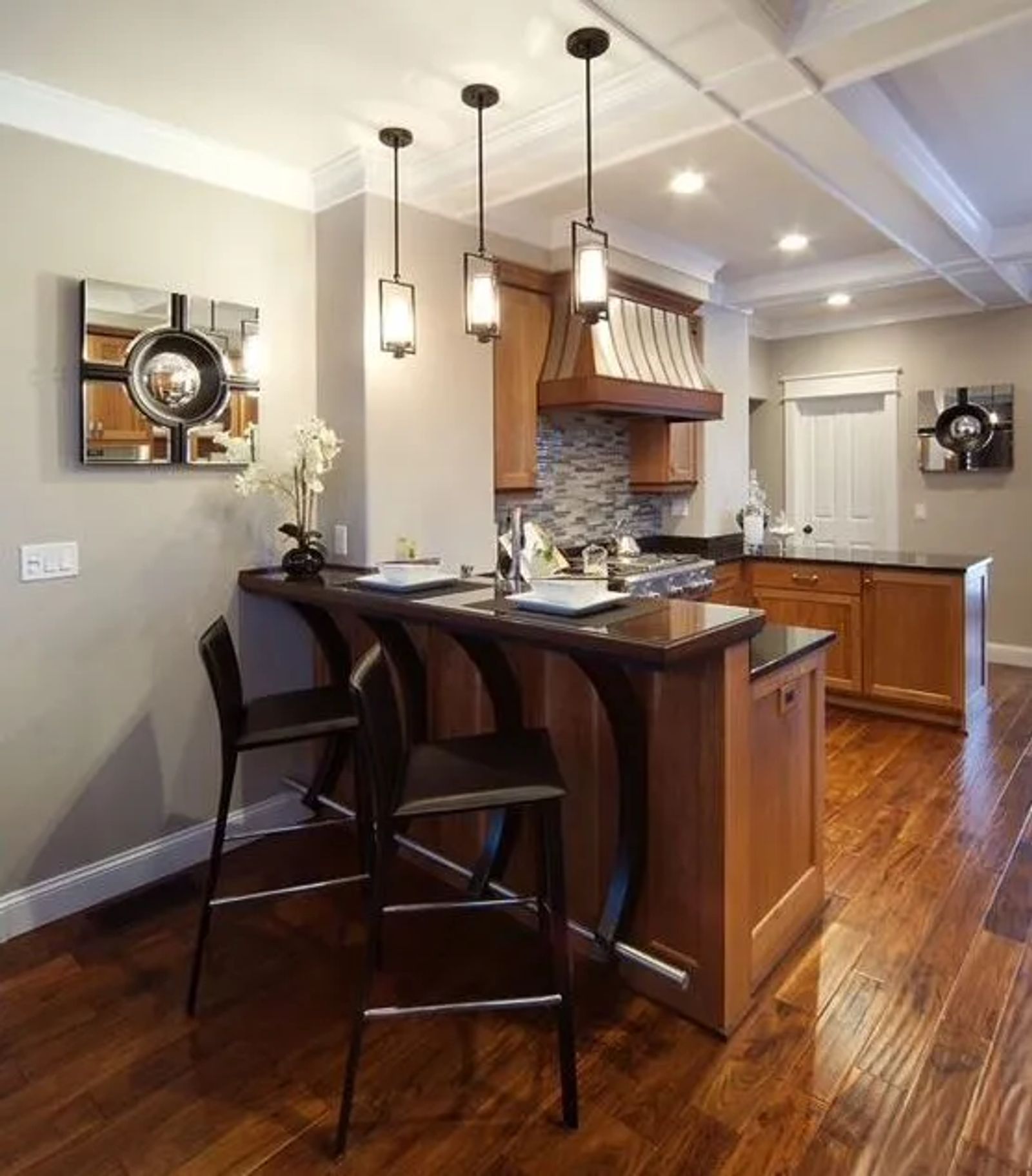 High-end GE Monogram stainless steel appliances from Ferguson Bath, Kitchen and Lighting Gallery extend modern appeal and serviceability to this gourmet kitchen. An apron-front farmhouse sink bestows a traditional feel. A chef's cooking station, which Brian points out offers the necessary "cooking triangle" (defined as an imaginary straight line drawn from the centers of the sink, cooktop and refrigerator and back to the sink), makes it easy for everyone milling in and out of the kitchen.
The family loves this area of their home. "Jen's a great cook and she enjoys baking. I like to cook gourmet," remarks Brian. "With fridges under the counter and also a stand-alone GE Café refrigerator, the girls can have juice while I'm off the path of the cooking triangle."
"It's not the biggest space," says Amber about this 20' by 10' kitchen area. It functions well in its space. It is a testament to some of Brian's architectural design skills." Skills that have won grand prize two years in a row in the national GE Monogram Dream Kitchen Design contest.
An apron-front farmhouse sink perches perfectly between tall cherry cabinets with a dropped soffit and seed glass doors. Note the thin black trim towards the top of the cabinets and at the base.[/caption]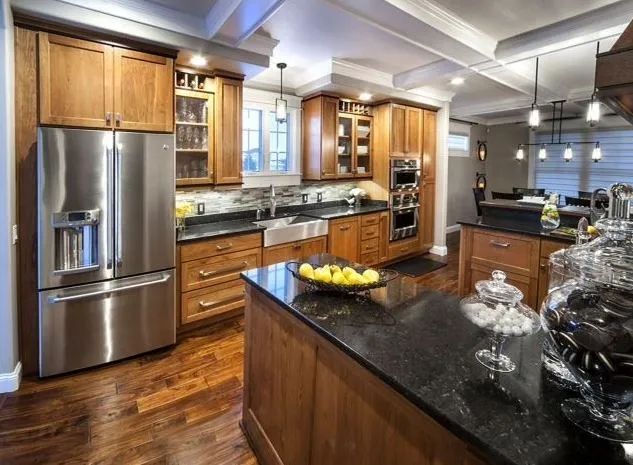 "You design for everyone else and then you come home to your kitchen," expresses Brian with a chuckle. "It's nice to finally design your own." This one could become an award-winner, as well. He plans to enter it in the next design contest.
High white coffered ceilings assist in showcasing this dreamy new kitchen. A 42-inch custom-detailed walnut hood over the sizeable gas range top (complete with char broiler) sends a message that cooking is a priority here. Glass tile backsplash from Floor to Ceiling defines the area between cabinetry and counter, while dark quartz countertops from Billings Marble & Granite enhance the numerous luscious amenities. Hand-scraped acacia wood floors, also from Floor to Ceiling, wrap this elegant room in five-star accolades.
"The flooring is the common ribbon that ties it together," exclaims Brian.
Amber considers that, overall, this amazing kitchen remains within reach of most people desiring a gourmet experience.  According to Brian, the rule of thumb is about $400 per square-foot for this type of "almost gourmet" kitchen. He says a "real high-end" would be around $500 per square-foot. "The kitchen is the most expensive room to do," he says. It also receives the best return on investment. "The more you minimize construction, the more you can do."
"You have your priorities," chimes in Amber.
Amber supplies the "pop, fluff and details" for the Johnson home renovation. She took the couple to market so they could see the wide range of furniture and select the perfect great room pieces that fit their home and their lifestyle.[/caption]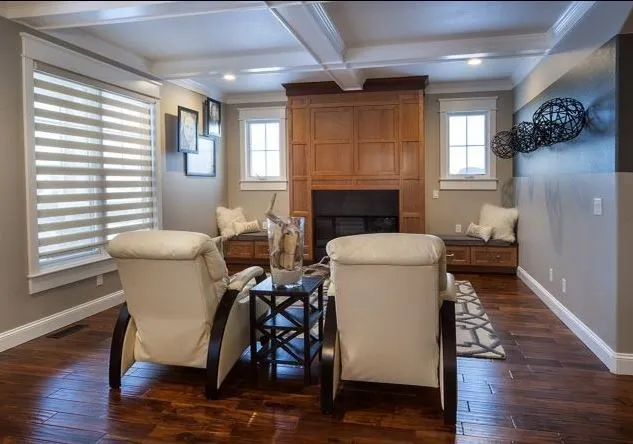 One of the main priorities in the beginning was to remove the wall separating the kitchen from the dining area. "The kitchen was so small," says Brian. "We also enlarged the arch opening by two feet leading into the great room." They also redid the fireplace, integrating TV storage above. "It all flows so much better," says Jen. "It's now open."
The main floor indeed flows seamlessly. Entering through the back door into the mud room, an arched doorway leads into the brand new kitchen. It sizzles with upscale efficiency. It's bold and beautiful in looks and rich in style. It's the crown jewel to this entire timeless design. It's the finished accomplishment of a design carried through from start to finish.
"Brian wants it to look like the original design he did," says Amber, of this design-build upscale family-friendly kitchen.  "It's an exciting and awesome reward when they come home now. It's all done and everything is in its place."