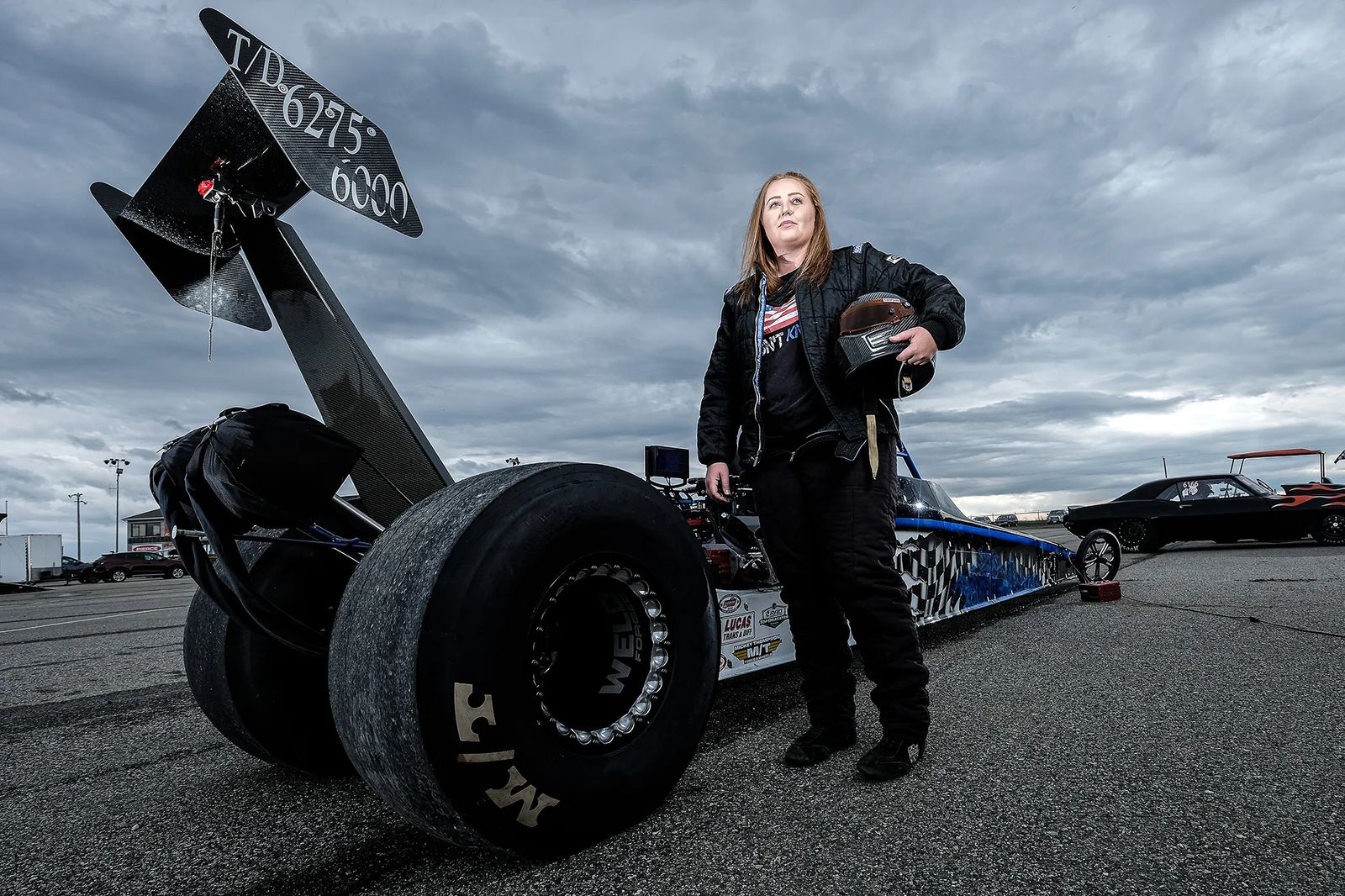 The Fastest Woman on Four Wheels
It's a (Wo)Man's World: Meet Casey Tehle
In the minutes leading up to a race, 23-year-old Casey Tehle has a routine. She gets into her '05 Don Davis dragster from the right side, every single time. She has a certain rhythm to the way she clicks each buckle on her chest harness. She puts on her gloves, right hand first, then left and karate chops between each finger for a snug fit.
Next comes her helmet and neck brace. As she approaches the starting line to lay down some rubber and fly down the lane at the Yellowstone Drag Strip, nothing else matters. Right before she pulls the vehicle's transbrake button, which sets nearly every bit of the car's 2,500 horsepower in motion, she describes the feeling as "dancing laying down."
"I will be tapping my foot on the brake," Casey says. "When people talk about the fire in you, I feel it in my whole body. I can literally feel my heart beating out of my chest."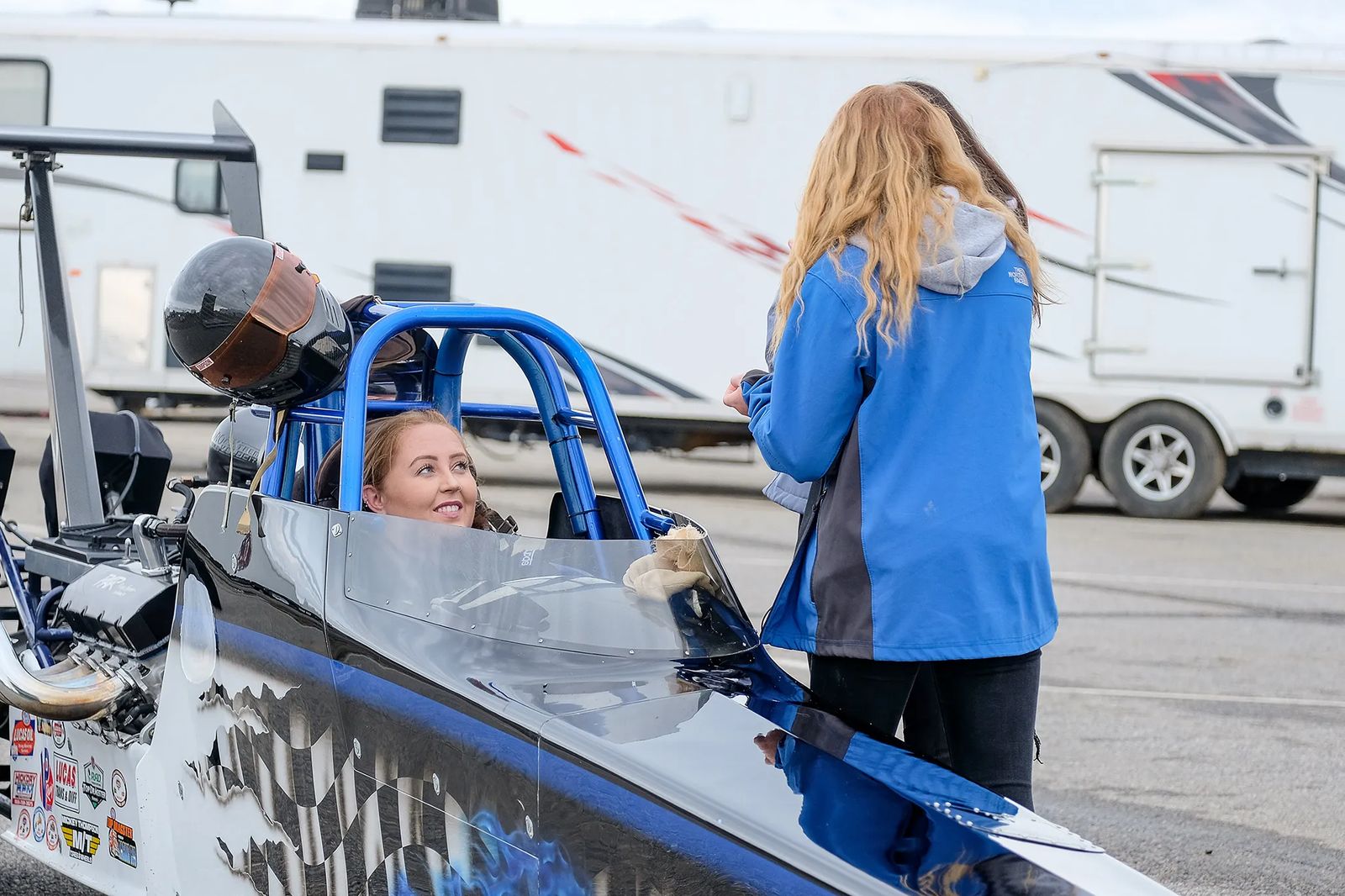 It doesn't matter who is sitting next to her on the neighboring lane when the lights start to pulse down what they call "the tree." Casey says. "You put on your helmet and you have no choice. You just want to rip their throats out — in the nicest way possible, of course."
The fire has been building in Casey since she climbed into her first dragster at 9 years old.
"My dad bought me a junior dragster for Christmas and I told him, 'Take it back. I am too scared,'" Casey says, trying to describe the feeling she had.  "You know that pit in your stomach that you get when you try something new?"
Her dad didn't take the car back. Instead, he let her putt around the empty parking lot at the Metra.
"I won my first race my second or third weekend," Casey says, "and ever since then, I was hooked. It's been nonstop."
She first broke the 200 mph barrier at the age of 17. Just last year, she reached a personal best of 227 mph in just 6.05 seconds on a quarter-mile track. No other female driver has touched that time and speed at any track in the state.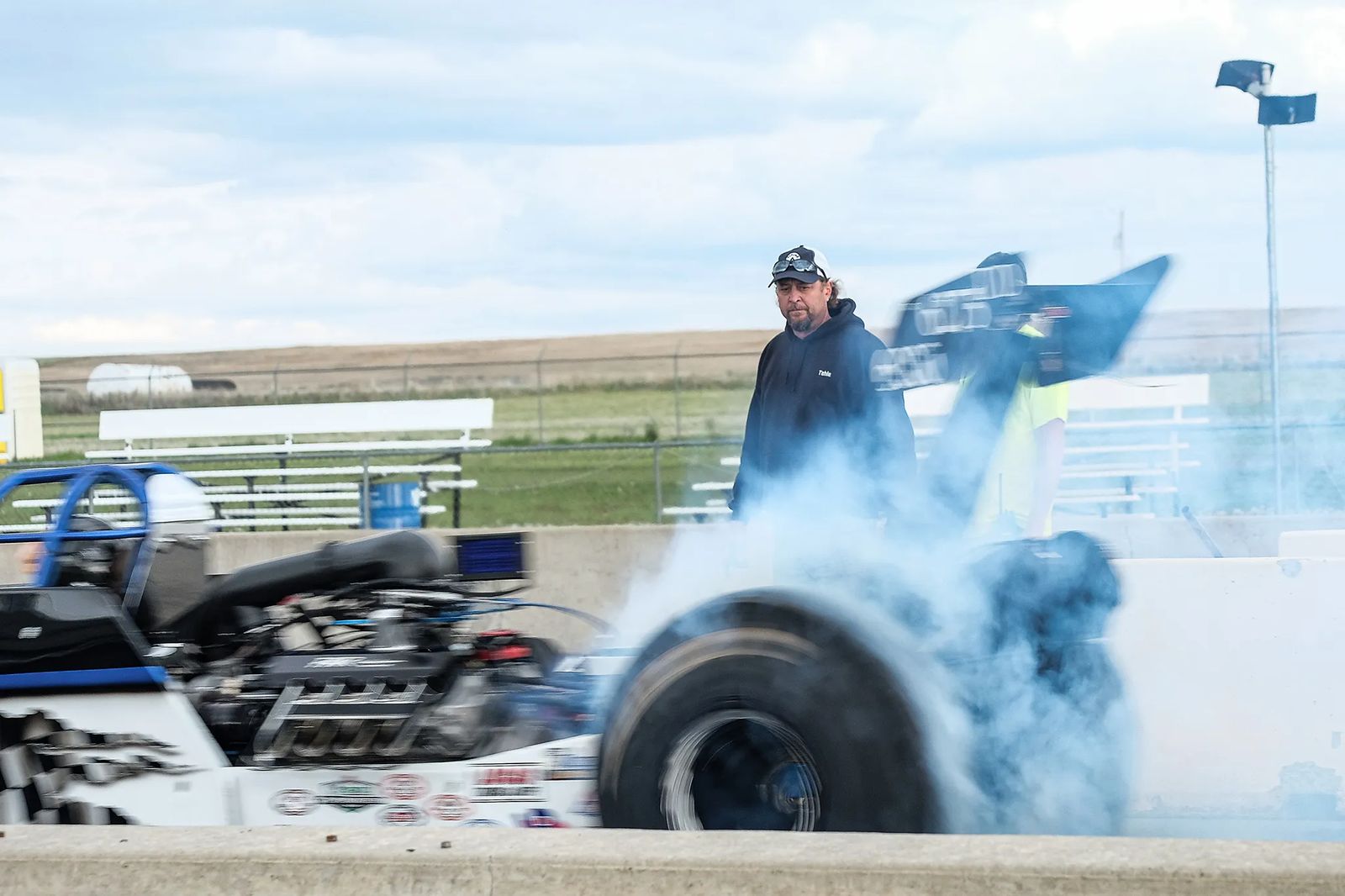 "I think I have always had this killer instinct when the pressure gets really high. I thrive off those situations," Casey says.
This year, when the end of May rolled around, bringing the start of the 2019 racing season, Casey says, "I don't know what it was but my skin was crawling. I was so excited to get back into it."
Perhaps it's the title she's trying to keep. At the close of the 2018 season, she locked up the championship for Montana Muscle Quick 8. The racing class pits the eight fastest cars against each other. It was her first championship in six years. Her first as an adult. While women have tied for first place, Casey was the first woman in the state to earn it solo. She had two goals as she entered last year's season — to take the No. 1 qualifying spot for every race and to be named the Quick 8 Champion at the end of the season. She did both.
"I won one race by seven-hundredths of a second," Casey says.
While she's already taken out some of the fastest men in Montana, she says, some of them didn't really love getting beaten by her.
"You can tell on their face when they don't like losing to a girl," Casey says. "And you can tell by the way they act. It usually starts with a lot of excuses about their car or about the track. It just fuels me and makes me want to beat them even more the next time."
One man who's been drag racing for 30-plus years who will always have Casey's back is also her biggest fan — her dad. Robert Tehle shares the Don Davis dragster with his daughter. When he's not racing in national events out of state in the car, he's her crew chief, going over the vehicle with a fine-tooth comb before every race.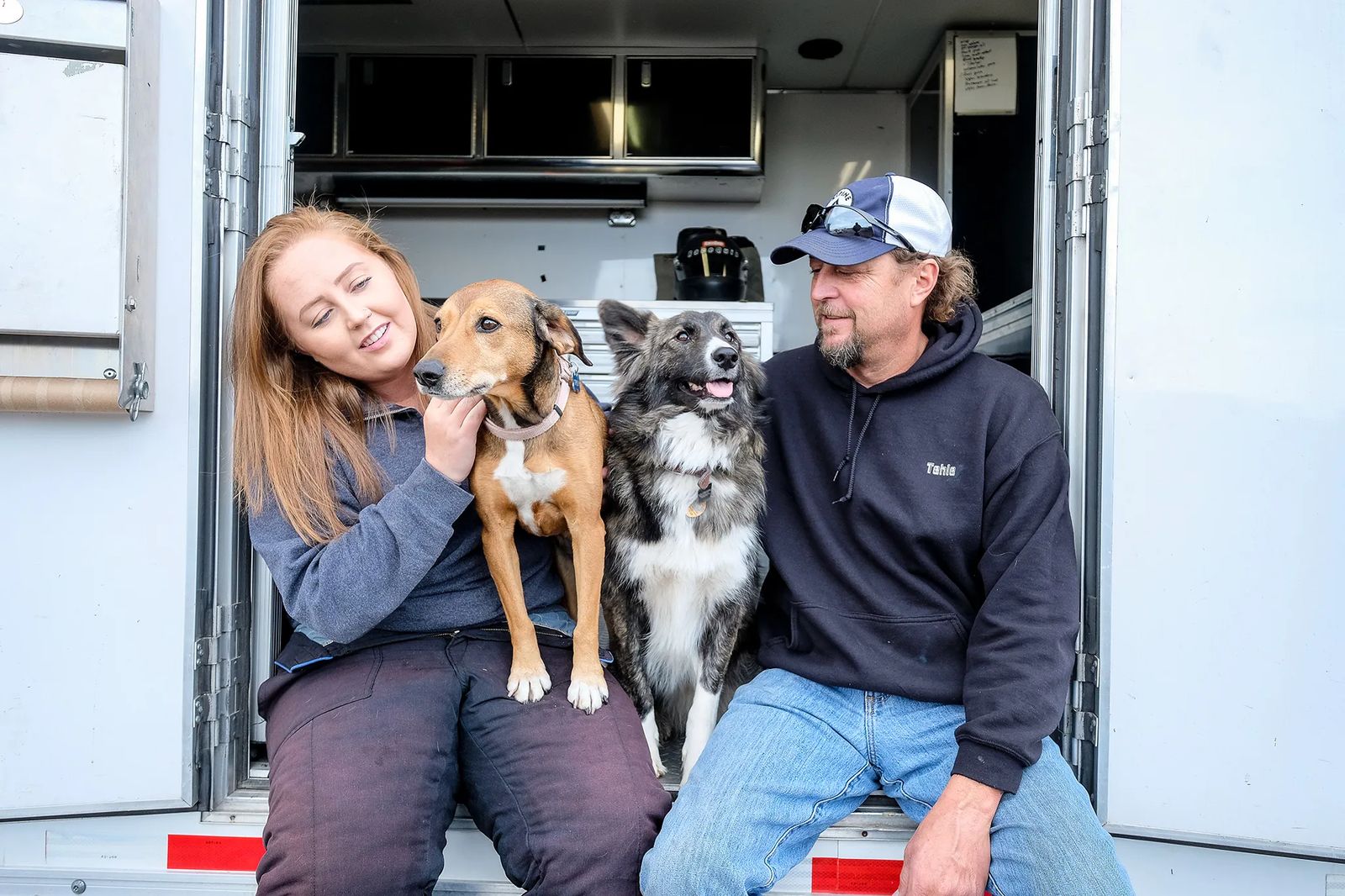 "It goes back into the garage and on a lift and everything is inspected. The motor and transmission get rebuilt every 100 passes," Robert says. "I'm not kidding you when I say she's the son I never had. It would destroy me if anything happened to her in that car and it was the result of negligence on my part."
You could say Casey has followed in her dad's tire tracks. While Casey holds the title of the fastest woman on four wheels, just last summer, Robert claimed the track record at the High Line Drag Strip in Malta, traveling 183.6 mph in 3.96 seconds on an eighth-of-a-mile track. His fastest quarter-mile is 231 mph in 5.97 seconds.
"His brain is made out of car parts, I swear," Casey says. On race day, Robert is typically in their trailer sitting in front of his laptop. He's rigged the vehicle with sensors so after every race, he can pull a computer chip and see exactly what happened during the race.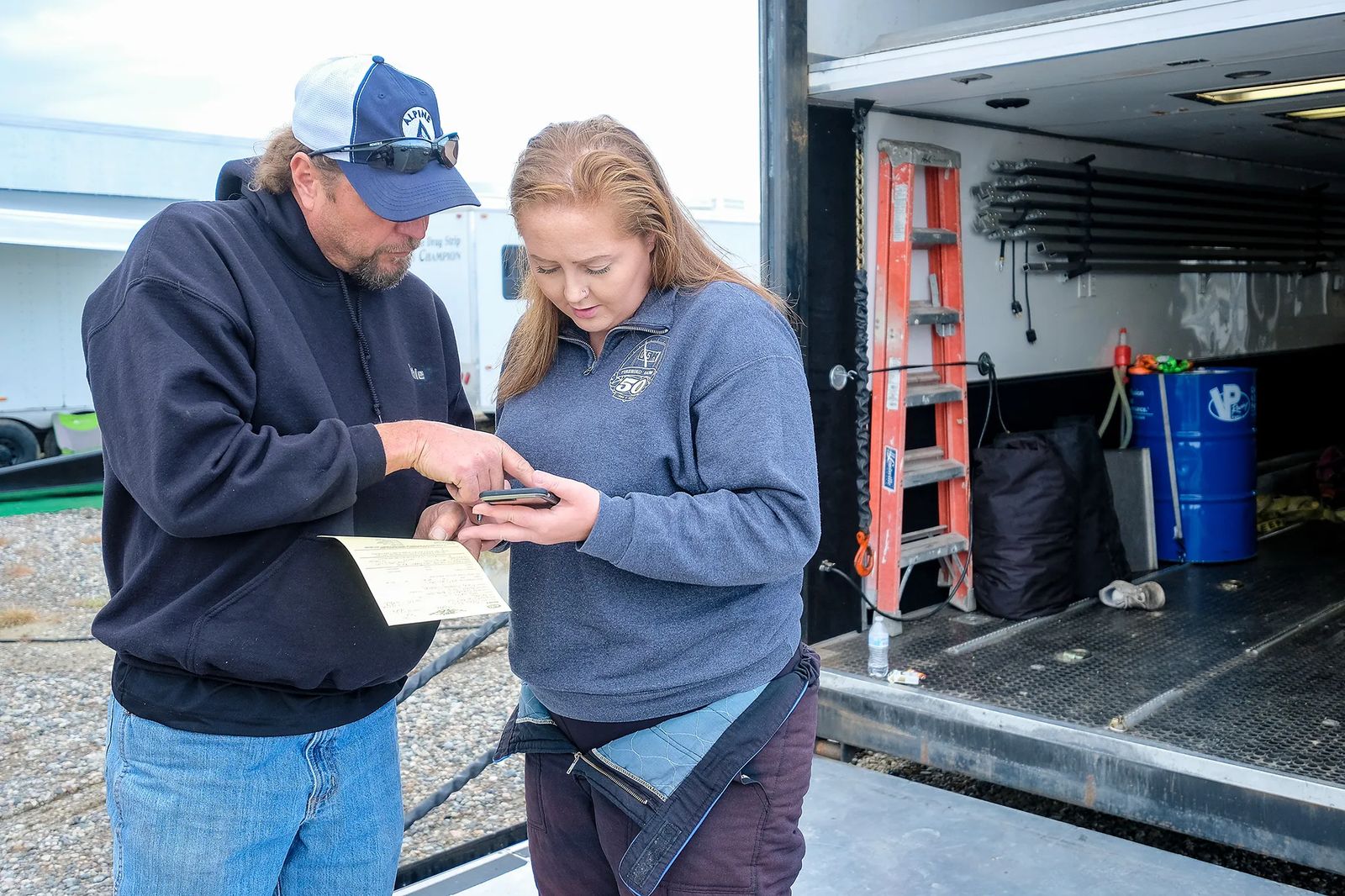 "We have a weather station in our trailer and my dad goes off humidity, how good the air is that day. He walks the track to make sure it's prepped properly. He goes over all the factors that go into six seconds on the track," Casey says. "He's kind of a super genius when it comes to this stuff. Besides Shirley Muldowney, my dad has always been my hero."
Shirley Muldowney, "the First Lady of Drag Racing," pretty much sits on a pedestal in Casey's eyes.
"She was the first woman to get a professional license for the NHRA," Casey says. "They spit on her license, gave her the worst time and treated her like garbage. Every time I am ever doubting anything, I will look up a video of hers and listen to her talk about racing. It's how I want to be. She's just a badass."
Last fall, Casey had a chance to FaceTime with her hero when her dad stood in line to meet her at a race in Gainesville, Florida. Her dad grabbed video of the exchange as Shirley signed posters for fans. Casey can be heard telling the racing legend, "Hi Shirley! I have loved you since I was 9. I just want to say thanks. I wouldn't be able to do what I did if you hadn't started." As Shirley rolls up another poster, she chuckles and tells Casey, "I know. It's all my fault!" Robert chimes in, "You did so much for women. She doesn't have near the struggles she would have had without women like you. You are her hero."
While there have been many times when Casey was the only girl competing at the Yellowstone Drag Strip, 20-year-old Peyton Farnsworth has been rising the ranks in the SuperPro class.
"I love that she is pushing them just as hard as I am," Casey says. "Her lights are way better than mine, her reaction times. She's a killer for sure."
"We're a little tough to get by," Peyton says. She drives a souped-up black Chevy S-10 that Casey says "hauls butt." When asked if she looks up to the woman holding onto a track title, Peyton says, "There are some guys who are pushing her this year to see how fast they can all go but she has broken barriers before they were even a thing. She's awesome. I love her." She adds, "I don't know if I would have been able to grow as much as I have as a driver if she wasn't there helping support me."
"I've had a lot of moms come up to me and say, my daughter talks about how girls can race cars too," Casey says. "Besides being selfish out of loving it for myself, that is right up there with why I do it."
Casey dreams of honing her reaction time enough to be able to compete more on a regional level. She uses an app on her phone that tests her reaction by mimicking the motion of pulling her thumb off the transbrake button. She can't practice on the track since an ambulance crew needs to be on standby every time someone takes to the track.
"If my reaction times improve, my dad will give me a shot at racing in Denver," Casey says. She'd love nothing more than to nab a sponsor and be able to make a career out of it. She says, "I would drop everything."
Of course, another reason she climbs into the dragster most weekends out of the summer is the sheer rush she gets when she rockets down the lane.
"When I let go of the button, I am already flooring it and I am just holding on," Casey says. "I have hit 4 Gs. Astronauts hit 4 Gs when they go into space." As the world moves by in a blur, she adds, "It's amazing. It gets me every time. There are times when you don't want to let go of the gas and you think, 'Oh, if this track was just a little bit longer.'"