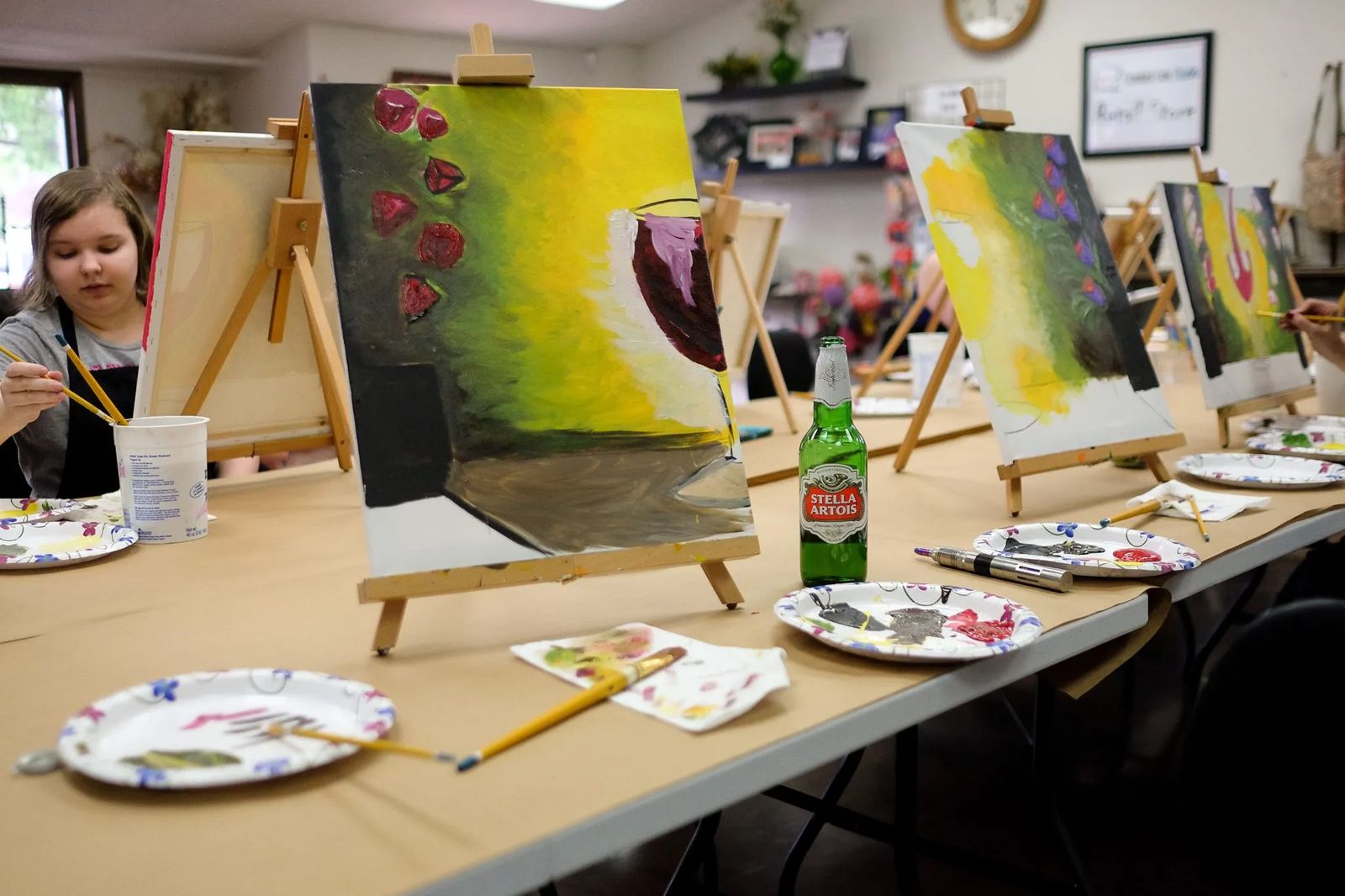 The Joy of Creating
Crooked Line Studio brings out the artist in all
Think you don't have the artistic talent to draw a stick figure? That won't make a difference at Crooked Line Studio. Owner Julie Durrett didn't either when she first jumped into the world of art. Now she's running Crooked Line Studio, a refuge for non-artists who want to delve into painting, drawing, visual journaling, collage and many other art forms.
"You don't need experience to be creative. We all can be creative," Julie says. "That's why the name of this place is Crooked Line – anyone can draw a crooked line."
Classes are offered during the day, evenings and weekends. Some classes are offered in two or three sessions, while others are quick, one-day or one-hour "make and take" classes. Above all, they are aimed at beginners. Crooked Line also offers classes for kids, and private, small groups. It's become a favorite activity for wedding and baby showers, birthdays, and "girls' night out."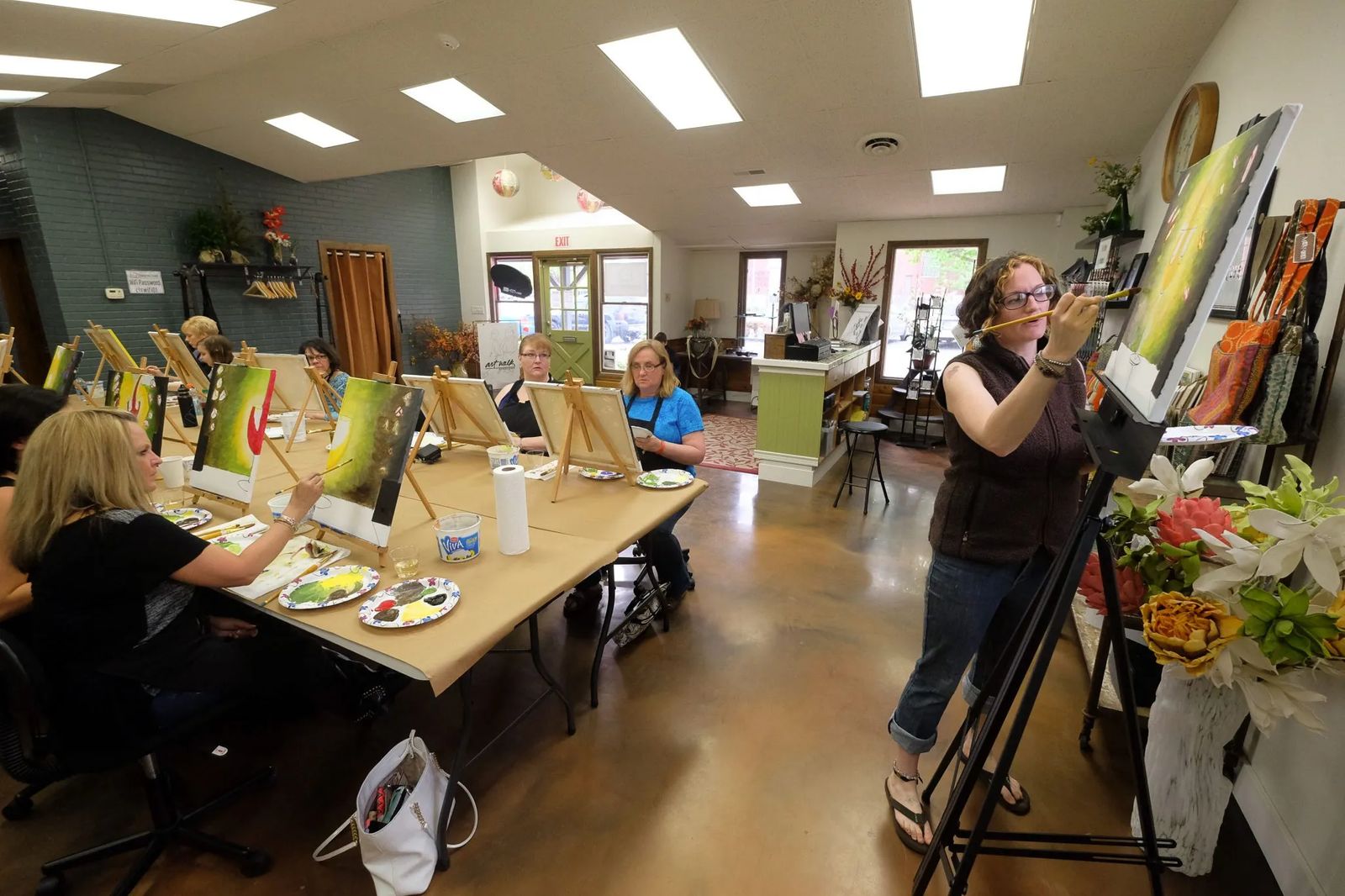 Julie estimates that about 90 percent of the participants have no art experience, and her visitors who do have experience haven't "played" for years.  "It's the people who have never done it that have the most fun because they have the lowest expectations," Julie says.
The spacious, beautifully-lit studio is located downtown on the corner of Fourth Avenue North and Division Street. Inside, it's a hodge-podge of artwork, supplies and long workbenches for creating. All the supplies are provided for every class.
"Nobody wants to come if they have a big, long supply list when they don't even know if they're going to get into it," Julie says. "We want to take on all the barriers for people who say, 'I'm not creative,' or 'I'm not artistic.'"
Julie teaches a few classes, but for many, she hires local, professional artists. Julie and her teachers emphasize process over product. They want participants to enjoy making art without worrying about producing a complete, perfect piece of art.
"There are no rules, therefore you can't make any mistakes, so that means you can't fail," Julie admits. "And don't worry, no one will tell you, you are doing it wrong."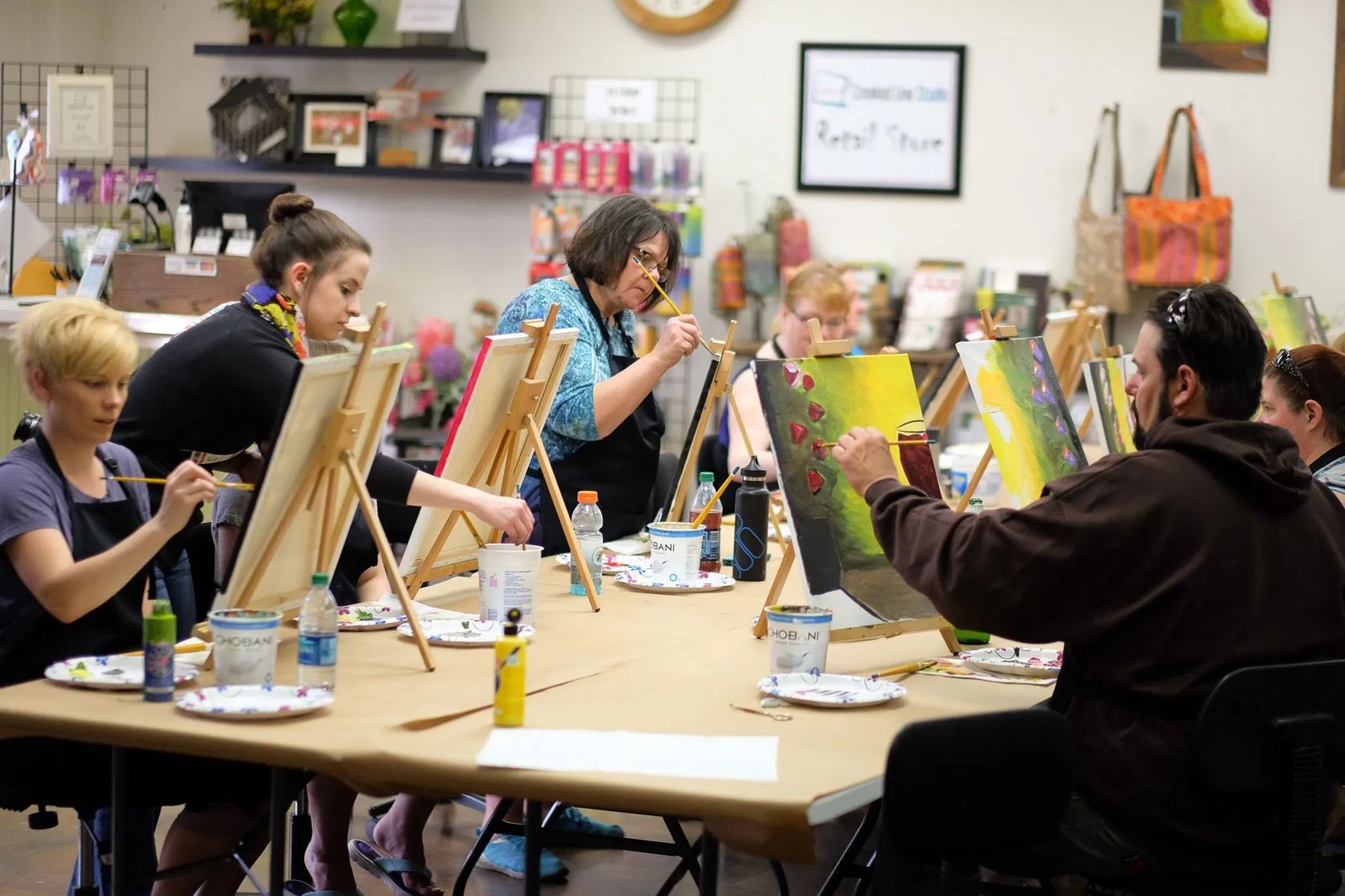 When Susan Doerr saw the advertisement for Crooked Line Studio's Simply Complicated Doodling class, she thought, "Now that's something I could do."
Julie teaches the class, and like all the classes, it's aimed at beginners. She teaches simple techniques that when combined, look like elaborate graphic art. As it turned out, that class was just the beginning of what has become almost an obsession for Susan. She has since taken numerous classes at Crooked Line Studio.
"I'm a certifiable addict now," she says.
Susan took Julie's advice and let herself explore the media, keeping in mind that there is no wrong way to make art. It's been a freeing experience, and it's allowed her to meet new people. It's resulted in several new friendships.
"It's just a nice way to relax and have fun," she adds.
Crooked Line sells a limited selection of art supplies all with a "try-before-you-buy" option. They're mainly available to allow class participants to continue to work on their newfound skills at home.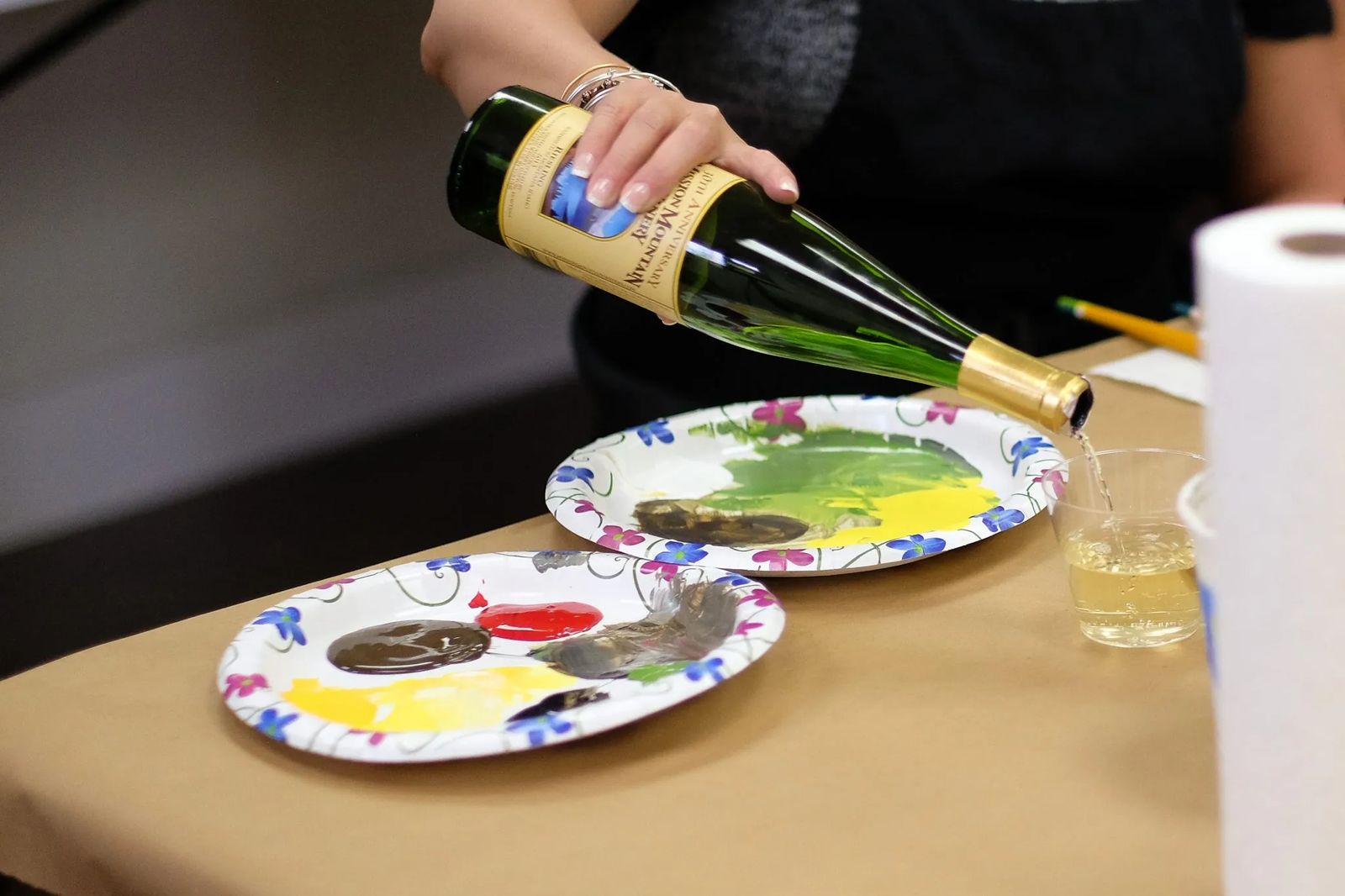 The classes are designed with fun in mind and many people come with friends just for the social aspect. However, most participants learn some of the basic principles of art and design and how to use the art supplies that bring their projects to life.
If demand is there, and she can find teachers, Julie would also like to include classes for more serious amateurs. She's always on the lookout for local artists who would like to teach a class or two and she's experimenting with an open studio time on Wednesdays from noon to 4 p.m. The time will give students a chance to work on their projects, but will also be open to any artist who wants a workspace.
Before Crooked Line Studio was even the tiniest thought, Julie was like most of the people who come through her door. She was a chemical engineer for years and, later, a homemaker. She had no art experience before attending her first art retreat about six years ago. After signing up she had lots of anxiety, not unlike what many of the Crooked Line Studio participants likely experience. At the start of the first class, she just sat there staring at her blank page. Finally, she let herself go and discovered a whole new world.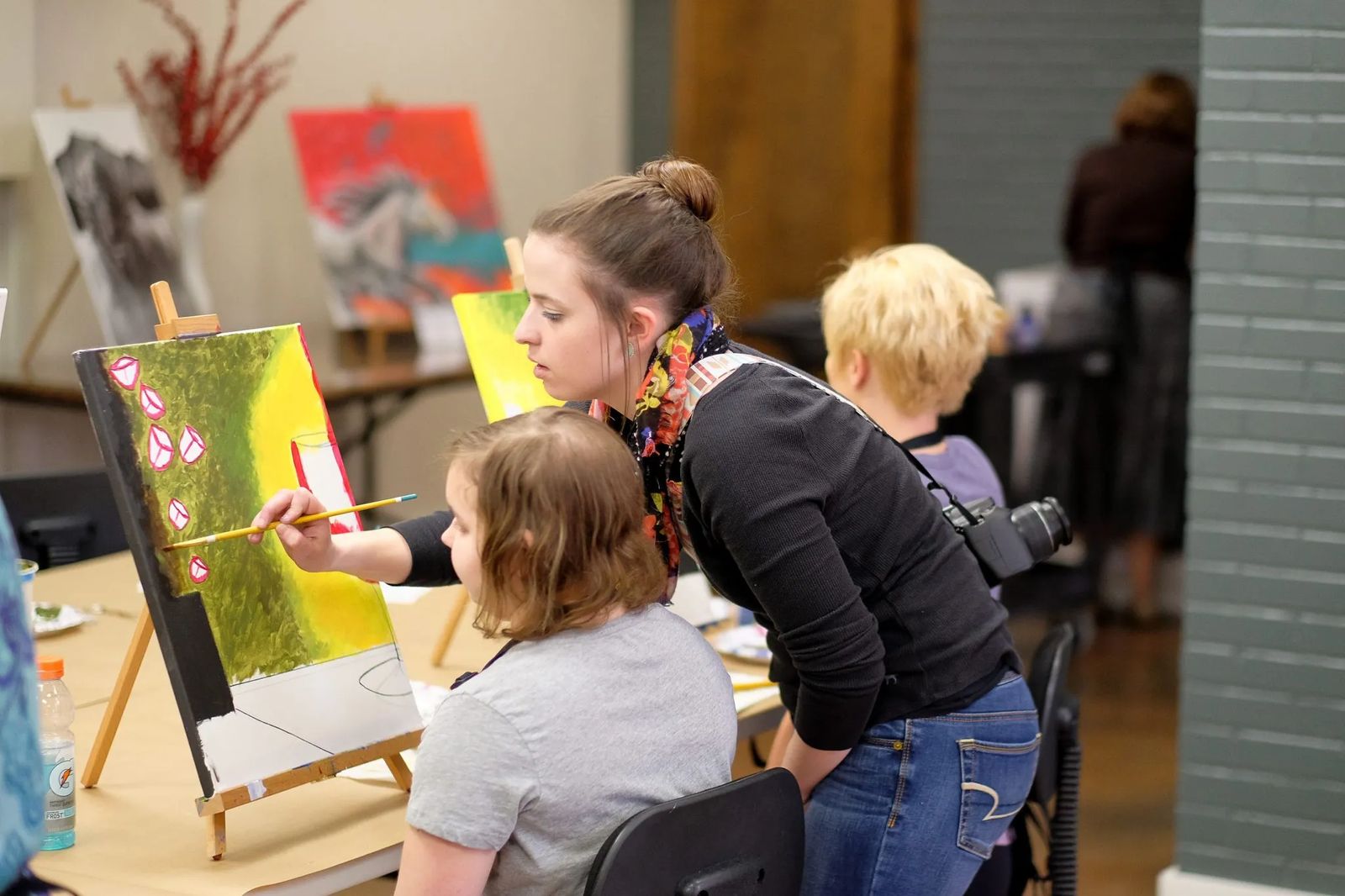 "I can really relate, so I try to remind people that when we are here we're in this little bubble where you can't make any mistakes and there's no judgments. It's all about creative play," Julie says. That first experience led to many more art retreats, and she still goes to several each year.  "I'm an art retreat junkie," Julie says.
Finally, a friend encouraged her to bring her love for art retreats to Billings and open a place that provides similar art experiences for non-artists. With a leap of faith, Crooked Line Studio was born. At first she rented a small atrium from the owner of La Mer, a boutique which was in the location where Crooked Line Studio is now located. When the owner retired, Julie had the opportunity to rent the entire space. Since then, participants have steadily kept coming through her door.
"People loved it, so I had to see it through," Julie says.
As demand has grown, the studio has evolved. Almost every day Julie has a new idea to bring art to the people who say they aren't creative.  With passion, Julie says, "I'm really excited about new teachers and participants who want to teach and learn new and different things."
To check out what's new at Crooked Line Studio and sign up for a class, you can check out the calendar at www.crookedlinestudio.com or find them on Facebook.
TAKE A WALK ON THE CREATIVE SIDE
Other hot spots to let that artistic mojo flow
BETTER TO GATHER
2404 Montana Avenue
Make-and-take classes with all supplies provided. Classes include a wide variety of classes from art journaling and jewelry making to swimsuit embellishment. They also offer a fun meeting space for small parties. Bettertogather.com
IN GOOD GLAZES
2010 Grand Avenue
A drop-in studio that offers one-on-one instruction and welcomes groups small and large. Want a little more instruction? They offer classes as well. Activities and classes include ceramics, canvas art, glassware painting, mosaics, and glass fusing. All supplies are provided. Ingoodglazes.com
BUFFALO JUMP WINERY SIP & PAINT
1911 King Ave. West
Paint and sample signature Buffalo Jump wines at classes offered every week. Family classes offered once a month. Private parties are welcome and all instruction and materials are provided for every class. Buffalojumpwinery.com
YELLOWSTONE ART MUSEUM
401 N. 27th St.
The YAM offers several adult art classes starting in the fall and running through the spring. Classes vary, but have included photography, pastel drawing, painting, and pottery. The museum also offers several one-day and evening classes during the summer. All classes are led by local professional artists. Summer camps are also available for children. Yellowstoneartmuseum.org
MUDDY LAMB STUDIO
25 W. Main St. in Fishtail
Muddy Lamb Studio offers pottery and fiber arts classes, including knitting, needle felting, and silk painting all in a beautiful, mountain setting. For most classes, materials are provided. The studio also includes a retail shop where yarn, pottery, and locally-made gifts are sold. Muddylamb.com