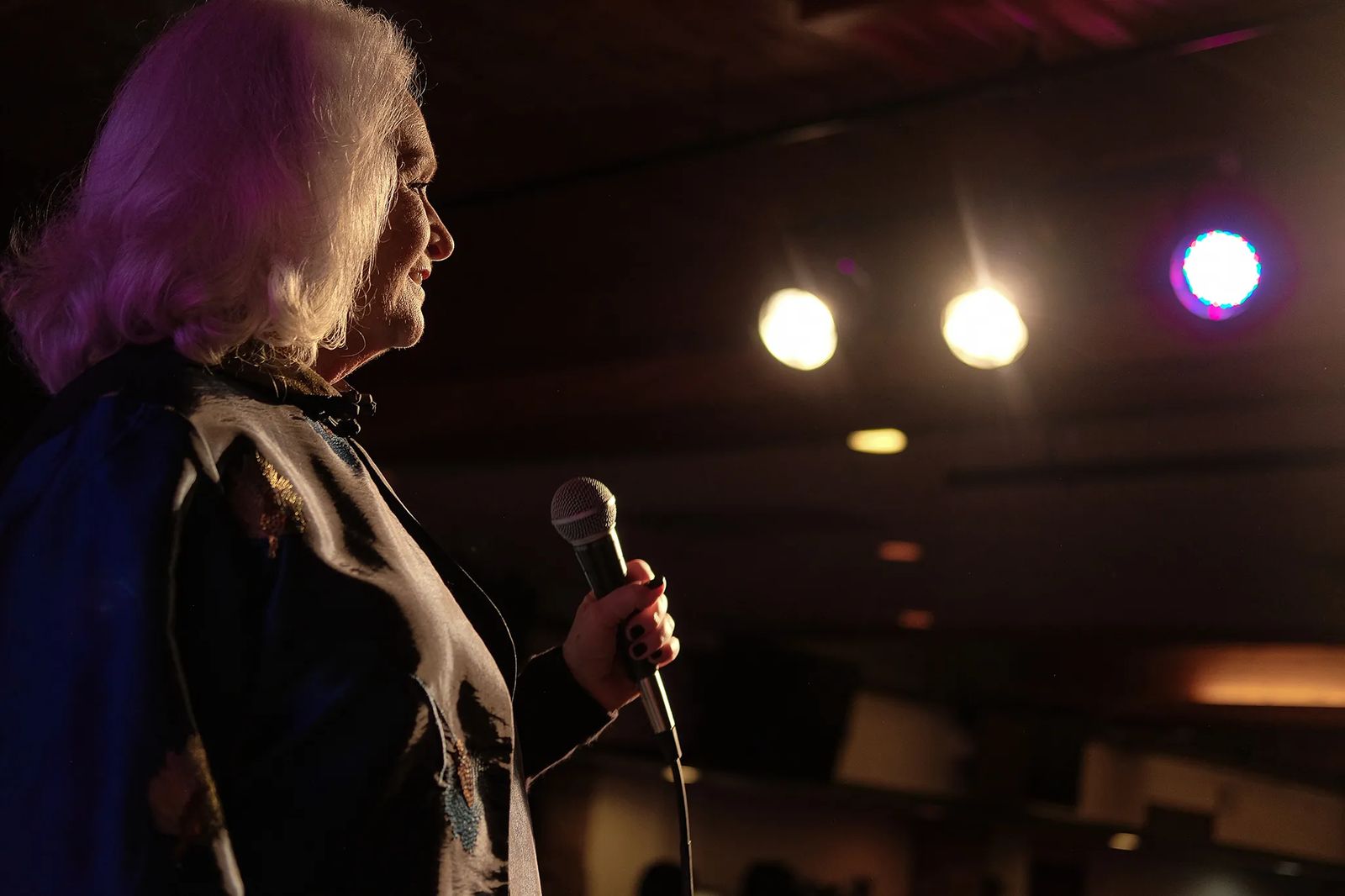 Diane Kylander & the Ladies of Laughter
Watch out - a 'Comedy Tsunami' is rolling in
Soon-to-be 77-year-old Diane Kylander looks like she's been ripped right out of a 1960s sitcom. She's got the funky black-rimmed glasses and the quick wit that goes with the look. As we sit at her kitchen table in her historic home near the heart of downtown, she sees the look I'm giving her.
"Tell me a joke!" she says, knowing just what I was thinking. "I have to tell you, comics hate that."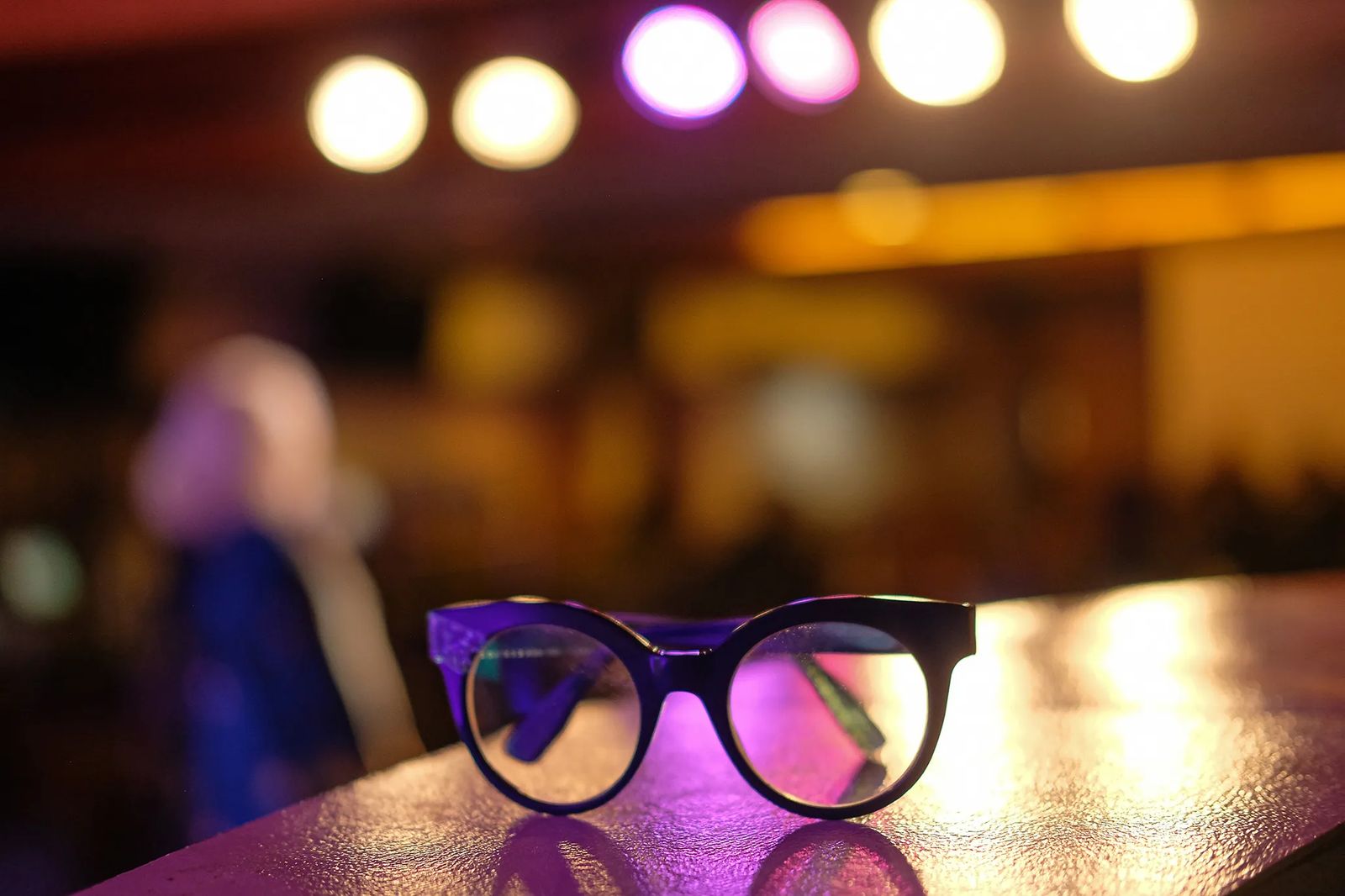 Even so, she jumps up from her seat and scurries into her neighboring guest room where every inch of every wall is covered in framed movie posters. In the corner sits a small writing desk with her computer. This is where, she says, the comedic magic happens. As she pulls a few papers from a stack, she starts right in without skipping a beat.
"I am obsessed with the 'Real Housewives.' Do you ever watch that show?" she asks, trying out her latest set she wrote for an upcoming comedy night. She goes into a rant about the Housewives' fake eyelashes and how some of them "are so long and thick you could probably peel them off and rake your yard." She goes on to share how she was destined to give her own pair of Katy Perry lashes a try.
"I worked up the courage, got my dressing room table all set up with my mirror and tweezers, the glue and the lashes and I started the magic," Diane says, gesturing with her hands as she gets into character. "Twenty minutes later, I had beads of sweat running down my brow, hands shaking. I had one eyelash stuck on my left eyebrow and who knows where the hell the other one was. Then, I started crying and yelling for my husband. 'Ted! Ted! I need help!' He comes running down the stairs, rushes over to my vanity and all of a sudden, starts stomping on the floor. 'What the hell are you doing?' He says, 'Killing that damn spider!' 'That's my eyelash you idiot!' That was the end of my attempt at magic."
Diane has spent most of her life in front of an audience. She did local theater for decades and, no surprise was often cast in comedies. It wasn't until a few years ago, after she turned 72, that she went to a local comedy club to catch Billings' own Lucas Seeley. She sat back and told herself, "'Gee, that would be kind of fun.' Lucas really encouraged me."
While some raise their eyebrows at her age, Diane says her age creates comedy gold. "When you've lived this long — you've been divorced and remarried — you have a lot of material to pull from." And, she's quick to say, "I could drop dead at any minute!"
While her first gig came more than four years ago at a supper club in Cody, Wyoming, she'd do regular shows before taking a break in 2015 to undergo what's called Gamma Knife surgery to calm a benign tremor that started years before with a shake in her hands.
"That kind of put me out of function," she says. While she thought about getting back in the comedy game, "Last February, I fell and broke my femur," she says with a shrug. "I did physical therapy and during one session, I tore my rotator cuff and then needed surgery on that. I realized during all of this how important comedy was." She lived for a bit at a rehabilitation facility in Billings and remembers helping to lift the spirits of those around her.
"I had people sitting at the table with me and I would make some jokes and it just made me feel so good to make someone else laugh," she says. "People need that relief."
These days, you'll often find Diane writing fresh material for upcoming acts. Comedy Tsunami, an all-female troop she formed before her comedy break, is back up and running. They've already booked a few shows in town.
Last January, Diane Kylander's Comedy Tsunami performed a charity show in Billings with featured performer Lenny Peppers. (L to R) Brittany Oliphant, Lenny Peppers, Diane Kylander, Victoria Wolff, Morgan Ditto-Kirkwood. [/caption]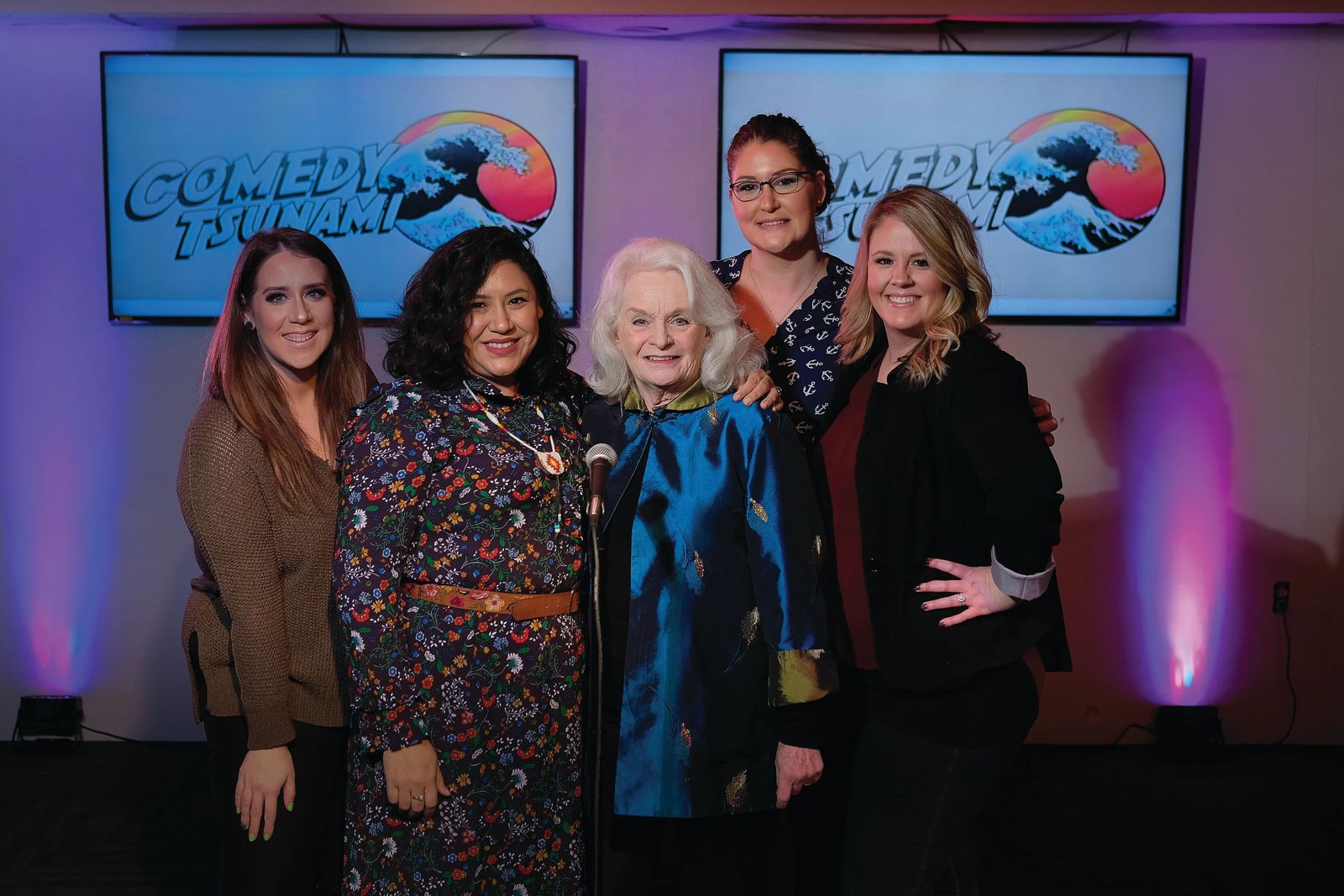 In January, Diane's "Ladies of Laughter" joined together for a comedy fundraiser. Diane, who will tell you she has a knack for seeing talent, was joined by Morgan Ditto-Kirkwood, who has only been doing comedy for a year after breaking into improv with Projectile Comedy. Brittany Oliphant joined the crew. Lenny Peppers, who is originally from Lame Deer, made the trek from Missoula to serve as the featured act. And, Victoria Wolff also had a set. It was her first five-minute act. "I know Diane because I've worked the door for the past four years for Lucas' comedy shows."
"She's funny as heck, and she's a natural," Diane says about Victoria.
"I'm still terrified," Victoria says, "but once I get over the fear, it is just a rush."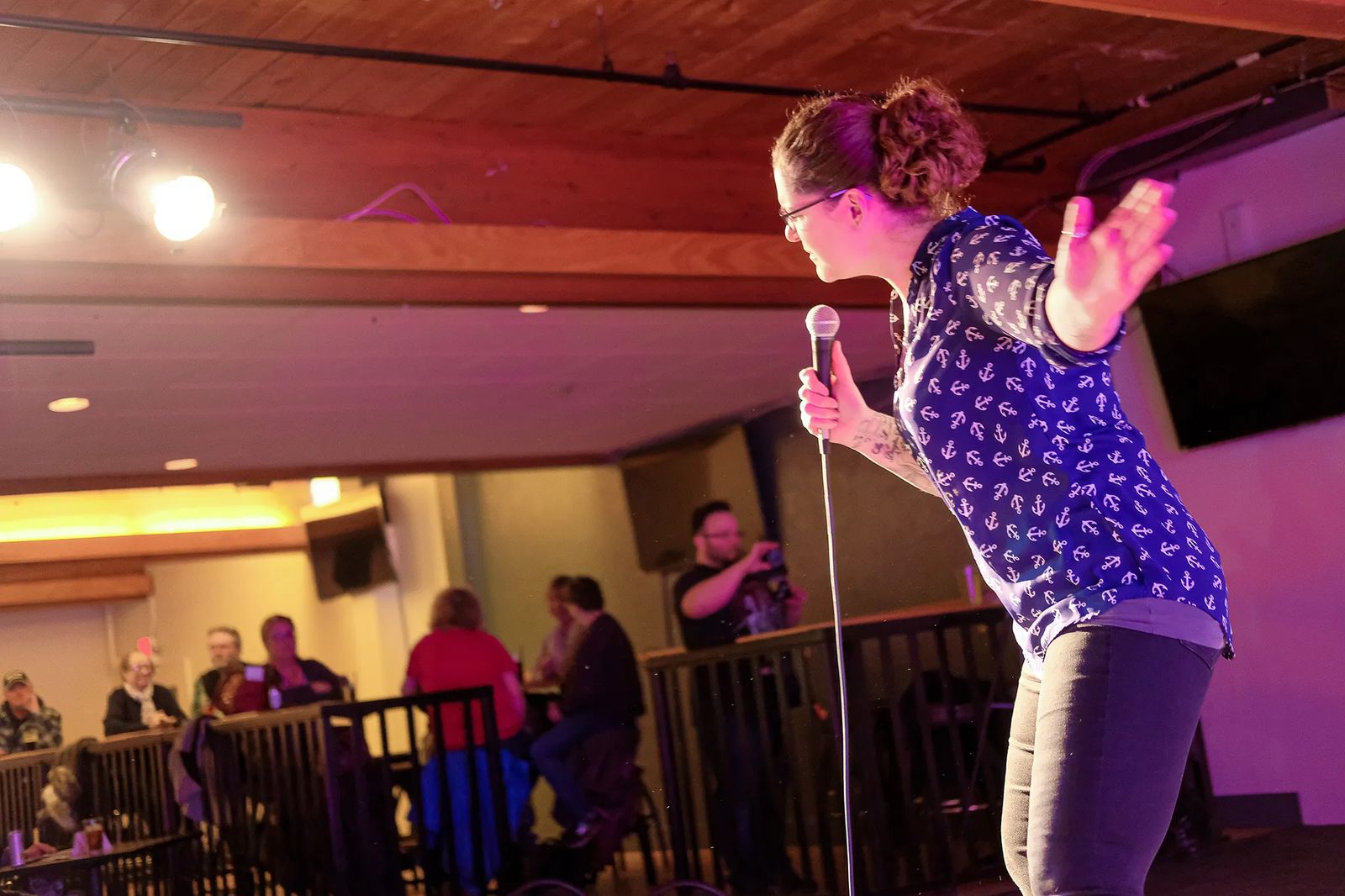 So, what prompts a 30-something who works as an operational director for a marketing firm to burn the midnight oil writing bits of comedy?
"I took a drama class in high school and thought I might as well do something with that in my 30s," Morgan says. She goes on to share how she'd been following Projectile Comedy for more than a dozen years. Her first date with her now-husband was at a Projectile Show.
"I started in the improv class and fell in love with it," she says. "I found out that I'm not too bad at it, and then they invited me to start performing with them on stage." After a few killer performances, she says, "It's the best drug on the planet and it's legal. Everyone forgets all their woes and worries for however long you're on stage and we all walk away feeling a little bit better about ourselves." She says she'd love to quit her job and do comedy full time, but that's probably not in the cards right now.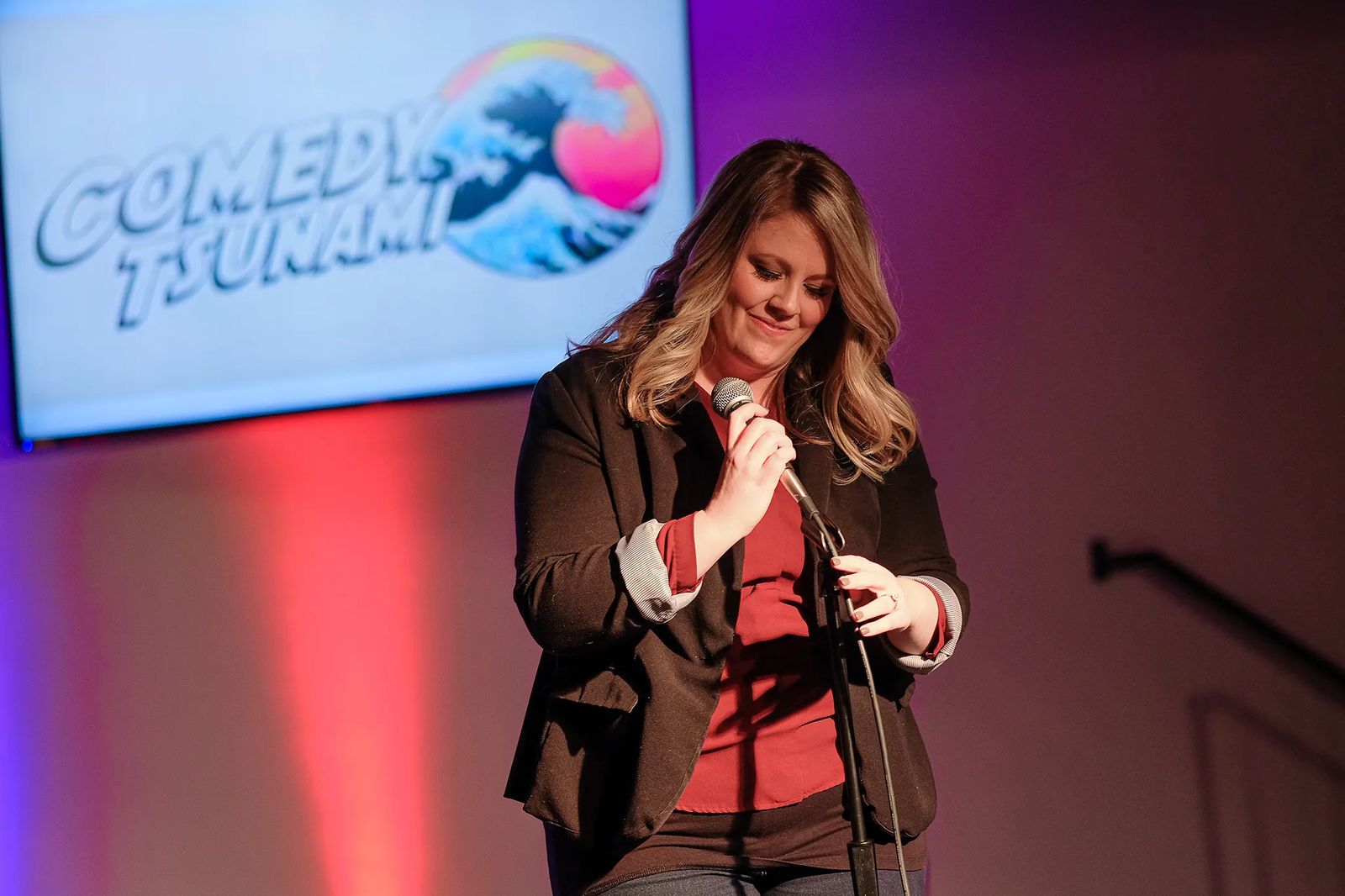 "Do you know who Steve Prosinski is?" Morgan asks, talking about her co-worker and former editor of the Billings Gazette. "He told me that I am his retirement plan. He wants to be my bus driver. He wants me to go on tour and he wants to drive the bus. I love that plan."
Since Diane has been back on the scene, she's spread her wings outside of Billings. With family in both Los Angeles and Seattle, Diane says Lucas helped her book gigs at both The Comedy Store in L.A. and Laughs, near the heart of Seattle. "I said, 'Oh, you never say no,' even though you are scared shitless. You never say no."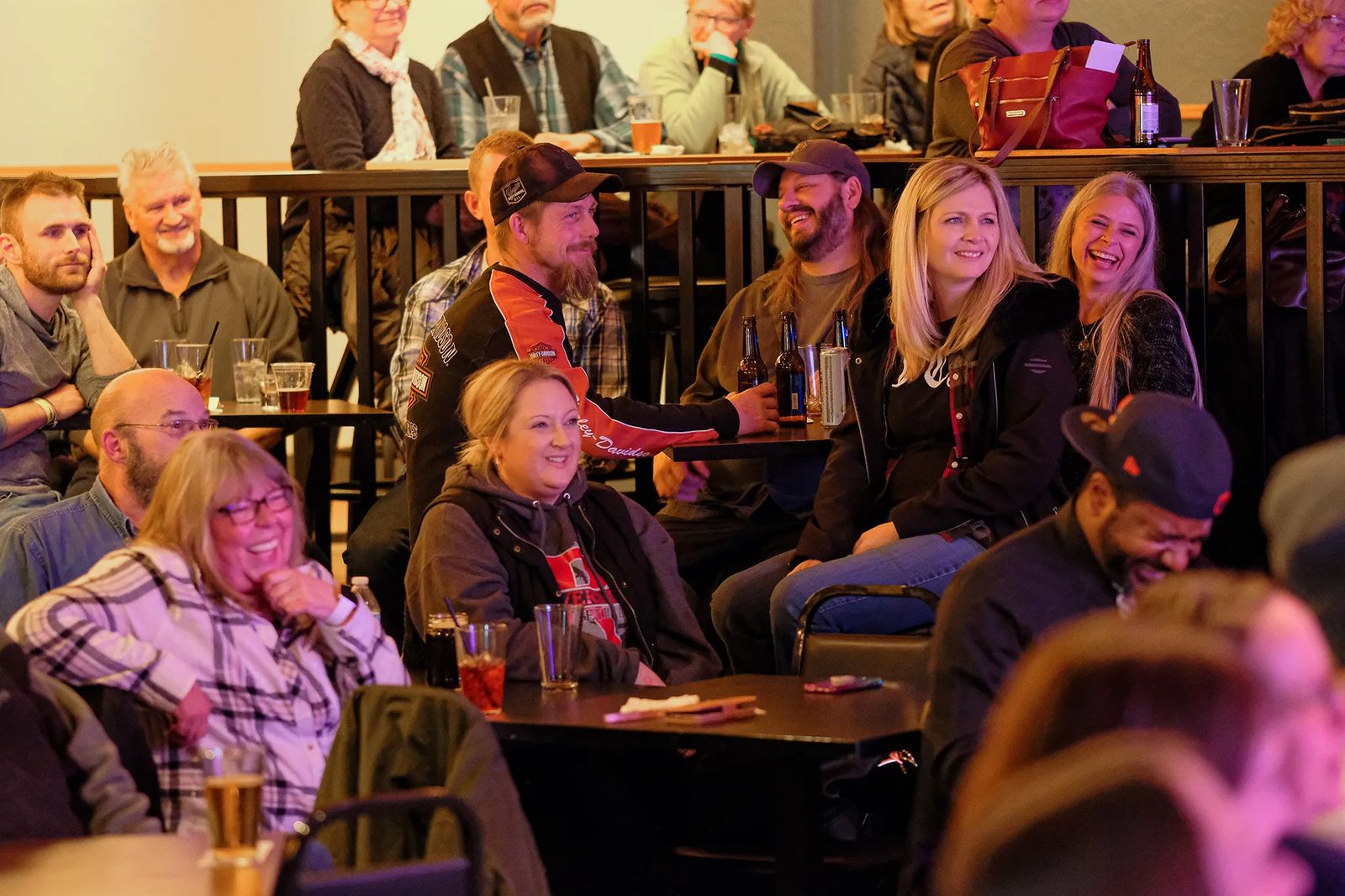 "At this last comedy festival, there were some agents there and one was a casting agent for 'America's Got Talent,'" Diane says. "One of them asked me to submit a video for the show. I am waiting to hear back from her. She told me if they don't use me this season, she is pretty sure that they will for a future season."
In the meantime, these ladies of laughter are just content working the Billings scene and honing their comedy craft. When the time is right, Diane says she'd love this group to headline at corporate events or even branch out a bit outside the Magic City.
"I would really like to take these women on the road and do some shows in other towns," Diane says.
Without skipping a beat, Morgan chimes in. "Hey, I have a bus driver!"
Want to Give Comedy a Try?
Learn how to write for stand-up
Diane Kylander is joining forces with fellow comedian Gary Mugridge to lead a Standup Comedy Workshop for those interested in starting standup comedy on May 9 from 11 a.m. to 4 p.m. at the Red Door. The cost is $50 and will include a taco bar lunch. Those who participate will be a part of a show on May 22 at The Red Door called "Fresh Faces of Comedy," giving them a chance to perform their new material. For information, contact Diane at tdkylander_@bresnan.netor by calling 406-606-0158.