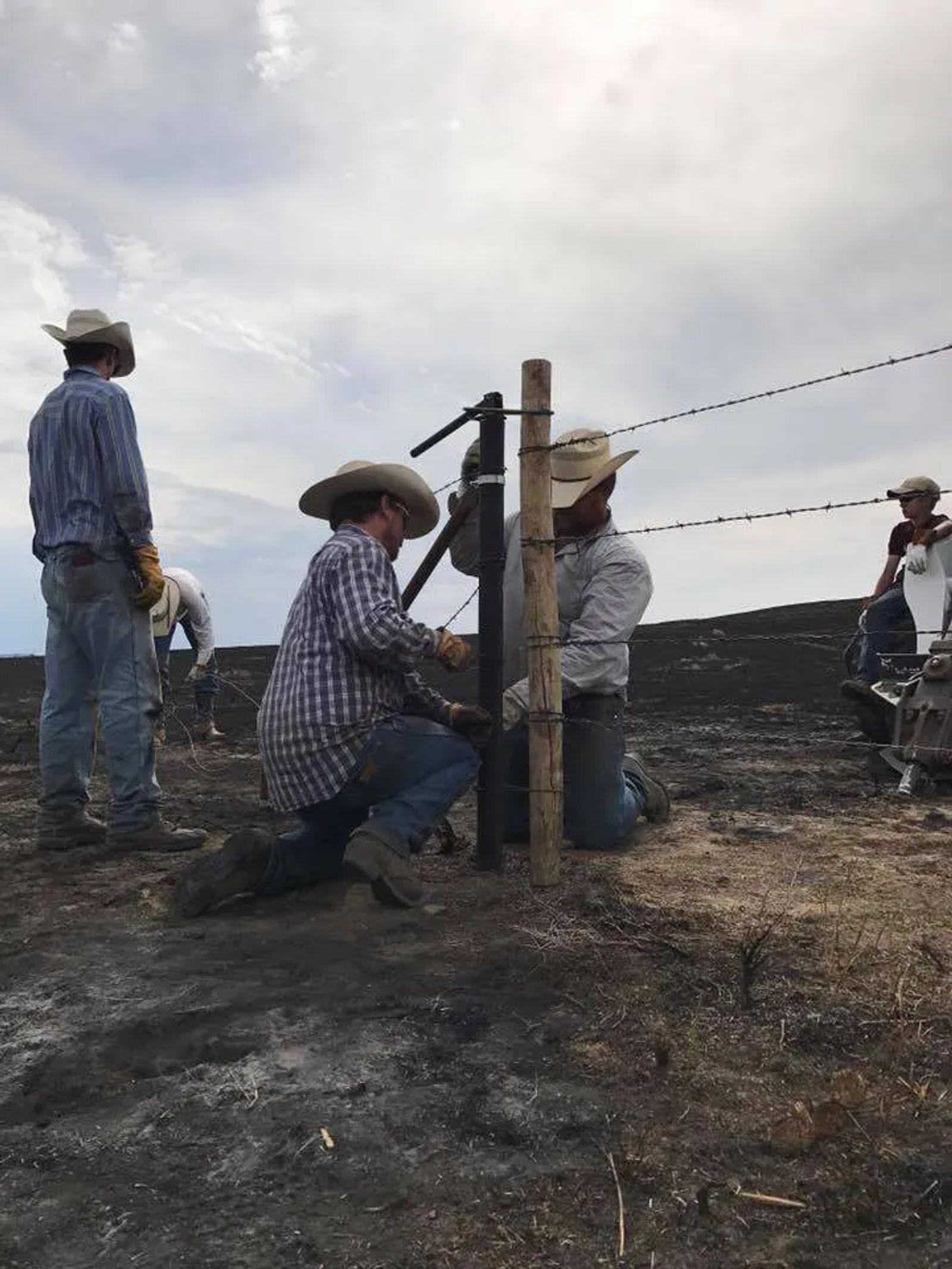 The Lodgepole Complex Fire: After the Ashes
Communities rally to come to farmers and ranchers aid

Through much of August, Lori Murnion's cell phone rang 10 to 20 times a day, which is a lot for someone who says she is "sort of retired." Lori is the point person for feed and fencing supply donations coming into Jordan after the Lodgepole Complex Fire ripped through Garfield and Petroleum Counties. The fire, which scorched more than 270,000 acres, was fully contained on August 11, but even before then, assistance was pouring in, in the form of cash donations, hay, feed, fencing supplies, and good, old-fashioned volunteer labor.
Lori grew up on a ranch 35 miles west of Jordan, where her brother Nathan Saylor still runs a cattle operation. The first fire started seven miles from his house after a dry thunderstorm swept through the area. Along with help from the local volunteer fire department and neighbors, the fire was directed away from Saylor's house, but by then, three other fires had already started and were eating up the rangeland fast.
"By that next afternoon everything was pretty much on fire," Saylor says.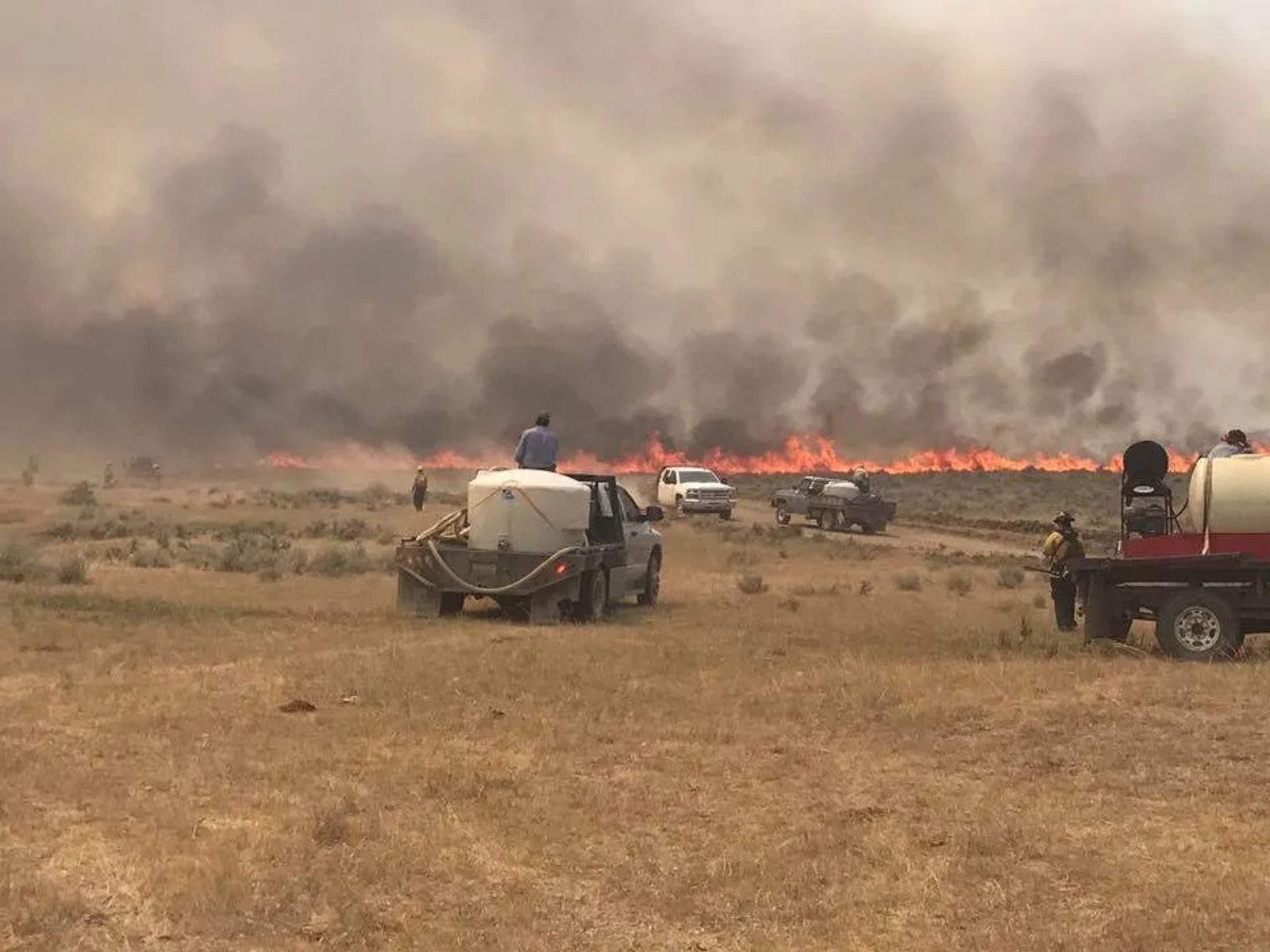 Four fires merged into one, which was named the Lodgepole Complex Fire, and by the time it was brought under containment on Aug. 11, it had earned the designation as the nation's top firefighting priority.  Fences, equipment, and haystacks were destroyed in its path, and numerous outbuildings, barns, and livestock shelters were burned.  Although some 50 homes were evacuated, not one primary residence was destroyed. However, numerous summer homes, hunting lodges, and fishing cabins were among 31 structures that were burned. The blackened swath of rangeland stretches for 40 miles across Garfield County and into Petroleum County.
Ranchers moved ahead of the fires and cut fences and opened gates, which allowed their cattle to move to safety. Very few head were lost, but Saylor says the after-effects of the stress, fire, and smoke could take their toll on the survivors.
Saylor estimates about half of his place burned. It's a loss for sure, he says, but nothing compared to operators who lost 100 percent of their rangeland.
NOT YOUR TYPICAL SUMMER
Much of Eastern Montana has been experiencing severe drought, and one of the places hardest hit has been Garfield and surrounding counties. Like most of his neighbors, Saylor didn't have enough hay to cut this year, and the rangeland wasn't going to produce enough forage to support his herd. He was already looking at buying hay or wintering his cattle in a feedlot.
"We're all facing tough decisions – even the people who didn't have a fire on their place," Saylor says. "We were already in pretty rough shape."
Saylor and his neighbors have been overwhelmed with support. Hay, feed, and fencing supplies have come in from across Montana from most every county, and from states across the Midwest and West, and even some relief has come from Canada. More than $750,000 has been raised in cash donations, which will be used to offset landowner losses as well.
At last count, more than 375 semi loads of hay had come in, and in one convoy alone, 40 semis showed up with hay, feed, and fencing supplies.
"We have people who have donated hay that they've purchased or grown for their own livestock," Murnion says. "Now they have to replace all that. It's amazing the kind of love we've gotten."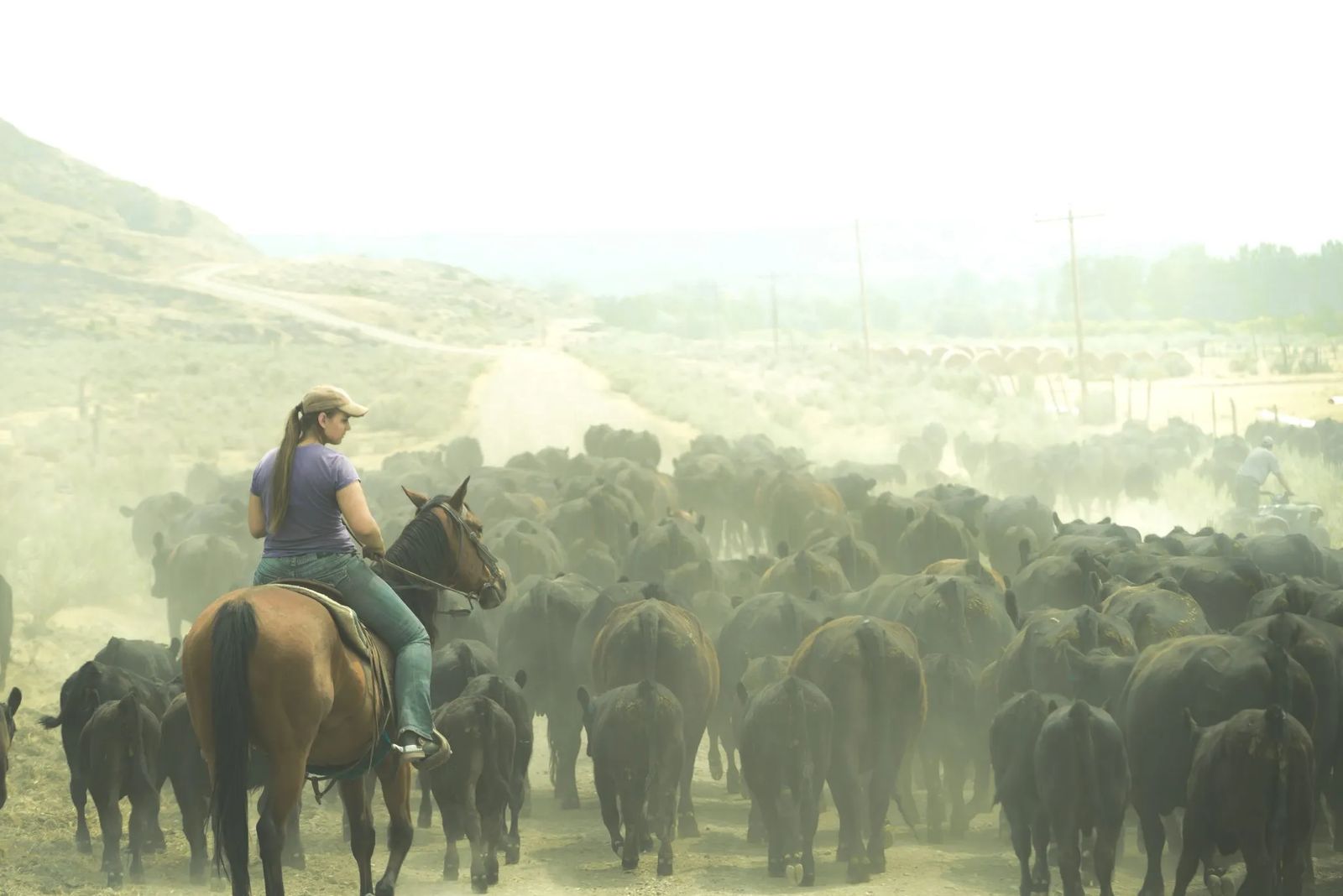 FAR-FLUNG COMMUNITIES COME TOGETHER
From the fire's start, people from across the region pitched in. The VFW Hall in Jordan became a clearinghouse for donations and volunteers. Food and supplies poured in for firefighters working the front lines, and the haul included baked goods and staples from area Hutterite colonies.
"We had people show up with horses and horse trailers saying, 'What do you want us to do? Put us to work,'" Murnion says.
Taylor Brown, the owner of the Northern Broadcasting Network, jumped in to lend a hand getting the word out on the radio about evacuations and firefighting efforts. When the smoke began to settle, he also helped sound a call for help amongst his agriculture industry listeners. He has family who own a place that was burned, and the loss hits close to home for him.
"There's not much profit in this business," he says. "Some of these producers have been on these places 30-40-50 years. It's not like they can get it back in a year or two. Maybe in 50, if you've got 50 years."
More than 40 operators have come forward to report losses, says Eric Miller, Garfield County Extension Agent, and more are expected as lease-holders inspect their herds and lost pastures.
Both Eric and his wife Anne are on the volunteer fire department in Jordan, and while they were away, their two daughters age 7 and 8, stayed with neighbors, going days without seeing mom or dad.
"They've grown up a lot through all of this," Anne Miller says.
Anne stepped in as the county liaison for the incident command team while Eric continued to fight the fire on the front lines. At every turn, people from inside the community and out came to help. The federal incident command team was impressed at the county's efficiency and quick response, especially considering its remoteness and small population.  "What we lack in infrastructure we make up in heart," says Anne Miller. Eric added, "We'll be happy to put all this to rest and get some grass growing next spring."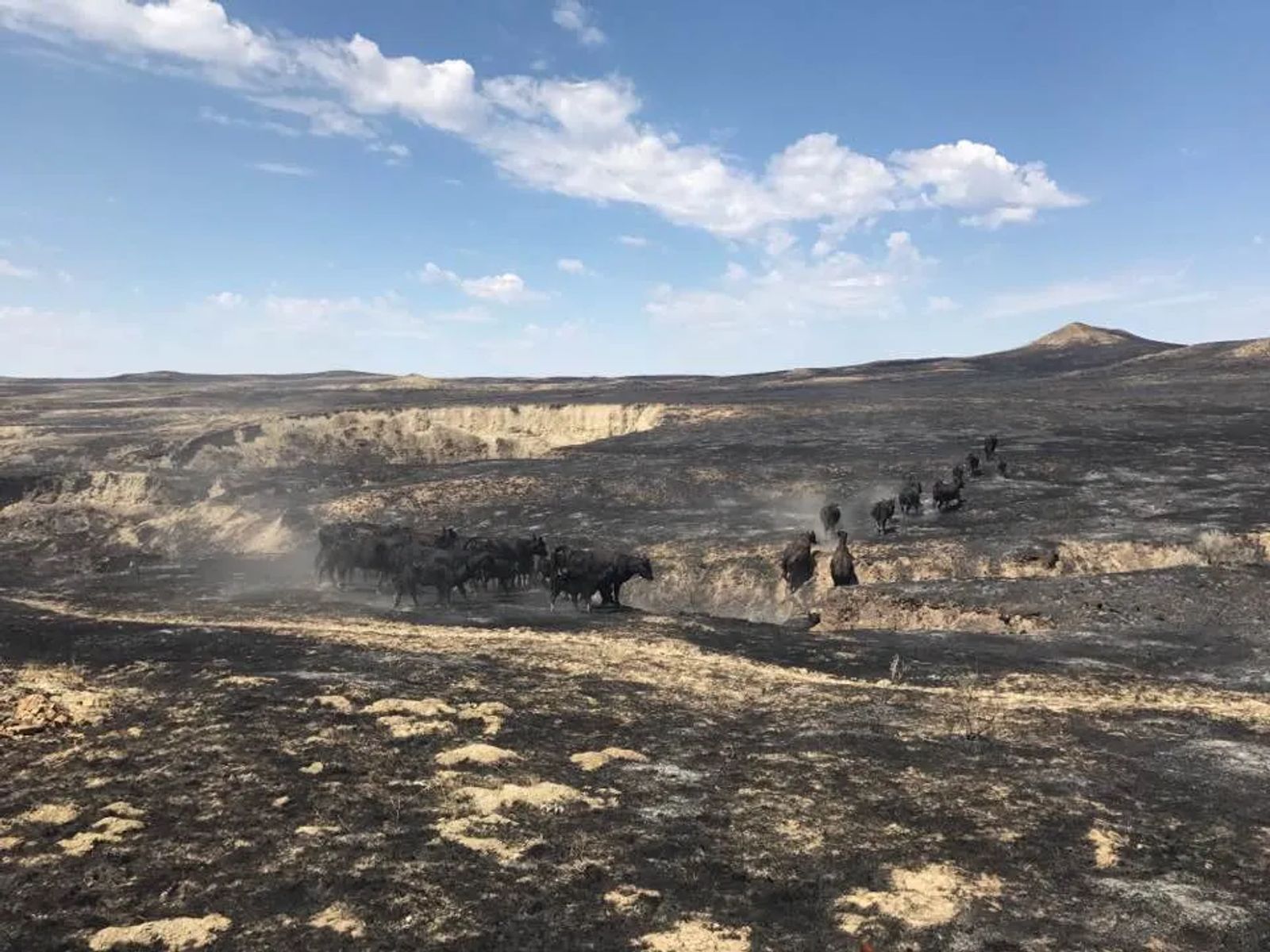 THE LODGEPOLE
By the numbers:
First fire reported: July 20
Containment: Aug. 11
Acres burned: 270,743
Structures lost: 31
Primary residences destroyed: 0
Families evacuated: 50
Counties involved: Garfield, Petroleum
Landowners impacted: 40+
People assigned to fire at the height of efforts: 656
Cost to fight the blaze: $9.8 million
HELPING FIRE RAVAGED MONTANA
Donate cash, hay or feed
The Montana Department of Agriculture established the Fire and Drought Assistance Hotline for anyone interested in donating hay or feed to the communities statewide affected by wildfires. The hotline number is 1-844-515-1571. The department has also expanded its hay lottery and will draw for the hay in October. To download the application, visit mt.gov/Hay-Lottery-2017. Deadline to apply for the hay lottery is September 30.
The Montana Stockgrowers Foundation is taking cash donations to help farmers and ranchers impacted by the fires and also to help them cover the cost of hay transportation. For more, contact 406-442-3420.
To donate to the Garfield County Fire Foundation, send checks to the Garfield County Bank, P.O. Box 6, Jordan, MT  59337, or drop off donations at your local Stockman Bank branch. To make a donation online, click fundly.com/garfield-county-fire-foundation.

MONTANA DEPARTMENT OF AGRICULTURE
FIRE & DROUGHT ASSISTANCE HOTLINE
1-844-515-1571