The Tasting Team Savors Sushi
Art for the Palate and the Senses
Sushi is visual art for the palate. The Japanese dish, anchored with vinegar-flavored rice and garnished with raw fish or vegetables showcases just how far the Montana culinary scene has evolved. Seasoned rice is spread onto toasted nori seaweed and then rolled with fish in its core or rice is formed into a small palm-sized oblong sphere topped with a slice of fish for the nigiri style sushi. Traditionally bite-sized samples can be easily picked up with chopsticks and dipped in soy sauce mixed with dabs of wasabi, a spicy, green horseradish. Here at Montana's Trailhead, the sushi is dramatic in flavor and generous in size. Note that on the sushi menu, it is assumed that rice is a part of the roll with fish and accompaniments.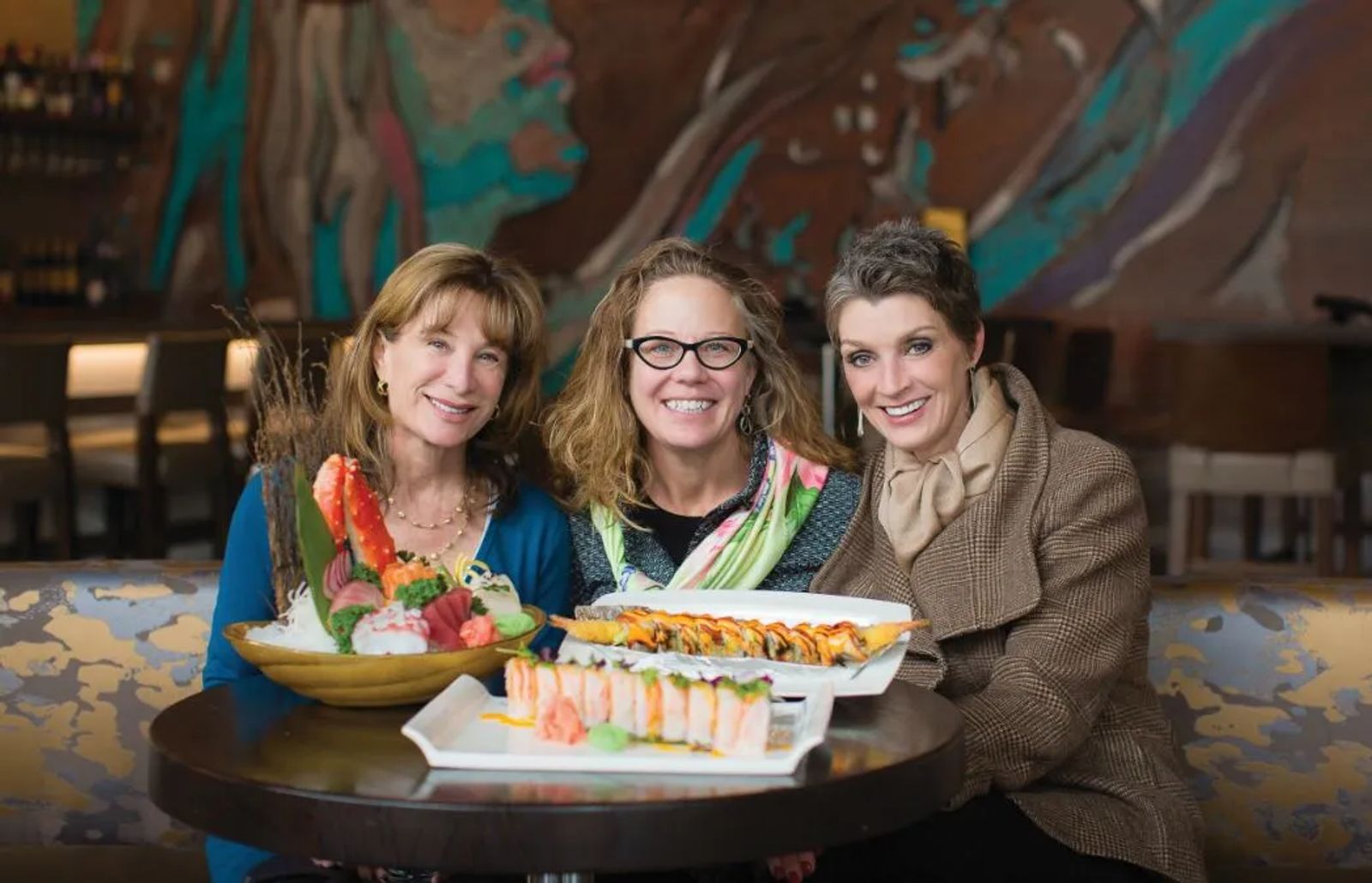 MEET THE TASTINGS TEAM
Shawna Goodman, a Certified Professional Home Stager is owner of Stage to Sell Now.
Marci Mercer is the mother to two children, one dog, and one horse. She is a dedicated volunteer for Arts Without Boundaries and the United States Eventing Association.
Lisa Sulkin owns Right at Home, a home care agency and is the mother of two sons.
THE TASTINGS TARGETS
Our first stop was at NaRa at the busy intersection of Division Street and Montana Avenue, a restaurant that specializes in Korean and Japanese food. Taster Lisa Sulkin describes, "The restaurant has a warm, cozy feel." Chef Dae Shen exhibits a youthful flare in his sushi making. The Red Dragon, The Rollin' Red, and Crunchy Salmon rolls reveal boldness to the taste buds and are visually stunning. Several years ago, Shen and his wife Tanya took the reins of the restaurant from his father, Young Soo, who commanded the sushi bar from its opening in 1988.  Dae's mother, who everyone refers to as "Mom," still cooks hot entrees in the kitchen and the Tastings Team savored her gyozas, or Japanese potstickers, sampling the ultimate in comfort food.
In downtown Billings around the corner from the Double Tree Hotel is Wild Ginger Japanese Steakhouse. Howard Shen and Tina Wu recruited the design savvy of Mitch Thompson to create a restaurant, cocktail bar and teppanyaki room featuring elements of chic modern Asian. A large aquarium separates the bar and dining room, and a mural painted by Vincent Sanchez graces the wall in the cocktail lounge, highlighting the space along the sushi bar as well as the large teppanyaki room in the back. Elements of wood, metal, and glass complement the splashes of gold, silver and red in the upholstery and wall coverings. Taster Shawna Goodman comments, "Wow! Urban chic! It feels like I'm in the big city. The textures, colors and shapes are stunning." Here the Tastings Team experienced a selection of sashimi, or raw fish slices, a Butterfly Roll and a Fire Dragon Roll. The Fire Dragon Roll prepared by Howard Shen lived up to its name, brought to the table breathing actual flames. Shen shared how this dish becomes a brilliant showpiece when the restaurant is dark during the evenings.
The final stop was at Fancy Sushi Asian Fusion, located in a strip mall next to the Van's IGA. "The restaurant is convenient for lunch and dinner, no matter where you work or live," according to Taster Marci Mercer. The restaurant serves sushi and Japanese entrees, Chinese and Thai food in a comfortable setting with prompt and courteous service. Owner Jimmy Li arranged for the Tasters to experience four different sushi choices from the sushi bar. Yellowtail Tartare, Sunrise Roll, Fuji Roll and Spicy Girl Roll comprised the grand finale for the Tasting Team experience. The Yellowtail Tartare came garnished with edible gold leaf. Fancy Sushi Asian Fusion has become a neighborhood favorite, with Jimmy, his wife Icy, and their young daughter watching every detail. The space yields an electric vibe with strands of beads spelling out the name of the restaurant with purple and blue neon lights providing backdrop ambiance.
THE TASTING TEAM OFFERINGS
 NaRa Restaurant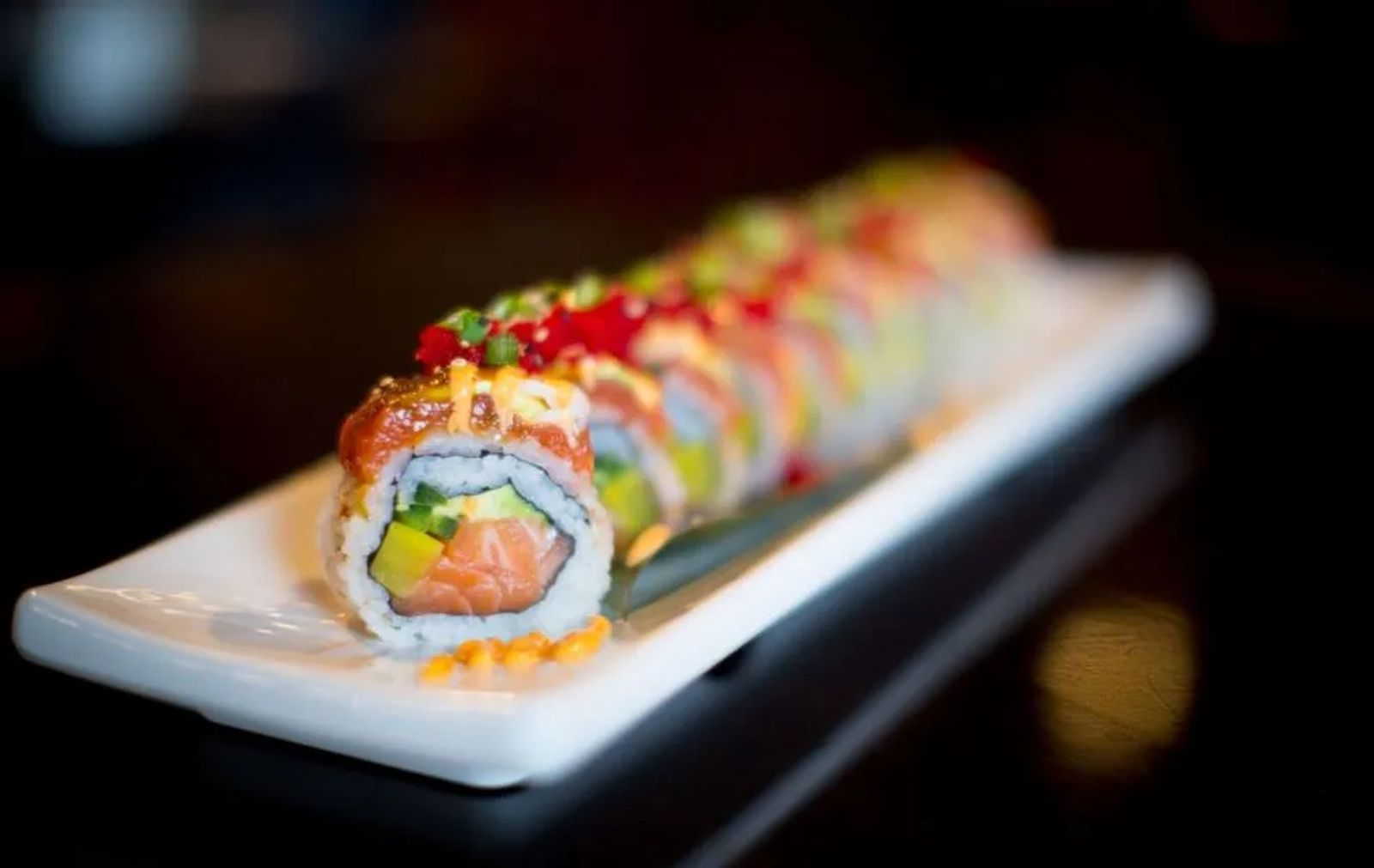 Red Dragon
Salmon, shrimp, daikon, jalapeño inside with tuna, avocado and habanero on the outside topped with habanero masago or capelin caviar and drizzled with spicy asparagus, Thai and volcano sauces.
"Beautiful presentation. Colorful – like Thanksgiving. So many textures – creamy, crunchy, a burst of cranberry colored roe." ~ Shawna Goodman
"Love the colors of the Dragon! The taste is a blend of salmon, shrimp, avocado, and spicy peppers. A perfect blend of textures and fish! My favorite — would order every time." ~ Marci Mercer
"All the colors of an edible rainbow. The fish and vegetables blended together to provide a flavorful experience." ~ Lisa Sulkin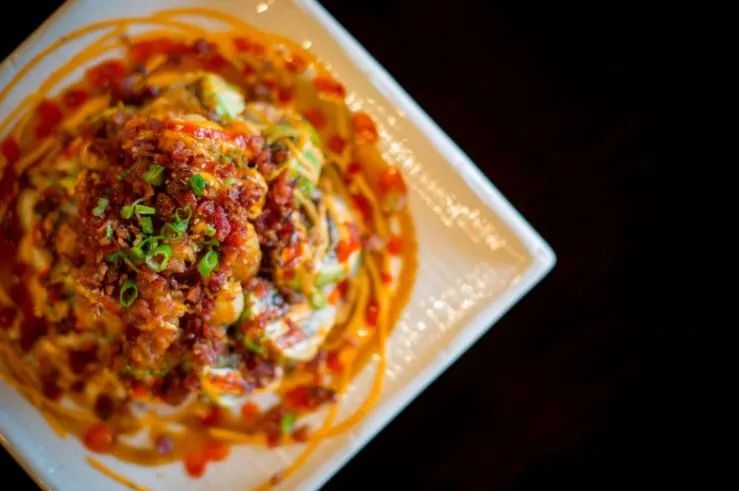 The Rollin' Red
Spicy tuna, cream cheese, and jalapenos inside. Avocado and sesame seeds topped with tempura lobster pieces, bacon, scallions, volcano sauce, spicy teriyaki and sriracha on the roll.
"Decadent presentation. Tempura lobster and bacon on top are unique. Plate garnished beautifully – colorful." ~ Shawna Goodman
"Bacon is a nice touch. The non-traditional presentation is wonderful. It's a mountain of Rollin' Rolls with tempura lobster bacon and scrumptious sauces. Flavors will surprise you!" ~ Marci Mercer
"Beautiful presentation, different display than a regular roll. Sauces decorated the plate colorfully – wonderful flavors." ~ Lisa Sulkin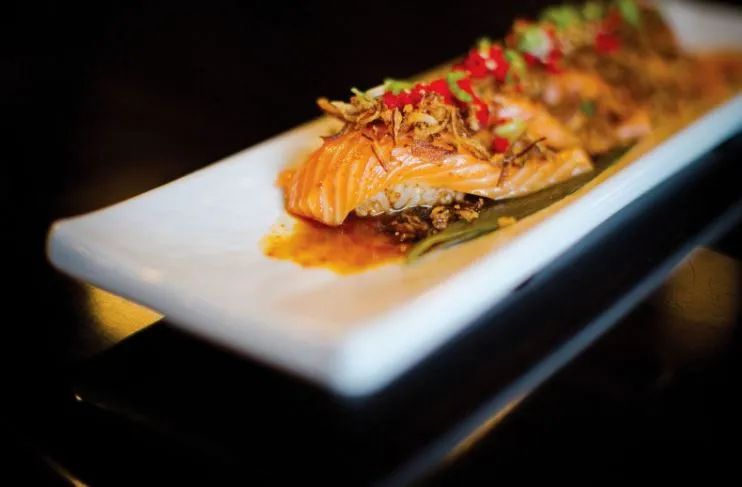 Crunchy Salmon Nigiri
Salmon sprinkled with habanero masago, fried onions, and green onions with spicy asparagus sauce.
"The onions give the salmon a smoky, rustic bite. Gorgeous cranberry-colored roe with green bamboo leaf garnish reminds me of Christmas." ~ Shawna Goodman
"The fish rolls look like a school of fish going to a prep school. Crunch is fun and effective in bringing texture to the dish, a large serving of salmon!" ~ Marci Mercer
"Roll resembles a school of fish. So creative. Smooth flavor with a punch."  ~ Lisa Sulkin
FAVORITE: Shawna Goodman, Marci Mercer, and Lisa Sulkin: The Rollin' Red
Wild Ginger Japanese Steakhouse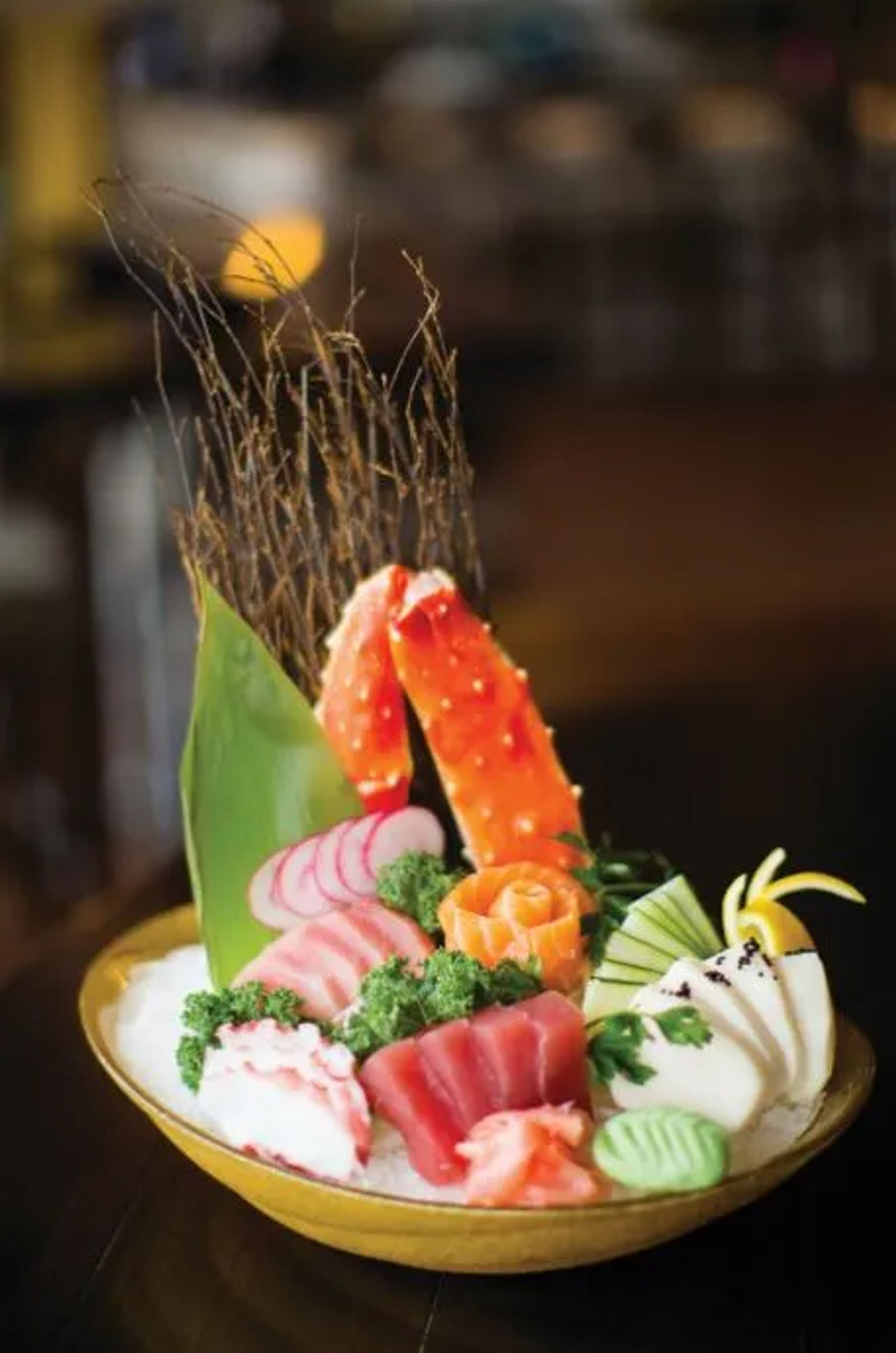 Sashimi
White tuna, salmon, tuna, yellowtail, and octopus. The Tastings Team sampled sliced white tuna, salmon, tuna, yellowtail, and octopus on ice presented in a glass bowl adorned with wasabi molded into a leaf, a carrot rose and fanned cucumber and radish slices, an arched snow crab leg juxtaposed next to a banana leaf crowned the arrangement. The team kept referring to this as "The Sashimi Centerpiece."
"Colorful, interesting variety of fish and shellfish. The presentation is STUNNING." ~ Shawna Goodman
"I am so impressed and stunned at this dish! It is a magnificent centerpiece that invites all of us to eat and enjoy fine food. Super fresh and complete with exotic white tuna and moist sweet crab leg." ~ Marci Mercer
"Incredible display of colors and types of fish. Different textures make for an interesting array of choices. Fresh flavors – memorable experience." ~ Lisa Sulkin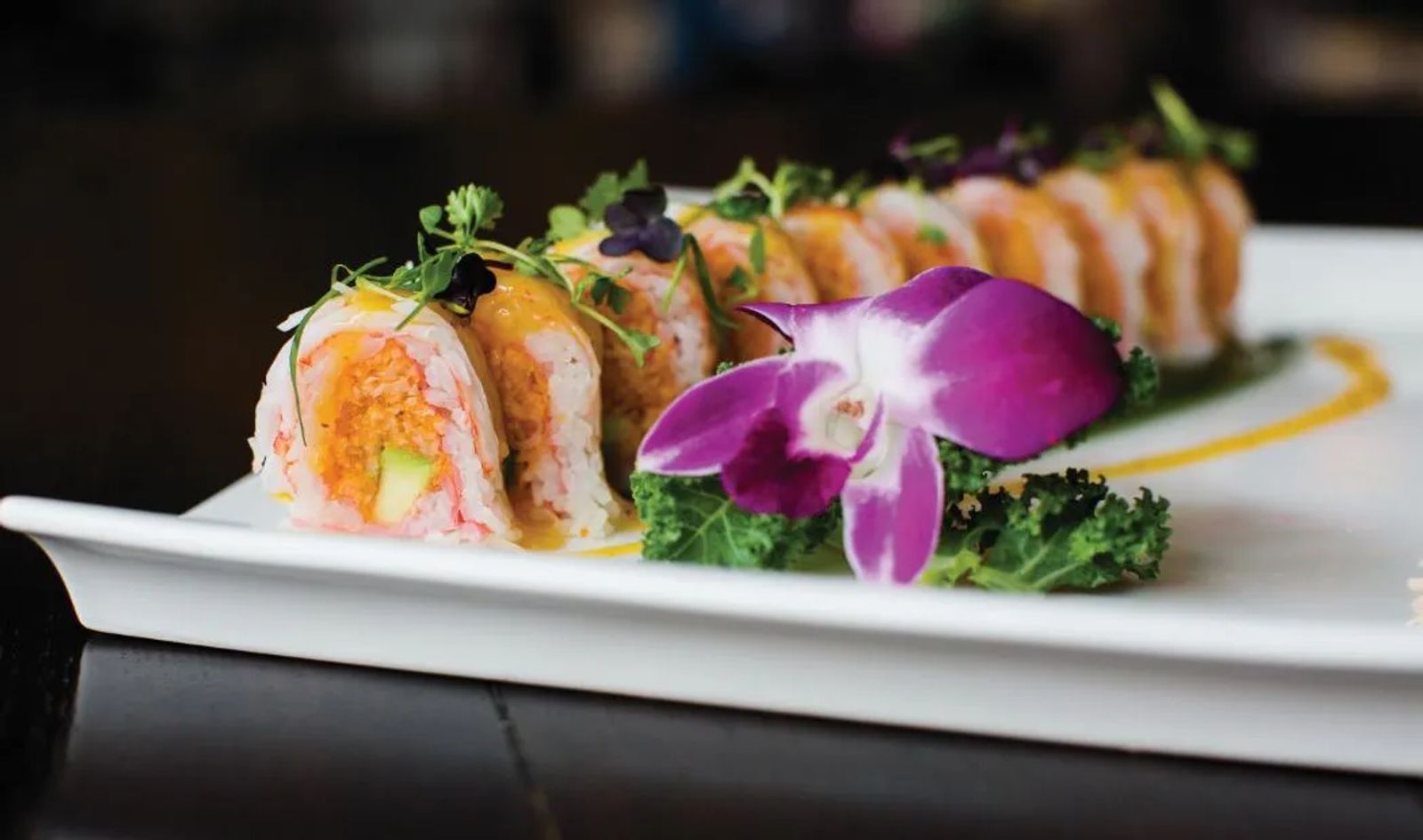 Butterfly Roll
Spicy lobster and avocado inside with crab stick draped on top over soy wrap.
"Beautiful, thoughtful presentation. Lovely mango sauce complements spicy lobster."  ~ Shawna Goodman
"Spring like delicate flavors with spicy lobster and avocado inside. Absolutely beautiful and elegant roll. I would order this every time as it will appeal to all palates." ~ Marci Mercer
"Incredible flavors blended together – mango sauce and fish – complementing each other beautifully." ~ Lisa Sulkin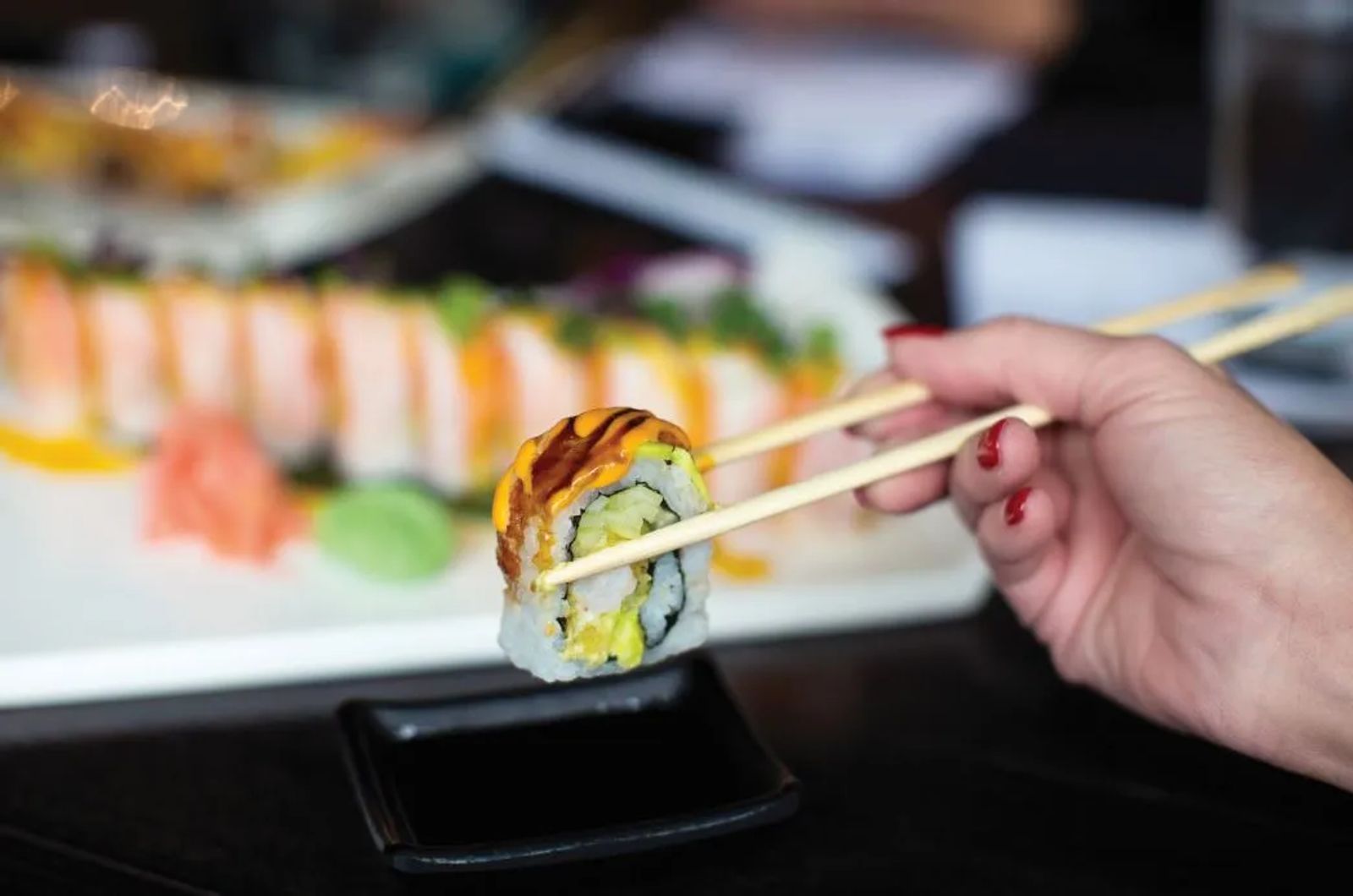 Fire Dragon Roll
Tempura shrimp, avocado, and cucumber.
"The roll looks like a blown glass fire dragon." ~ Shawna Goodman
"Simple flavors and simple textures with great fire-lit Everclear for ambiance. Sauces on top enhance with flavors and finish the taste on the tongue." ~ Marci Mercer
"Beautiful display. Smooth flavors. Artistic presentation." ~ Lisa Sulkin
FAVORITE: Marci Mercer and Shawna Goodman: Sashimi, Lisa Sulkin: Butterfly Roll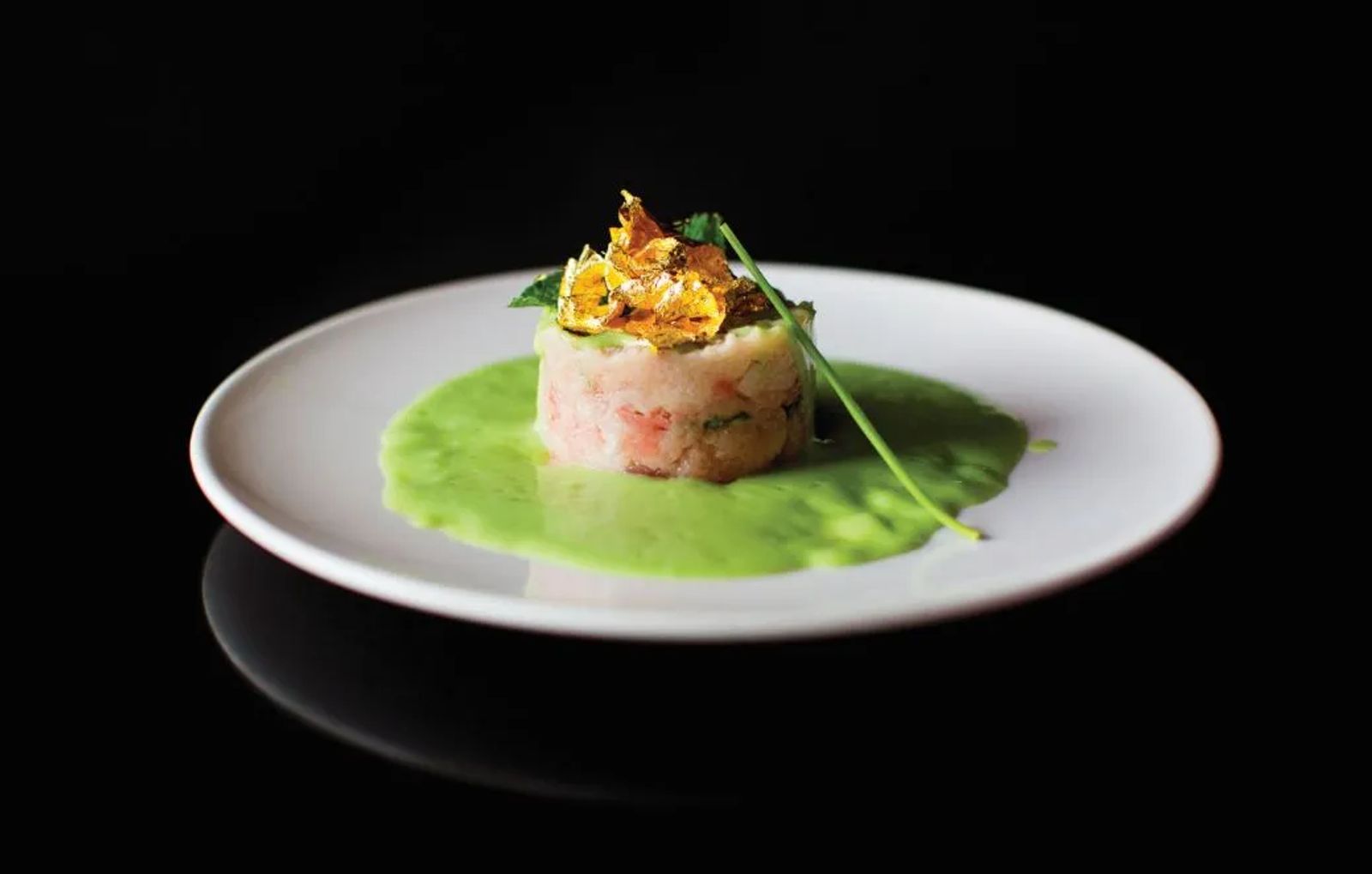 Fancy Sushi Asian Fusion
Yellowtail Tartar
Yellowtail with a yuzu avocado sauce garnished with gold leaf.
"So good. The bite is very fresh with a wee punch of heat with jalapeño and cilantro flavors immediately followed with the cooling yuzu sauce." ~ Shawna Goodman
"Interesting choice of cilantro. Jalapeño pepper for spice works well with the yuzu sauce and the flavors of the yellowtail. The gold leaf is very effective and fun as a topping. Great dish for fish lovers. Top notch."  ~ Marci Mercer
"A unique preparation with gold leaf adorning the top citrus flavors enhance the overall taste. Fresh flavors with the right amount of seasoning. Yuzu sauce brings it all together in a flavorful experience." ~ Lisa Sulkin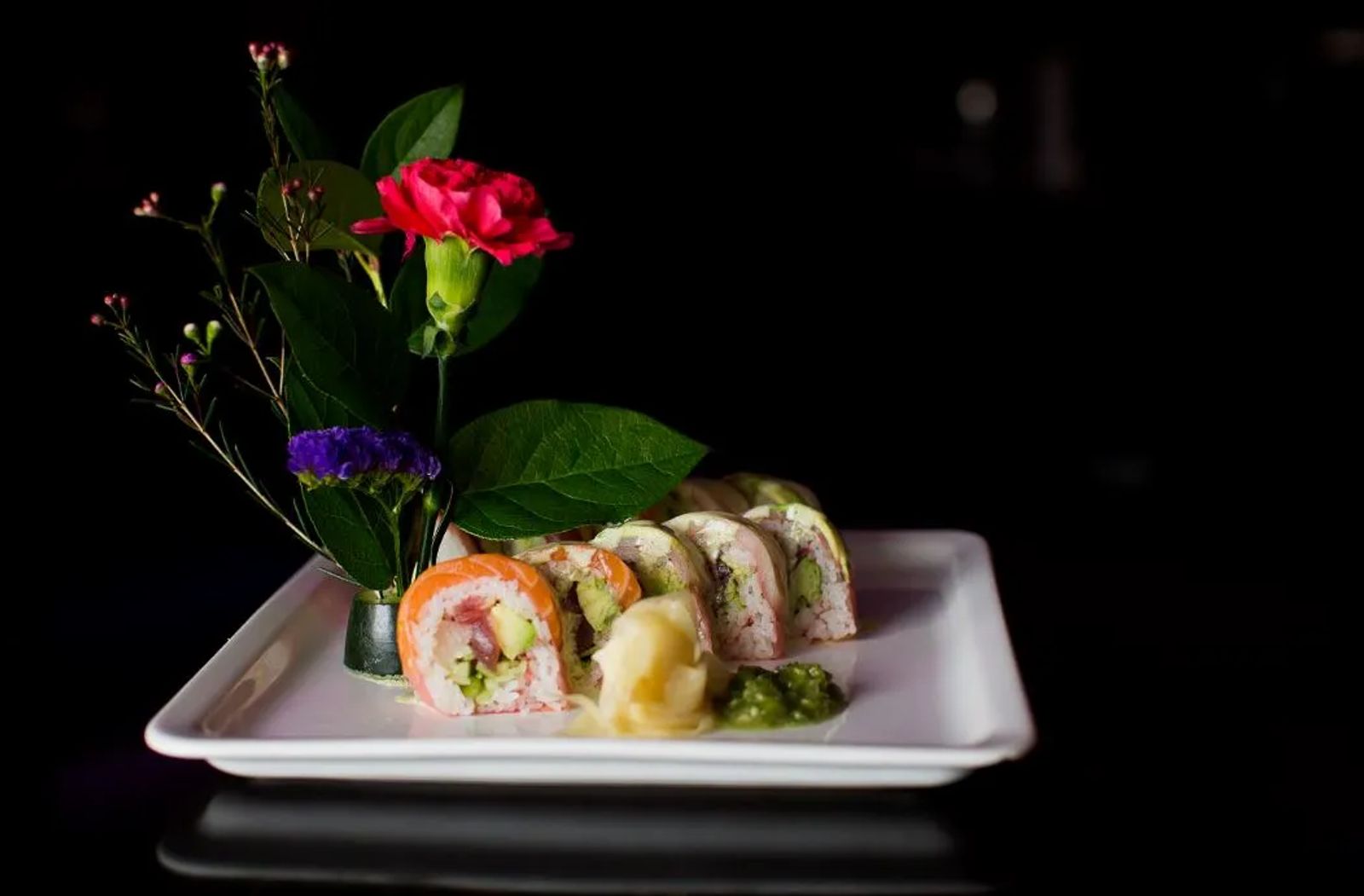 Sunrise Roll
Tuna and yellowtail inside wrapped with yellowtail, tuna, salmon, avocado and cucumber on the outside served with minced wasabi sauce.
"Light taste with a surprise mint flavor." ~ Shawna Goodman
"Fresh flower presentation is unexpected and lovely. Fresh is the word for this dish. The wasabi is fresh – watch out! Flavors are simple, powerful and fresh." ~ Marci Mercer
"Nice blend of many flavors. The addition of mint is a nice surprise." ~ Lisa Sulkin
Fuji Roll
Inside out roll with nori seaweed with spicy tuna and avocado inside with tempura tuna accompanied with minced wasabi sauce.
"Love the crunch on top." ~ Shawna Goodman
"Crunchy! Perfect warm spice with spicy tuna and lobster with avocado. The crunchy texture inside wraps around the fish and blends the spice perfectly." ~ Marci Mercer
"Colorful roll. Crunchy topping complements other fresh flavors nicely. Very tasty! Fresh wasabi is a nice surprise." ~ Lisa Sulkin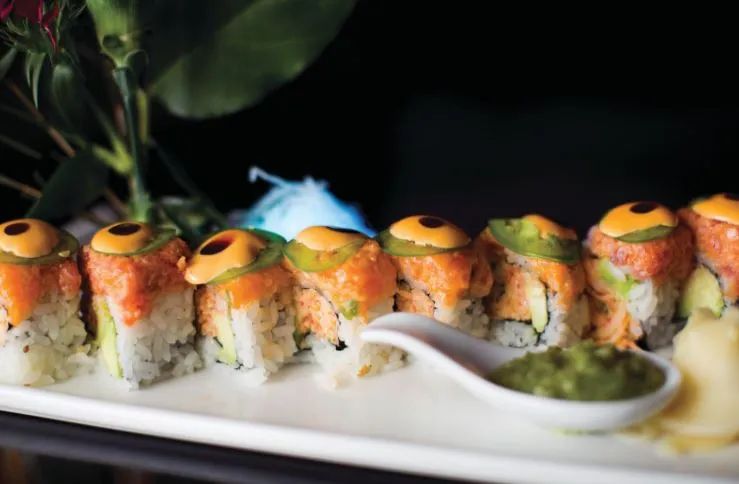 Spicy Girl Roll
Spicy Kani or crab, avocado with spicy tuna, salmon, crunch, jalapeño on top.
"Cute little LED under the shredded daikon garnish. Love the spicy tuna." ~ Shawna Goodman
"Bite-sized and has seaweed. Nice dish for those new to sushi. Sauces on top are warm and spicy. The artistic look is fantastic." ~ Marci Mercer
"Good spice mixed with fresh flavors." ~ Lisa Sulkin
FAVORITE: Shawna Goodman, Marci Mercer and Lisa Sulkin: Yellowtail Tartare

TASTING TEAM FAVORITES: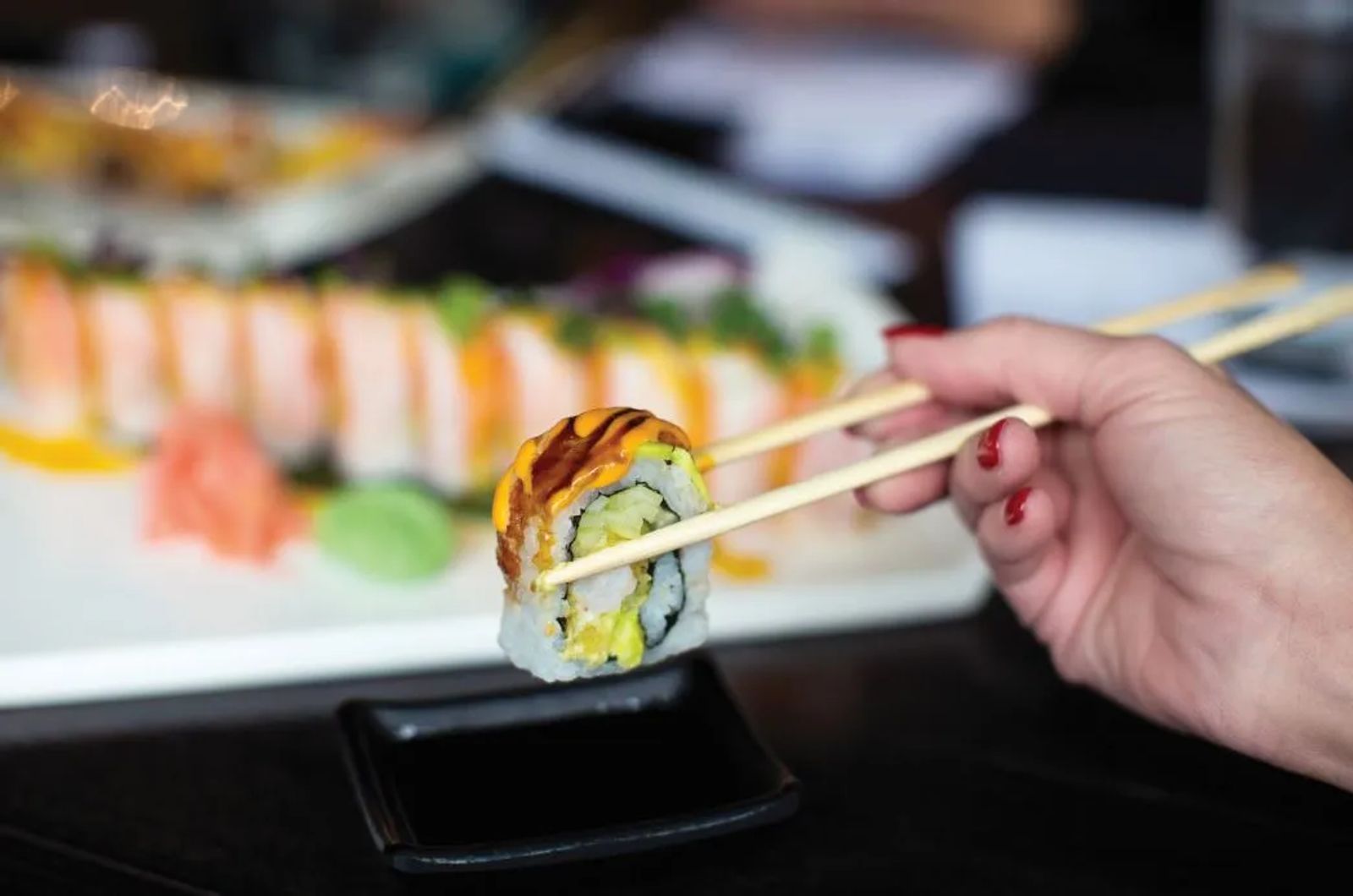 Shawna Goodman: The Rollin' Red from NaRa Restaurant
Marci Mercer: Yellowtail Tartar from Fancy Sushi Asian Fusion
Lisa Sulkin: Yellowtail Tartar from Fancy Sushi Asian Fusion
THE TASTING TARGETS
Wild Ginger Japanese Steakhouse, 2713 Montana Ave, Billings
ON THE WEB: wildginger2713.com
Fancy Sushi Asian Fusion, 1313 Grand Ave #3, Billings
ON THE WEB: fancysushius.com
NaRa Restaurant, 3 Custer Ave, Billings
ON THE WEB:  narabillings.com