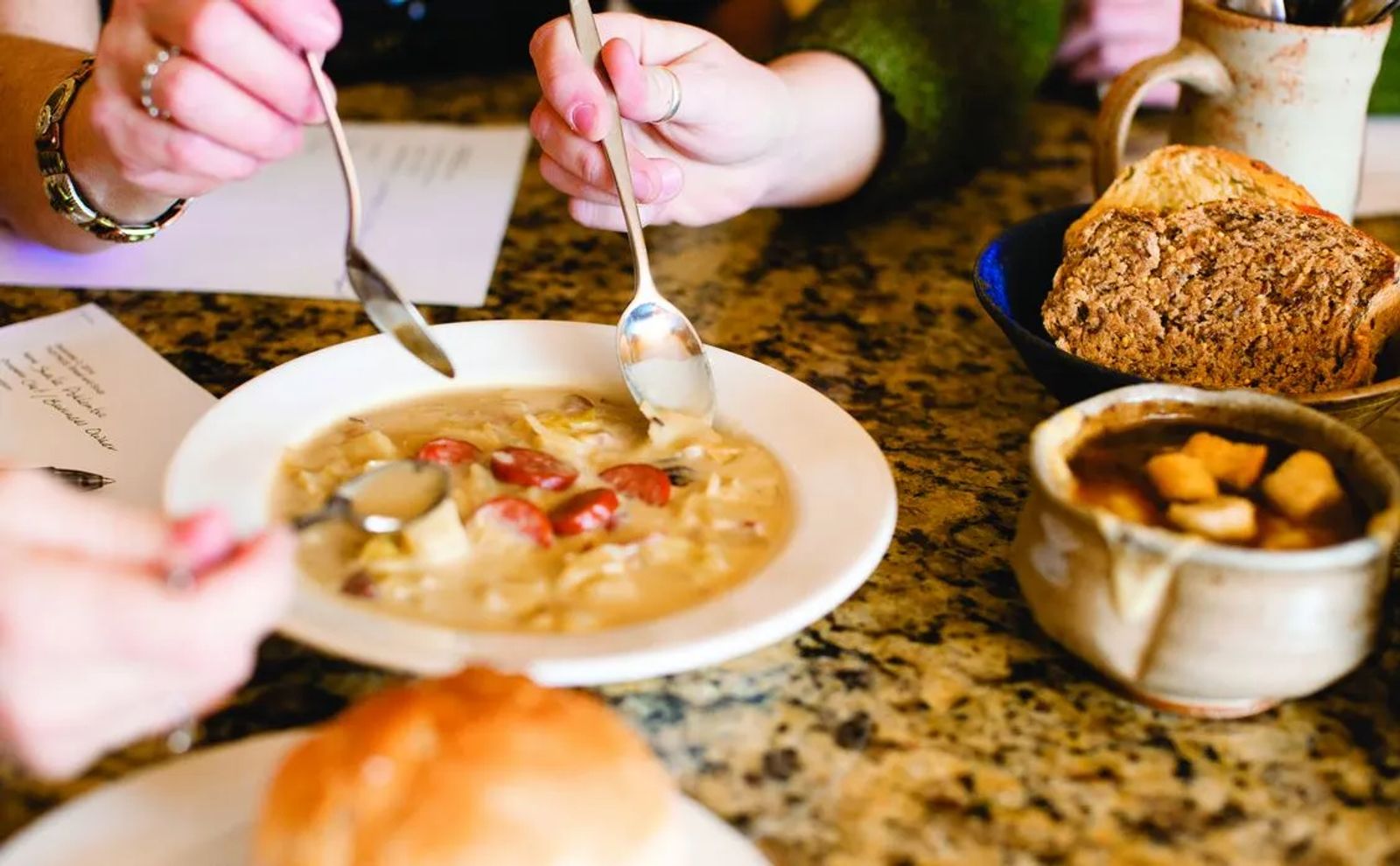 The Tastings Team Takes on Soups & Breads
The Food of Life
By Stella Fong, Photography by Daniel Sullivan
Covet a bowl of warm soup in the palms of your hands, and comfort magically transfers to your soul. Accompanied with a slice of fresh baked bread, life is good. That's why the Tastings Team set out to savor the offerings from some of the best soup places in town from Carmel Cookie Waffles, and Grains of Montana Restaurant and Bakery, to the Great Harvest Bread Company.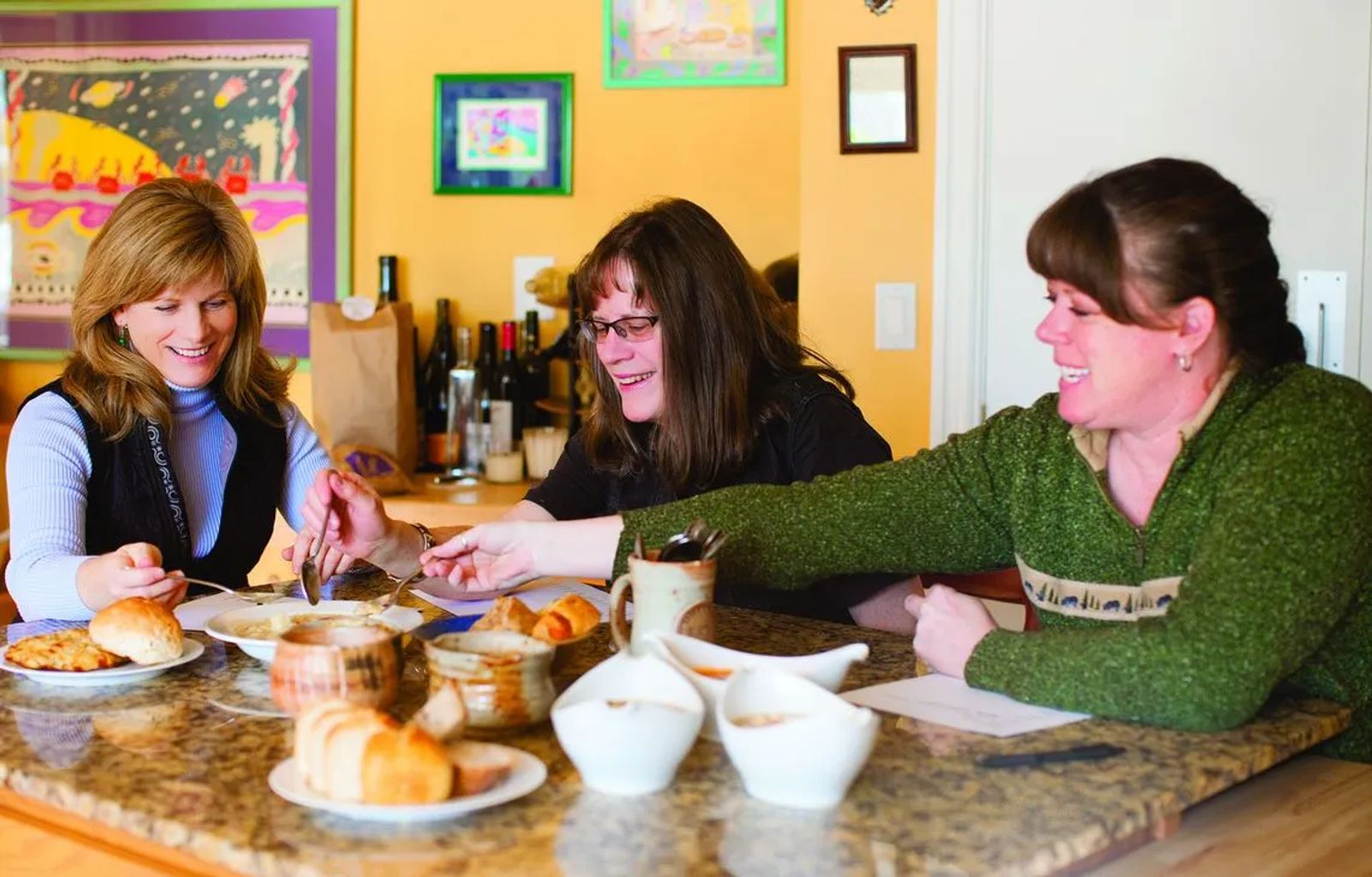 Meet the Tastings Team (L to R) 
Sheila Poklemba, a private chef who has cooked for dignitaries and celebrities, now owns SweetiePie's Candies and Confections.
If you have been a resident of Billings for even a few years, you surely have tasted Marie Downer's cakes at a birthday party, wedding, or special event such as the Montana Women's Run.
Megan Jessee, Culinary Arts Program Manager at the Pre-Apprenticeship program at the Passages Women's Pre-Release Center is no stranger to tasting and critiquing food.
THE TASTINGS TARGETS
Caramel Cookie Waffles are world famous for their stroopwafels, but their homemade lunches of quiche, sandwiches with their popular curry chicken salad, savory pastries filled with Dutch sausage, and soups ranging from Swiss barley to seafood bisque attract a constant crowd.  Of course one cannot leave without an almond horn or a slice of Dutch almond-filled butter cake.
Located in the College Streets neighborhood right along bustling Poly Drive is Great Harvest Bread Company. Upon entering, a slice of fresh bread is offered to every client, but what encapsulates the spirit of the bakery is a sign that says, "All You Knead is Love." Sandwiches can be ordered off a menu with colorful handwritten lettering with choices of "Baja Chipotle Turkey" or "Cheesy Italian Hog", while bread such as High 5 Fiber and Dakota Whole Wheat can be purchased at the counter.
Grains of Montana Restaurant and Bakery provides a wide selection from cold and warm sandwiches to pizza, salad and soups. There are almost a couple dozen possibilities for sandwiches and five choices of soup every day. Along with a good selection of toppings, there is the choice of white or wheat crust.  The restaurant has several seating options, including high top tables, booths, and comfortable fireside seating.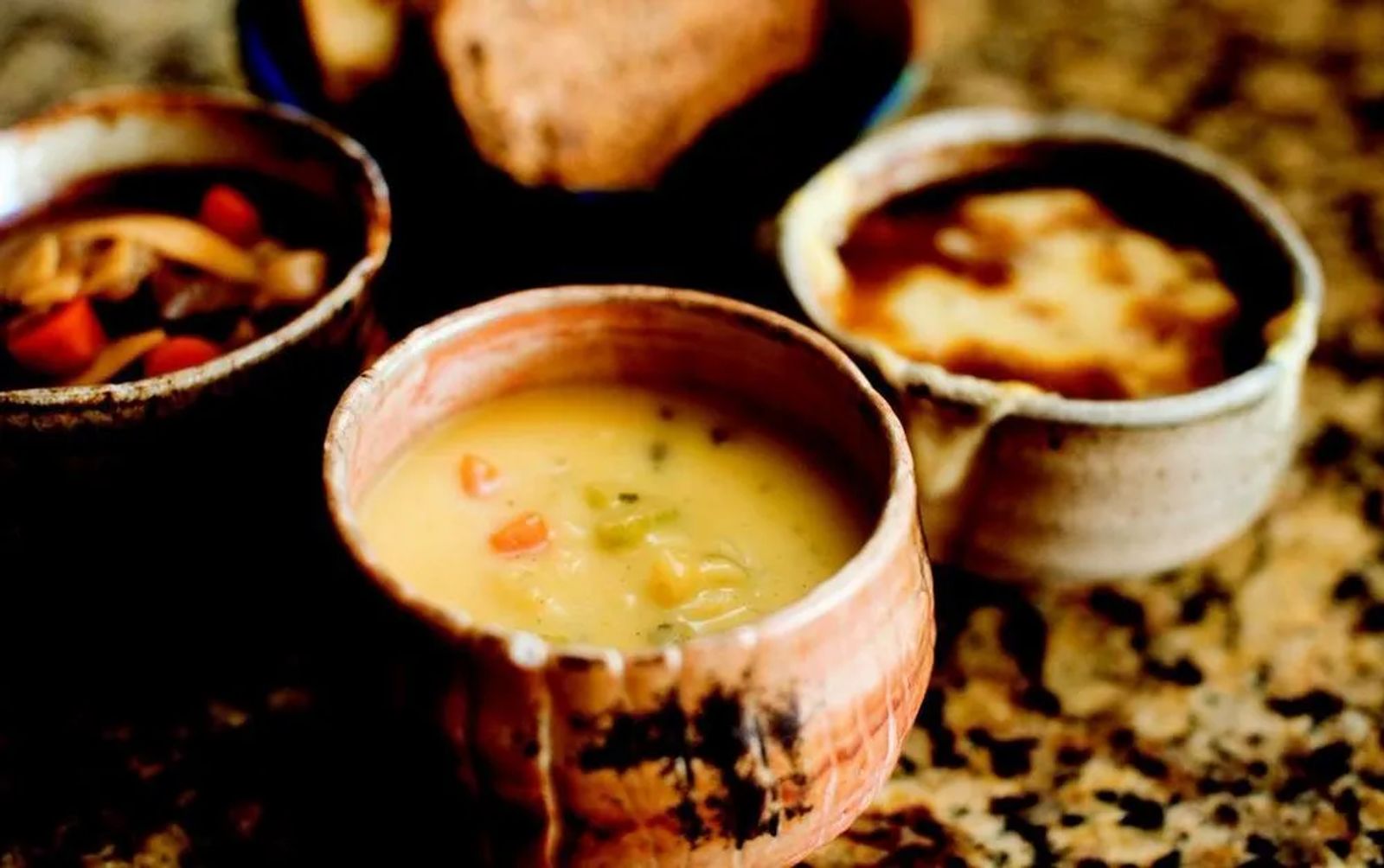 GREAT HARVEST  
THE SOUPS
French Onion Soup
"Wow! Very nice, great brothy flavor. It combines really well with their homemade croutons."  ~Sheila Poklemba
Beef Steak Noodle
"Lots of noodles, creamy, hearty, good cold weather soup, good  amount of vegetables." ~Marie Downer
Chicken and Rice
"This soup would make a good pot pie filling." ~Megan Jessee
NOTE: The Tastings Team thought that this would be a fun soup to bring home, put in a bowl, draped with a puff pastry slice and baked to golden brownness.
THE BREADS
High 5 Fiber
"Heavy nutty bread. Good flavor, slightly sweet." ~ Sheila Poklemba

"This bread is soft and hearty. It tastes a lot better than I expected given the name." ~Megan Jessee
Jalapeño Cheddar
"I wanted to try this bread the moment I saw it. How can you go wrong with a big chunk of cheese in the center of a big hunk of soft bread?" ~Megan Jessee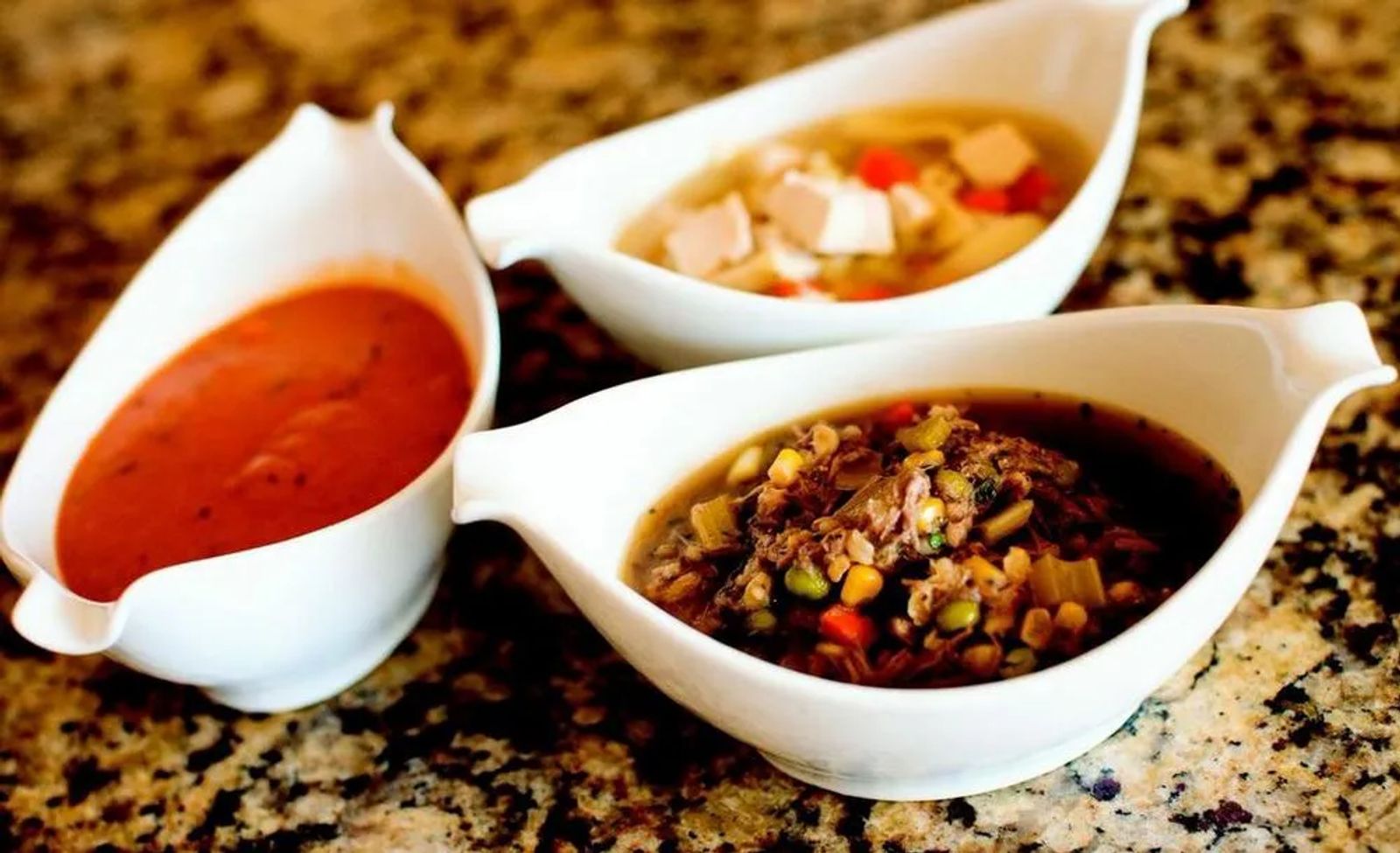 GRAINS OF MONTANA 

THE SOUPS
Tomato Bisque
"I love the pieces of tomato in the soup. They give the soup a pop of bright tomato flavor." ~ Meagan Jessee
Beef Barley
"I like the shredded beef. There is generous amount of veggies and barley and a good peppery flavor."  ~Marie Downer
Chicken Noodle
"Just like Grandma used to make – comfort food." ~Sheila Poklemba
"Very flavorful. Tender chicken with classic thick noodles. Just the right amount of noodles." ~Marie Downer 
THE BREADS

Sourdough
 "Yummy with a nice sour bite, good crunch." ~ Marie Downer
Gorgonzola Multigrain
 "Nice but not overpowering with cheese flavor, nice crumb." ~Sheila Poklemba
CARAMEL COOKIE WAFFLES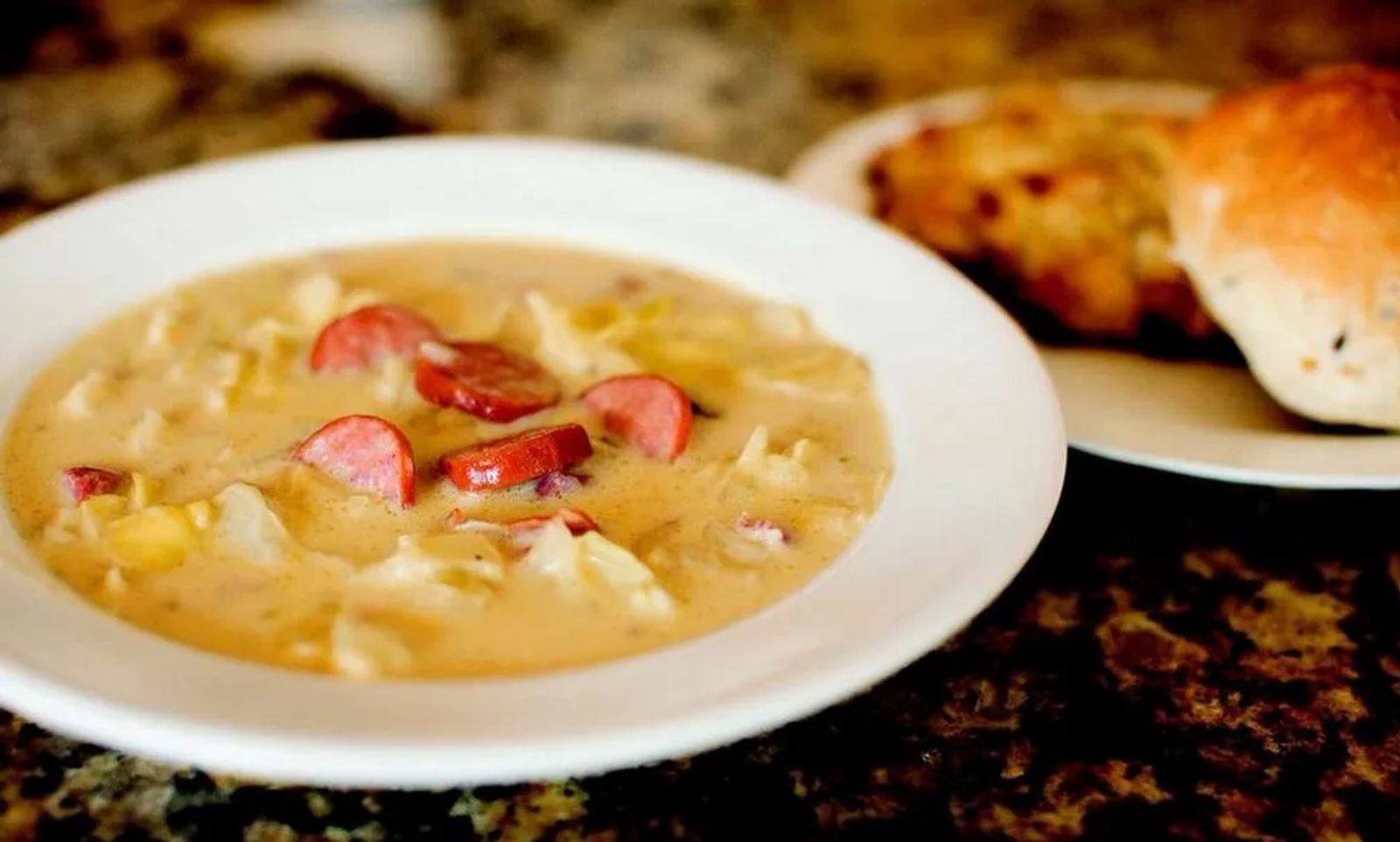 THE SOUPS (Photo 4 in Dropbox)
Dutch Cabbage Soup
"Nice flavor, well seasoned, lighter cream soup. This would be great with a green salad to balance the richness." ~Sheila Poklemba
THE BREADS

Sunflower Rolls
"Light and yummy with an abundance of seeds." ~Marie Downer
"Great dipped in soups!"~Megan Jessee
Onion Pepper Cheese Roll
"This is a quiche-like roll with full onion flavor." ~Sheila Poklemba
"Rustic. Filled with cheese, onions, which is delightful." ~Marie Downer
Overall Tastings Team Favorite:
Dutch Cabbage from Caramel Cookie Waffles
The rich texture with savory notes and generous portion of cabbage and Dutch sausage made the cabbage soup the winner while the savory beef flavors and Swiss cheese of the French Onion soup made it a close contender.
'KNEAD' SOME DELISH SOUP & BREAD?
Here's where to find our Tastings Targets

Caramel Cookie Waffles
1707 17th St W, Billings, Mt 59102
Website: carmelcookiewaffles.com
Great Harvest Bread Company
907 Poly Drive 59102
Website: greatharvestbillings.com
Grains of Montana Restaurant and Bakery
926 Grand Ave 59102
Website: grainsofmontana.com