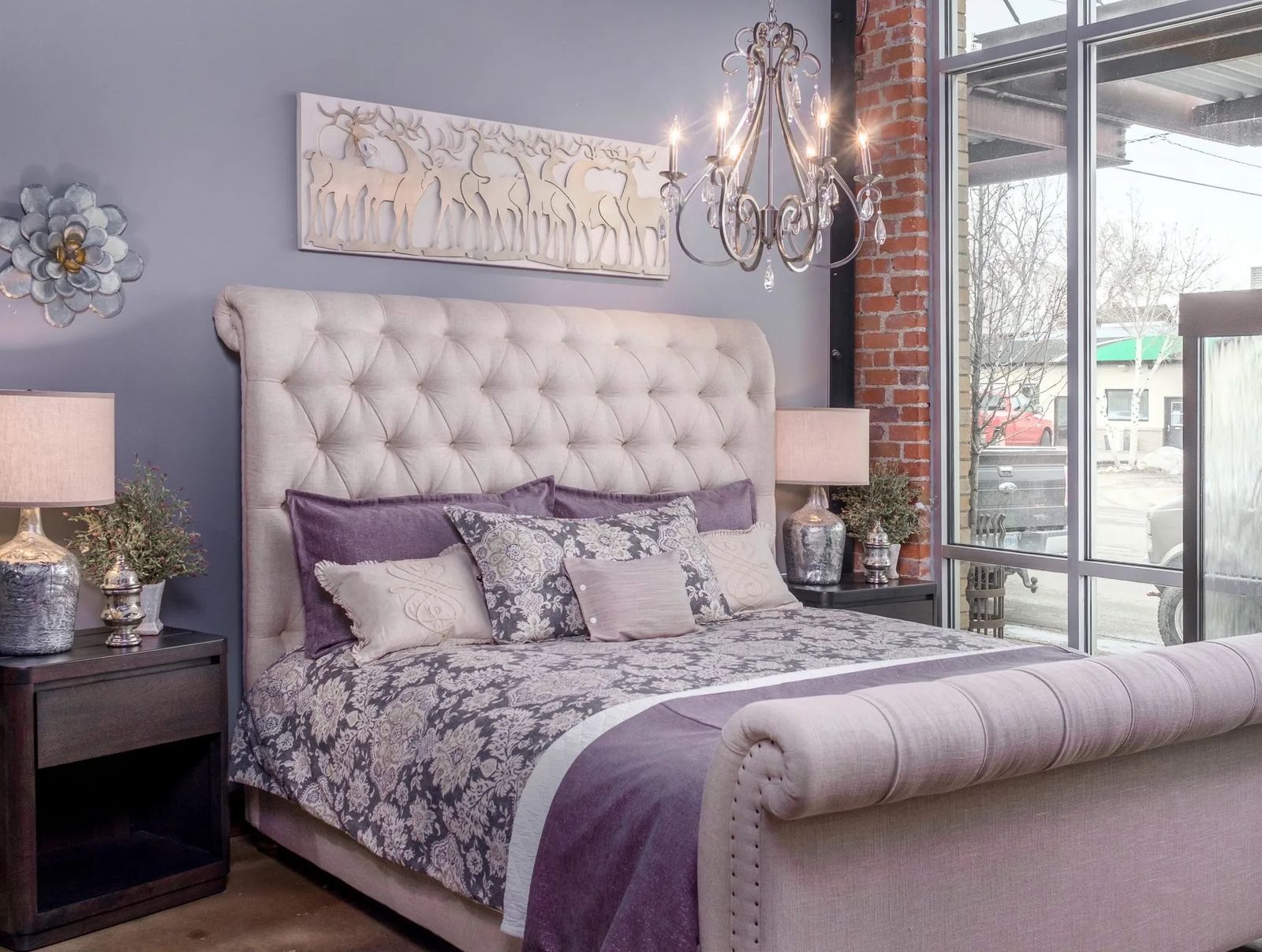 The Ultimate Bedroom
How to Sink into Slumber
Whether your heart beats for a truly romantic boudoir or you simply desire a space to kick off the shoes at the end of the day, your personal space should provide comfortable, quality sleep. Your overall health depends on it. Since you spend more than one-third of your life between the covers, make it count.  We've asked the experts how to achieve the best forty winks by creating 'the ultimate bedroom.'
LUXURY & COMFORT
"Sleep and rest are everything," says Laura Mettler, interior designer, and owner of ToadNWillow, fine furnishings and accessories. "The ultimate comfort experience starts with luxury linens. We use Sferra Egyptian cotton woven from extra-long cotton staple fibers, the most revered and rarest of all cotton. These long organic fibers make the bedding softer to the touch."
Laura admits linens are her "treat." She says it's like sleeping on breathable silk. "Nature has made the best products for us. We just need to learn how to use them. It's about how we use our materials in our world. The bedding talks to your senses, like, the clean cotton-fresh feel and smell." A well-dressed bed in layers of fine linens invites the eye to the centerpiece of the room – the bed.
Layer the bed with pillows by resting several European shams (squares) against the headboard. Follow with a layer of regular shams. Finish the look with a few decorative throw pillows.
A glass container filled with 'plumes' illustrates the softness of select 'down.'[/caption]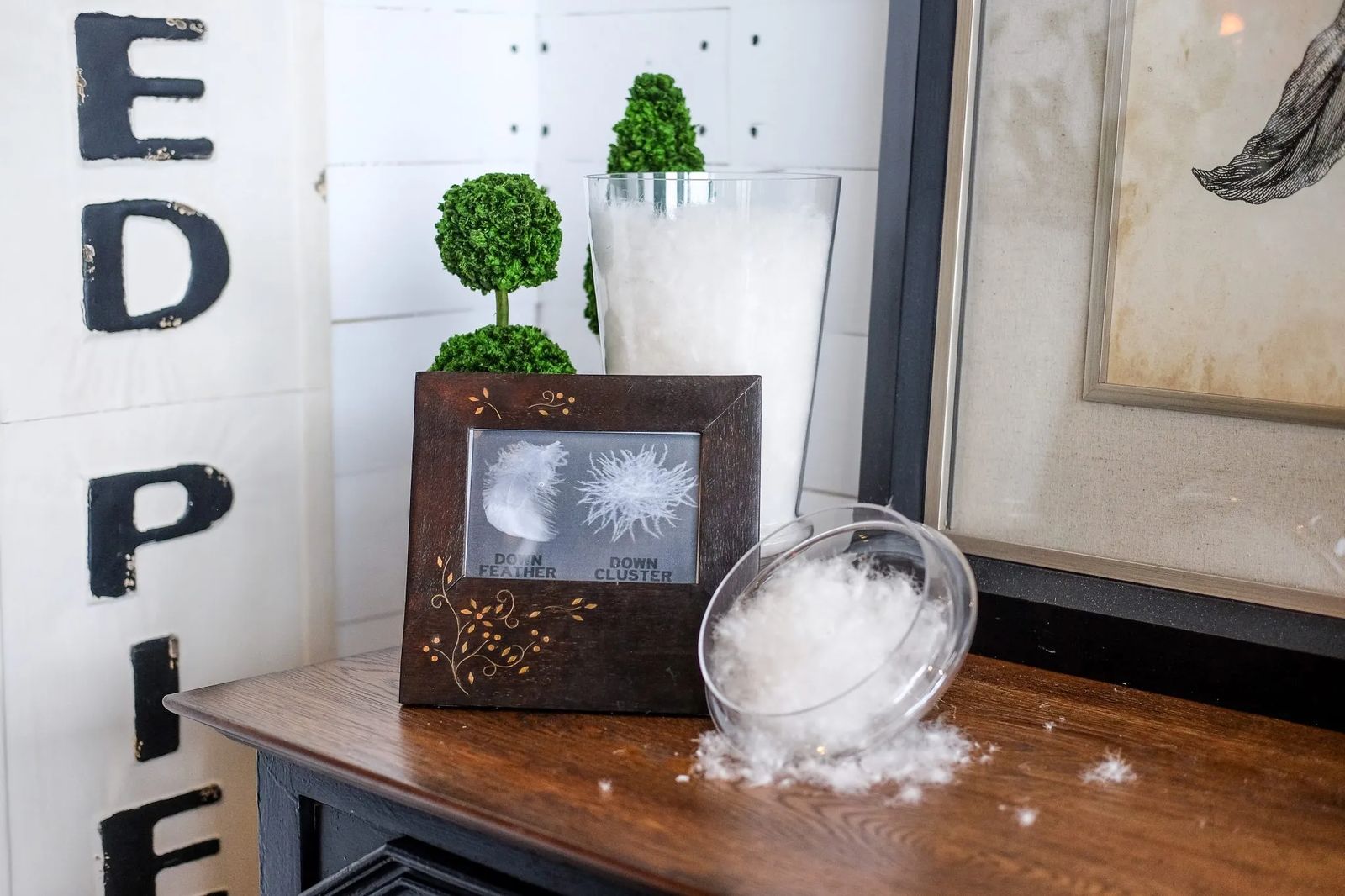 LIGHT AS A FEATHER
Choosing the right pillow to lay your head on at night can also impact your slumber. "When relaxing and resting, I use my Scandia down pillow," shares Laura. "A true down pillow is a natural insulator for warmth and for comfort." This pillow uses the down of the white goose of northern Europe and Siberia, reportedly the best down in the world.
For those who say they are allergic to this "natural fiber," Laura contends that they are probably sensitive to a feather pillow. "Down is not a feather, it's a plume," notes Laura, carefully lifting the lid off a glass container filled with these soft, billowy tufts. Unlike a feather, the plume is not attached to the body of the goose, therefore, there is no pointed end. The plume is actually tucked between the feathers. If you ever pull a feather poking out of your 'down' pillow, you'll know that it is not a down pillow.
Fine linens layered upon an iron bed from ToadNWillow create this shabby chic bedroom[/caption]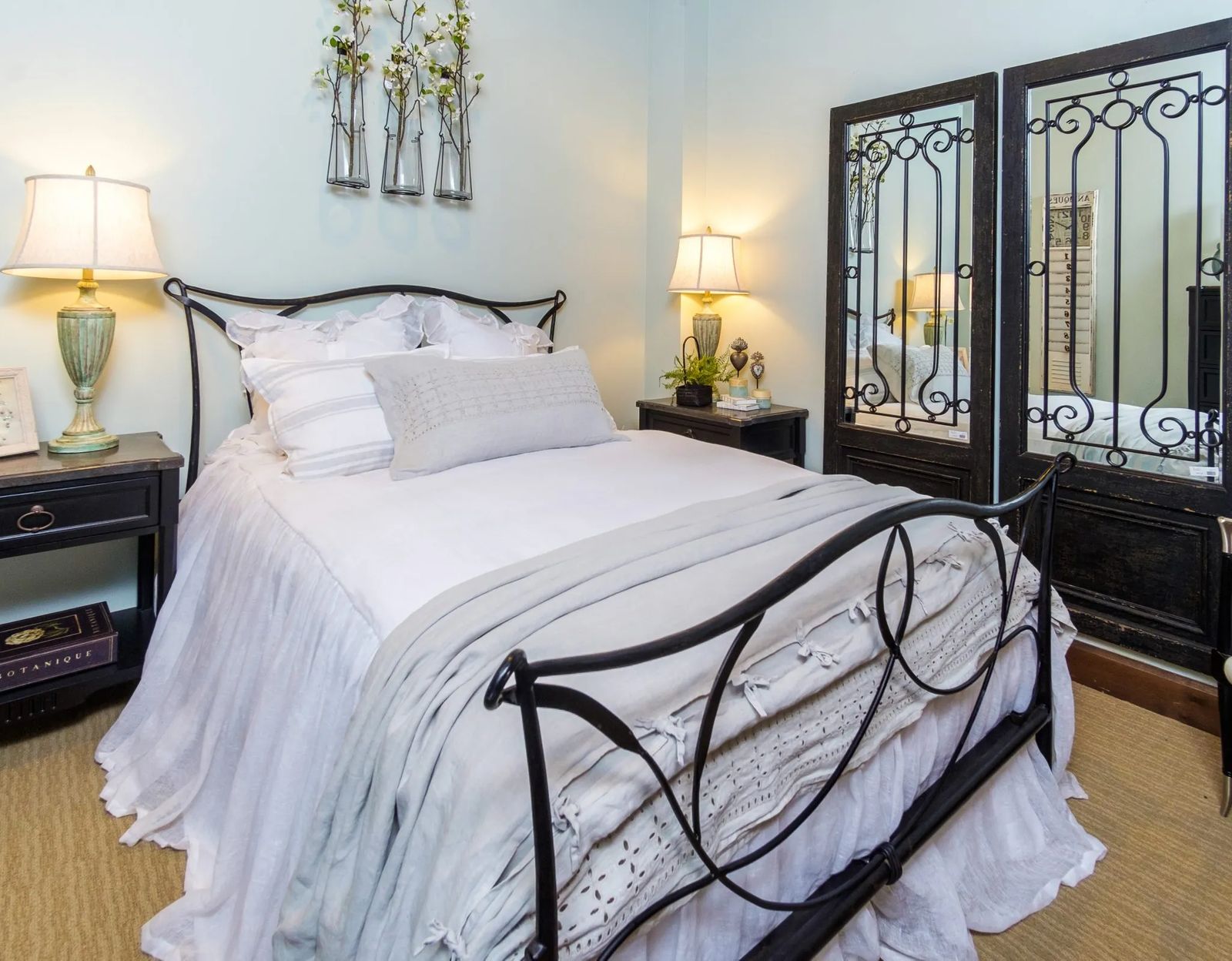 SLEEP LIKE A PRINCESS
Appeasing body, soul, and mind after the end of a busy day requires more than just crashing into bed. In fact, if your hips, neck or back ache in the morning or your mind is still racing a thousand miles per hour, your mattress might be to blame.
"Your mattress is a recharging station for your body," says Jay Hoffmann, owner of Mattress King. "How you sleep dictates how you feel the next day." Jay says on top of that, "It's a health issue as medical problems are linked to poor sleep." Did you know a lack of sleep can increase your appetite with the potential of adding pounds and increasing your risk of developing Type 2 Diabetes?
"Choosing the right mattress is critical for your energy level," stresses Jay. "Just replacing your old mattress impacts your health. And, using a power base (an electronic device that raises or lowers the head and foot of your bed) helps alleviate acid reflux, relieves back pain and is good for heart and foot ailments."
According to Jay, the average adult sleeps only six and a half hours per night. That falls short of the National Sleep Foundation's recommendation of seven to eight hours for adults or nine hours a night for seniors.
FOUR ESSENTIAL ELEMENTS
Your peaceful sanctuary needs to maintain four priorities if you desire to sleep like a princess. "They are your mattress, lighting, room temperature and noise level," cites Jay.
Mattress: Invest in a quality mattress that fits your body. If you have a sleeping partner, check out the bed-Match System. You get the support and comfort you prefer on your side of the bed and your partner acquires his or her preferences, too.
Lighting: A mix of lighting can promote relaxation and set the scene for sleep with style. "We place chandeliers over a lot of beds," Laura says. "We're even doing chandeliers over nightstands. Drum shades are big for the modern bedroom." Think recessed lighting on dimmers mixed with the soft light of bedside lamps. Laura adds, "Lamps make it feel restful and electronic candles with flame supply a romantic feel."
Temperature: Experts say as you sleep, your internal thermostat goes down. If you are too cold or too hot, the body struggles to achieve this temperature set point for sleep, causing you to be restless. Too cold? Adjust your thermostat. Too hot? Try an air purifier or ceiling fan to help you adjust.
Noise: The peace and quiet, or noise level, in your private oasis, "depends on how your body is wired," advises Jay. Enya may sing you to sleep or perhaps silence paves the way. Whatever your preference, it is important to regulate this noise for the perfect ambiance.
"When you put it all together," says Laura, "you get the sexy ultimate bedroom."
DID YOU KNOW?
Replacing a worn-out mattress can:
Reduce shoulder pain by 62.4%
Encourage a deeper sleep by 64.4%
Increase comfort by 69.9%
Source: Oklahoma State University research study


FOR MORE ON GETTING A BETTER NIGHT'S SLEEP, visit the National Sleep Foundation at www.sleepfoundation.org