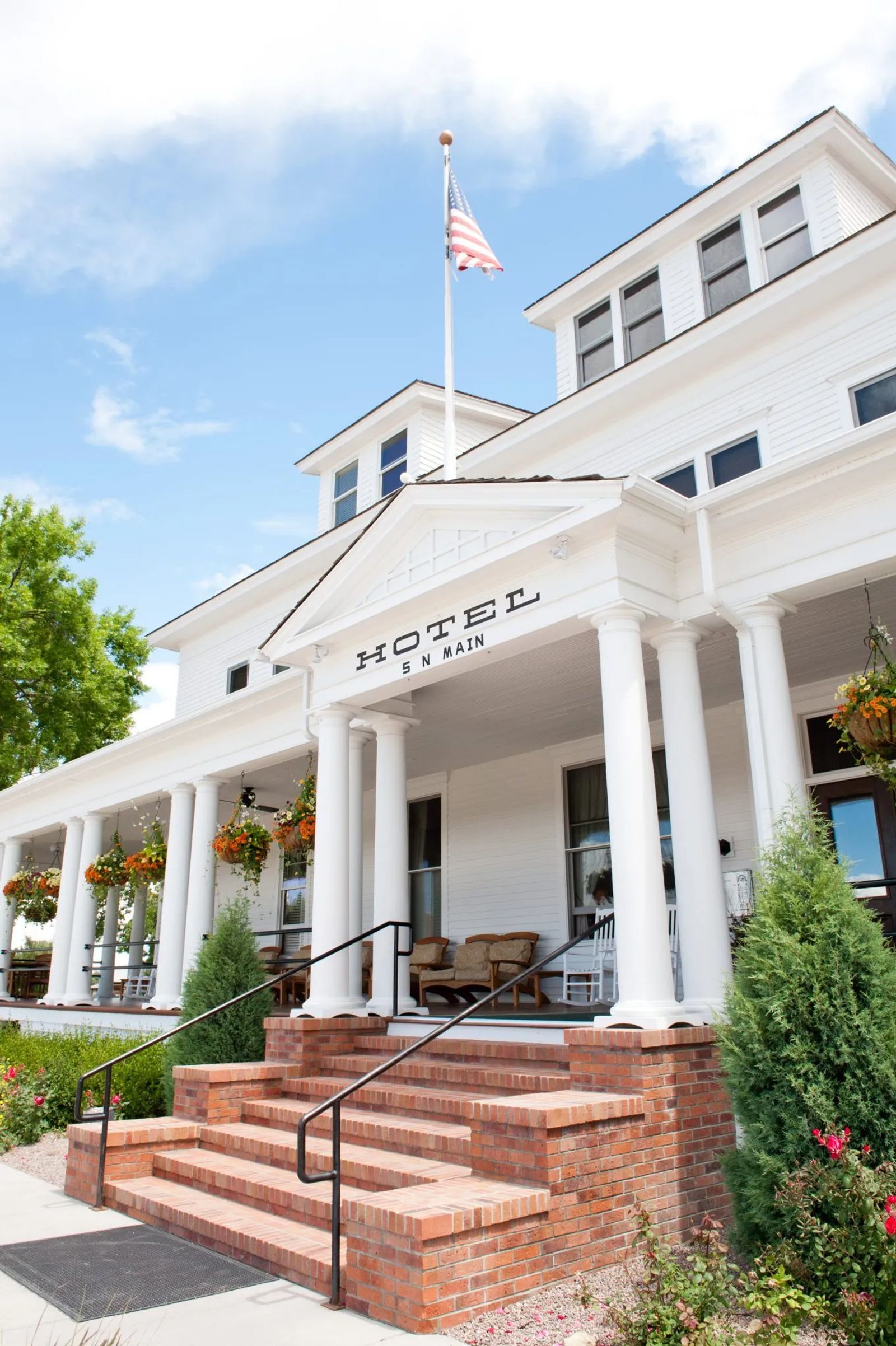 Unwind, Relax & Recharge
The Sacajawea Hotel is a treasure right in our own backyard
This winter brought its share of bone-chilling cold weather and record snowfall. If cabin fever has you longing for a late winter getaway, there might just be the perfect place that's not too far from home to make your great escape. The Sacajawea Hotel, or as the locals call it, "The Sac", is located in the town of Three Forks, aptly named for the confluence of the three rivers — the Madison, Gallatin and the Jefferson — coming together to form the Missouri River.
As you turn off the freeway just 31 miles northwest of Bozeman, and a little more than a two-hour drive from Billings, not much can be seen at first. There's a well-groomed nine hole golf course and the beginnings of a small Montana town, but certainly nothing unusual. Keep driving a few blocks further and The Sacajawea Hotel unexpectedly appears as a colossal masterpiece. The welcoming venue stands three stories high and is painted a sharp white with a signature wide and welcoming front porch that sweeps across the length of the hotel. The Sac, built in 1910, is owned, operated, and has been lovingly restored by the Folkvord family, a 3rd generation Montana farming family who also own and operate Wheat Montana Farms & Bakery.
Boots can be heard clicking across the rustic wood floor covering the cozy and welcoming lobby with its overstuffed furniture and gorgeously restored woodwork. Once you check in, you'll notice the rooms are named after legendary western figures. There's the Lewis & Clark room, the John Colter Room, and the Charbonneau Room. It is like a step back in time and it is not hard to imagine The Sac appearing in the same grand nature 100 years ago as train passengers came and went on their way. It is a place to quietly lose yourself with a cup of coffee, or the glass of champagne that's given to every guest along with a warm scented hand towel upon arrival.
There are many things that make The Sac unique. General Manager Brooke Leugers explains, "We like our guests to feel relaxed, charmed and pampered." She adds, "The Sac has an old fashioned sense of elegance and we want each of our guests to have an exceptional experience here." During the hotel's extensive renovation, every surface was touched and old photos were even used as a reference point to bring this grand hotel back to life.
With a little downtime in mind, I took my husband along on this trip, and we experienced this very feeling Brooke described. Boots and jeans are the norm, but the elegance along with the attentive friendliness from the staff is Montana at its best. While checking in, we were asked to fill out a complimentary breakfast placard and place it on our room door. Choose fresh selections to arrive when you want them, and where. Whether you want to eat in your room, on the porch, or in the lobby, they will deliver it to you at the time you specified. There's hot tea and steaming coffee available in the halls of each floor of the hotel and you're welcome to help yourself.
We arrived early afternoon and decided to check out the lower level bar and casual restaurant downstairs where we sampled the 'Poutine,' which was described as "house cut fries topped with cheese curds and whiskey caramelized onion bacon gravy." It was a taste that is to-die-for.  If you feel like kicking up your heels, the Sacajawea Bar has entertainment throughout the year, from country and classic rock to blues.

As Brooke explains, "The Sac is ideally located to so many activities. Three state parks — Lewis & Clark Caverns, the Missouri Headwaters State Park, and the Madison Buffalo Jump State Park — are all close by and each holds amazing stories from the past, waiting to be discovered. Norris Hot Springs, Virginia City and the historic Pony Bar in Pony, Montana are also great day trips." If you long to head for this hot spot in warmer weather, Brooke says spring and summer mean canoeing, rafting, fishing and kayaking and you can rent fishing poles or bicycles right from the hotel. Book a massage if you like, soak at Norris, or hit the links at the Headwaters Golf Course. If you're a history buff, the Headwaters Heritage Museum is within walking distance from the Sac. In case you didn't know, Sacajawea, the famous Shoshone woman, was kidnapped just a few miles from Three Forks sometime around 1800. She returned as an interpreter in 1805 with the Lewis & Clark expedition where they discovered the three forks of the Missouri River.
While all of that sightseeing is temping, if you are like my husband and I, you can simply relax, hang around and check out the Sac. Its walls are filled with history. There are pictures of the original hotel being moved by horse to its current location and a phenomenal oversized photo of the annual horse drive which, until recently, used to run directly through town. We found the porch and a couple of cocktails suited our needs perfectly. If it's chilly outside, the Sac's staff will bring you a soft blanket.
The 29 hotel rooms are comfy, warm and elegant. There are pet friendly rooms available if you decide Fido needs a getaway as well. Cozy robes and Gilchrist & Soames products await you along with a delightful huckleberry chocolate, earplugs, a scented relaxing mist, and very fluffy pillows to ensure you have a wonderful night's rest. 

Because I'm a foodie, I've saved the best for last, dinner at Pompey's Grill, the Sac's acclaimed restaurant. Yes, we overindulged and not just a little. As I mentioned, we started with 'Poutine' a few hours prior to dinner. Since we both love Lobster Mac & Cheese, we nibbled on that first and it didn't disappoint. In fact, it was the very best we'd tasted. You can't go wrong with Lobster Mac made with white Cheddar, smoked Gouda and Fontina cheeses. My husband loved the halibut featured that night.  I chose the tenderloin and it was remarkable. There's much on the menu to be savored. Try the fresh sea scallops, with Parmigiano-Reggiano polenta or enjoy the Bison short ribs that have been slow braised in Cold Smoke Scotch Ale, finished on the grill with a smoked red onion BBQ sauce and crispy onions. If you happen to have a sweet tooth, The Sac has a signature dessert — Coconut Cream Pie mounded over lemon sponge cake in a toasted almond phyllo crust with fresh berries. The executive Chef is Matt Israel, and to him, I pay homage.
If you enjoy tap beers, you'll find a nice variety of Montana selections such as Madison River from Belgrade, Drought Works out of Missoula and Lewis & Clark made in Helena. They are selective in their wines, showcasing varieties that are not found elsewhere. They also like to stock vodka, gin and whiskey from local distilleries, such as Ruby River Gin.

The Sac is a place of weddings, reunions, gatherings, business meetings, friends, and family or in our case, a romantic lazy evening on the 100-year-old Sac porch. It's a place filled with locals as well as international visitors headed to Yellowstone or Glacier National Parks. It's a place that can be described with one word, "rejuvenation." Whether you need a romantic getaway, a break from the bustle of the day-to-day grind, or a fun weekend just for the girls, you will feel special, revived and restored, at the Sacajawea Hotel in Three Forks.

Pack your Bags
Packages at The Sacajawea Hotel offer all the amenities
Knowing that all kinds come to visit this special place, you can choose from a variety of packages. The Stay & Dine package includes accommodations and a $50 voucher for dinner at Pompey's Grill. The Stay & Soak package includes your room, two vouchers for a relaxing soak at Norris Hot Springs, plus a complimentary set of Sac towels. If you're looking for a getaway for two, the romance package includes six chocolate covered strawberries and a bottle of sparkling wine waiting in your room. There's even a fly fishing package that includes your room for two, a full day of guided fishing, all your fishing gear, and transportation to and from the hotel with lunch provided on the water.