Up in the Air
Billings Alternacirque wows and entertains from a bird's eye view
The tools of an aerial acrobat may not look like much. A loop of steel, a few yards of silk, a net and some canvas straps. But in the hands of the masters of Alternacirque, they are transformed into a spellbinding form of art. For the dozen or so performers in the Billings-based troupe, it's also an adrenaline rush unlike any other.
Desta Fix, an Alternacirque performer, will never forget the feeling of her first "drop." Standing in a silk hammock, she lifted one edge overhead, relaxed her every muscle and fell sideways into the smooth fabric. It caught her, cradled her and brought to life a new passion — aerial acrobatics. That was six years ago, and she still performs in the hammock, though now she prefers a net to the silk.
"I thought, this feels really cool. What else can this do? It's a kind of playfulness that you don't really get to indulge in as an adult." Desta says.
When she performs the drop or one of her other various stunts, Desta loves to see the audience lean back in surprise, eyes wide as they gasp. For most performances, the net is suspended a perilous six to eight feet off the ground. Some apparatus, including the Lyra hoop, and trapeze are suspended up 10 feet from the floor during performances.
Desta, a massage therapist and seamstress by day, joined the troupe more than six years ago, after taking an aerial yoga class at a local studio. The teacher, Amy Truax, was a member of the newly formed Alternacirque. She invited Desta to a practice and the two are now among the most experienced members in the troupe, which performs at various events around Billings.
"It was a really small group at the time, making it all up on the fly," Desta says.
Billings AlternaCirque prepares for the 2019 Masquerade at the Yellowstone Art Museum. (Elizabeth Shumaker)[/caption]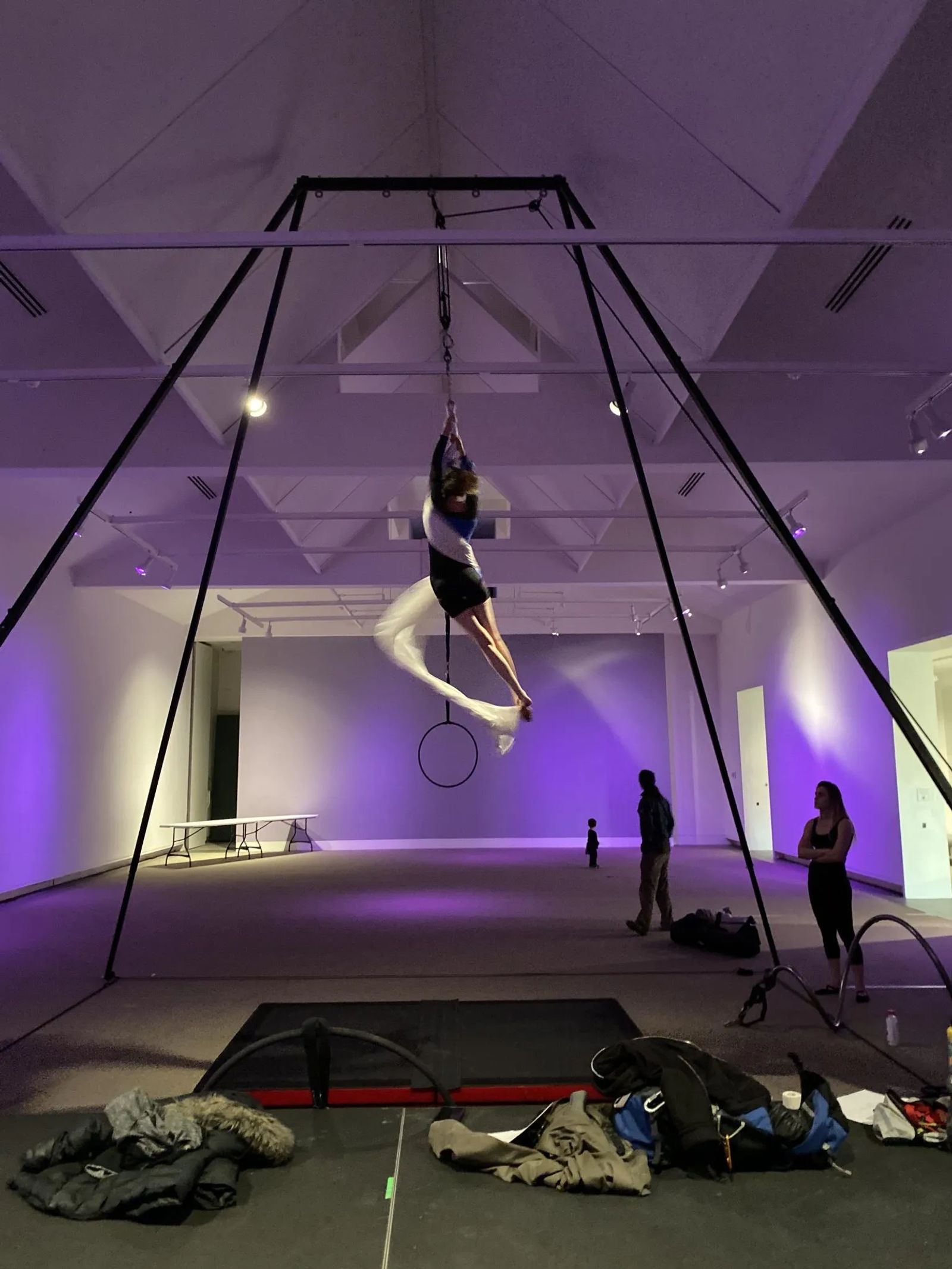 The troupe practices in a warehouse-turned-gym on Billings' North Side. The steel beams provide the perfect support for acrobats to dangle from on different apparatus. The floors are covered with padding in case of a mishap. Falls have happened during practices, but thankfully, no one has been seriously injured.
"We just get on and play. It's like a giant jungle gym," says Casey Page. "If there's something we can hang off of, we're going to try it."
Casey, a photographer, joined Alternacirque about five years ago. Her interest was also piqued after visiting one of Amy's aerial yoga classes. Casey performs primarily on a stainless-steel spiral but started out working with the hammock.
"Almost no one here is exclusive to one apparatus, but they gravitate to their favorite," Amy says.
Masquerade at the Yellowstone Art Museum
Saturday, October 27, 2018.[/caption]
Everything is experimental and is constantly pushing physical limits. Each experiment gives the troupe the ability to learn techniques from one another.
"It's about body awareness and learning what's holding you up," Casey says. "We're cautious enough that we're aware of our limits."
"Playing" is only a part of the work Alteracirque performers put in. The twice-a-week practices help them stay limber and conditioned. They each develop their own routines, carefully designing a series of stunts that connect with the audience. Between the tricks, the transitions have to be smooth and look effortless, Casey says. To refine their routines, they film themselves and watch the videos to see where they need work. Often set to music, the routines evoke a sense of danger, grace and strength.
"A big part of it is just falling in love with the apparatus," Desta says.
Alternacirque was started by a classically trained dancer-turned burlesque performer-turned aerial performer. At the time, the troupe included only four performers. Since then, it's grown to about 12 to 14 members who practice and perform regularly. Alternacirque now includes floor acrobatic performers as well, and many have a background in gymnastics, dance or both.
MSUB
Back-to-school BBQ
Saturday, September 14, 2019.[/caption]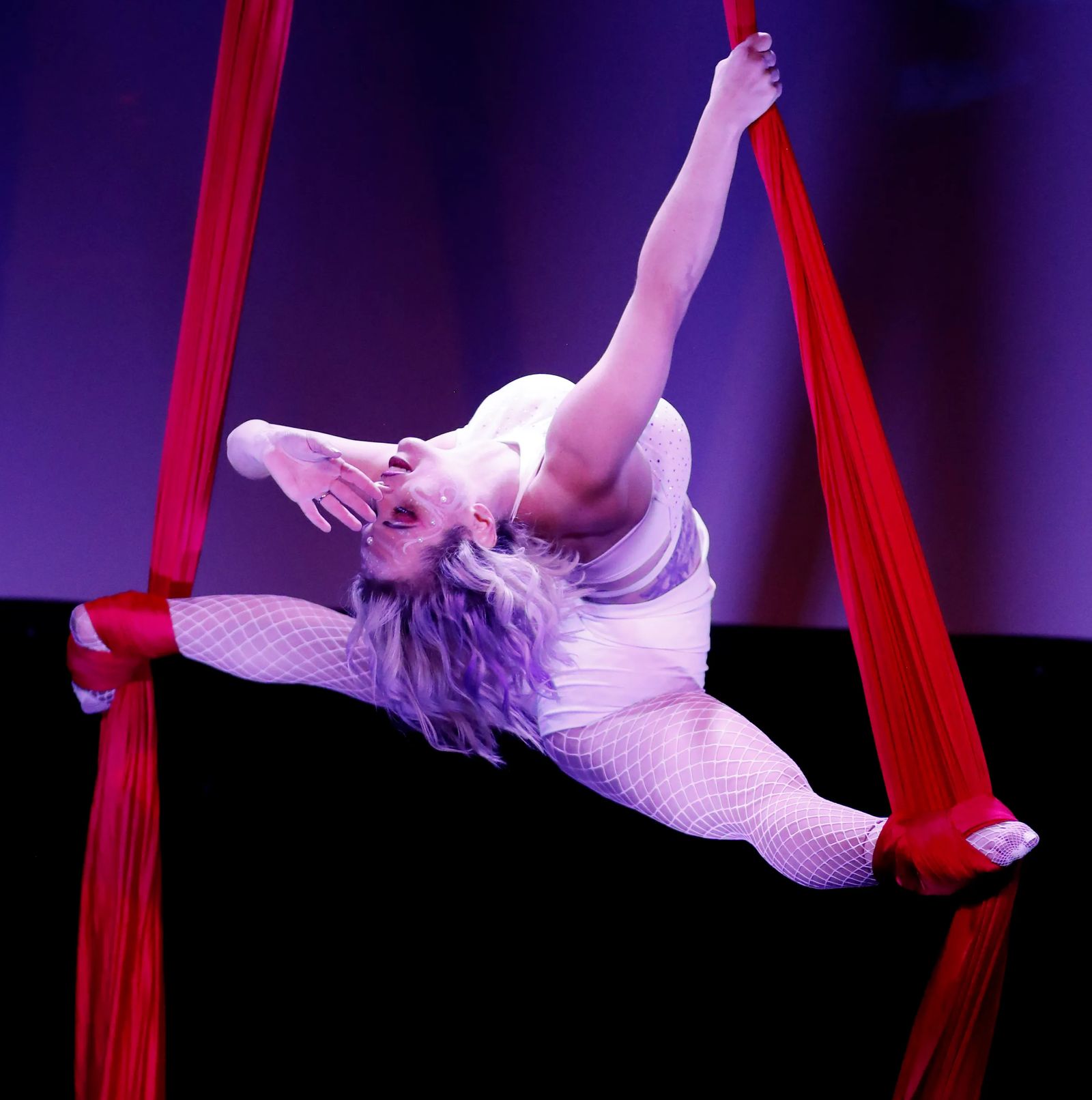 Their regular gigs include the Renaissance Festival at ZooMontana and the Masquerade Ball at the Yellowstone Art Museum. Alternacirque recently remade "Alice in Wonderland" with a performance titled "Through the Looking Glass" at the NOVA Center for the Performing Arts. The show sold out both nights. They've also performed with the Billings Symphony and have produced several smaller shows that they've taken on the road to outlying communities. While they're growing in popularity, it's still a barely break-even operation. However, that popularity is a gateway to what they hope will be an opportunity to give back to the community. They want to do fundraising with other organizations to meet community-based needs.
"We're finally getting to the point where we can do fundraising for the community," says Desta. "That's what we're really wanting to do with this."
Until then, Amy, Desta, Casey and the rest of the troupe will continue to get together and play, with or without an audience.
TO KEEP TABS ON ALTERNACIRQUE, follow them on Facebook or Instagram for the latest on their performances or appearances.