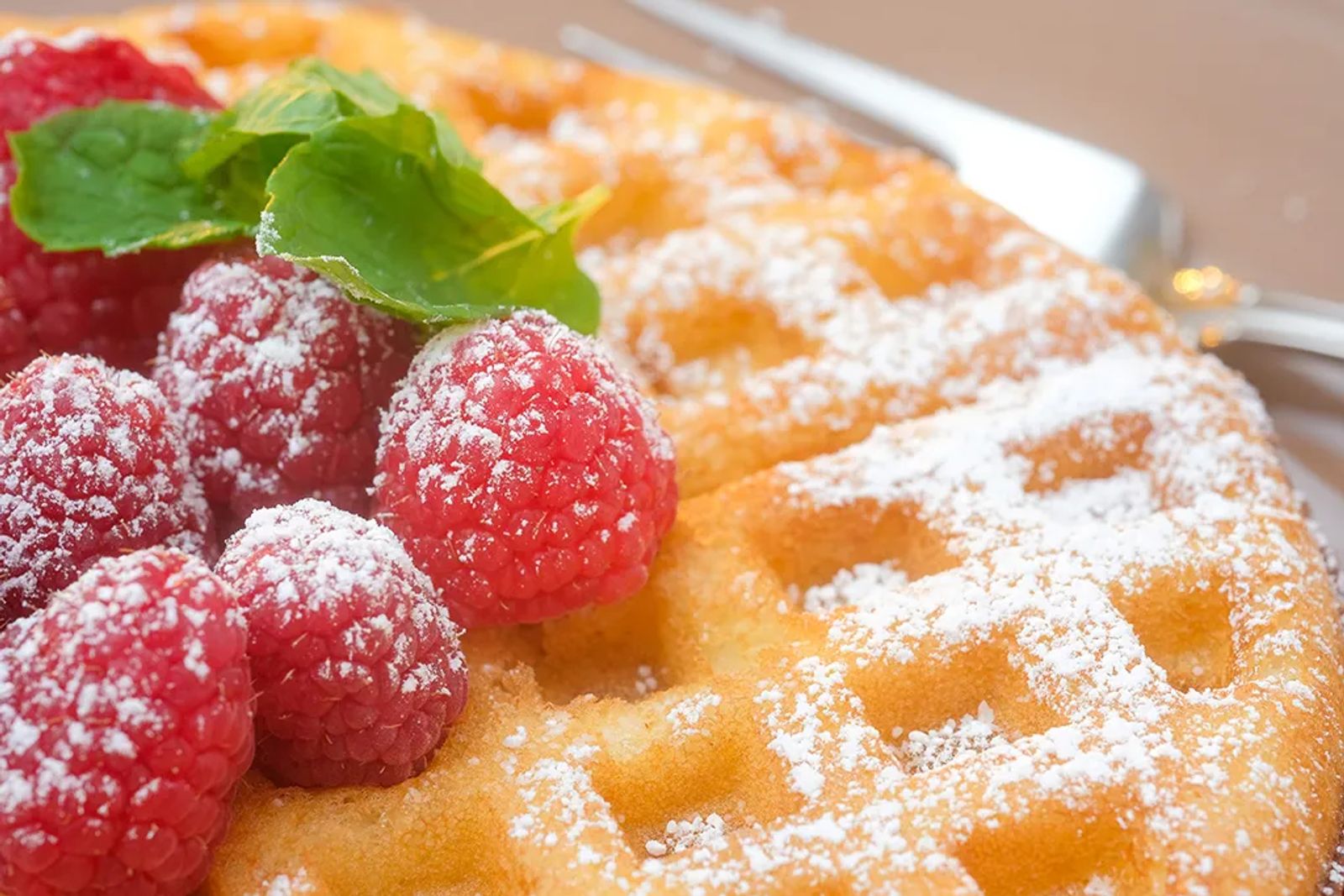 We're Waffling
It's what's for breakfast, dinner or dessert!
Before waffles appeared as a staple on the complimentary breakfast bar in hotels and motels, they were an American family favorite — probably since the electronic waffle iron first showed up in homes nearly a century ago.
Waffles made breakfast special when I was growing up. The recipe my mother used is the same one I use. It is a recipe that can be easily halved (yes, there is math involved) when breakfast is just for my husband and me.
What makes waffles so light and crispy are the egg whites whipped to soft peaks and folded into the batter. But a waffle recipe that runs counter to that is one of my new favorites: Raised Waffles. These have been around for quite a while but they came onto my kitchen radar only in recent years. This recipe, which makes a lot, needs to sit overnight and can sit in the refrigerator for several days. The extra work is worth it.
This little confection is also a great start to an elegant dessert, a nice way to transform leftovers from breakfast into a post-dinner place of honor.
But waffles are not just for breakfast. Anything you can put on toast, biscuits or bread can go on a waffle. Think chipped beef, gravy or even a hot roast beef. Whole Wheat Buttermilk Waffles are an ideal savory base.
Whether you have a Belgian waffle maker or a regular waffle maker, take it out of the cupboard and fire it up. The family will be delighted.
Enjoy!
WHOLE WHEAT WAFFLES WITH BUTTERMILK
Makes about 6 waffles
¾ c. whole wheat flour
¾ c. all-purpose flour
2 t. baking powder
¾ t. baking soda
½ t. salt
2 T. granulated sugar
3 eggs
1½ c. buttermilk
Put the flours in a medium mixing bowl. Add the baking powder, baking soda, salt and sugar. Whisk until blended. In a large mixing bowl, beat the eggs until well blended. Whisk in the buttermilk, and the slightly cooled melted butter. Add the flour mixture and whisk until well blended. If the batter is thick, add the additional milk to thin it out. Bake in a hot waffle iron until brown and crisp. These waffles are a wonderful base for creamed foods — sausage gravy, diced cooked chicken or turkey and gravy. If you can serve it over biscuits or bread, you can serve it over these whole wheat waffles.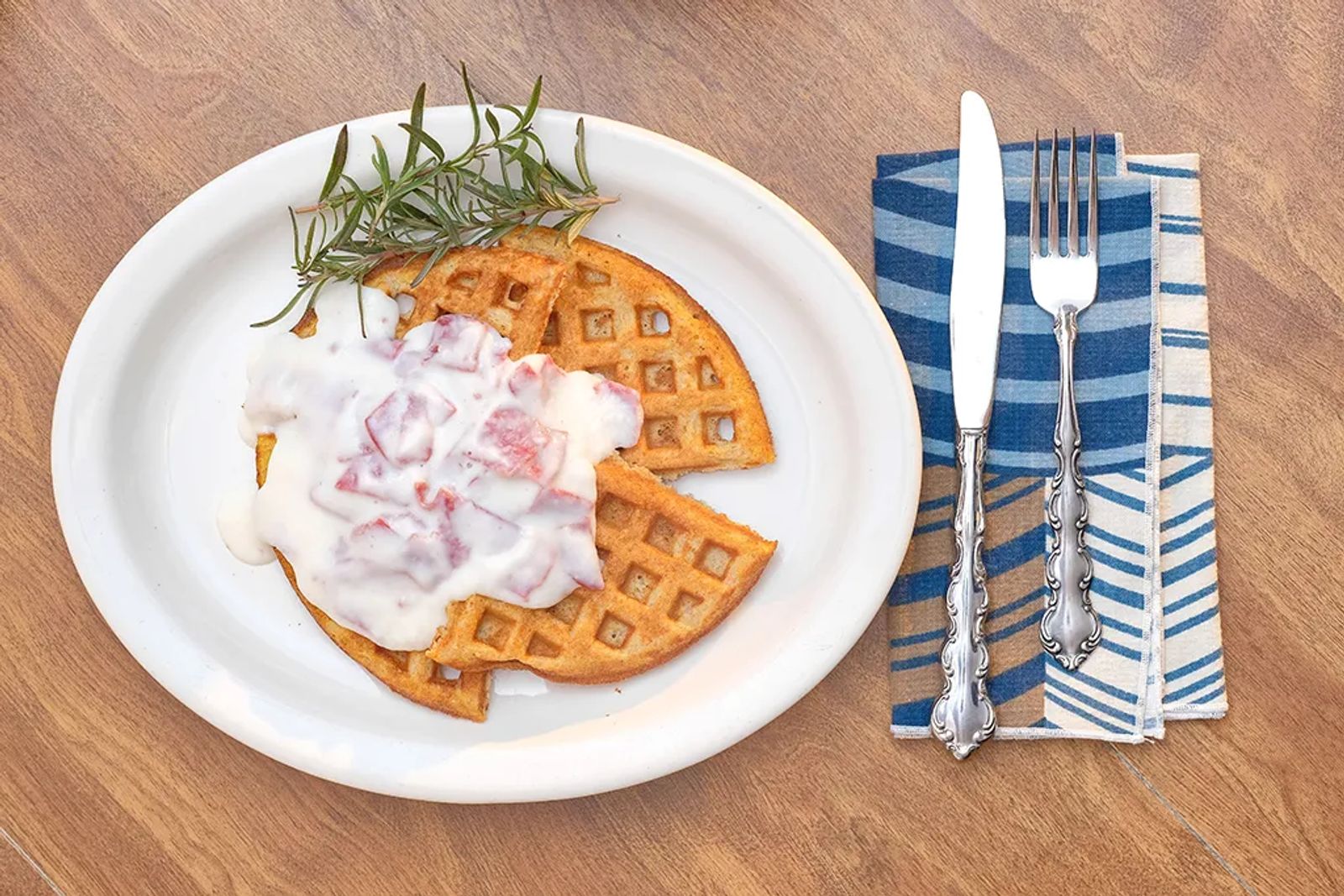 BASIC WAFFLE BATTER
Makes about 5 waffles
1½ c. all-purpose flour
½ t. salt
1½ t. baking powder
1 T. granulated sugar
2 egg yolks, well beaten
1¼ c. milk
¼ c. melted unsalted butter
2 egg whites beaten until they cling to the bowl
Whisk the dry ingredients together. Whisk the egg yolks until blended and combine them with the milk. Gradually stir the liquid into the dry ingredients and whisk only until smooth. Add melted butter and whisk. Lastly, fold in the beaten egg whites. Pour about a ½ cup of the batter into the center of a hot waffle iron. Cover and allow to bake until brown and crisp, about 3 or 4 minutes.
NOTE: This recipe can be halved and makes 2 to 3 waffles (ideal for 2 people). Try this recipe as a base for banana waffles by mashing up an overripe banana or two and mix into the batter before baking. You can also use the batter to create Orange Dessert Waffles. Simply add a few tablespoons of Cointreau, Triple Sec or other orange liqueur to the batter. Serve with sweetened whipped cream topped with fresh orange zest.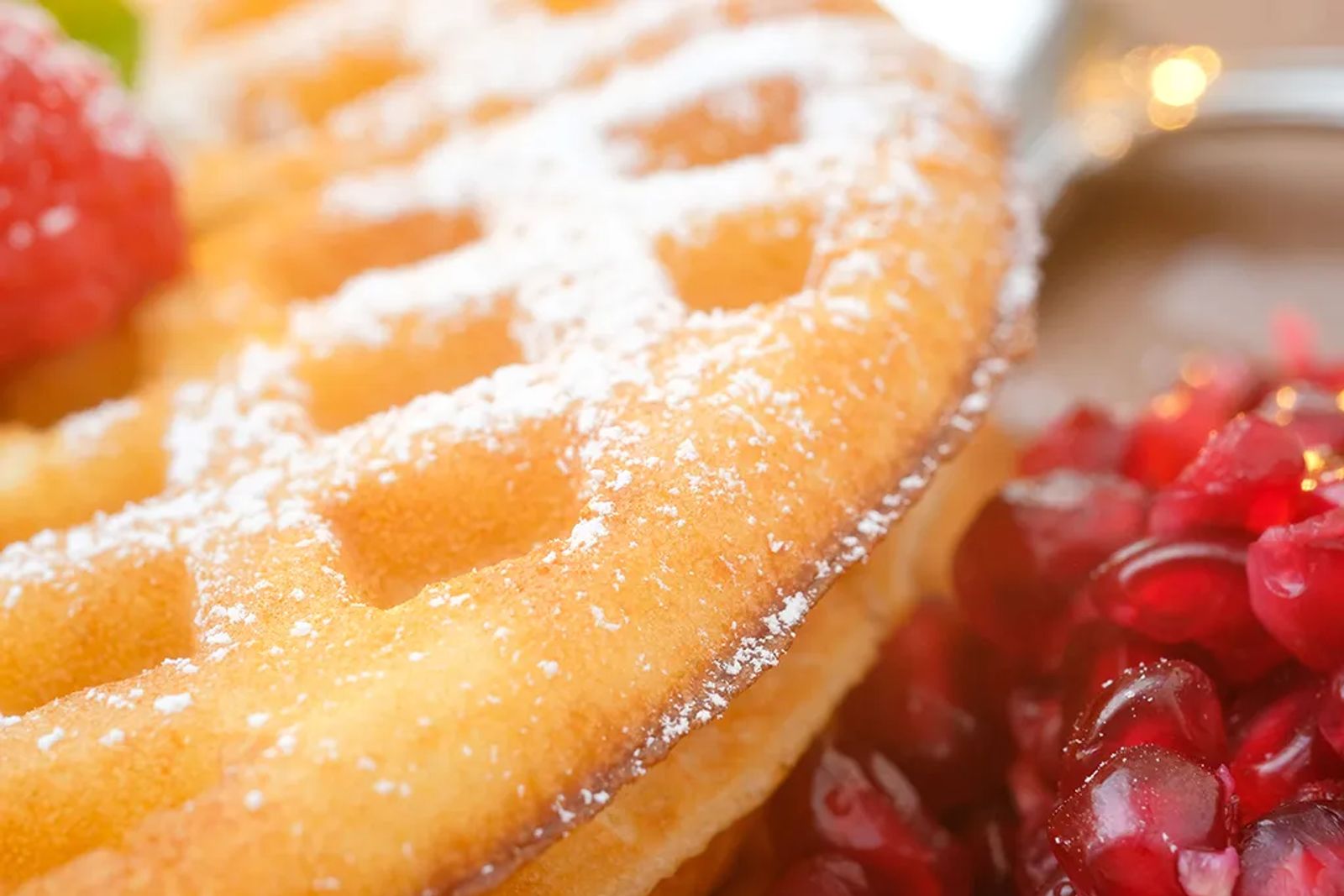 RAISED WAFFLES
Makes about 8 waffles
½ c. warm water
1 pkg dry yeast (about 2½ t.)
2 c. warmed mil
½ c. (1 stick) unsalted butter, melted
1 t. salt
1 t. granulated sugar
2 c. all-purpose flour
2 eggs
¼ t. baking soda
In a large mixing bowl (the batter will double in size) put in the warm water and sprinkle it with the yeast. Let stand and dissolve for about 5 minutes. Add the milk, melted butter, salt, sugar and flour to the yeast mixture and beat until smooth and blended. Cover the bowl with plastic wrap and let it stand on the counter overnight at room temperature. Just before you are ready to bake the waffles, beat in the eggs and add the baking soda, stirring until well mixed (The batter will be thin). Pour a scant ½ cup of the batter into a hot waffle iron. Bake until golden and crisp. This batter does keep in the refrigerator for several days, so you don't need to use it all at once.