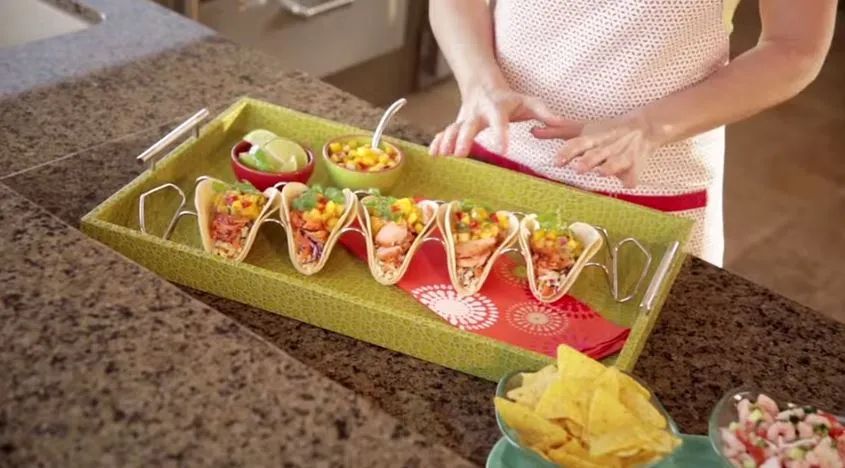 What's for Dinner? Cedar Plank Salmon Tacos!
Grill this up tonight with some mango salsa!
-Recipe from Albertsons
Cedar planked salmon is a grilling favorite, but we're putting a twist on it by making them into these delicious tacos! Enjoy these grilling tips from Annessa Chumbley for Cedar Plank Salmon Tacos with Mango Salsa.
Ingredients
4 salmon portions, about 4 oz. each

Directions
1. In a small bowl, combine brown sugar, cumin, chili powder, lime zest, and salt.
2. Place 2 salmon portion on each cedar plank. Place 2 lime rounds under each portion of salmon. The lime keeps the salmon from sticking to the cedar, and adds great flavor. Rub spice mixture on the top of each salmon portion.
3. Heat and prepare grill for medium heat. Place salmon cedar planks on grill, for about 15-20 minutes, until fork tender. Remove from grill and let rest for 5 minutes. During this time, grill corn tortillas about 30-45 seconds each side. Place in a towel to keep warm.
4. Flake salmon with a fork and place in a bowl. To assemble tacos, layer cabbage mix, salmon and mango salsa into each tortilla. Squeeze a little lime juice on top, if desired.
Grilling Tips:
• Soak your cedar plank(s) in warm water for at least 1-2 HOURS before grilling.
• Cedar lends a beautiful gentle/subtle smoke to the fish. Cedar planks and salmon is like peanut butter and jelly -- they just go great together!
• Make sure your salmon is heavily seasoned.
• Add another layer of flavor by cooking them over fresh herbs or lime slices on the planks; this also keeps the salmon from sticking!
• Make sure that you cut your salmon into evenly-sized portions to ensure that they all cook evenly.
• Often there is a thin portion of salmon near the belly which can easily become overcooked. You can avoid this by simply tucking the thin edge under the fillet.
• Cook until you start to see a milky white edge form near the thick end of the fillets (about 20 minutes at 375º). You can also test for the proper doneness by pulling on the flesh on the thickest edge of the fish. If it wants to flake away, it's done.
• Making your own salsa can be time consuming; pick up the Mango Salsa from our Fresh Cuts Section to save on time!