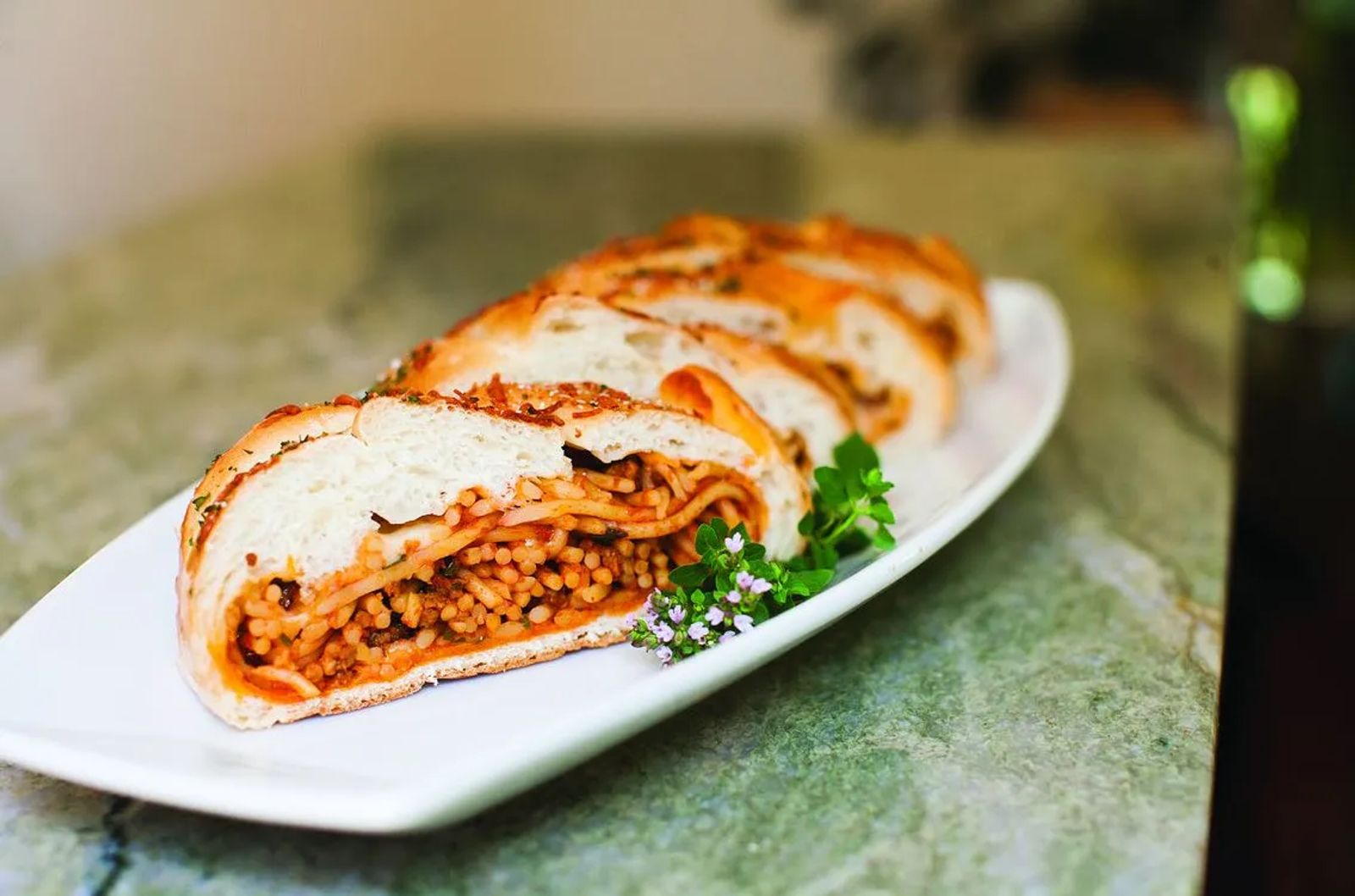 What's for Dinner? Stuffed Spaghetti Bread
One easy and delish way to feed your hungry crew
Now that autumn is here and temperatures are getting cooler, it's time to start thinking about firing that oven up again for some good old fashioned comfort food. So, how does mozzarella cheese oozing over spaghetti baked inside garlic bread sound to you? This one-dish meal is fairly easy to make, presents very well, and tastes as good as it looks. Pair this dinner with giant monster cookies for dessert and you have got a definite crowd pleaser for your entire gang!
STUFFED SPAGHETTI BREAD
-Recipe from Tasha Mills, adapted from Rhodes Bake-N-Serv
INGREDIENTS
1 Loaf Rhodes Bread Dough thawed to room temperature
6 ounces spaghetti, cooked
1 jar of thick spaghetti sauce (I like the Classico Brand, Fire Roasted Tomato & Garlic flavor)
1/2 - 3/4 lb. hamburger, ground turkey, or Italian sausage, cooked (depends on how meaty you want your spaghetti)
8 ounces mozzarella cheese, cut into 1/2 –inch cubes
1 egg white
Parmesan cheese
Parsley flakes
Garlic salt
DIRECTIONS
Spray surface lightly with non-stick cooking spray, use a floured surface, or use parchment paper. I use my cooking stone that doesn't have edges so I can roll out and form the dough into the braid without having to transfer it. But, you can use parchment paper on a cutting board and transfer to a baking sheet later. Just be careful as the braid will be heavy and hard to move once it's put together. Roll loaf into a 12x16-inch rectangle. Cover dough and let rest for 10-15 minutes. While dough is resting, cook spaghetti according to package instructions. I break the noodles in half before dropping in boiling water so they are easier to eat. Drain and let cool slightly. Mix together meat, spaghetti sauce, and cooked noodles, set aside. Remove towel from dough. Place spaghetti mixture lengthwise in a 4-inch strip down the center of dough. Top with mozzarella cheese cubes. Make cuts 1 ½ inches apart on long sides of dough to within ½-inch of filling. Begin braid by folding top and bottom strips toward filling. Then braid strips left over right, right over left. Finish by pulling last strip over and tucking under braid. Lift braid with both hands and place on large sprayed baking sheet or transfer parchment paper to baking sheet. Brush with egg white and sprinkle with Parmesan cheese and parsley, and garlic salt. Bake at 350 for 30 to 35 minutes or until golden brown. Cool slightly and slice to serve.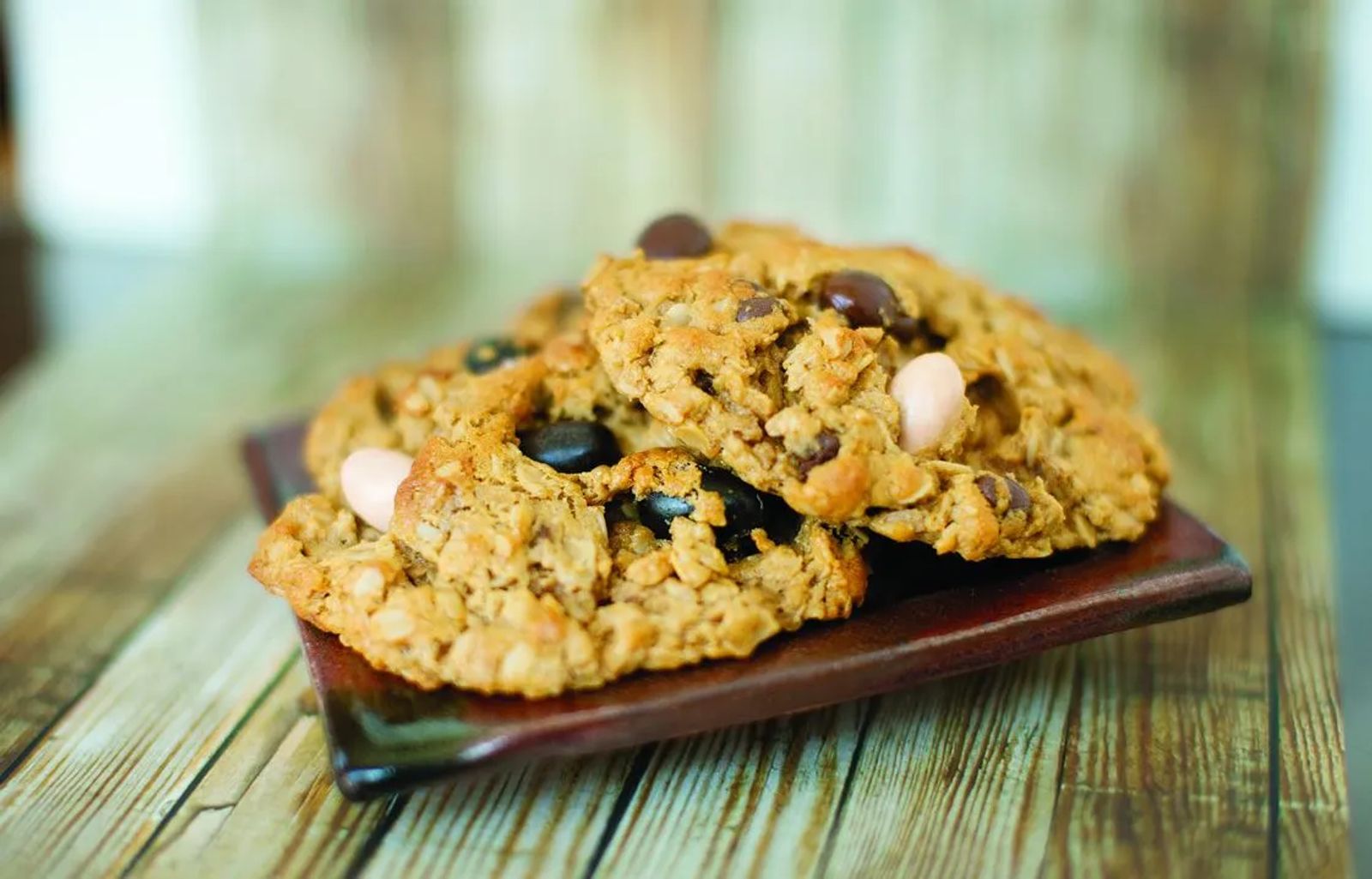 MONSTER COOKIES
-Recipe from Haley Vannatta
INGREDIENTS

12 eggs
4-1/2 c. brown sugar
4 c. white sugar
1 T. vanilla extract
1 T. corn syrup
8 T. baking soda
2 c. butter
3 pounds peanut butter
18 cups rolled oats
2-1/2 c. semi-sweet chocolate chips
2 c. candy-coated milk chocolate pieces
DIRECTIONS
In a very large bowl, mix ingredients in order given. (Use hands if necessary). Drop on cookie sheet (an oven liner works well) about five cookies to a sheet with ice cream scoop and flatten. Preheat oven to 350 degrees. Bake for 12 minutes or longer until done. Be careful, these burn easily. This recipe makes about 80 saucer size cookies.  Note: I make balls of dough and freeze them on a cookie sheet. Once they are hardened, I put them in a freezer bag to take out and bake whenever I need cookies!