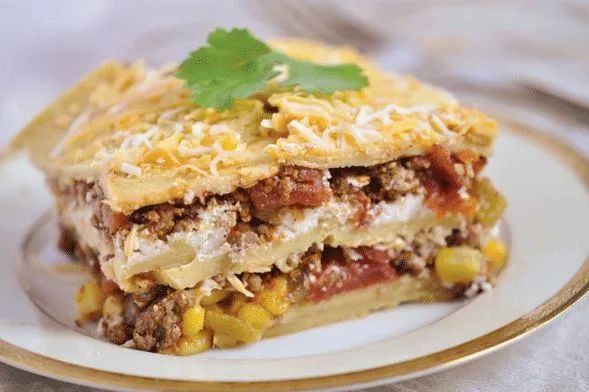 What's for Dinner Wednesday?
Crispy Southwest Lasagna!
Recipe courtesy Holly Clegg,  Albertsons
INGREDIENTS
1 lb ground sirloin
1 (14 1/2-ounce) can diced tomatoes, with juice
1 (4-ounce) can diced green chilies, drained
2 tsp chili powder
1 1/2 tsp ground cumin
1 tsp minced garlic
Salt and pepper to taste
2 egg whites
2 cups reduced-fat or fat-free cottage cheese
14 (6-inch) corn or flour tortillas, cut into quarters
1 (15 1/4-ounce) can corn, drained
1 (8-ounce) package shredded reduced-fat Monterey Jack or Mexican blend cheese
Directions
1. Preheat oven 350°F. Coat a 13x9x2-inch baking dish with nonstick cooking spray
2. In large nonstick skillet, cook meat over medium heat until done. Add tomatoes and juice, green chilies, chili powder, cumin, garlic, salt, and pepper; set aside.
3. In small bowl, blend egg whites and cottage cheese well; set aside.
4. Cover bottom of prepared dish with six quartered tortillas.
5. Layer all the corn, half meat mixture, half cheese, four quartered tortillas, then all cottage cheese mixture, remaining half meat mixture, and remaining four quartered tortillas, and top with remaining cheese.
6. Bake, uncovered, for 30 minutes. Serve.