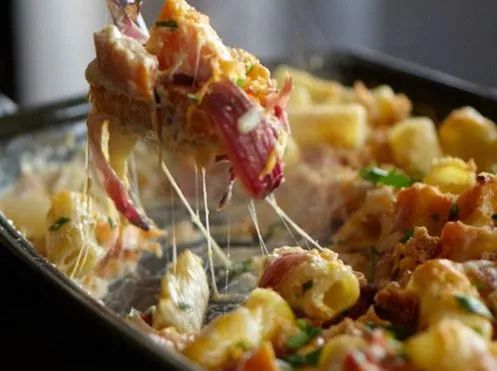 What's for Dinner Wednesday!
Harvest Pasta Bake
Recipe courtesy Albertsons
INGREDIENTS
1 butternut squash (2 lb.), peeled, cut into 1-inch cubes
1 onion, cut lengthwise in half, then sliced crosswise
1/2 tsp crushed red pepper
2 Tbs olive oil
8 oz (1/2 of 16-oz. pkg.) rigatoni pasta, (3-1/3 cups) uncooked
1/2 cup PHILADELPHIA Original Cooking Cream
1 pkg (8 oz.) KRAFT Shredded Three Cheese with a TOUCH OF PHILADELPHIA, divided
1/4 cup croutons, crushed
DIRECTIONS
HEAT oven to 400ºF. COMBINE first 4 ingredients in 13x9-inch baking dish. Bake 30 to 40 min. or until squash is tender. Meanwhile, cook pasta as directed on package, omitting salt. DRAIN pasta; reserving 1/2 cup cooking water. Add to squash mixture with cooking cream and 1 cup shredded cheese; mix lightly. Top with crouton crumbs and remaining shredded cheese. BAKE 20 min. or until heated through.