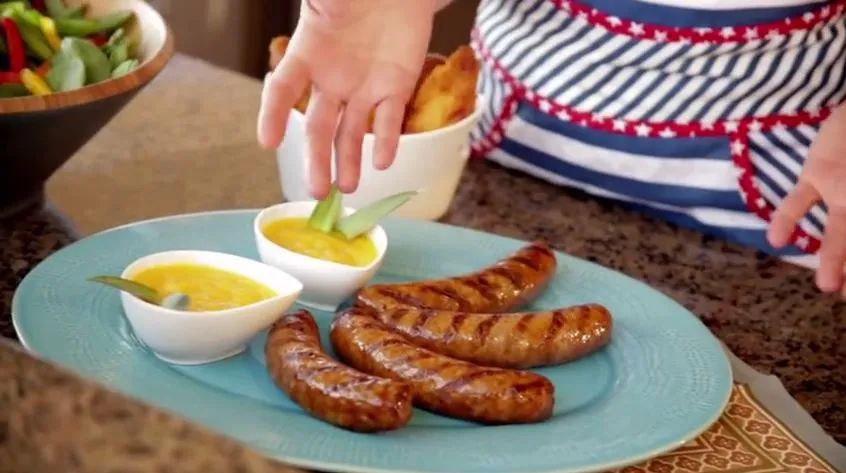 What's for Dinner Wednesday? Sweet Pork Sausage
Sweet Sausage with Grilled Pineapple Dressing
-Recipe from Albertsons Sausage is an easy, go-to griling item that can make for a quick and simple meal. This particular recipe is one that you can do in under 15 minutes and the whole family will love! Here are some fantastic grilling tips from Annessa Chumbley for Sweet Sausage and Green Salad with Grilled Pineapple Dressing.
Ingredients
4 sweet pork sausages
1 1/2 lbs Fresh Cuts Pineapple Chunks
2 Tbs Essential Everyday Honey
1/8 tsp McCormick Cayenne Pepper
1 tsp orange zest
1 Tbs juice of an orange
1 pkg Fresh Express Baby Spinach
1 pkg Fresh Cuts Julienned Bell Peppers
1 French Baguette, cut on the bias into ¾ inch thick slices, 3-4 inches in length
McCormick Garlic Salt
McCormick Paprika
Essential Everyday EVOO
Essential Everyday Vegetable Oil Wooden Skewers
Directions
1. Soak Wooden Skewers in water for 30 minutes. Thread pineapple chunks onto skewers.
2. Prepare grill for medium heat. Brush pineapple kabobs lightly with olive oil and place on grill. Grill about 4 minutes, rotating as needed. Remove from grill and allow to cool slightly. In a food processor, combine pineapple, honey, cayenne pepper, orange zest and juice. Pulse until smooth. Set aside until serving.
3. Place sausage on grill, 8-12 minutes until done. Be sure to continue rotating them gently so that casings do not break. Tent with foil and allow to rest 5 minutes.
4. While sausages are grilling, brush bread slices with olive oil and sprinkle with garlic salt and paprika. Grill pieces for about 1-2 minutes turning once, until edges are crisped.
5. To serve, place spinach in a large bowl and toss with bell pepper medley. Serving alongside sliced sausages, grilled pineapple dressing, and grilled crostini.
Grilling Tips:
• Load the skewers so that the pieces of fruit are touching, but aren"t crammed together. This allows the pieces to stay juicy and cook evenly.
• I like to use two skewers for each kebab so that the food doesn"t spin when you turn them.
• Grilling fruit really brings out a new dimension of their flavor and sweetness. Once you grill pineapple there"s no turning back.
• Don"t overcook your sausage. A split casing means that all of that juicy sausage goodness is going up in smoke. Instead, grill at a lower temperature and turn often.