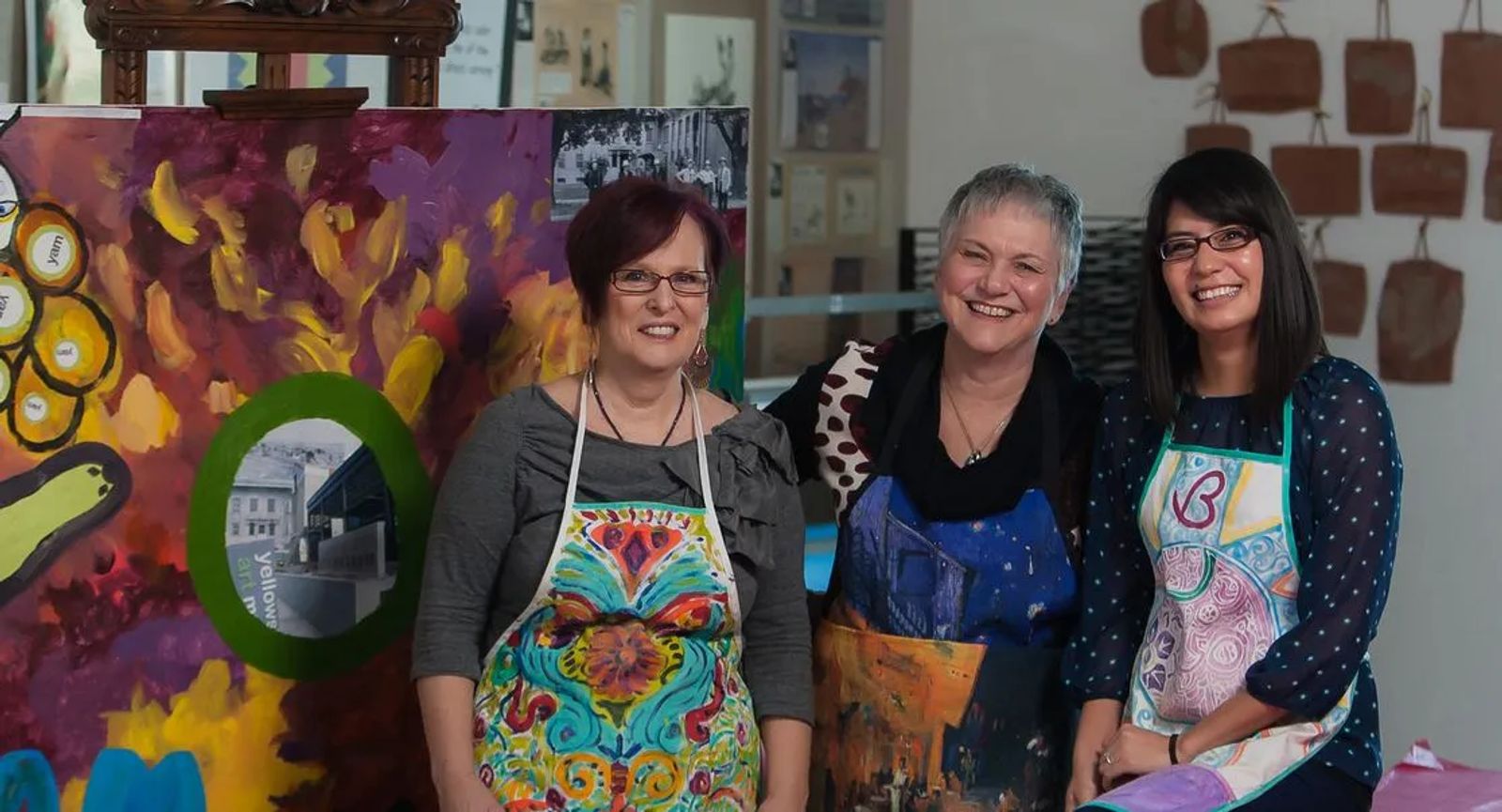 Where Art Is Serious Business
Yellowstone Art Museum's Education Studio
No one is too young or too old to appreciate art and no one is too young or too old to create it.
These are the sentiments of Linda Ewert, Education Director at the Yellowstone Art Museum (YAM), Carol Welch, YAM Art Educator and Berenice Munson, YAM Education Coordinator.  Together, these three women steward YAM's vibrant art education program that reaches throughout and beyond Billings to surrounding rural counties, northern Wyoming and eastern Montana.
"We don't do crafts.  We don't do cut and paste," says Carol, a certified teacher with a decade of traditional classroom experience. "We do art."
At the YAM, the study of art is the study of life.  It teaches self-respect, respect for others and critical thinking.  Through art, we learn history and appreciation for other cultures.  Creating art requires resolve to keep going, even when we make mistakes, problem-solving and resourcefulness.
At the Yellowstone Art Museum, art is serious business.
 Unshakeable Commitment
Linda has the longest tenure in the YAM's education department, but she didn't start as its leader.  After raising two children, Linda volunteered as a YAM docent ("docent" means "to teach").  For a time, she ran YAM's museum store.  She "broke in" two education directors before getting the job herself.
YAM's commitment to art education is unshakeable.  During a week's time, Linda may lecture docents on the differences between minimalism, color field and conceptualism while Carol installs plein-air landscapes by high school students in the Young Artists' Gallery.  With Berenice, they may brainstorm about YAM's week-long summer camps, or alternately lead a Friday night 'Fam at the YAM.'  Linda teaches art at Montana Women's Prison and polishes off grants to underwrite YAM's education outreach as Berenice schedules volunteer docents to lead popular school tours and Carol travels to nearby elementary schools.  
 "We're here to serve, without regard to financial resources, ethnicity, developmental skills or age," Linda says.       
In 2012, the YAM hosted more than 3,500 students between the ages of four and ninety-nine, all of whom sought to better understand art and express themselves through it.  Many came multiple times, which translated into over 15,000 YAM art education sessions that year.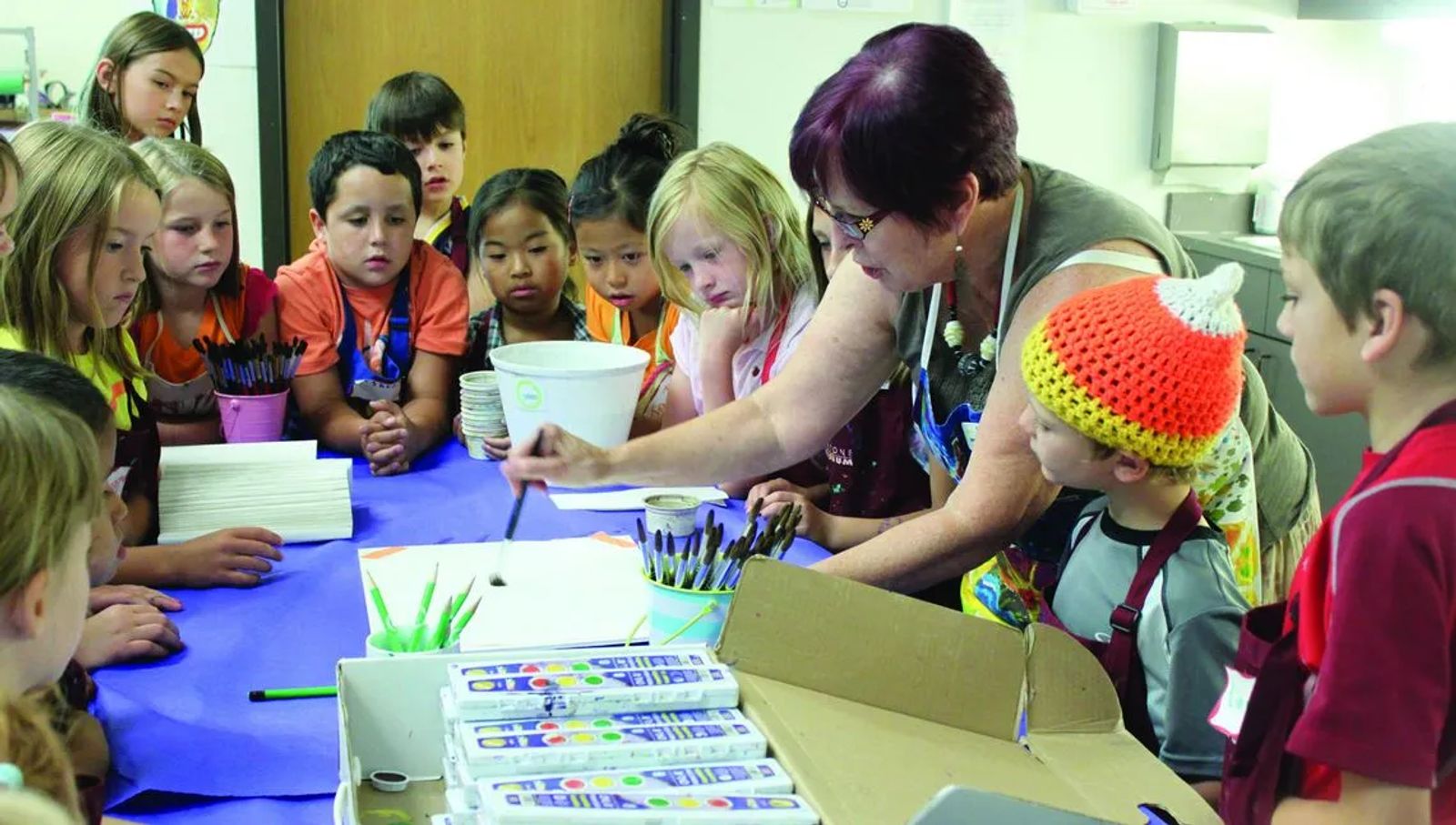 Last fall, incoming students at an outlying elementary school wrote down goals for the upcoming year and posted them on a bulletin board.  One student wrote, "I want to learn to be a better artist."   Linda and Carol were ecstatic when they saw the note.          
"We want our art programs to be so great that teachers and administrators won't want us to leave," Carol will tell you.  The note meant they'd delivered on their commitment to quality.  It affirmed their belief that art education makes a difference in children's lives.
In February 2013, more than 350 Head Start youngsters came through YAM's doors.  Last year, Linda visited with a high school student who'd come to YAM with Head Start years earlier.   The young man's intricate, beaded rifle sheath had just won first prize in a national competition at Arizona's Heard Museum.  He recognized Linda immediately. 
"Parents and teachers tell us children remember and talk about their YAM visits," she says.  "They remember what they saw, what they made and what they learned."  They also remember Linda.       
Making Magic
In 2012, Linda and Carol struggled with the realization that they needed more help.  They'd reviewed over 100 applications for an Education Coordinator opening.  Nothing clicked.  As Carol and Linda sat down to review applications a second time, the phone rang.  Berenice had just moved to Billings from Chicago.  She'd heard about the opening.   "Is there still time to send my resume?" she asked.
"What about her?"  Carol asked Linda after the phone call.  "She's taught kids, she knows art and she has a degree in advertising."  Carol recalls Berenice's spiky heels and big smile at the interview.  The three of them hit it off instantly.  Vivacious and tech-savvy, Berenice adds her left-brained organizational ability to the mix. 
"We believe there's an artist in everyone," says Berenice.  "We believe in a basic human need to create art. We tell the kids, 'Never make fun of someone else's art.  Never make fun of your own art.' "
Some days, the YAM trio looks ahead at their schedules and they wonder if they can get it all done.  Then they are wowed by a student's personal interpretation of Van Gogh's Starry Night or they see a rambunctious boy proudly lead his grandmother to a self-portrait hanging in the Young Artists' Gallery.  Perhaps a child says he wants "… to learn to be a better artist" or a teenager who visited YAM as a Head Start student wins a national art competition.   Those times replenish their spirits, renew their energy and make the long days, the many miles and the constant juggling of time and money fade away.     
"It's magic," Berenice said of YAM's art education program.  "We create magic together."