Your Child's Ages & Stages
Supporting your child's success at every developmental turn 
You're done with diaper changes, bottle washing and rocking baby back to sleep during the wee hours. It's evolved into helping your bundle of energy navigate the waters of childhood development. And this includes going off to school.
The trauma we go through taking our firstborn to Kindergarten kicks off a cascade of growing independence for our kids as naturally as it showers us moms with a sense of loss. How could my little one have grown up so fast? What can I do to help her through the tough times ahead? What can I do as a parent to support my child's success…academically and otherwise?
All kids travel the same road. They march off to school to learn, discover and grow physically, emotionally, socially and intellectually. These natural stages our tykes sail across prepare them for entering the world. Let's look at how you can guide your offspring through the ages and stages of these tender years.
Structure
"Kids need structure," advises Becky Reno, former sixth grade teacher and young mother of three rambunctious sons. "They need to know boundaries or they start stepping over those boundaries and that's not okay."
A fitting example is when Joban, Becky's first grader, started coming home from school showing some aggression toward his younger brothers, Silas, who is five and Caleb, the three-year-old. Becky and her husband, Josh, decided to take turns spending one-on-one time with Joban to curb his restlessness and "negative attitude."
"Boys are quiet, emotionally," says Becky. "They act out physically what's bothering them." In an effort to seek the source of Joban's angst, "I told him to run as fast he could back and forth across the flat backyard the Lord gave us until he was exhausted. I knew then he would feel like talking. He has to feel like an individual. It's important to let your child know he's an individual."
The bullying Joban endured his first two months in school soon ended after he had told his mom what was bothering him. "We talked it out," imparts Becky. "Communication with your child is important."
Talking with your child helps him transition from home to the first grade. The emphasis at this stage is on a child learning to be comfortable with his new classmates, as well as with his teacher. Kids this age begin developing their physical self-esteem (in physical education class) and also their self-esteem in the academic realm. They start learning organizational skills.
Organization
Organization skills help kids develop. "The boys will say, 'that stinks!' when it comes to keeping their classroom space organized, but, I tell them, 'it's hard for Mommy to teach you when it's dirty in here,'" says Becky.
This bubbly mom believes a classroom at home gives the boys an environment to express themselves. It provides an area they claim as their own. Here everything is labeled and has its place. It's an organized space.
"You want your kids to succeed," shares Becky. In their own space, these three rambunctious brothers enjoy drawing, coloring, playing with blocks and having friends over. It's a room they are required to keep clean.
Routine chores at home give kids a healthy dose of what's expected of them at school. "We have house rules," states Becky. "We tell the boys that if they get their jobs done, we'll do this or that as a family."
Knowing they are required to get a job done, whether it's cleaning their room or completing homework assignments, makes it easier for your child to succeed.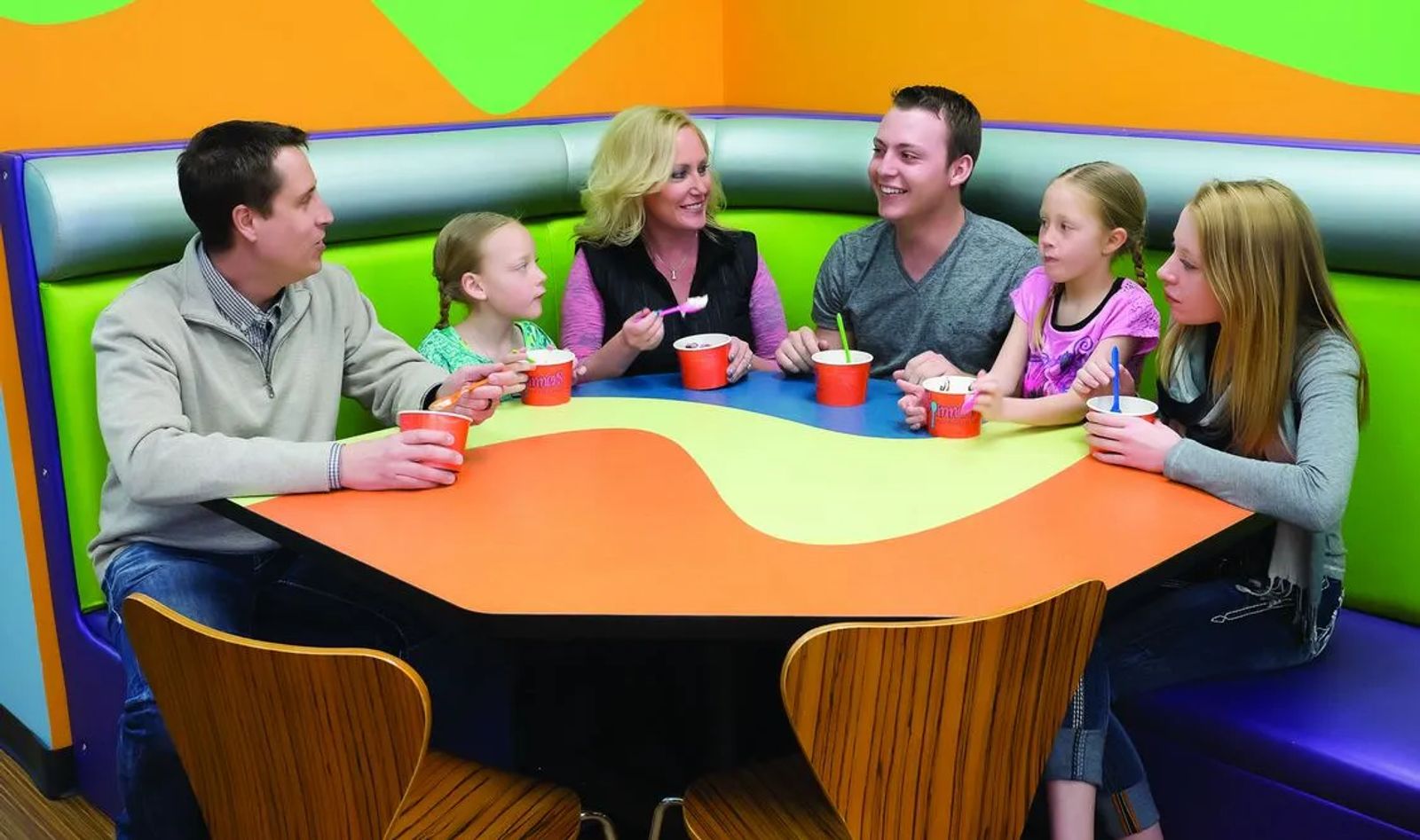 Family Feedback
"We all have a job to do," agrees Melissa Fuller, nurse practitioner and mother of four. "Our job as parents is to go to work and 'yours is to go to school and learn,' I tell my kids. There's no way around it."
Melissa's younger daughters, second-grader Kendall and third-grader Laney, adapted easily to school. They were prepared. "My husband and I are very involved with our kids," says Melissa. "We keep them active and busy and we help with their homework in the evenings."
Kendall and Laney picked up on things quickly too, with older sister Madison and brother Jordan keeping them on track. "Having all of this help and interest made the girls want to go to school. The older kids had read to them since day one," notes Melissa.
Family feedback increases a child's academic and social self-esteem. Melissa's three daughters all started out on the shy side. "We pushed them to be more out-going by involving them in sports. We took them to gymnastics and swimming and to play-dates with other kids. Anything that gets them with a group of kids with the same interests is important," says Melissa.
Personalities emerge when kids are with other kids. It also serves as that time when boundaries are tested. Girls are just like boys in this area. They test you.
Consistency
"Consistency is a huge thing," says Melissa, referring to keeping the rules you've set for your kids. As a medical provider, she advises other parents, "You need to be consistent in your discipline and Mom and Dad need to be on the same page with it. Kids are perceptive and they see if Mom isn't as strict as Dad, or as committed to following the rules."
This tends to hold true in how kids perceive their behavior in school. Can they bend the rules and suffer no consequences? As tykes leave the first few grades for the fourth and fifth grades, they'll start setting goals and making more complex decisions. These decisions come with either good or bad results. No matter how tough it may be on you as mom, it's better to stick with the rules you make. Your kids will respect you for it.
"It's rare that when kids come in (to Melissa's family medical practice) that they have an open dialogue with their parents," she reports. "There needs to be communication with kids and what's expected of them at home. My son who is a senior in high school will make his bed for the rest of his life as it's been ingrained in him. It's so important to make your child accountable."
Teaching your child responsibility early on paves the way for an easier path through life, especially through the middle school years. Hormonal turmoil erupts at this stage.
Hormone Help
"Madison was moody from sixth through eighth grade," remembers Melissa. "She'd cry at the drop of a hat. It was absolutely hormonal."
Moms usually identify with this conundrum in their pre-teen girls. Seize the opportunity as there's no better time to bond with your adolescent. This is also when you want your daughter participating in after-school activities like dance, choir or sports. "This is when kids, especially girls in the hormonal state, go one way or another," says Melissa. "Girls can feed into peer pressure earlier if they're out and about with older boys. If they're active and busy, they won't have time to get into bad things."
Middle school is a difficult season for this age group. Hormones rage, mood swings and school work becomes more challenging. It's a normal phase that passes. Understand that your child is experiencing physical, emotional and social change. Spend quality time with her, keep consistent with rules and hold open the doors of communication.
Have you been a parent who has asked the question, 'How do I bring out the best in my child at each and every age?' As these busy moms can attest, you can do it by helping them move through their days with a little bit of structure and sharing lessons to keep their lives organized and active. How our children develop through these ages and stages of life affects and forms their personality and outlook on life. Parental love, understanding and communication go a long way in supporting your child's success.