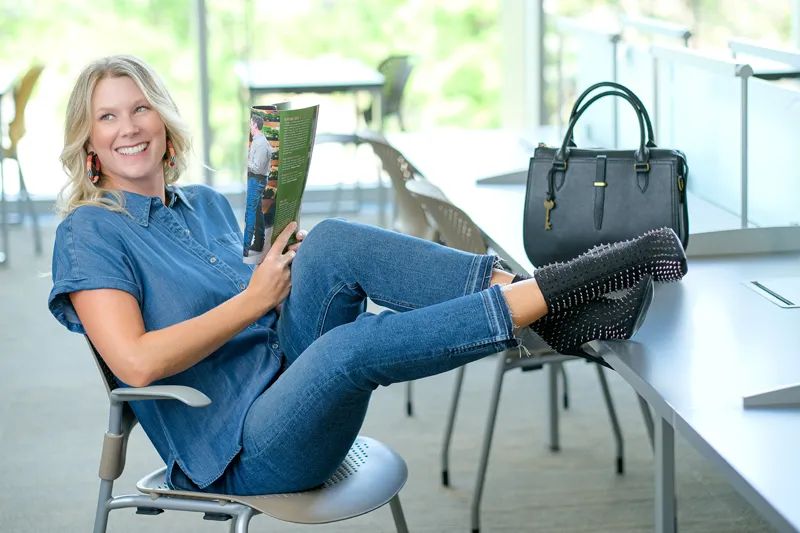 Casual Friday Everyday
Denim is taking center stage at the office
With work from home and part-time office days still in many people's schedules, business casual attire is now making an appearance on more than just Fridays. The ever-popular pencil skirt and stiff dress pants are moving over and denim is moving in. While we always need to consider our audience before slipping on a pair of jeans, it's the easiest piece to add for a more relaxed look. Simply structure your attire as you would if you were business professional top to bottom, replacing one item with a more casual article of clothing — in our case, jeans!
BROAD SHOULDERS
Remember those structured shoulder pads that accompanied pretty much every look in the '80s? Well, they are back. This time, however, they're more relaxed and are proving to be a perfect look for casual workwear. When presented in a classic shade like this creamy neutral, not only is the look timeless, but it is also the perfect transitional outfit as we move into fall. Accessorizing with the color of the season like this rich merlot bag will help polish the look even more.
GET THE LOOK: ASTR sleeveless muscle turtleneck, $68; Levi ribcage straight ankle jeans, $108; Jules Kae purse, $95; Dolce Vita braided heel, $120. All can be found at Something Chic.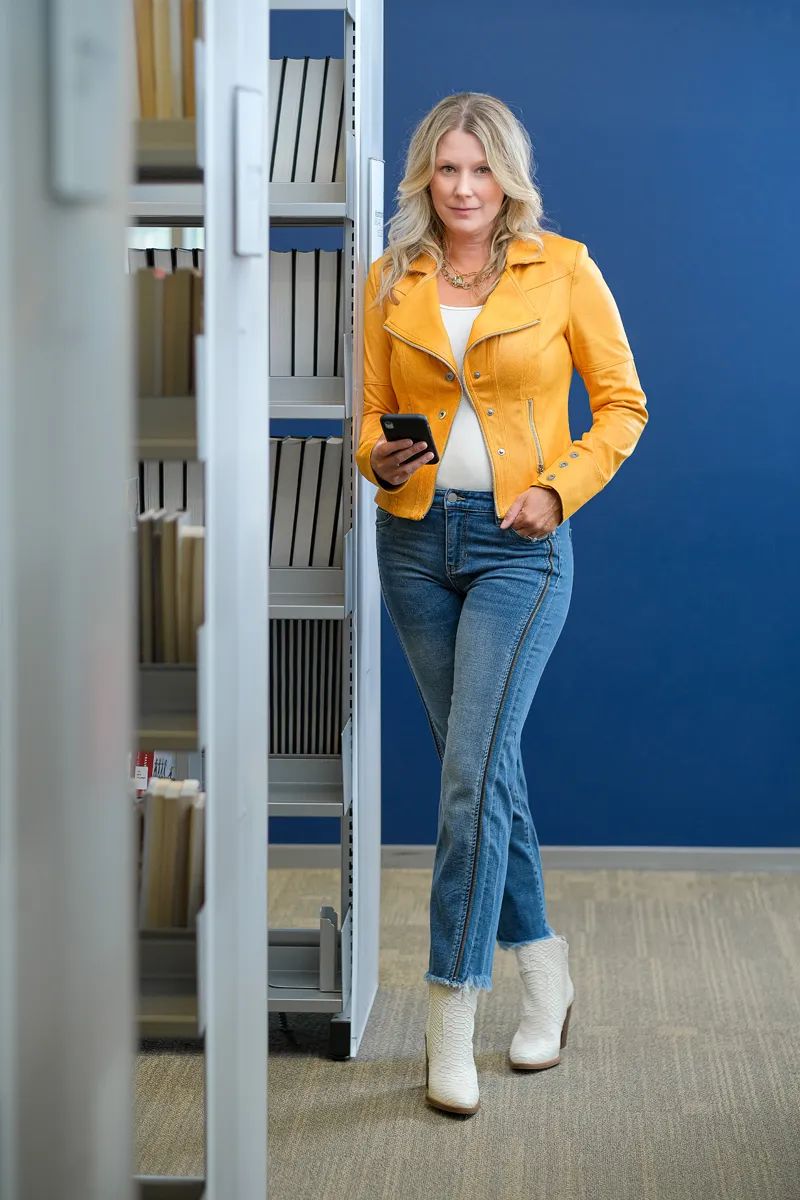 BOLDER BLAZER
Taking things up a notch means ditching the standard black blazer and replacing it with something that screams tailored fashion. Bright colors in a structured silhouette look both professional and fashion forward. Keep accessories simple and let the jacket speak volumes. Details like the zipper up the seam of the leg adds subtle interest. Denim and white boots are one of the most on-trend looks of 2021. These white boots, by the way, are the perfect partner to skirts and sweaters as well for those meetings that call for a more professional look.
GET THE LOOK: Joseph Ribkoff zip front marigold jacket, $235; Liverpool Sadie crop straight jean, $109;
Julio Design necklaces, $49 & $55. All from Neecee's. Gianni Bini Tovyy bootie, $99 from Dillard's.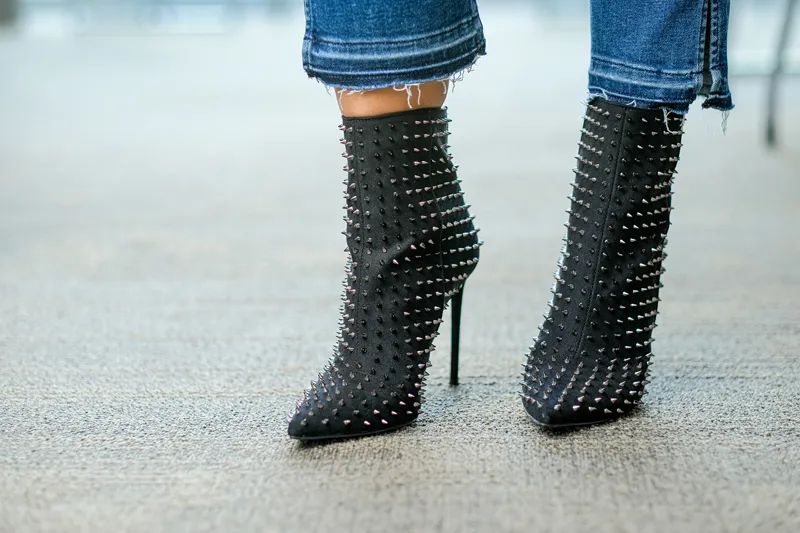 DOUBLE DENIM
The possibilities are endless when mixing denim. This simple look gives you a perfect opportunity to make accessories pop. Wearing head-turning booties like these studded stilettos takes the casual denim up a notch. Denim on denim can take different forms, but for the office, picking darker denim with a button up chambray blouse gives this a professional edge. When layering denim in the office, pick jeans without holes and keep the shoes sharp, avoiding overly casual sandals and sneakers.
GET THE LOOK: Calvin Klein indigo button up top, $69; Jen7 by 7 for All Mankind Bayvie ankle straight jean, $99; Fossil Ryder Satchel, $248; Anna & Ava earrings, $25; Steve Madden Virtuous bootie, $149.99. All from Dillard's.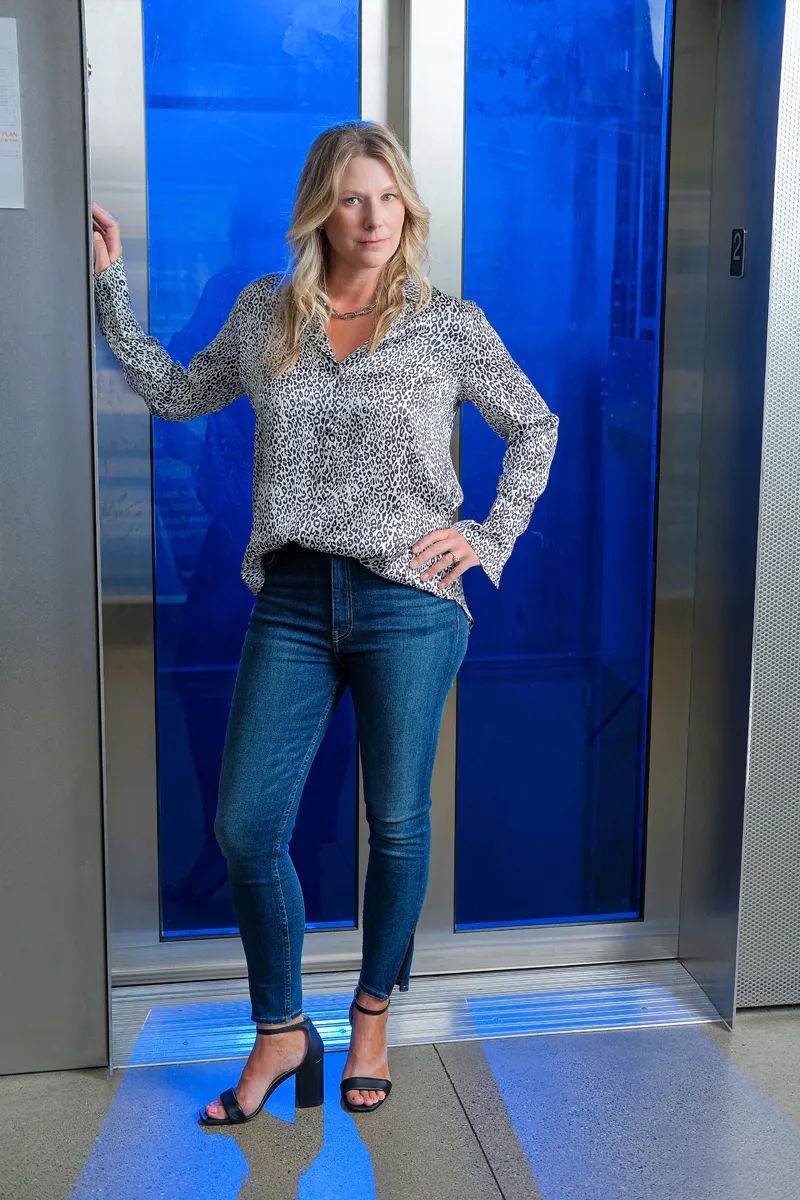 FIGURE FLATTERING
Anchoring an outfit is easy with dark denim. The darker the shade of the denim, the more comfortable people are transitioning this style into their workplace wardrobe. Fitted skinny jeans look sleek and clean. A button-down or a V-neck blouse are a perfect business partner for denim every day. This classic top is flattering, chic and versatile.
GET THE LOOK: Sam Edelman Daniella block heel sandal, $119; Jenna link necklace, $78; Catherinegee Daria cheetah blouse, $258; Hudson Enchanter jeans, $198. All can be found at RocHouse.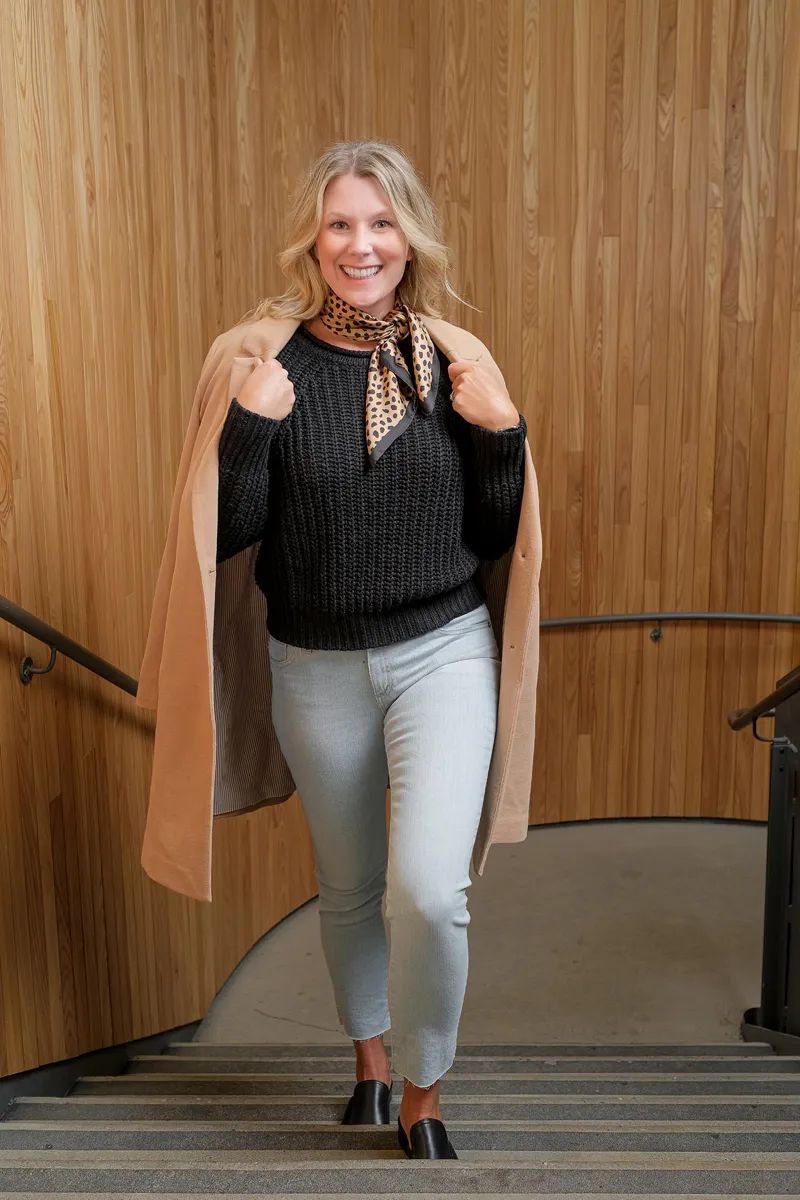 SOPHISTICATED SWEATER
Inevitably, as the weather shifts to cooler days, our instinct is to reach for that sweater. You can still choose a professional look for sweater weather, just give it a more sophisticated feel by adding a classy scarf. Picking pieces from our foundation wardrobe like soft stretchy denim and a cozy black sweater are easy. Elevate the look with a structured camel jacket and this style easily weaves itself into your workday.
GET THE LOOK: 42 Gold Rue black mule, $119; Tribal camel jacket, $179; AG Prima cropped jeans, $235; Raffi black sweater, $126; scarf, $29. All can be found at Cricket Clothing Co.