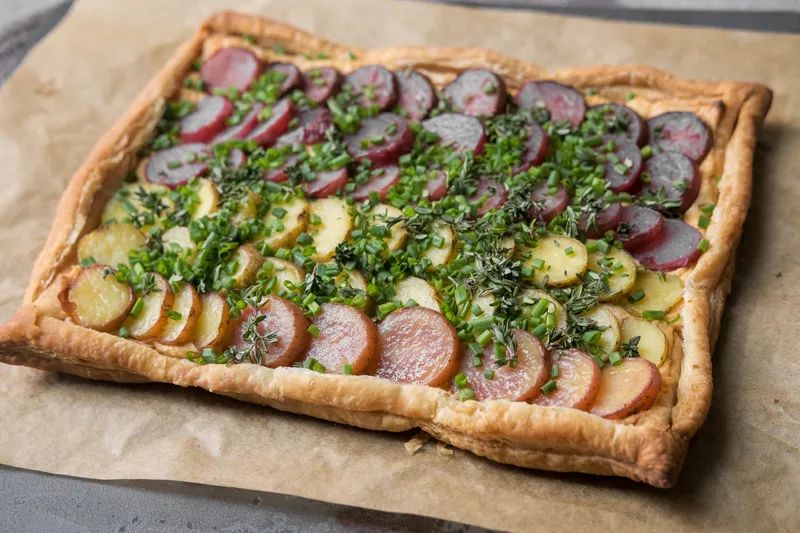 In Season
Comfort Food with Freshness
Winter tries to merge into spring during this time of the year, but usually can't get there. With the lingering remnants of winter, I crave rustic food that brings comfort. Yet, I want freshness in anticipation of spring, with herbs mixed into the dish or sprinkled on top. Juices from lemons or oranges also bring pop to a recipe.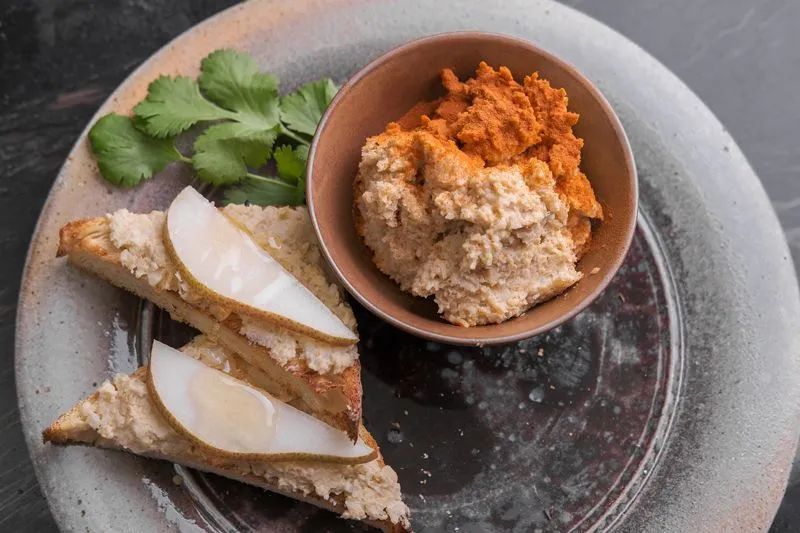 ROASTED TURNIP HUMMUS, makes 6 servings
This recipe allows me to use up any leftover turnips I may have in my fridge. Browning the turnips caramelizes them and provides a slight smoky and sweet flavor. I like my hummus chunky as it gives the dip a little bit more rusticity and a more homemade feel. Keep hummus in an airtight container in the refrigerator for up to a week.
· 2 to 3 c. turnips, diced
· 1 T. olive oil
· Salt and fresh ground black pepper, to taste
· 1 15½ ounce can chickpeas, drained, rinsed
· ¼ c. tahini
· ¼ c. extra virgin olive oil
· 2 cloves garlic, coarsely chopped
· Juice from ½ lemon or to taste
· ½ t. ground cumin
Preheat oven to 400 degrees. Line a baking sheet with parchment paper. Toss turnips with oil, salt and pepper. Spread evenly onto sheet. Bake for 20 minutes or until tender and golden brown.
In a food processor, blend turnips with the chickpeas, tahini, oil, garlic, lemon juice, cumin and salt. Blend until smooth, adding water if needed.
Serve with fresh vegetables or pita chips or spread on toasted bread, top with slices of pear and drizzle with honey.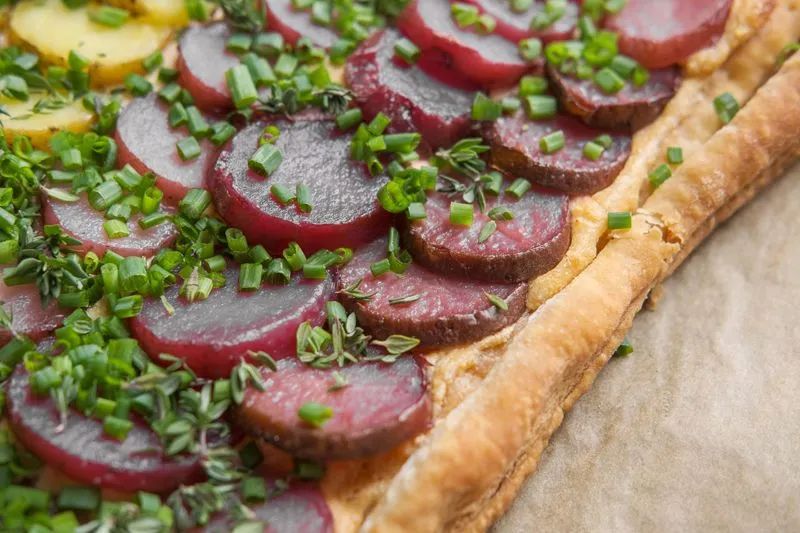 POTATO TART WITH GOAT CHEESE, CHIVES & THYME, makes 8 servings
I always love having some cooked potatoes in my refrigerator. They can be quickly cut up for a potato salad, used as the base of a frittata or smashed into rugged mashed potatoes with the addition of some butter and milk. Aside from the fresh herbs, top with spinach leaves or arugula and you will have a delicious main dish for dinner. For this recipe, a leftover baked potato can be used as a substitute for the steamed potatoes.
1 14-ounce package frozen puff pastry, thawed
1 pound baby potatoes
8 ounces ricotta
4 ounces firm goat cheese
1 t. smoked paprika
Salt and fresh ground black pepper, to taste
1 T. unsalted butter, melted
2 T. chopped fresh chives
1 t. fresh thyme leaves
Preheat oven to 425 degrees. Roll puff pastry into a 10-by-14-inch rectangle. Place pastry on a baking sheet lined with parchment paper. With a knife, lightly score border ½-inch away from the edge. With a fork, prick pastry every few inches inside the border. Bake pastry until puffy and light golden, about 15 minutes. Remove from oven and let cool.
Fit a large pot with a steamer basket. Add enough water to just below the basket. Bring water to a boil. Add potatoes and steam until the potatoes can pierced easily with the tip of a knife. Remove potatoes from the steamer and allow to cool. Slice potatoes crosswise, about ¼ inch thick.
While the potatoes are cooking, in a bowl, blend together ricotta, goat cheese, paprika and 1 teaspoon of salt. Spread the cheese mixture evenly on the puff pastry to the border. Arrange the potato slices in a single layer. Brush with melted butter. Season to taste with salt and pepper.
Bake until edges are golden, about 20 minutes. Sprinkle with fresh chives and thyme. Serve immediately.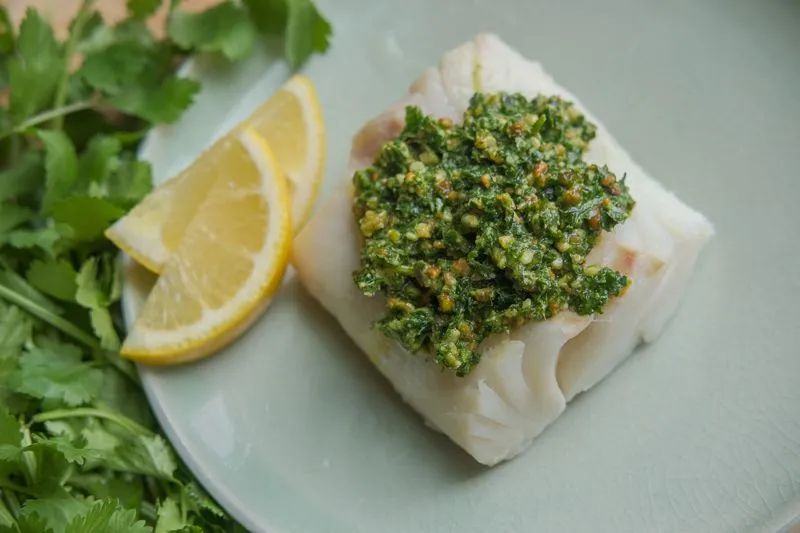 OVEN STEAMED FISH WITH KALE-NUT PESTO, makes 4 servings
The Kale Nut Pesto is also delicious spread on bread or tossed with cooked noodles. For a dip or spread, it would be a great accompaniment to the Roasted Turnip Hummus found in this set of In Season recipes. Instead of discarding the parsley and kale, the greens can be placed under the fish when served. Just season with some salt and pepper or a dash of soy sauce.
Boiling water
1 bunch Italian parsley
2 kale leaves, stems removed, torn into large pieces
2 pounds mild fish filets such as cod, halibut, sole, grouper or salmon, cut into 4 equal portions
Salt and fresh ground black pepper, to taste
Preheat oven to 375 degrees. Line the bottom of a baking dish that will hold the fish filets in an even layer with parsley sprigs and kale. Pat fish dry and season fish with salt and pepper to taste. Lay fish on top of greens. Add boiling water to just cover the bottom of the dish. Cover dish tightly with foil and bake until fish is opaque, about 10 minutes for thin filets and 20 minutes for thick filets.
While the fish is baking, prepare the Kale Nut Salsa.
Transfer fish to plates, discarding parsley, kale and water. Spoon some salsa over the fish and enjoy immediately.
FOR KALE NUT PESTO
The pesto can be kept in an airtight container in the fridge for up to a week or frozen
2 kale leaves, stems removed, coarsely chopped
½ bunch parsley
½ bunch cilantro
1 c. mixed salted and roasted nuts, preferably cashews and pistachios
1/3 c. extra virgin olive oil
3 t. rice vinegar
Juice of ½ lemon
1 t. honey
Salt and fresh ground black pepper, to taste
In a food processer, add kale, parsley, cilantro, nuts, oil, vinegar and honey. Pulse until finely chopped. Season with salt and pepper to taste.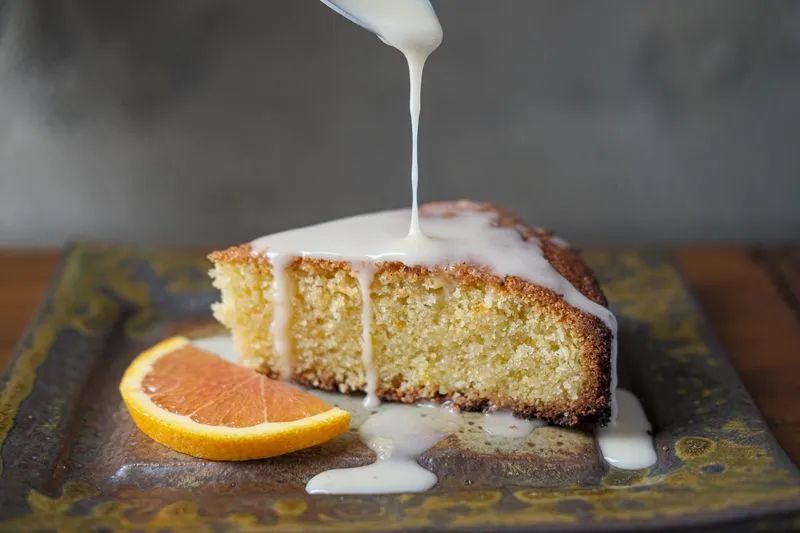 ORANGE POLENTA CAKE, makes 8 servings
Orange Polenta Cake is one of my favorite cakes. There's texture in this cake and I adore the flavors of orange and lemon. Serve this cake with drizzles of chocolate sauce and chocolate ice cream and I am in heaven. Slices of this cake can be easily frozen and warmed in the microwave for a quick rustic citrus snack.
¾ c. cornmeal
2 c. almond flour
6 T. unbleached all-purpose flour
1½ t. baking powder
½ t. salt
8 ounces unsalted butter, at room temperature
1 c. sugar
zest of 1/2 lemon
zest of ½ orange
3 large eggs
2 T. Grand Marnier or another orange liqueur
½ t. pure almond extract
FOR THE GLAZE
1¼ c. powdered sugar
4 T. orange juice
1 T. Grand Marnier or orange liqueur
powdered sugar, for dusting
Preheat oven to 350 degrees. Butter a 9-inch springform pan. Cut a piece of parchment paper into a rectangle to fit in the bottom of the pan. Set aside.
In a medium mixing bowl, stir together cornmeal, almond flour, flour, baking powder and salt. Set aside.
In a mixing bowl, cream together butter and sugar. Add the eggs, one at a time, whisking into the mixture. Mix in the orange and lemon zests, liqueur and almond extract.
Add dry ingredients into the butter mixture and stir until just combined.
Spoon batter into prepared pan and bake until cake is golden brown and toothpick inserted into the center comes out clean, about 50 to 55 minutes. Let cool on a rack for about 30 minutes. Remove from pan and place on dish.
To make the glaze, mix the powdered sugar with orange juice and liqueur in a mixing bowl until the glaze is thick but still pourable. (Add more sugar if the glaze is too runny or more juice if it is too thick.) Pour glaze over the cake, letting the glaze drip down the side of the cake.