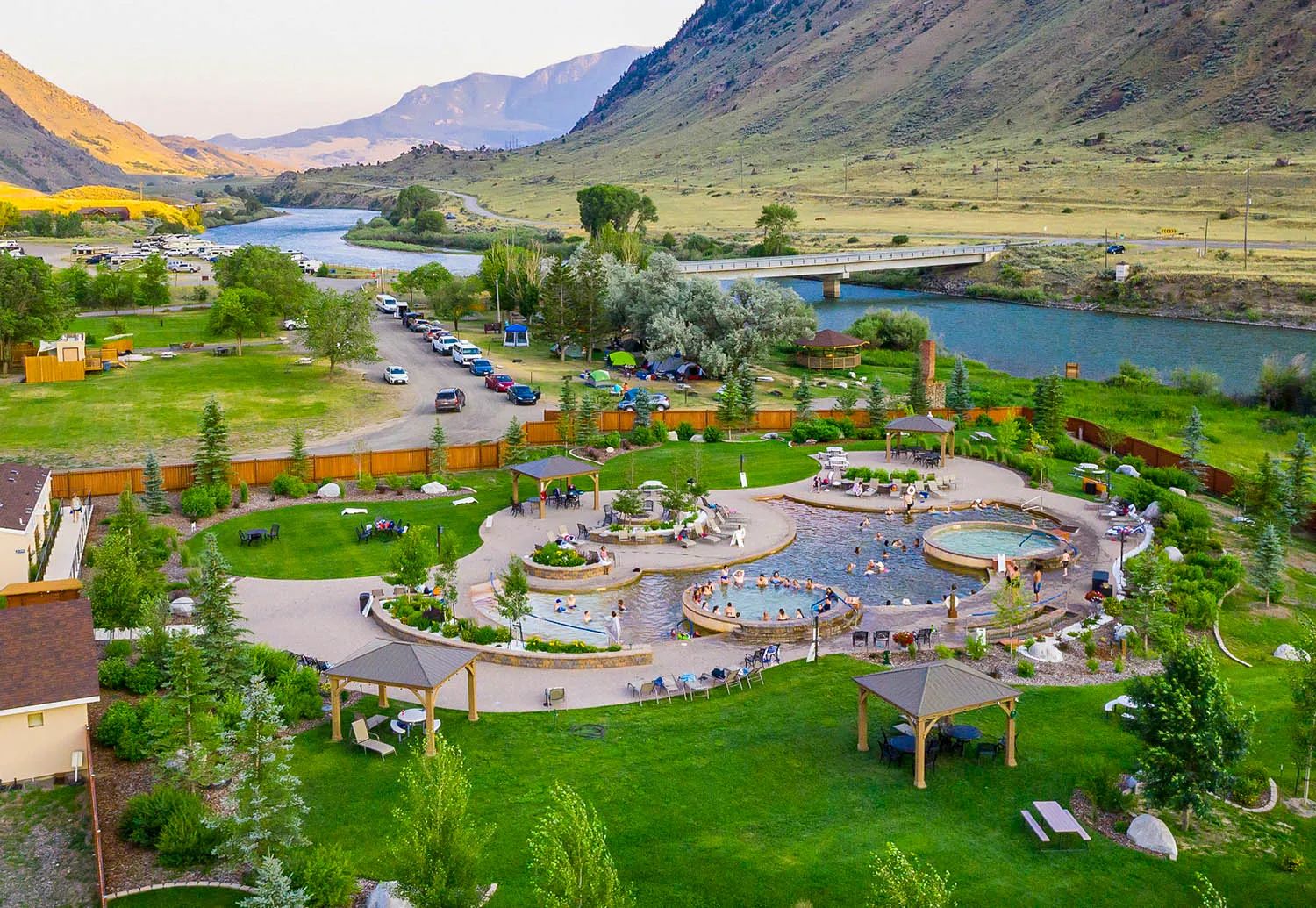 Soaking in Paradise
Yellowstone Hot Springs might be your perfect fall escape
As I slip my foot into the soothing water, the view is world-class. It's a National Geographic film clip in real life. Nestled between two mountain ranges and just a short jaunt from the north entrance to Yellowstone National Park sits a jewel surrounded by the rough. Consider it a staycation destination that's sure to melt off stress as the healing minerals soak into your skin. Just a two-and-a-half-hour drive from Billings, you'll find one of the newest hot spots — Yellowstone Hot Springs.
This is Mother Nature's playground, where she dusts the mountain peaks with white and can exhale her incredible breath between the mountain sentinels. A sign, about a mile from the destination, lets the traveler know when to turn right onto East Gate Road. At the hot springs, RV parking and spaces for tent camping are available along with four cabins across the highway and a brand-new motel that offers four suites with two bedrooms, and one with a single bedroom.
"We provide a clean and comfortable space and an amazing experience. The guests come back and come back," says Erin Kennedy, the property's general manager. "These hot springs relax and renew you. Our guests tell us that while other hot springs just relax you, you are regenerated here."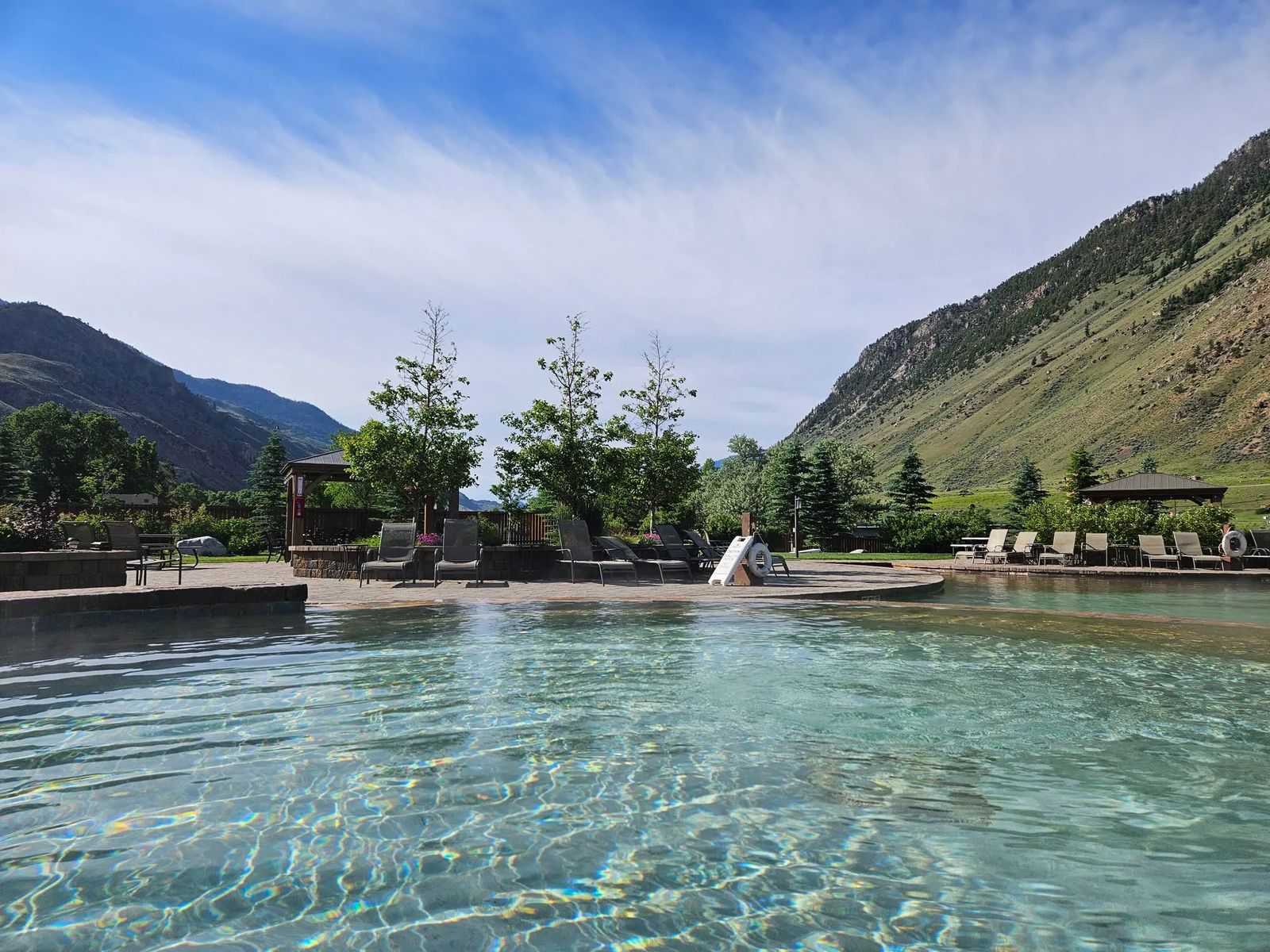 TAKE A DIP
Yellowstone Hot Springs has five pools with views of the nearby mountains and the Yellowstone River. It's not unusual to spot eagles, elk, bighorn sheep, pronghorns or an occasional bear or wolf. The grounds surrounding the waters are thoughtfully landscaped with stamped concrete paths and pergolas, plus trees and flowers. There are spaces for gatherings and other spots perfect for being alone with a good book. A couple of cornhole boards offer fun for all ages and lawn recliners and chairs are lined neatly around the pools to relax under the sun or put down a towel.
The large main pool holds its temperature around 102 degrees, while the intimate hot pool hovers around 104 degrees. While the warmer options bring relaxation, the colder pool at 60-65 degrees invigorates. Soaking in waters high in sodium, calcium, magnesium, potassium and silica is believed to increase circulation, soothe aches and pains in muscles and joints, and ease irritated or dry skin.
Off to the side of the pools is the Kneipp Walk, which offers a different kind of hydrotherapy. It begins with walking in a shin-deep, narrow, rectangular hot pool lined with polished river rock, then entering a cold plunge pool. The challenge is to remain in the hot pool for several minutes before plunging into the cold pool and then wrapping it up back in the warm waters. Kennedy says guests report feeling "tingles from toes to your nose." Thermal shock is touted to stimulate the circulatory system, reduce inflammation and even beat fatigue.
The pool operator-supervisor, Ronald Boeckman, whom Kennedy calls the "pipe piper," takes pride in making sure visitors have a good experience. With one guest who was in a wheelchair and fairly immobile, Kennedy says, "he walked her into the pools of the Kneipp Walk with an umbrella over her head to keep the sun out. After walking a couple laps, she exclaimed to her husband, 'I can feel my feet. We're moving here.'"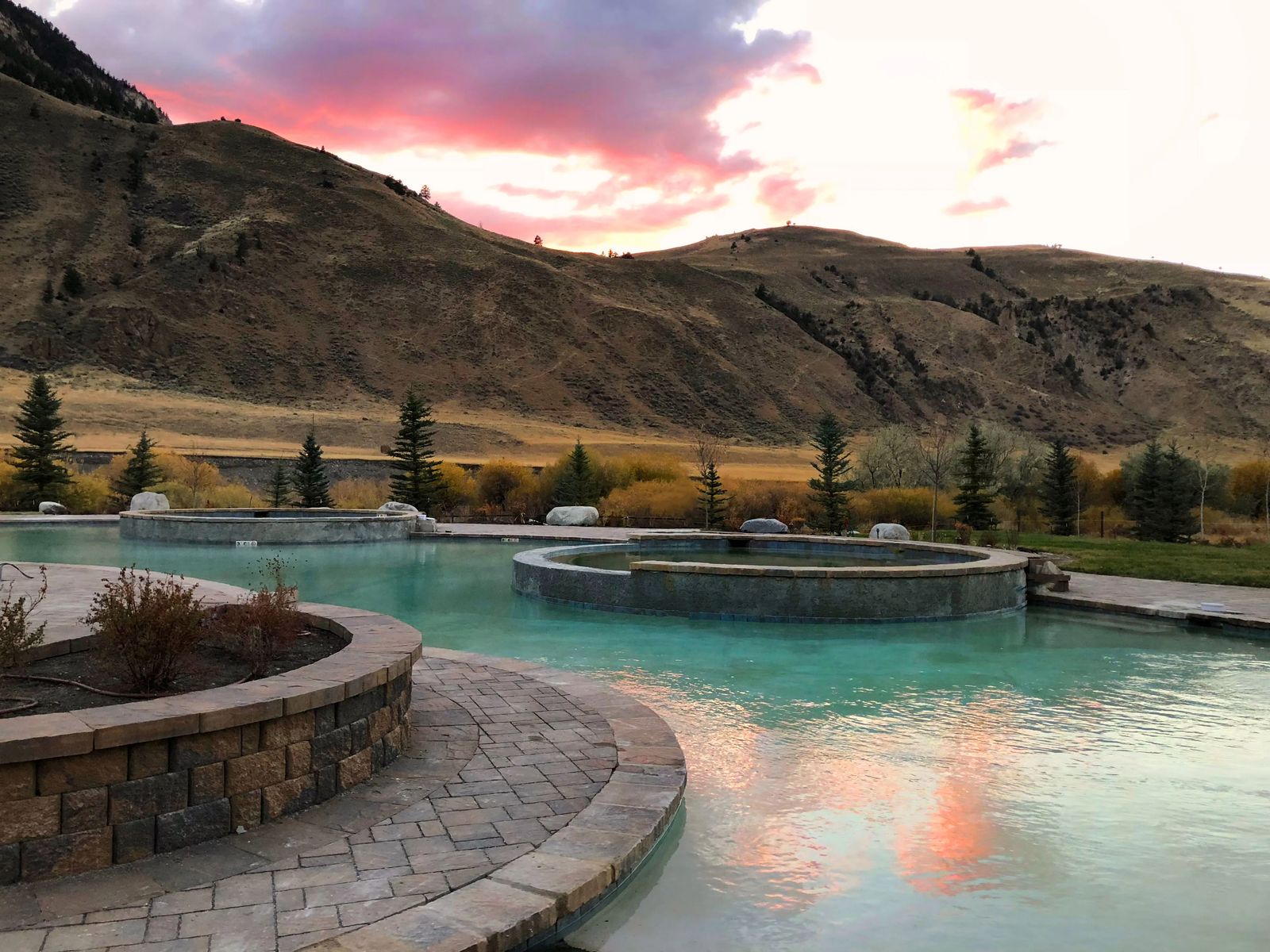 As for the cabins and motel, "These are extended stay hotel rooms without a front desk," Kennedy says. "On the day of check in we send you a text with the key code." While the cabins have a coffee pot and microwave, the motel rooms have a kitchen outfitted with pots, pans, dishes and utensils. Katie's Coffee, which sits close to the cabins, provides coffee, pastries, quiches and sandwiches.
The once modest modular home is updated to a modern farmhouse décor for the hotel accommodations. While Robert and Mary Wallace act as the general contractor and interior decorator, Kennedy has been involved, saying, "the process definitely speaks to my creative wants. It's a throwback to my hotel days."
After more than 30 years in the hotel business, Kennedy says, "I like my job now because I love getting to know my guests on the day they arrive. It's more intimate here than what I was doing before."
Back in March of 2019, Kennedy was hired as a consultant for reviving the business for the hot springs. "Six months later, I officially became an employee," she says. She took on the opportunity to create new options for the business as well as train workers. "I loved training new employees and I still love training as part of my everyday job. It really piques my interest."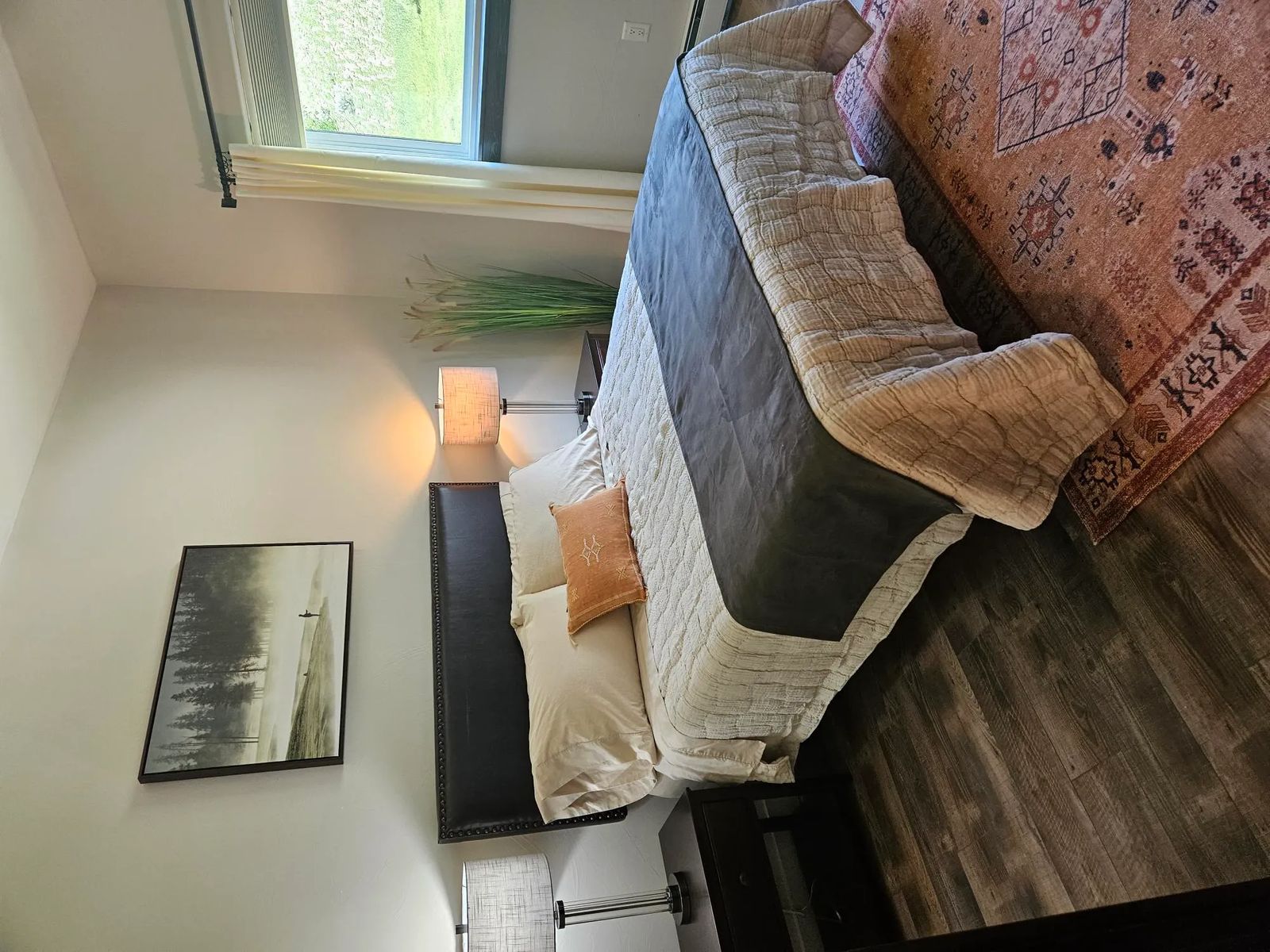 Kennedy landed in Montana from Kansas after coming to visit her two older sisters who lived here. "Two weeks turned into 35 years," she says, and she made her home in Billings. She started as a switchboard operator at the Holiday Inn, eventually taking on positions as a front desk clerk to catering sales rep, to convention services manager, to director of catering to finally becoming the director of sales in 2001.
After the Covid pandemic, Yellowstone Hot Springs offered her an opportunity to refresh her years of learned skills in a smaller environment. Now that she has a hand in virtually every aspect of the springs, she's aware of how extraordinary this spot is.
"The waters are pretty special. We're the only ones in Montana with these waters," Kennedy excitedly says of how the mineral waters flow from the earth at a rate of 150 gallons a minute into the pools with no added chemicals. The flow-through system empties into the river, "so it's all natural."
Mineral springs with plenty of ambiance all within a few hours from home. Kennedy knows it's the perfect little getaway without all the travel.
I can attest to that. Although my staycation at Yellowstone Hot Springs was short, that sense of relaxation and renewal lingers. As I make my way back up the road through the real-life National Geographic journey, I'm looking forward to future escapes.
HOW TO GET TO YELLOWSTONE HOT SPRINGS
Head west on I-90 W for 117 miles. Take exit 333 from I-90W to US-89 S. Follow US-89 S to East Gate Road, for about 45 miles. For more, visit yellowstonehotspringsmt.com.